Quirky Colorado: Traveler's Guide To Offbeat Denver
When traveling I love going beyond the guidebook and seeking out the quirkier offerings of a destination.
After a month in Denver, Colorado, I discovered quite a few atypical experiences to be had.
Have an offbeat time in the city by adding the following recommendations to you Denver itinerary.
Denver Travel Video
Before we dive in…
Check out the Denver travel video above.
You'll learn 10 (of many!) things that make Denver so great.
After watching, continue reading the post.
1. Win A Dildo At Erotic Bingo
Planning a trip to Colorado and want to do something truly offbeat?
This is it!
Every Monday at 7pm you can head over to Maloney's Tavern in LoDo for Forbidden Bingo, a sexy take on the typical senior citizen-beloved game, with prizes donated by the local adult shop, Romantix.
Games range from lines to black outs to boxes (or, as our host called it, "loose holes") with chances to win everything from blow up dolls to glass pepper-shaped dildos to vibrating cock rings.
Even better, all drinks are 50% off until 11pm, making it the perfect night out with friend's on a budget or an interesting date idea.
2. Pair Booze With Nostalgia
Some of your may know about my obsession with Barcade, a local bar-meets-arcade, in Brooklyn. Well, you can image my excitement when I discovered The 1up (they have locations in LoDo and North Capitol Hill), which has a similar concept in Denver.
The space is filled with classic and modern arcade games — they've got 45+ games, 16 pinball machines, three lanes of Skee-Ball and multiple Giant Jenga sets — and an expansive local beer selection, not to mention live music almost every night. Don't miss their vintage can collection, a whimsical brew experience.
Other fun places for games:
Star Bar, an awesome dive with lots of Michael Jackson music in LoDo; Vesper Lounge, with a table featuring free games like Pacman in Capitol Hill; and Monkey Barrel Bar, with local craft beer and video games (Mario Kart, anyone?) built into the booths in Highland.
3. Say "Screw You" To German Purity Laws
At Mockery Brewing in the artsy RiNo neighborhood, they focus on creating creative craft beers without guidelines or rules (such as the Reinheitsgebot, or the German Beer Purity Law, that limits beer ingredients to water, barley and hops).
Sip a Peach Blonde Ale made with 400 pounds of fresh Palisade Peaches or a Southern Hemisphere Black Pale Ale featuring Chilean malt, Aussie and Kiwi hops, and wood at this dog-friendly establishment, which features indoor/outdoor seating and lots of board games to entertain.
There's also bicycle parking out front for those with bikes or using B-Cycle, the local bike sharing program.
4. Nibble Psychedelic Candy
Despite the fact I chose Colorado for a month-long escape from NYC, I'm really not a pot smoker.
That being said, a trip to a local dispensary is a must when visiting the city, even if just for the experience.
The local "bud-tenders" are super knowledgeable, and you can tell them what kind of high you're looking to have — for example, if you'd like more of a head than a body high — and they'll tailor recommendations. You can also get edibles like chocolate bars, mints and gummies that are just as delicious as Sour Patch Kids, but with a more psychedelic effect instead of just a sugar rush.
Warning:
While they taste just like candy, I wouldn't recommend having more than one at a time and seeing how you respond to it. They're strong!
5. Stay In A Share House With Awesome Strangers
Instead of opting for a hotel in Denver, I chose an Airbnb that was actually more like a share house.
Since I was traveling to Denver solo, I wanted to make sure I'd be able to easily meet new people, and staying in the West Colfax neighborhood in this 5-bedroom house meant that after a day's exploration I always had people to enjoy beer, bud and pizza with on the couch. This was hands down my favorite Airbnb I've ever stayed in.
It was also a 2-block walk from the light rail, and a 10-minute train ride to downtown.
6. Have A Nostalgic Book Experience
Denver is home to one of the greatest book shops I've ever come across in my travels: Tattered Cover Book Store.
The space has an old, worn feel — sort of like your favorite book — with weathered wood, shabby leather chairs and a slight must, with plenty of common spaces, free Wi-Fi and even a separate study-like room for history and travel books.
Grab some Vail Mountain Roasters coffee, single-origin chocolate, Colorado Nut Co snacks or a decadent pastry from their cafe and dive into staff pick's, bargain books, classics, indie titles, and an impressive assortment from a variety of niches.
7. Sip Creative Craft Cocktails Behind A Library Wall
I was actually introduced to Williams & Graham — named Best Bar in America at the 2015 Tales of the Cocktail — by a date who had very good taste.
This educational and fun craft cocktail bar rivals the best I've been at in NYC, with a menu full of creative seasonal and classic concoctions, fresh fruits, herbs and spices, tinctures, infusions and bitter, from tarragon syrup to coffee-infused Rittenhouse rye to oolong tea syrup, enhanced by high-quality spirits (no Jose Cuervo here), beautiful glasswear and hand-cut ice.
It's not just the expertly-made drinks (seriously, watching them being made is like viewing a Broadway show) and delicious food that make the experience worthwhile, but the cool speakeasy vibe.
You enter a "bookstore," give your name (I'd recommend making a reservation) and are then brought through a bookshelf that opens into a moody speakeasy, a dim room with a beautiful mahogany bar backed by high shelves of illuminated spirits. Also make sure to go to the bathroom, as the wallpaper is hand-written love letters.
Their signature:
A "Blackberry Sage Smash" featuring fresh blackberries, sage and a specialty bourbon bottled from barrels specifically chosen by head bartender Sean Kenyon.
8. Eat Exotic Meats
Looking for vegan food in Denver?
Then don't go here!
Biker Jim's is an unassuming hot dog restaurant serving up a very unique menu featuring sustainably-raised elk, duck, pheasant, buffalo, rattlesnake, wild boar and reindeer, all infused with interesting ingredients ranging from cranberries to chilies.
Hot dogs are $6, with additional costs for toppings with organic vegetables and natural preservatives like celery powder and sea salt. And, we're not talking just ketchup. My companion and I ordered the Alaskan reindeer and bat dog.
While the reindeer was extremely plump and juicy with a very spicy flavor, the bat dog was a lot sweeter with a smoky essence.
9. Check Out Off-The-Wall Improv
Denver has no shortage of venues offering knee-slapping comedy.
Along with Comedy Works, which is probably the most popular for comedy shows and is focused on standup, I went to The VooDoo Comedy Playhouse, a dive bar with uber-cheap drinks and more than 20 different improv comedy events. They also have karaoke and an improv school — including some drop-in classes — if you're looking to be a performer instead of a bystander.
10. Savor Unexpected Dishes
During my time spent in Denver, I had the chance to savor a number of atypical dishes that pushed the boundaries of creative cuisine.
For instance, at TAG | Continental Social Food the menu is influenced by Chef Troy Guard's Hawaiian upbringing and travels throughout Asia and Latin America — and it shows.
Picture sushi-filled tacos topped with mango salsa, crispy duck leg crusted in chicken sausage and gowned in a spicy tang glaze and tarragon vinaigrette, and a spicy flash-seared yellowtail crusted in pop rocks.
There's also Ophelia's Denver, with their "Brothel Burger" — an ostrich patty topped with miso candied bacon, ponzu onions and pickled veggies on a pretzel bun — spicy goat cheese-laced cornbread with fennel honey; and wild boar in a blanket enhanced by a tangy calendula kraut and smoked cherry mostarda.
The venue is a "gastro brothel" paying homage to the building's seductive history as a former brothel, peep show parlor and literotica shop, and the atmosphere is very Moulin Rouge.
And at the New Orleans-esque Sassafras American Eatery they feature menus dedicated to creative macaroni and cheese, adult and virgin milkshakes, grits, benedicts, po'boys and Bloody Marys.
Some top picks:
A chocolate-dipped bacon milkshake, a spicy buffalo chili-laced mac and cheese, a "Deep South Benedict" featuring pulled pork and collard greens, and the signature "Sassafras Bloody Mary" with a spicy house-made tomato base, bacon and pickled quail egg. Yum!
11. Mix Your Coffee & Booze
At Black Eye Coffee Shop, single origin coffees are served fresh as is, or in the form of drips, pour overs, espressos, cortaditos and art-laden lattes.
While the breakfast is highly recommended — get the confit fried chicken and biscuits or oxtail chilaquiles with an unusual Corn Dog Bloody Mary — it's worth noting at 5pm, the space transforms into a bar; as in, fresh baked pastries get put away and a secret shelf of liquor bottles appear, with poetry inspired craft cocktails a main highlight (a perfect pairing with the Emily Dickinson quote-adorned bathrooms).
They don't completely lose their java edge, however, as a "Deconstructed Cup of Coffee" offers a food and drink pairing that mimics a coffee cupping, while the "Boozy Pourovers" feature small batch American whiskey on tap being poured over their delicious coffee.
12. Lannie's Clocktower Cabaret
Warning:
Open-minded viewers only!
Lannie's Clocktower Cabaret features burlesque shows fused with raunchy comedy as well as sexy 90s swing, student showcases, offbeat magic shows, sassy celebrity impersonators and more.
If you're here for a month or more sign up for classes with Spankings & Martinis Burlesque Booty School for the chance to hone your craft and hit Lannie's stage before a crowd.
Do you have a quirky Denver experience to add to the list?
Bonus Denver Travel Resources:
How To Explore Innovative Eats & Art In Denver, Colorado
18 Fun Ways To Be A Kid Again In Denver, Colorado
This Is What Happens When You Visit Denver Solo
Denver Day Trip: Relaxing In Colorado's Curative Hot Springs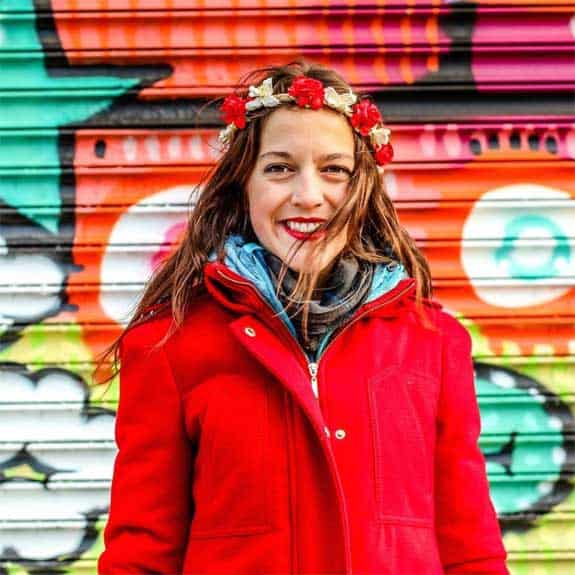 Hi, I'm Jessie on a journey!
I'm a conscious solo traveler on a mission to take you beyond the guidebook to inspire you to live your best life through travel. Come join me!
Want to live your best life through travel?
Subscribe for FREE access to my library of fun blogging worksheets and learn how to get paid to travel more!