5 Amazing Experiential Stays In Jordan
Sometimes an average hotel just won't cut it.
Your accommodation is one of the most influential parts of your vacation, with the potential to enhance your experience in a profound way.
For those traveling to Jordan in the Middle East, there are an array of experiential hotels that allow visitors a glimpse into local culture in an eco-friendly way.
To help you plan your trip, here are my top suggestions based on my trip to Jordan.
1. Captain's Desert Camp
Located in Wadi Rum is Captain's Desert Camp, an upscale camping accommodation that allows you to experience authentic Bedouin culture.
Bedouins are known for being nomadic desert dwellers living in woven goat-hair tents. Campers will be able to stay in these tents immersed in the dramatic scenery of the Wadi Rum desert.
Because there is no electricity, candles light pathways and rooms while food is cooked in a zarb (underground pit) in traditional Bedouin fashion. A large pit is dug into the ground where a fire is made, with trays of meat and vegetables placed above it.
From there, it is covered in foil and sand to trap in heat, leading to a juicy, flavorful meal. This ended up being one of my favorite meals in Jordan.
At night, activities I enjoyed were stargazing, traditional music and dancing with Bedouins around the fire. Moreover, the camp can set you up with interactive Wadi Rum experiences, like 4x4ing through the desert, riding camels, hiking, soccer games and more.
As this is quite a social experience, it's a top pick for people traveling solo in the Middle East.
2. Feynan Ecologe
Located in Feynan — one of the few places in Jordan where a authentic Bedouin culture still exists — the Feynan Ecolodge is a true ecolodge located at the South Western edge of the Dana Biosphere Reserve.
The property features 26 rooms and works on minimal electricity, and running without refrigeration with candles illuminating rooms and common areas and energy being provided mainly by the sun. Moreover, the ecolodge focuses on four main areas: helping the local Bedouin community, providing guests with unique experiences, contributing to conservation and leaving a minimal carbon footprint.
Along with experiencing a sustainable way of life through vegetarian cooking classes, naturalist-led walks and nightly stargazing, the lodge helps guests experience local Bedouin culture.
Some possible experiences include visiting a Bedouin tent to learn about the importance of coffee culture (highly recommended!), learning how to weave goat hair or bake bread, taking a sunset walk, having tea with Bedouins, spending a day with a Bedouin shepherd and learning about the kohl Bedouins use around their eyes as protection from the sun.
Moreover, because the hotel employs only local Bedouins you'll have many opportunities to interact with these people.
3. Evason Ma'In Hot Springs
Part of the Six Senses Hotels Resorts Spas, Evason Ma'In Hot Springs immerses guests in a world of sustainability and tranquility.
As soon as you walk in, you'll be greeted with a refreshing towel and a cup of fresh hibiscus juice, before being brought to your guest room with spa music playing.
Stand out on your balcony overlooking the nearby waterfalls, take a soothing shower using natural bath products, enjoy traditional meals made with organic ingredients from their onsite gardens or relax in the lobby done in neutral hues and littered with comfortable couches and swings.
The real draw to the property is its prime location next to an array of curative hot springs that promote relaxation, improve skin ailments, boost the immune system and detoxify the body — basically where I spent most of my time at the property.
Continue the therapeutic experience in the spa with treatments like a Dead Sea Mud Body Wrap, Jasmine Facial, Bamboo Massage, Henna Flower Hair and Scalp Treatment, or an Olive Grove Scrub.
Additionally, other experiences include a morning hike with breakfast served at a table on the mountain, viewing wildlife at the Mujib Nature Reserve, exploring the dramatic desert wilderness of the protected Wadi Rum, visiting the Hammamat Ma'in Valley and learning about where the hot springs come from and visiting the Dead Sea — the lowest point on Earth — and floating in its curative waters which are said to relieve muscle pain and treat skin diseases.
4. Movenpick Resort & Spa Dead Sea
Located right on the Dead Sea, Movenpick Resort & Spa Dead Sea is a (surprisingly budget-friendly!) 5-star hotel that will transport you to a world of wellbeing and balance.
The property encompasses lush gardens, boutique shops, 346 luxurious rooms, nine restaurants and bars, over 3,000 square kilometers (1,158 square miles) of pools, a beach, tennis courts, beach volleyball, a gym, Jacuzzi and a spa featuring treatments that incorporate the Dead Sea's curative mud, salt and waters.
At night, take in a traditional belly dancing show, grab an al fresco drink and smoke some shisha, or enjoy a gourmet meal with Jordanian flare.
Other experiences available to guests include floating in the Dead Sea, visiting the nearby Wadi Mujib to hike or abseil and going to the site where Jesus was baptized at Bethany Beyond the Jordan.
Sidenote: It's possible to book a room for about $108 a night depending on your travel dates — spring and summer often have cheaper hotel deals — a steal for a luxury property.
5. Stay With A Local
While not a hotel, per say, those visiting Jordan are given the unique opportunity to enjoy a homestay with a local family for a firsthand glimpse of local life in the country.
There are a few different families who participate in hosting, and you can contact the Jordan Tourism Board for more information.
Additionally, if you'd like to stay at a hotel but still want to experience local culture firsthand you can opt to enjoy lunch at a local home.
For example, when I was in Amman I traveled about an hour outside the city to have a typical meal on a farm. I sat outside with my guide and the family on comfortable cushions in the yard, learning about local culture and eating "Maklouba," also known as "Upside Down," a dish featuring chicken, rice, eggplant, potatoes and spices served with Arabic salad and yogurt sauce.
Note: For travelers visiting on their own, check out this guide to solo travel in Jordan for females!
Have you have an experiential stay in Jordan before?
*My trip to Jordan was hosted by Visit Jordan. I was not required to write this post nor was I compensated for it. As always, all opinions are my own.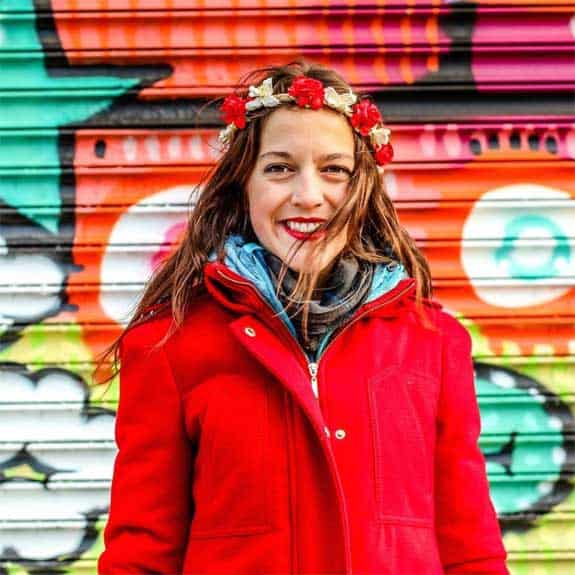 Hi, I'm Jessie on a journey!
I'm a conscious solo traveler on a mission to take you beyond the guidebook to inspire you to live your best life through travel. Come join me!
Want to live your best life through travel?
Subscribe for FREE access to my library of fun blogging worksheets and learn how to get paid to travel more!