Unexpected Highlights From My Journey Through Jordan
Before visiting Jordan I had never traveled to the Middle East and had no idea what to expect from my trip.
While I had a few thoughts of what the destination might be like the trip completely shattered many stereotypes of the Middle East I had in my mind.
To show you what I mean, this Jordan travel guide shares a list of some of the unexpected highlights from #MyJordanJourney (search Twitter and Instagram with this hashtag to see more).
Note: I found it helpful throughout my trip to have a local English-speaking guide. I highly recommend Ibrahim El-Wahsh, as he was knowledgeable, well-connected and had my friends and I laughing the entire time. You can contact him at [email protected] or +962 7 95915879 to inquire about his services. You can also contact the Jordan Tourism Board to help you set up some of the below experiences.
1. Adventurous Offerings In Petra
As someone who isn't overly enthusiastic about historical attractions, I have to admit Petra wasn't on the top of my list of things I wanted to do in Jordan; however, not only was I absolutely shocked at how impressive the more than 800 individual monuments built around 7,000 to 6,500 BC by the ancient Nabateans were, but also at the trekking offerings. The archeological site features an array of challenging hikes that award aerial views of the Treasury and Monastery as well as the surrounding jagged peaks, colorful mountains and impressive valleys. Additionally, donkey rides up to the top of these two iconic structures provide an adrenaline rush as you traverse narrow ledges and steep descents.
2. Organic Wine Tastings
I'd never been to the Middle East before, and my impression was that drinking wasn't something that was accepted. While some Middle Eastern countries are like that, Jordan isn't one of them, especially in the capital of Amman. In fact, Amman is home to Zumot Winery & Vineyards (The Winemaker, 129 Arar Street Wadi Saqra Amman), an organic winery creating a mix of traditional and lesser-known wines, many of which feature more unusual flavors. For example, while their Merlot features flavors of ripe plums, bacon, cashews, tobacco and toffee, their Sauvignon Blanc tasted of white apricot, quince, mint and molasses. My favorite was their Cabernet-Carmenere, a purplish blend with flavors of wild berries, prunes, dark chocolate and spice.
To make an appointment for a tasting — which is paired with baguettes, cheeses and cold cuts — email them at [email protected].
3. Exploring The Old vs. New In Amman
The capital of Amman was a pleasant surprise in itself. While I knew I would be exploring historical and religious sites like the Blue Mosque, 2nd-century Roman Theater and the ruins of the Amman Citadel, I was completely surprised on the first night to find myself eating a multi-course farm-to-table dinner at the Wild Jordan Cafe before enjoying a whiskey cocktail at Cantaloupe Gastro Pub. Amman truly is a city of contrasts, as the old and new blend together seamlessly to create a bridge between the past, present and future.
4. Bedouin Hospitality
Before visiting Jordan I didn't know too much about Bedouin culture. Native cultures are often mysterious to many people, and it's rare you get too much interaction with these groups; however, in Jordan I had multiple opportunities to not only talk to nomadic, desert-dwelling Bedouins but also drink fresh-brewed coffee in a traditional black goat hair with a Bedouin family, sit in the shade with a Bedouin man enjoying fresh goat's milk, and sleep under the stars and enjoy traditional Bedouin barbecue (zarb) at a Bedouin camp. What I learned is that Bedouins don't care about money or possessions, but instead focus on creating healthy lasting relationships with people and the land. This can be seen through their coffee culture. Bedouins begin brewing their coffee early in the morning so they can always be prepared for visitors. When they're grinding the beans, they make a loud noise with the mortar and pestle to let others know that coffee is being brewed and they are welcome to come over. Both friends and strangers are welcome into the Bedouin tent, and visitors can stay up to three days no questions asked, with the host family housing and feeding them. It isn't until the fourth day the host is even allowed to ask the guest's name or why they're their, as this may make them uncomfortable if asked too soon.
For your best bet at exploring Bedouin culture, spend some time in Feynan at the Feynan Ecolodge. Feynan is one of the few places left in Jordan where truly authentic Bedouin culture still exists, and the ecolodge can help set up an experience for you.
5. Dining At The Home Of A Local
A large part of Jordan tourism focuses on helping visitors to the country really get to know local culture. One way they do this is by setting up homestays and meals at the homes of locals. I took part in this experience about an hour outside of Amman, getting to eat on a working farm. My friends and I sat outside in the shade on comfortable cushions and pillows, enjoying a meal of Maklouba ("Upside Down") featuring spiced rice, baked chicken, eggplant and potatoes blended together and topped with Arabic salad and yogurt sauce. Our in-country guide, Ibrahim El-Wahsh, acted as a translator and we were able to ask the host family about the food and local life.
If you're interested in having this experience email the Jordan Tourism Board at [email protected] or [email protected].
6. Super Friendly Locals (Especially The Children!)
I wasn't sure what to expect in terms of being accepted by locals. Before arriving into the country I was a bit worried about offending people by not covering my hair or wearing short sleeves and tank tops. It didn't take long for me to realize I truly had nothing to worry about. The locals in Jordan are extremely friendly. Moreover, these people are very proud of their heritage and love showing it off to visitors (many shop owners even gave away small items like Jordan flag pins and scarves to welcome us). The children are especially friendly, and whenever they saw me they would run up and shout "What is your name?!" with giant smiles. When visiting Jerash I was even pulled into a dance circle of giggling children. At no point during #MyJordanJourney did I not feel welcome.
7. Great Hiking
Before arriving into the country I knew Jordan was full of historical and biblical sites; however, I had no idea there were so many great hiking opportunities. Once of my favorite hikes was from Rummana Camp, through the Dana Biosphere Reserve (Jordan's largest nature reserve at 119 square miles/308 square kilometers) to Feynan Ecolodge. The nine-mile (14-kilometer) trek awards aerial views of rugged canyons and colorful valleys while taking you through an array of ecosystems and landscapes. Moreover, you'll hike through traditional Bedouin communities and have the chance to interact with these nomadic locals. While I took a scenic 4×4 ride from Feynan Ecolodge to Petra, adventurous travelers can hike to the famous archeological site for 41 miles (66.5 kilometers) which takes about five days depending on fast you walk.
For trekking adventures I recommend Adventure Jordan, whom you can contact at [email protected]. You can also contact the tourism board at [email protected] or [email protected] to set up the camping experience for you.
8. The Serenity Of Wadi Mujib
On the outside the landscape is unworldly yet serene. That being said, actually trekking inside the gorge of Wadi Mujib can knock you right out of your serenity — in a good way. Wadi Mijib is one of the many beautiful desert valleys in Jordan, and visitors can choose to do a dry hike or actually go into the gorge for a canyoning adventure. While hiking up to the start of the excursion is inspiring as you take in the colors and layers of the valley, going inside the water-filled gorge is a more thrilling experience as you climb over boulders, wade through thigh-deep water, zip down rock slides, repel down waterfalls and Spiderman your way down canyon walls.
If you're interested in having this experience email the Jordan Tourism Board at [email protected] or [email protected].
9. The Colors Of Wadi Rum At Sunset
Just because Wadi Rum is a desert doesn't mean it can't be colorful. Even during the daytime, the rocks emit bright colors of purple, green and red. Before visiting I wasn't expecting the scenery to be so dramatic, with unworldly rock spires, caves, enormous climbable sandstone formations, honeycombed rock and natural structures that look like they're melting into the red sand. Not surprisingly, Wadi Rum is often compared to the landscape of Mars.
10. Beautiful Mosaics
No trip to Jordan would be complete without a visit to Madaba, the "City of Mosaics." While I was expecting there to be some kind of popular local handicraft, I didn't realize Jordan had such a rich mosaic culture. While a visit to the Madaba Handicraft Center will allow you to see handicapped locals using their hands to create beautiful mosaic housewares, you can see how old the mosaic culture in Jordan is by visiting Saint George Church. Here is where you'll find a 6th-century Byzantine mosaic map of the Middle East's holy sites embedded into the floor of the sacred site.
*My trip to Jordan was sponsored by the Jordan Tourism Board. I was not required to write this post nor was I compensated in any way. All opinions are my own.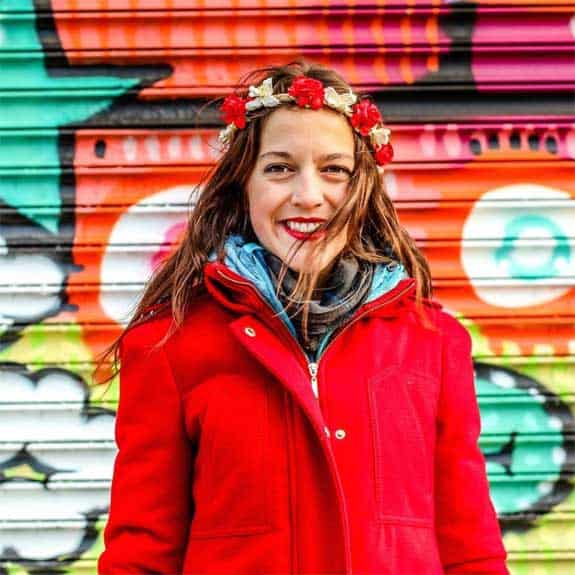 Hi, I'm Jessie on a journey!
I'm a conscious solo traveler on a mission to take you beyond the guidebook to inspire you to live your best life through travel. Come join me!
Want to live your best life through travel?
Subscribe for FREE access to my library of fun blogging worksheets and learn how to get paid to travel more!