Having Lunch With A Local Family In Jordan
Locals setting out the food
In Amman, the capital of Jordan, visitors can find a variety of places to dine: local eateries, international restaurants, hotel dining rooms, trendy rooftop bars, gastro pubs, Irish bars and more. While these types of venues offer great experiences — like ethical meals at Wild Jordan, rooftop cocktails and gastronomy at Cantaloupe and traditional meals and shisha at Sufra Restaurant — a more authentic Jordanian experience is having lunch at the home of a local family.
My personal lunch experience took place about an hour outside of Amman in the small community of Arjan. Unlike Amman, the community was quiet and rural with nothing but the sounds of squawking chickens and trotting goats about. Walking onto the property of my host family, I am immediately immersed in lush greenery — which is unusual for Jordan as it's over 80% desert. That being said, the country is home to about 2,700 native plant species due to its three climates: Sahara, Tropical and Mediterranean.
The property resides on a hilltop, and beneath tall trees and loose vines are numerous cushions and pillows forming a square formation for my group to relax comfortably on during the meal.
Beyond the trees I can see chickens and children running freely through the yard, bringing the kind of smile to my face one can only get from experiencing nostalgia in a completely foreign place that still has the ability to make you feel back at home.
We're eating on farmland, as the three generations of family who live here — children, parents, and grandparents — are all farmers.
The men carry out the food and drinks, and although the women have prepared the meal Bedouin culture prevents them from eating with men who are not family members.
In the center of the circle on a blanket multiple bowls of Arabic salad — which has chopped up tomatoes, cucumber, parsley and onion — are set out along with bowls of homemade yogurt sauce.
Next, heaping platters of a traditional dish called "Maklouba," which translates to "Upside Down," are presented. The hearty meal features baked chicken, rice, potatoes, and eggplant mixed together with spices like turmeric, cumin, sumac, and cinnamon for a savory and flavorful creation.
Topped with the yogurt sauce and salad, the rich is extra creamy and filling, while the chicken is plump and juicy.
The meal — one of the best I've had during my trip to Jordan — is enhanced with traditional Bedouin Shrak (also known as Markook) bread, a type of large flatbread that is baked in a metal griddle.
We finish the meal with soup tea, or as the locals call it, Bedouin whiskey.
This is the local drink of choice and is meant to be enjoyed in a social manner.
At the end of the meal the mother of the children comes to say hello, carrying an adorable nine month old baby.
She shakes the hands of the females, although not the males as in Bedouin culture women are often uncomfortable touching men they don't know well.
That being said, both the women and men of the family are gracious to myself and the rest of the guests, truly happy to be sharing a meal with us in the beautiful outdoors.
Do It Yourself
It's recommended to bring a local English-speaking guide to translate for you (unless you speak Arabic) since many of the families don't speak English.
Just in case, here's a mini Arabic lesson to get you started. If you visit the Middle East, this will be helpful in many destinations:
Greeting (Literally meaning "Peace be with you")= as saLAAM aLAYkum
Reply greeting (Literally meaning "And with you")= w'aLAYkum assaLAM
Goodbye= ma'salama
Thank you= shukran
You're Welcome= 'afwan
How are you?= kief HAlak (to a man)/HAlik (to a woman)
I'm good= mniH
What is your name?= shu ismak (to a man)/ shu ismik (to a woman)
It was delicious= zaaki
For those who want to do this, you can book the experience through Ajloun National Park, who will set you up with one of the families in the country who host locals either for a meal or even a homestay for a glimpse into local Bedouin culture. You can also send an email to [email protected] or contact the Jordan Tourism Board.
My trip to Jordan was sponsored by the Jordan Tourism Board. I was not required to write this post nor was I compensated in any way. All opinions are my own. If you have Twitter or Instagram, feel free to see highlights from the trip through the hashtag, #MyJordanJourney.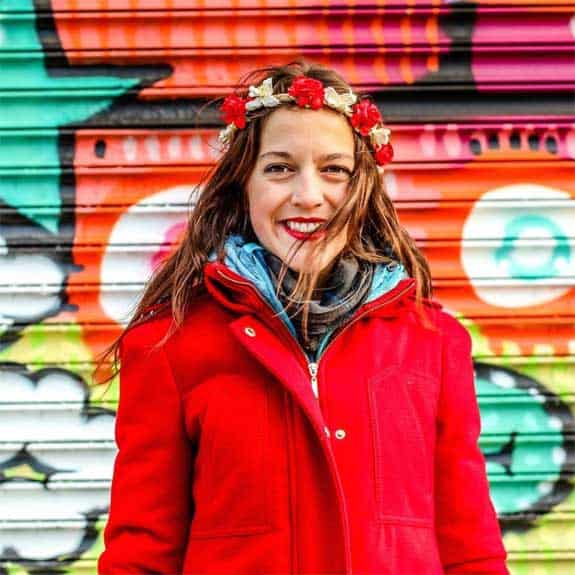 Hi, I'm Jessie on a journey!
I'm a conscious solo traveler on a mission to take you beyond the guidebook to inspire you to live your best life through travel. Come join me!
Want to live your best life through travel?
Subscribe for FREE access to my library of fun blogging worksheets and learn how to get paid to travel more!