How To Start A New Life Abroad
This post is part of Jessie on a Journey's Inspiring Travelers series.
Wondering how to start a new life abroad?
Are you curious about how to quit your job and move abroad?
Then you're in the right place!
In this post, I'm interviewing Janine DeVault of Janine in the World, a Canadian traveler who moved to the USA and then decided to quit what many would consider a dream job to move to Mexico and become a blogger and freelance writer.
In this interview, she shares her story of starting a new life abroad and living in Mexico as an expat, while providing advice for others who want to do the same.
Warning:
You may get the serious itch to pack up your bags, quit your job, and travel forever after this interview!
How To Start A New Life Abroad [Video]
Prefer video?
The above is an extended version of the text interview below.
Hear straight from Janine exactly how she moved to Mexico from the US to start a life abroad and chase her dreams.
By the way, I go live regularly with travelers who have inspiring stories to tell.
If you'd like to get updated on future Facebook Live events, click here to join my email list.
You'll snag my #BeyondTheGuidebook newsletter — full of stories and ideas for having unique travel adventures — as well as updates on fun online and offline events for travelers.
How To Quit Your Job And Move Abroad [Interview]
1. Thank you so much for taking the time to do this interview. To get started, can you just tell us a little bit about yourself?
My name is Janine and I'm originally from Vancouver Island, Canada.
I'm not sure if it was my parents' travel stories, our family subscription to National Geographic, or just my inherent Sagittarius nature, but I've always longed to travel and live abroad.
After graduating college I moved to Los Angeles, where I lived for five years before I found myself feeling restless again. By the way, traveling to LA alone is a fun experience.
About three years ago I quit my life, or at least somewhat spontaneously quit my job at an L.A. startup and moved to Mexico.
Now I help women travel Mexico safely and confidently on my blog, Janine in the World.
2. While many people love to travel, we all get into it for different reasons and have different travel styles. For you, it wasn't a quick vacation that was calling to you, but a complete lifestyle change and an itch to start a new life abroad. What were you feeling, and what was going through your mind?
Wanting to move abroad was not a new feeling for me. Honestly, I was feeling pretty restless in my life prior to making the change.
In theory, my job offered me "unlimited" vacation days; but, after multiple people were fired just days after returning from trips my excitement over that "perk" quickly waned.
I'm sure I sound like a typical millennial when I say this, but I really found the corporate culture at my job kind of absurd.
I felt like my talents and skills — and those of my coworkers — were always overlooked and I really wanted to find a way to work for myself doing something that would be both challenging and fulfilling.
Additionally, I was approaching 30 and wanted to feel like I was working toward something career-wise. So, I started doing some soul searching to figure out what kind of lifestyle I would ultimately like to have long-term.
I knew I wanted to travel more and potentially live abroad. That being said, in my opinion leaving family to move abroad isn't an easy decision, so I also wanted the ability to visit my family — who live across Canada and the United States — more than once a year.
I was aware that many people have location independent jobs, so I started doing some research to figure out what types of jobs would allow me to do that.
I'd operated my own pet-sitting business in the past, and it was really successful. That experience kind of gave me the courage to pursue another form of entrepreneurship since I'd already proven to myself in the past that I could do it successfully.
I began devouring all the information I could find about remote work, blogging, and working abroad and started weighing my options. Eventually, I landed on persuing professional travel blogging and freelance writing.
Have you ever dreamed of starting a new life abroad? Here is how one female traveler quit her job in the USA to move to Mexico! #ExpatLife #LiveYourDreams
3. You moved from Canada to California for work, and then quit your job to move abroad to Mexico. Why Mexico?
In terms of wanting to move abroad, there were so many reasons why I chose Mexico!
I studied abroad in Mexico in college and loved the experience. I have always been really drawn to the culture and the food, and really, since returning from my study abroad, I was always looking for an excuse to go back there.
Plus, I have a Bachelor's degree in English Lit and Spanish. I was really proud of my Spanish fluency when I returned from study abroad year…
…but that was in 2010.
I'd forgotten a lot of it by this point, and I was a bit bummed about that.
As I began researching location independent job options and thinking about where I'd like to travel or live, I thought moving abroad would be the perfect opportunity to brush up on my Spanish.
At the same time, I was also really eager to leave my 9-to-5 job. I thought moving somewhere with a lower cost of living would enable me to build an online business without needing to balance a full-time job at the same time.
Naturally, Mexico was top of mind.
I was still in touch with a few of my Mexican friends who I'd met while studying abroad there, so I felt like I'd have a little bit of a community upon arrival.
4. When you were deciding to move abroad, how long did it take to ultimately make the decision? Was there some kind of tipping point?
I began my investigation into remote work in February of 2017 and by April 2017 I'd decided to move to Mexico and in July I was there. So it didn't really take very long. I'm a pretty determined and impulsive person. Once I set my mind to something I make it happen.
That said, there was a series of events that made this decision particularly easy:
In March my job granted me "unlimited" vacation days, so I immediately booked a trip to Playa del Carmen, Mexico for a week. The trip was partly a recon mission to see if I wanted to make the move, and partly just a vacation.
When I booked the trip I reached out to my now-boyfriend, Héctor, who I'd met during my study abroad and remained friends with over the years, to see if he was around and wanted to join me.
He informed me that he was, in fact, moving from Mexico City to Playa del Carmen (which is near Cancun) at that very moment and that he'd happily join me.
Long story short, we'd had feelings for one another during our student days and they hadn't subsided, even after so many years.
We didn't want to sacrifice our relationship again just because of geography, and I was already seriously considering moving to Mexico, so I decided to just go for it and moved overseas. This made deciding to move abroad a lot easier!
If you could move anywhere in the world where would you go? Here is why one traveler chose to quit her job and leave her life in the USA to #MoveToMexico and become an #expat!
By the way, if you need help deciding where to explore next, take my fun and free travel personality quiz. It provides unique trip suggestions based on your answers to 10 visual questions!
5. What were the biggest challenges you faced with making the move to Mexico?
Making the move abroad was pretty easy, but a ton of challenges came up after I arrived.
To quickly summarize, these included:
Logistical details that come with being an expat
The language barrier
Cultural differences
Expat isolation issues
Starting A New Life Abroad Challenge #1: Expat Logistics
One of the hardest parts for me initially was figuring out little logistical details of moving abroad. Things like where to send my mail from the US, how to deal with banking, voting, and other tedious things.
Digital nomads and expats are all over the world, so there are solutions to these problems but it's tough to figure them all out, and many of them are handled differently depending on where you are in the world as well as your home state.
I'm still trying to figure out how to vote and the clock is ticking!
Starting A New Life Abroad Challenge #2: Spanish Struggles
Even though I'd once been very fluent, I'd forgotten most of my Spanish by the time I moved to Mexico.
This was frustrating and kind of isolating. I definitely went through a kind of grieving period when I realized how much of my ability I'd lost.
Even though I could kind of "get by " with my Spanish, I couldn't really make jokes or express my true personality. This left me feeling kind of isolated because it was harder to make friends and bond the way I normally would.
Starting A New Life Abroad Challenge #3: Cultural Differences
After living in Playa del Carmen for a year, we moved to Héctor's hometown of Xalapa, Veracruz, where we live now. This is the same city I lived in during college but moving here with him brought on a whole new world of struggles that I didn't have in Playa.
Namely, because his entire family lives here, so we're more integrated into a community of people, and there are all kinds of social expectations that come with that. None of which are bad, but it's been a big adjustment for me since I'm not from this culture.
For instance, I'm super independent and love to travel and don't think twice about traveling as a solo female, but for a lot of people here, it's kind of bizarre that I would go on a trip by myself.
Nobody really hassles me about it that much, but sometimes it can be exhausting to feel like I have to justify my life choices.
Starting A New Life Abroad Challenge #4: Expat Struggles
Once I moved overseas, I realized that being an expat can be isolating at times, even for a total introvert and quasi-misanthrope like me!
When we lived in Playa del Carmen there was a big expat community but there are virtually no expats in Xalapa. While I'm not lacking for social interaction, sometimes it's refreshing or comforting to be around people who have a similar lifestyle to me, or come from my culture and share my mindset about certain things.
I definitely think my move was made significantly easier by the fact that I had lived in Mexico before and was already familiar with the culture.
And, of course, having Héctor to help me through everything made it so much easier, especially in the beginning when my Spanish was so terrible.
Plus, now that I've had the chance to get to know his family and friends I feel like I have an entire army of people behind me, ready to help out if I ever need them.
6. What were some ways you overcame these challenges?
My Spanish struggles subsided with time and practice.
Once we moved to Xalapa there was no excuse to speak English anymore at all because most people don't speak it — or prefer not to — so that did wonders for me in terms of learning the Spanish language, which in turn did wonders for my confidence.
In the beginning, I was nervous/ashamed to speak Spanish because I was so terrible, but once I got over that my whole world opened up. I still make all kinds of mistakes, but I don't care because I can actually converse now!
One of my biggest current struggles is feeling isolated because of the lack of expat community here.
I'm dealing with it in a couple of ways:
Firstly, I have a friend back home who is super supportive and I've filled her in on all my expat gripes and issues, and she's always there when I need her which is wonderful.
Over the past few years, I've also found a ton of value in building connections through Facebook and Instagram.
I've befriended expats in other areas of Mexico, digital nomads, freelance writers, just all kinds of people who lead lifestyles similar to mine. That's been super helpful in making me feel like less of a weird loner.
Many of us have had the itch to #MoveAbroad. Well, here is what happens when you actually scratch it! #LiveYourDreams
7. Before moving to Mexico, as you were planning your trip, what was the life you envisioned for yourself before the move?
When I was preparing to move abroad and envisioning my dream life, I realized that I really wanted to build an online business that would give me the freedom and financial flexibility to travel Mexico — and the world — and also visit my family and friends back in the US and Canada more than once a year.
I also wanted to do something that I really enjoy — writing!
I've lived outside of Canada since 2013, and one of the reasons that I wanted a location independent job was so that I could have the freedom to visit my family and friends more than once a year.
In my job, I always had to decide whether to use my vacation days to go somewhere new, or visit my family, and family usually won. I knew if I ever wanted to actually be able to travel I needed a major work/life balance adjustment.
At the same time, I wanted to find a peaceful spot in Mexico where I could set up a comfortable home base, integrate into a community, and just enjoy the simple life when I'm not traveling. Like, go to my local coffee shop to work, buy fresh produce at the market, eat amazing tacos at the taquería, and go for a walk in the afternoons.
Another aspect I really looked forward to, was having a place where my family and friends would feel welcome and comfortable to visit me.
8. Once in Mexico, what steps did you take to make this vision a reality?
I started my blog with the intention of using it as a portfolio to land freelance writing gigs, and it turns out that was a super smart idea as it helps me land lots of gigs.
Initially, I didn't really think I'd be able to turn my blog into anything more than that.
As I began to learn more about blogging — largely thanks to Travel Blog Prosperity — my vision towards what my location independent business could look like completely changed. I realized that my blog was the perfect opportunity for me to create a community and resource for women like me, who wanted to travel to (or move) to Mexico.
Freelancing is still my primary source of income. In the beginning, I had no idea what I was doing.
I didn't know anything about pitching but I joined a bunch of Facebook groups for freelance writers and digital nomads and soaked up all the advice I could find. Then I learned about SEO writing through reading blogs and ebooks and soon that became my signature offering for clients.
This type of work has proven to be really awesome because it allows for incredible flexibility schedule-wise. Most of my work is assigned a month ahead, so if I want to go on a trip for two weeks I just finish all of my assignments before that!
As for my daily life in Mexico, my vision basically came to life upon landing, but it's also different — and in many ways, better — than I expected.
I hadn't really expected to become so integrated into Héctor's family, but that has been a really fun and fulfilling bonus to life in Mexico.
I travel pretty frequently throughout Mexico — more often than I had expected really. There always seems to be a vacation, or a friend to visit, or some sort of trip that comes up and keeps me on the go.
My favorite thing is when friends and family from back home come to visit me because I get to show them around and help them fall in love with all of my favorite things about Mexico.
9. Now, in Mexico, you actually fell in love with a local, Héctor, who you've now been dating for three years. How did you meet?
Our travel love story actually began 10 years ago.
Héctor and I met way back in 2010 when I was part of a study abroad program in Xalapa. We had a really strong connection but naturally, things didn't work initially because I went back to Canada.
We reconnected when I came to Mexico on vacation prior to moving here and it was like no time had passed. We talked about it and decided we'd both really like to give our relationship a try if I moved to Mexico. So I did!
Talk about an inspiring #LoveStory! This female traveler left the USA to move to Mexico and be with the guy she'd had a connection with years before. #DontWonderWhatIf
10. How has being in a relationship with a local affected the transition into expat life?
Having Héctor by my side through the transition has definitely been super helpful. It has been so helpful to have him translate for me and help me navigate cultural situations that I wouldn't have understood without his insight.
For example, he has helpfully explained to me what all the crazy noises in the street mean:
The cowbell means it's time to take the trash out
The guy ringing the triangle is selling bread
The scary whistle sound in the middle of the night is from a security guard
On top of that, if Héctor and I weren't together I probably wouldn't have moved to Xalapa, and I definitely wouldn't have gotten to know his family and been exposed to all the same experiences that I'm having as a result of being together.
Things might have been way harder for me, or I might have played it a little safer and only moved to areas with thriving expat communities.
Being so close with Héctor's family is super helpful, too. Now I have a huge community of people here who have my back. Whether I need help finding a doctor, a dentist, a restaurant recommendation, or something fun to do on the weekend, someone is always there to help — and not just in Xalapa, but all over the country!
11. What is the biggest challenge of living in Mexico?
For me, the biggest challenge that comes with living in Mexico is safety. But, not so much my literal safety as much as the culture around it.
I don't feel unsafe in my daily life here, but there is always someone warning me that it's unsafe to walk alone in the streets or travel alone as a female.
It's such a conundrum because I don't feel unsafe, but I know, intellectually that bad things could happen. And having people consistently warning me against doing things alone just breeds my own paranoia. I know that they are just looking out for me, not trying to scare me, but I hate hearing this.
Back home in Canada, I would never think twice about walking alone in the streets, day or night. Well, at night I might worry slightly about wild animals, but that's about it.
For someone who is fiercely independent, it has definitely been a big adjustment to realize that I do need to be watching my back, taking precautions, and adjusting my travel style to ensure I'm not putting myself at risk.
I still walk alone and travel alone within Mexico, but I definitely take more safety precautions than I would back in Canada. I'm less likely to walk at night here or wander off down an empty street, or a back road by myself.
WOW - I officially want to #MoveToMexico after reading this inspiring interview! If you're curious about what it's like to #QuitYourJob and #MoveAbroad, this female traveler shares her story.
12. What is your favorite thing about living in Mexico?
Pretty much everything!
I really love the warm and open culture. I'm an introverted Canadian but Mexico has definitely brought me out of my shell. I love that the culture is so community-oriented. Everyone is always willing to lend a hand, even to perfect strangers.
For instance, one of my dogs is an escape artist.
He runs away at least once a week and someone always calls us to go pick him up. Not only do they care for him while they wait for us, but they send texts days and even months after to check in on him after returning him.
I also really admire how upbeat everyone is.
There's always something to mope about in life if you are creative enough, but in Mexico, people tend to look on the bright side. And if there's something to celebrate it is celebrated with gusto, and I love that.
And then, of course, there's the food. Everything is so amazing. I'm pretty much in a constant food coma.
Do you have additional tips on how to start a new life abroad?
More Inspiring Traveler Stories:
How One Woman's Cancer Journey Led Her To Sell Everything And Travel
How The Near-Death Of A Parent Led One Woman To Say Yes To Travel
Kilimanjaro Trekking: A Healing Experience Summiting Africa's Highest Mountain
How To Sell Everything You Own And Travel The World
Enjoyed this post on how to start a new life abroad? Pin it for later!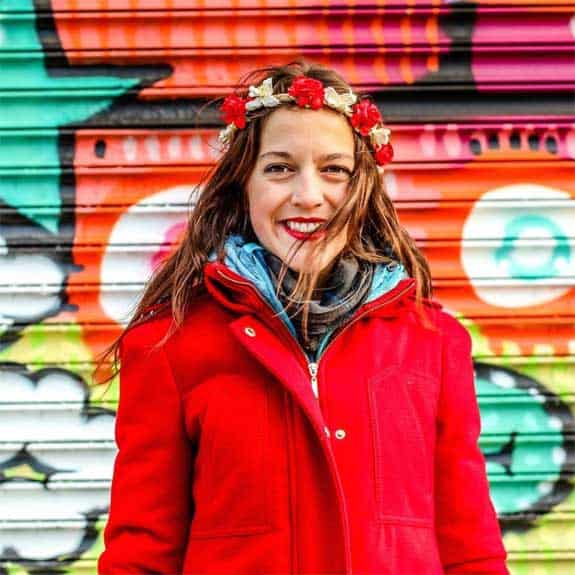 Hi, I'm Jessie on a journey!
I'm a conscious solo traveler on a mission to take you beyond the guidebook to inspire you to live your best life through travel. Come join me!
Want to live your best life through travel?
Subscribe for FREE access to my library of fun blogging worksheets and learn how to get paid to travel more!