3, 4 & 7 Day Cancun Itinerary (The Best Things To Do In Cancun!)
By Jessie Festa. My trip to Cancun was sponsored by BeachBound and also contains affiliate links to trusted partners. I only recommend experiences I truly think you'll love!
Looking for an unforgettable 7 day Cancun itinerary?
Then you're in the right place!
Located on Mexico's Yucatán Peninsula, Cancun is a tropical paradise known for its luxurious all-inclusive resorts, energetic nightlife, and stunning Caribbean coastline.
While it's a top option for those wanting an unforgettable beach vacation, it can be challenging to plan the perfect Cancun trip with so many options available.
Luckily, I've done the work for you and created an itinerary for 7 days in Cancun — with additional options for shorter trips — based on my own experience in the destination. Personally, if you can't swing a week, I recommend opting for 4 days in Cancun to really have time to enjoy all of its offerings, though you can get away with 3 if needed.
Keep reading to learn about the top things to do in Cancun along with important travel tips and recommendations for where to stay, excursions, and the perfect schedule.
🌞 Don't forget to pack sun protection! Along with sunscreen and a hat, a few other recommendations include polarized floating sunglasses and rashguard clothing.

🏖️ Other beach essentials include a waterproof fanny pack, a quick-dry towel with hidden pocket, and a waterproof phone case.

😍 And if you're looking for stylish beach cover-ups, I'm obsessed with these Kenny Flowers kimonos and sarongs!
Booking A Cancun Vacation With BeachBound
If you're planning a trip to Cancun — or really any beach getaway — check out the vacation packages and deals available on BeachBound.
BeachBound is an online travel company focused on selling luxury beach vacations around the world, with over 70 unique beaches in their catalogue. Their brand focuses on six experiences: Rejuvenation, Passion, Togetherness, Discovery, Adventure, and Immersion.
This means you can easily find a beach trip tailored to your interests. Plus, if you're looking to travel on a budget, you can search their dedicated Deals page.
There are also a number of perks to booking with BeachBound:
They price match beat. If you find a desired vacation package for a lower price on another US-based travel site, they'll match the rate — and then beat it by $25.
BeachBound accepts a wide array of payments — and they offer payment plans that allow you to pay off your trip over two years.
Travel Protection Plus is included with your booking — which features a number of benefits, like being able to cancel your trip for any reason for a 75% refund or a 100% travel credit.
They work directly with Amstar DMC on the ground — so there is no need to stress about transportation to and from the airport or excursions
Click here to search trip inspiration and vacation packages on BeachBound.
Also, if you're looking for a Cancun trip planner on top of this post, check out their free trip planning tool.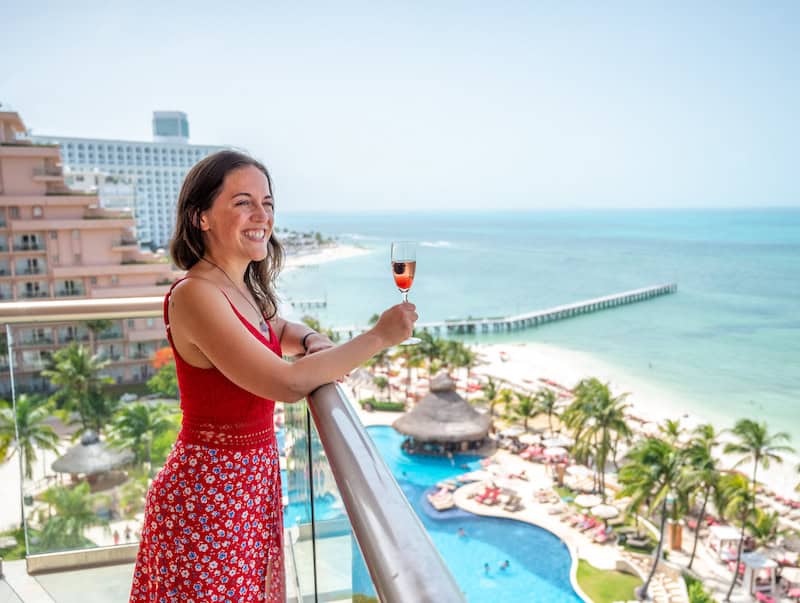 Where Is Cancun? + Map
Cancun is located in Mexico. More specifically, it sits on the northeast coast of the Yucatán Peninsula in the state of Quintana Roo, right on the Caribbean Sea.
To help give you a lay of the land, here is a Cancun map:
You can also click here for a link to the interative Google Map of Cancun.
Getting To Cancun
Getting To Cancun By Air
Many people travel to Cancun by plane, arriving into Cancun International Airport — which is conveniently only 14 miles from the Hotel Zone.
To get to and from your hotel, it's wise to pre-book your transportation. As noted above, BeachBound works directly with Amstar DMC for this.
In my experience, after clearing customs, it was easy to find my Amstar driver in his bright flower pattern shirt holding a sign with my name. The ride itself was comfortable, with a clean air conditioned car and a cooler filled with refreshments.
Bonus: The driver also gave me loads of interesting local tips — like that Taquería Los Chachalacos within the Hotel Zone is his favorite place to get tacos al pastor.
Getting To Cancun By Land
Additionally, travelers visiting Cancun as part of a larger Mexico itinerary may visit the destination by land. It's easy to get from Cancun to Playa del Carmen, Tulum, and other nearby popular tourist destinations.
To complete the journey, you can rent a car (I recommend DiscoverCars for this) or take public transportation (ADO is the regional bus service).
Getting Around Cancun
There are a number of ways to get around Cancun, including:
Renting a car. Renting a car is generally considered safe in Cancun.
Booking tours. Amstar DMC offers a number of excursions to add to your itinerary for Cancun, Mexico.
Walking. The Cancun Hotel Zone is very safe to walk around and has sidewalks.
Public bus. Cancun's local bus system connects the main traveler points of interest like the Hotel Zone, Boulevard Kukulcán (downtown), and Avenida Tulum. Tip: Just make sure you have exact change in Mexican Pesos for the ride, as drivers often can't break larger bills.
When To Visit Cancun
While Cancun is a year-round destination, certain times of year can be more enjoyable than others.
December through April is typically considered the best time to visit Cancun, with clear and warm weather that isn't oppresively hot like it can be in the summer.
If you're looking to book the cheapest time to vacation in Cancun, May through November tends to be more budget-friendly with better hotel and flight deals.
July is largely considered the warmest month of the year, though as someone who has personally visited Cancun in July, I'll say you can still have a fun and memorable trip. Yes, it's hot, but you'll likely spend a lot of your time in the water anyway.
Want to avoid the spring break crowds? Book your Cancun trip outside of March or April — especially the last two weeks of March.
How Many Days Are Enough For Cancun?
If you're wondering how many days in Cancun are enough, I'd say it really depends on your trip goals.
In my opinion, 3 days in Cancun is the minimum I would do. Less than that and you'll basically be packing to leave before you've fully unpacked.
Cancun is a stunning destination full of opportunities to relax, so to really give yourself a chance to unwind, 4 days or more is best.
Now, if you're planning a trip to Cancun, Mexico that includes a mix of relaxation, adventure, and exploration, a week is the perfect amount of time to really immerse yourself in what the destination has to offer. That is why I'm outlining a 7 day Cancun itinerary in this article.
How Much Is A Trip To Cancun?
Wondering "how much does a trip to Cancun cost?" Well, if you're staying at an all-inclusive and stick to the food and experiences available onsite, it simply costs the amount you paid for your accommodation, plus flight, airport transfers, and optional (but appreciated) tips.
That being said, exploring Cancun beyond the resort is recommended if you're looking to dive deeper into the destination. In Cancun and around the Yucatán Peninsula, you'll find cenotes, Maya ruins, jungle adventures, and more. Most Cancun tours range from about $100-$300 per person.
You can also find flight deals by using these tips for finding cheap airfare, like signing up for alerts with Secret Flying and Airfarewatchdog.
In short, Cancun vacation costs vary, but it's possible to enjoy the destination on a reasonable budget.
Where To Stay In Cancun
Most travelers to Cancun stay in the Hotel Zone (Zona Hotelera), a 14-mile strip showcasing over 70 hotels. Because there are so many options, it can be tricky to choose which Cancun resort to book.
I recommend choosing a place that is:
On the Caribbean side of the strip (vs the lagoon side)
Within Punta Cancun, the commerical heart of the Hotel Zone with loads of beach activities, restaurants, and nightlife
One property that fits both of those requirements — and more — is the Grand Fiesta Americana Coral Beach, a stunning 5-star all-inclusive resort full of incredible experiences.
Here is a quick gallery snapshot of the resort:
Featuring nine restaurants, a sports bar with game room, a sumptuous 40,000-square-foot spa, an oceanfront fitness center, multiple pools and swim up bars, nightly entertainment, direct beach access, and an array of onsite activities from water polo to kayaking to tequila tasting, you'll truly never be bored.
I've been to many all-inclusives over the years, and can say the service and attention to detail at the Grand Fiesta Americana Coral Beach is outstanding.
Additionally, the dining and entertainment is next level. Not only do they host outstanding nightly entertainment like fire and aquatic shows, but almost every meal had an interactive element — from ballet dancers at Le Basilic to a mariachi band at La Joya to immersive 360-degree digital art at The Table.
The resort is also conveniently located adjecent to the ferry dock for trips to Isla Mujeres as well as next to Cancun's famous nightlife-filled Party Zone. And if you're traveling as a family, there is an onsite Coral KidZ Club to entertain the little ones.
In terms of accommodation, the property features 602 spacious and clean suites — all with ocean views and private terraces.
Looking to uplevel your Cancun trip? Opt for the resort's Infinite Club, which features upgraded accommodation, access to exclusive areas of the resort, and special perks like hydrotherapy spa treatments, premium beverage selection, and special personlized resort experiences.
Click here for full information and to book your stay.
7 Day Cancun Itinerary
Now it's time to dive into our Cancun 7 day itinerary.
This Cancun trip guide is based on my own experience in the destination, and is completely customizable. Feel free to move days around or swap out excursions to fit your interests.
There are some options for alternative Cancun experiences below, too. As stated above, your tours can be booked right through BeachBound.
Additionally, I've included Cancun trip itinerary ideas for shorter trips toward the bottom of this guide. You'll find options for 3 days in Cancun as well as 4 days in Cancun.
Remember, too, that the Grand Fiesta Americana Coral Beach hosts a wide array of daily activities, like pool games, bingo, kayaking, beach volleyball, tequila tasting, circus-style shows, and more.
Here is a sample schedule. Keep in mind, this isn't even the full roster of events:
Day #1: Explore The Resort
Whether you're staying for a week or only have one day in Cancun, you'll definitely want to enjoy the resort.
The beauty of staying at an all-inclusive in Cancun is everything is taken care of, from the activities to the food to the drinks to the stunning scenery.
Since today is a travel day, it's smart not to schedule too much for yourself. Spend time exploring the resort, swimming the Caribbean Sea, sipping cocktails at the swim up bar, and taking part in one of the many resort activities.
For dinner, immerse yourself in Mexican history and culture at The Table, an interactive 9-course dining and pairing experience. Each dish tells the story of Mexican history and Maya culture, from prehistoric times through colonization to modern day.
For instance, a king crab chilpachole cooked with lava rock in a dish made to resemble a volcano is served to represent how after the land was first created from cooling lava, crustacean-like creatures were the first life to emerge.
On top of that, digital art, live music, actors, and narration help to bring it all to life.
This will cerainly be a memorable meal, as The Table is one of the most unique restaurants in Cancun. Just note that seatings are limited and are only at 6:30pm on Fridays and Sundays.
Day #2: Enjoy Cancun's Beaches
When researching what to do in Cancun, the beach will likely be at the top of your list. You could spend every day of your 7 day Cancun itinerary exploring the sand and be totally happy.
And for good reason: the Mexican Caribbean coastline is dreamy, with soft white sand and inviting turquoise waters.
Spend the morning swapping between swimming in the sea and lounging in the comfortable lounge chairs provided by the resort.
Then, after a lunch of fresh catch and conch ceviche at the al fresco Isla Contoy, get active with some kayaking, snorkeling, or stand up paddle boarding. You can also go jet skiing right from the resort!
Before heading back to your room to shower for dinner, enjoy a cocktail in the sand as you watch a beautiful Cancun sunset.
For dinner, opt for a AAA Five Diamond meal at Le Basilic, a fine dining French restaurant with a multi-course food pairing menu that features local ingredients and Mexican wines. Not only is the food delicious, but the eatery is decorated with abstract paintings created by local artist León Alva.
Live piano music and ballet dancing provide entertainment while you dine.
Afterward, check the resort's nightly entertainment schedule, which ranges from circus shows in the Grand Coral Theater to live music in the Lobby Lounge to dancing in the Havannah Club and beyond.
Day #3: Day Trip From Cancun To Isla Mujeres
One great thing about planning a Cancun itinerary for 7 days is you have the chance to schedule in day trips — like to Isla Mujeres, a 4.3-mile-long island known for its beautiful beaches and abundant shopping.
The ferry departs from right next to the Grand Fiesta Americana Coral Beach, and it takes about 30 minutes to reach Isla Mujeres.
Once you exit the ferry terminal, you'll be bombarded with street vendors trying to sell you their wares and taxi drivers offering tours of the island.
My suggestion: walk away from the main drag to the quieter side streets to enjoy the shops in a more peaceful setting. A few items you'll see a lot of include macrame clothing, Cuban cigars, and Talavera Pottery.
You can also walk to the stunning Playa Norte (North Beach), which has soft white sand and translucent blue water.
On the beach are also restaurants and bars, some of which are really cute and offer beautiful ocean views.
To reach Playa Norte, you can walk El Malecon, a scenic seaside walking path between Calle Mateos and Calle Allende where you can enjoy a photo opp with the Isla Mujeres sign and potentially spot dolphins in the water
If you'd like to explore more of Isla Mujeres, you can rent a golf cart, which is about $50 for a half-day. A few experiences of interest on the island include:
Seeing the waterfront sculptures at Punta Sur
Visiting pretty churches like Capilla de Guadalupe and Iglesia de Concepcion Immaculada
Purchasing handmade jewelry at the Women's Beading Cooperative
Once back in Cancun, freshen up for a delicious dinner at La Joya, the Grand Fiesta Americana Coral Beach's upscale Mexican restaurant. As you enjoy dishes like fresh fish in creamy tequila corn sauce and beef barbacoa cooked in maguey and avocado leaves, you'll be entertained by an 8-piece mariachi band.
Pro tip: this eatery is known for its margaritas, which are delicious. I tried both a spicy margarita on the rocks and a frozen tamarind margarita. Yum!
Afterward, check out the nightly entertainment or play a round of air hockey or foosball in the Sports Lounge.
Day #4: Have A Cancun Jungle Adventure
Ready for an adventure? Today on your Cancun travel itinerary we've got another day trip, this time in the form of a jungle adventure.
There are a number of jungle tours that involve ziplining, ATVing, and swimming in Mexico's famous cenotes — which are natural deep-water sinkholes.
The Yucatán Peninsula is home to at least 6,000 cenotes, so you certainly have plenty of options.
The closest cenotes to Cancun are along the Ruta de Los Cenotes Puerto Morelos, which is about an hour drive — either via tour or your own car — from the hotel. Many of the cenotes also have ziplines and high jumps that offer an adventurous way to enter the water.
Another option is Valladolid, which is about two hours away by car. While I personally haven't visited this city, I've read that because Valladolid has a higher elevation than the coast, the cenotes feature more dramatic drops and scenery.
If you love adventure travel, this will likely be your best day in Cancun.
Afterward, come back to the resort to enjoy a delicious dinner at the Tuscany Trattoria & Terrace. Transport yourself from Mexico to Italy through plates of homemade pasta, creamy risotto, and bistecca alla fiorentina before enjoying some evening entertainment. Check the daily schedule to see the array of options.
Day #5: Visit Maya Ruins From Cancun
No Cancun travel blog would be complete without mentioning Maya ruins. The Maya are an Indigenous people of Mexico and Central America, who built remarkable cities featuring temples, palaces, and pyramids from the Mayan Preclassical Period (2000 B.C. to A.D. 250).
Today, these ancient cities sit in ruins, though are still incredibly impressive.
In fact, when researching what to do around Cancun, you'll see numerous options for ruins to visit. A few of these include:
Chichen Itza. No travel guide to Cancun would be complete without mentioning this popular UNESCO World Heritage Site, which was one of the largest Maya cities. Known for its large central pyramid, It was founded by the Itza in the 5th century AD and is believed to have had over 50,000 inhabitants.
As it's one of the New 7 Wonders Of The World, you'll certainly want to add this to your 7 day Cancun itinerary.
Tulum Ruins. If you're planning a Cancun Tulum itinerary, the Tulum Ruins are a must. These ruins are known for many things — like the site's stunning location right on the Caribbean Sea. In fact, the Tulum Ruins are one of the few enclosed cities built by the Mayas, featuring walls on three sides and an open fourth side facing the water.
Coba. Coba is another popular Cancun Mexico itinerary addition. Located about 29 miles northwest of Tulum, Coba is known for having the highest pyramid in the northern Yucatan, called Nohoch Mul.
Ek Balam. While the previously-mentioned Maya sites are mentioned in almost every Cancun information guide, Ek Balam is less touristy — though still very important, especially as the site was the region's main political center for many centuries. A few highlights of a visit are seeing the uniquely-shaped pyramid and getting to climb to the highest point of the ruins at 95 feet.
If you'd like to book a tour, Amstar DMC offers a number of options.
For dinner, opt for a spot along the Hotel Zone or have an Italian meal at Viña Del Mar at the Grand Fiesta Americana Coral Beach. While gazing out over the Caribbean Sea, you'll be entertained by a soprano and tenor show.
Since you don't have to be up early tomorrow, consider leaving the resort to enjoy the nightlife in Cancun's Party Zone.
Yes, it's touristy, but you'll find some epic dance parties at places like Coco Bongo and The City Discotheque, both of which also include acrobatic performances.
These clubs are surrounded by loads of other nightlife options, as well, and the streets in this area have a loud and festive feel.
If you'd prefer to enjoy Cancun's nightlife away from the craziness of the Party Zone, another option of many is Distrito Gourmet, which is a kind of open-air food hall-meets-nightclub concept. The icing on top is that you also get beautiful water views.
Day #6: Explore Cancun Beaches & Hotel Zone & Spa Day
Whether you're backpacking Cancun, traveling solo, creating a Cancun family itinerary, or planning a trip for two to Cancun, the beach will likely be a main point of interest.
In all honesty, you could visit the beach every day of your 7 day Cancun itinerary and still have an incredible trip.
Spend the morning swimming, snorkeling and paddling. Also, if you haven't done so yet, take a short 15-minute walk along the beach to Punta Cancun Lighthouse. You can't climb it, but it's a scenic walk along — and sometimes in — the water that offers beautiful views looking back toward the resort.
After lunch at the poolside Bikini Bar or inside at the bistro-style Coral Cafe, take a walk along the Hotel Zone. There are a number of points of interest, like:
Party Zone, a club area that is wild at night but still interesting to see during the day
La Isla Shopping Village, a mall with a wide variety of shops, eateries, and attractions like Ripley's Mirror Maze and the Tequila Museum
Mercado Coral Negro, a flea market with souvenirs — though note it's quite pricey
Playa Delfines, a public beach where you can also take a photo with the Cancun sign
El Sol de Cancun, a ferris wheel offering beautiful views of Cancun
El Rey, Maya ruins named after "the King" statue on site that also has a botanical garden
Museo Maya de Cancún y Zona Arqueológica de San Miguelito, a Maya museum and archeological site
Mayan Market, which sells Maya-inspired jewelry and handicrafts as well as artisanal tequila
Restaurante Lorenzillos, a great spot for fresh seafood meals right on the water
Taquería Los Chachalacos, a taquería known for its delicious tacos al pastor
After exploring Cancun, head back to the Grand Fiesta Americana Coral Beach for a treatment at their Gem Spa.
Their signature treatment is the 80-minute Seventh Wonder Luxury Massage, which involves an essential oil massage where seven quartz stones are placed on the seven corresponding chakras of the body for a transformative experience.
When visiting, I personally did the Hydrotherapy Treatment, a 10-step circuit that involves a mix of hot and cold rituals.
Starting with a soothing eucalyptus steam, you'll then cool down in a multi-jet shower before getting a clay body mask followed by closing the pores with cool ice crystals. From there, you'll relax in a dry sauna followed by a rain shower. Up next is a series of pools: a hot whirlpool, a cool plunge pool, a colder plunge pool, and then a reflexology-focused underwater pebble walkway. The experience culminates with a swim in the "pool of sensations" with massaging neck jets, bubbles, floor geysers, and other therapeutic elements.
Afterward, you'll be nice and relaxed for dinner on the beach at Nah K´aax, which means "Jungle House" in the Mayan language. Listen to the waves lapping up onto the coast as you dig into Mexican-Asian eats in a boho chic space.
You'll also have live entertainment, either from a DJ spinning right on the beach or their twice-weekly fire show.
Day #7: Enjoy A Cancun Sunrise
While I personally woke up for sunrise every day of my Cancun trip, I realize getting out of bed before 5:30am isn't for everyone.
If you haven't seen a Cancun sunrise yet by the last day of your trip, make sure you take this final opportunity to do so.
If possible, skip going back to bed and instead and enjoy the resort amenities one last time before you have to leave for your flight. Savor an al fresco breakfast, swim in the pool, and dip your toes in the Caribbean Sea one last time before heading back home to reality.
Alternative: 4 Day Cancun Itinerary
Can't swing a 7 day Cancun itinerary? You can still have an epic trip! Here is how I suggest you spend 4 days in Cancun:
Day 1: Explore the resort, relax by the pool, and partake in some included activities
Day 2: Relax on the beach, do some water sports, and book a spa treatment
Day 3: Do a Cancun day trip like exploring Maya ruins or having a jungle adventure
Day 4: Wake up to see a Cancun sunrise and enjoy the pool or beach before your flight home
Alternative: 3 Day Cancun Itinerary
Only have time for a weekend in Cancun? Here is how I would spend 3 days in Cancun:
Day 1: Explore the resort, relax by the pool, and partake in some included activities
Day 2: Relax on the beach, do some water sports, and book a spa treatment

If you want to get away from the resort, do a quick nearby day trip like visiting the El Rey Ruins right in the Hotel Zone for an hour or two

Day 3: Wake up to see a Cancun sunrise and enjoy the pool or beach before your flight home
Tips For First Time Travelers To Cancun
Wondering how to plan a trip to Cancun, Mexico? To help make your beach vacation as amazing as possible, here are a few tips for visiting Cancun:
Check the latest entry and exit rules for travel in Cancun. This goes for general passport, visa, and vaccination requirements, as well as necessary steps due to the pandemic.
Don't schedule too much on your first day. Traveling is exhausting — especially when you factor in early wake up times and time zone changes — so don't schedule too much for yourself on your arrival day. The good thing is all-inclusive resorts like the Grand Fiesta Americana Coral Beach have daily activity schedules, so if you're feeling energetic there will be plenty to do.
Bring cash for tips and extras. While tipping at an all-inclusive resort in Cancun is not mandatory, it is a nice gesture. The local currency is the Mexican Peso, though you can also tip in US dollars (just make sure to leave only bills and not coins).
Note that paying in Mexican Pesos off the resort can get you better rates. For instance, we paid US dollars for our ferry tickets to Isla Mujeres — and paid about $6 more per ticket than we would have if we used pesos.
Note that many all inclusive resorts bake tips and taxes into the room rate, though leaving a little extra for your servers and bartenders is a kind way to show your appreciation. You should also tip bag handlers, spa workers, and housekeeping.
As an initial guideline, consider tipping about $5 for breakfast and lunch and $10 for dinner.
Allow yourself to relax. If you're lucky enough to have planned a 7 day Cancun itinerary, you'll have plenty of time to just enjoy the all-inclusive resort and partake in all of the included food, drink, activities, and entertainment — not to mention the gorgeous scenery and beach. Dedicate a good chunk of your itinerary to enjoying these amenities.
Take at least one day trip. While your Cancun all-inclusive resort will certainly be a trip highlight, there is more to the destination. Spend some time getting to know the local history, culture, and landscape. Even if you only have a weekend trip to Cancun planned, you can still see Maya ruins right within the Hotel Zone. And if you have a week to spare, a 7 day Cancun itinerary gives you plenty of time to enjoy the resort and beyond.
Wear (reef-safe) sunscreen & sunglasses. Cancun is a sunny Caribbean destination, so you'll definitely want to pack sunscreen and sunglasses. To help protect the environment, consider a high SPF reef-safe sunscreen.
Wake up for at least one sunrise. The sunrise in Cancun is gorgeous and absolutely worth waking up early for. There is also something truly special about wandering the resort on your own.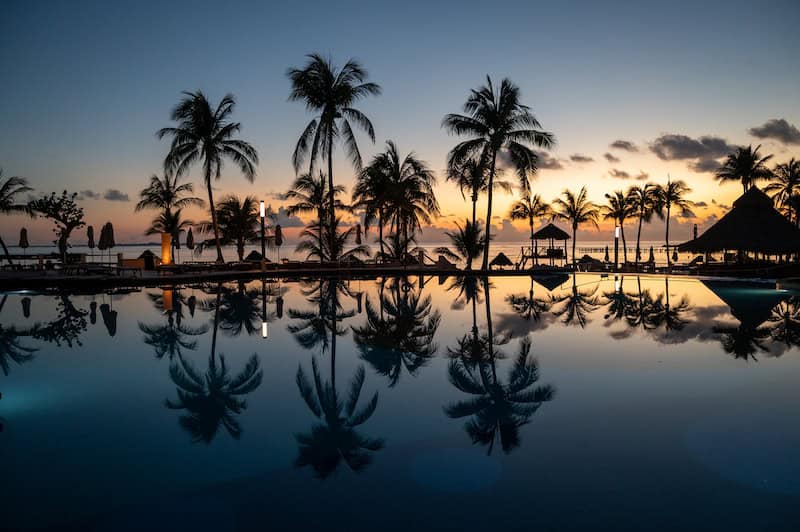 Is Cancun Safe?
Yes, Cancun is a safe travel destination — as long as you know where to go and where to avoid.
The Cancun Hotel Zone, for instance, is very safe, and you'll see many local police helping to keep it that way. My Amstar driver explained that because tourism is so vital to Cancun's economy, the destination really works hard to keep it safe for visitors.
If you plan to leave the Hotel Zone, check with your hotel to see where is and isn't safe to explore in Cancun.
Mexico Travel Insurance
When visiting Mexico — or anywhere else in the world — it's wise to get travel insurance.
One of the best travel medical insurance for travelers is SafetyWing as they've got a large network and offer both short-term and long-term coverage — including coverage if you're traveling for months as well as limited coverage in your home country).
Additionally, SafetyWing is budget-friendly and offers $250,000 worth of coverage with just one low overall deductible of $250.
Click here to price out travel insurance for your trip in just a few clicks.
What would you add to this 7 day Cancun itinerary?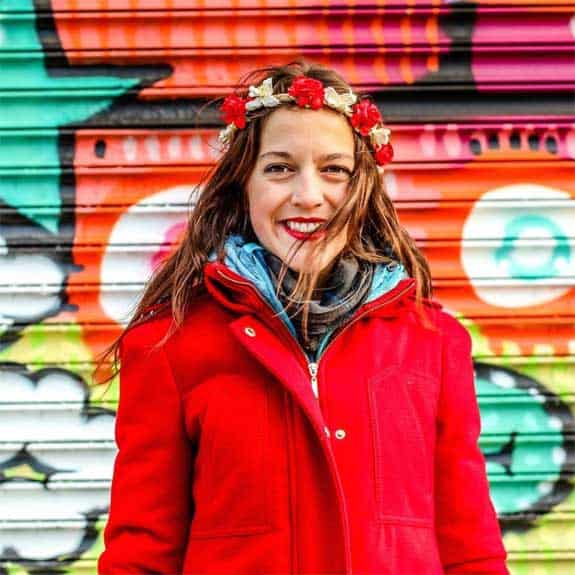 Hi, I'm Jessie on a journey!
I'm a conscious solo traveler on a mission to take you beyond the guidebook to inspire you to live your best life through travel. Come join me!
Want to live your best life through travel?
Subscribe for FREE access to my library of fun blogging worksheets and learn how to get paid to travel more!