This Is What Happens When You Road Trip From NYC To Dutchess County
A big thanks to Dutchess Tourism for helping to set up the activities!
Homemade ice cream on a tree-lined dock. A sky slowly transitioning from bright blue to a dreamy swathe of pinks and purples, streaks of bright yellow and holiday fireworks illuminating the skyline across the Hudson River. Beautiful church steeples soaring toward the sky, as a family of ducks swims by without hurry.
We certainly weren't in NYC anymore.
In fact, my boyfriend Andy and I were exploring the many things to do in Dutchess County and its lovely Hudson Valley, known for its gorgeous scenery, outdoor adventure and hyper-local culinary culture. Honestly, there are some truly incredible hiking trails in the Hudson Valley.
We made a pretty sweet Spotify road trip playlist, too. Click here to swipe it to enjoy on your own epic drive trip.
You're welcome 🙂
Stay
The Hilton Garden Inn Poughkeepsie/Fishkill. For this trip we planned to spend most of our time outdoors, so wanted something simple, clean and comfortable. A budget-friendly hotel with a heated indoor pool and hot tub? Yes please! The staff was super friendly too. If you enjoy working out they have an on-site gym, and also offer complimentary access to the local Allsport gym.
Starting rate: $139/night, including parking and Wi-Fi.
There are also a number of bed & breakfasts and a ton of Airbnbs, including some fun-looking airstream trailer and RV rentals! Click here to get up to $35 off your first Airbnb!
Road Tripping Around The Hudson Valley
There's so much to do and see in this beautiful region! And while inclement weather killed a few of our plans, mainly a hot air balloon ride with Blue Sky Balloons and a kayaking trip with Mountain Tops Outfitters, we still had a blast.
In fact, in just two days we covered a lot of ground. Just see this map:
Getting Around
You'll definitely want a car to explore the different areas and all the things to do in Dutchess County. While this time we were able to snag a car from Andy's mom to borrow, when I'm renting I'm a big fan of Enterprise Rent-a-Car.
My home of NYC is outrageously expensive to rent a car in. The trick: take the train about an hour up to Croton-on-Hudson — or any other city north of the city — and it's much cheaper to rent. The awesome thing about Enterprise is they'll pick you up from the train station. I also feel like every time I go there they either upgrade me or give me a perk, like a quarter tank of free gas for taking a different car than I booked.
With our vehicle, we were ready to explore the beauty of Dutchess County.
Beacon Highlights
We began our trip wandering the hip Beacon, which a local told us was dubbed "NoBro", or "North Brooklyn". Funny enough, we met more than a few Brooklynites who'd re-located to this city.
The main hub of Beacon is extremely walkable, with sidewalks featuring restaurants boasting local ingredients, homemade products and non-chain services with adorable wooden signs.
A few highlights:
Browse the local boutiques. There are so many to choose from, including high-end shops like Reservoir & Wood, Bellus on Main and Classic Couture Fashion Boutique.
ReMADE. All their items are upcycled, repurposed, restored or handmade by local Hudson Valley artisans. It's definitely the place to go for unique gifts, home decor and accessories.
Peruse the art galleries and studios, like Morphicism Gallery (who also do adult coloring book workshops) and RiverWinds Gallery.
The Chocolate Studio. Do I really need to explain why you should go here? Stop by for a S'Mores Gourmetible (sort of like candy-meets-cookie) or to take a chocolate-making class!
Bank Square Coffee House. A hip coffee shop with yummy gluten-free pastries, teas made with real leaves and amazing coffee showcasing Instagram-worthy latte art. Just note cash is a must, as it's $10 credit card minimum!
Meyer's Olde Dutch. Amazing meal in a chill space with an outdoor light-strung patio. We savored the best of both worlds: a vegetarian mushroom and nut burger (tastes like meat!) and a pork-laced beef burger… Paired with some gin punch and a side of Dirty Fries topped with homemade slaw, chili and pimento cheese, it was an unforgettable meal.
As you can, Beacon is certainly a highlight of any New York tourist guide!
After stuffing ourselves, we drove about five minutes for a sunset waterfront view at Scenic Hudson's Long Dock Park.
The park is a revitalization project on the site of a former industrial complex, featuring everything from rehabilitated wetlands to a kayaking center. Additionally, the metal dock isn't your simple wooden dock, but showcases modern architecture and plenty of places to sit and watch the sunset over the Hudson River.
As we hadn't had time to get ice cream before sunset at the dock, we drove over to Ron's Ice Cream for some sweet treats. On the side of Fishkill Avenue is a stand-alone shop with picnic benches and a giant ice cream cone statue on top.
While NYC is filled with conscious vegan and chef-driven ice cream eateries, this simple retro shop is exactly what I love about more suburban parts of the state. Andy opted for a hot fudge sundae showcasing Kahlua and Cinnamon Bun ice cream, while I opted for a soft serve twist gowned in rainbow sprinkles. Typically I'd go for one of the more decadent scoops, but when I see the soft serve is made with local Ronnybrook Milk, I have to try it.
Delicious!
The evening culminates with us not going to bed early like we should, but instead going to an 11pm horror movie at a drive-in theater.
A real life drive-in movie, like my parents used to go to!
What a cool experience. For anyone who has never been it worked like this: there's a giant parking lot with marked spaces, and a giant concession stand — adorably called the "snack bar" — in the center. You tune in to a specific channel on your car radio for audio, with your vehicle in auxiliary so the battery isn't affected. From there, you can sit on your hood/back or just in the car seats and watch the film on a big screen in the woods. Pretty terrifying (and fun!).
Despite going to bed late, we woke excited to explore more of the things to do in Duchess County, starting with the most delicious omelet on earth at Ground Hog Coffee. It's a small house converted into a wood-accented eatery.
Our friendly server gave us some insider info on a delicious omelet not even on the menu: The Red Neck. The delicious meal featured pulled pork, home fries and cheese. So indulgent, but worth it.
Luckily, we worked it off right after.
Walkway Over The Hudson was our first active stop of the day.
This is one of the top Hudson Valley attractions! It consists of a 1.28-mile paved walk that was once a railway, though has since been converted into a viewing platform. As the name implies, you walk right over the Hudson River, taking in the amazing views of the region.
Oh, and it's free. #Winning!
Active Stop #2: the Vanderbilt Mansion. While the mansion itself is under renovation, the property features hiking trails offering stunning vistas.
In fact, I'd say the park has some of the best Upstate NY hikes for those looking for easy trails!
After taking in the aptly named "Millionaire's View," Andy and I decided to take on the Hudson View Hike, which had lovely woodland and beach landscapes.
Oh, and it's free. Again, totally #winning!
By this point we'd worked off the omelets and were ready for a true taste of the Hudson Valley. What's awesome is that Duchess County — the county The Hudson Valley is located within — has a Craft Beverage Trail. Along the trail are also farms offering fresh produce, farmstead cheeses and top-quality maple syrup.
Yes, we were in for a delicious ride.
Side PSA:
Make sure you have a designated driver for this portion of the trip! The stops all have beverages you can take home to enjoy, so if you're driving go, meet the makers, enjoy the scenery and purchase something to savor after you've parked.
Now, back to your scheduled programming.
Along with active adventure, I'm obsessed with meeting local producers when traveling, which is why the trail was so perfect.
A Brewery Lunch
It all started with a tasty lunch at Hyde Park Brewing Company, right across from the Vanderbilt Mansion. We sat on their outdoor patio and shared enormous plates of shrimp-laced salad, bratwurst with spaetzle and possibly the best bread-bowl spinach dip I've ever tasted, with each dish on their menu listing a pairing suggestion. I tried not one, but two of their beers. One was a refreshing hefeweizen, while another was a dark but light-bodied "Chaos Dry Stout" with notes of espresso and chocolate.
Free Cheese & Adorable Animals At Sprout Creek Farm
Despite a hearty lunch, we can never say no to cheese. So, we headed to Sprout Creek Farm for some homemade cheese tastings (free!). The farm features a giant barn full of goats and cows, with kitties napping on picnic benches. Inside is an artisanal shop with a wooden board of cheeses and toothpicks — and a window to see production — and shelves of jams, honey, pickles and more.
As we drove, I saw a text message from a friend pop up on my phone screen.
"While you're there don't miss Crown Maple. It's like the Chateau Lafite Rothschild of maple syrup."
I smiled, loving those moments when I didn't need to make decisions.
I spoke aloud to respond without typing, "Sweet! Pun intended. Thanks for the recommendation!"
The Queen Of Syrup At Crown Maple
And my friend wasn't wrong with her recommendation. Interestingly, indigenous people of the area had harvested sap for maple syrup, and the tradition continued with the European settlers that came next and learned the process. Mavada Farms, which Crown Maple resides on, focuses on producing maple syrup in a sustainable manner that won't harm the trees and that supports locals.
Not-to-miss experience: a 90-minute maple tour that takes you through the art-adorned sugar house and ends with a structured tasting. Just like wine, maple syrup also has terroir, and you can tell a lot about a syrup based on where it's from. Pay attention to colors, aromas, dominant and minor flavors, and mouth feel, all which lend to the maple syrup tasting experience.
Bonus: the on-site cafe is delicious! The signature pancakes offer a sweet trifecta of maple syrup, maple-glazed bacon and maple-whipped maple butter.
Other Trail & Artisanal Highlights:
Millbrook Vineyards & Winery. This is one of the Hudson River Region's larger wineries, and, according to their team, the first to successfully grow and produce wine from vinifera grape varieties in the Hudson River Valley. They also own wineries in California and Italy, which may explain why one of their most prized grapes is the Italian Tocai Friulano. Fun fact: the co-owner of the winery, John Dyson, is the one who invented the I <3 NY concept!
Clinton Vineyards. This small vineyard and winery is absolutely gorgeous, specializing in sparkling wines made using the classic French méthode champenoise as well as fruit-forward dessert wines. As they open at 1pm, it's recommended to stop at Millbrook first then head to Clinton for a wine picnic on their lovely lake. Also note the photos of Hillary Clinton and Queen Elizabeth enjoying their own Clinton Vineyards bottles!
Dutch's Spirits at Harvest Homestead Farm. This spot is focused on all things New York, from their tasting bar located within a 3-story Dutch barn serving 75+ spirits to their market offering local sauces, honey, meats and more. Fun fact: during Prohibition this site made thousands of gallons of illegal booze!
Dinner With A View
We end our scenic and delicious trip with an equally scenic and delicious dinner at Shadows on the Hudson, a waterfront restaurant sitting on a 40-foot cliff in Poughkeepsie. If you're looking for an uber romantic experience with delicious food to pair, this is an absolute must in Dutchess County.
The eatery featured indoor and outdoor seating, with the inside separated between a lively bar area and a quieter dining room. We went during sunset, and soon realized the Mid-Hudson Bridge lights up at night, adding to the ambiance. To the left, boats buoyed softly with the waves.
The food and drink were also delicious, with a focus on steak and seafood as well as Hudson Valley farm ingredients.
Andy and I started with the fried calamari doused in a homemade honey-laced buffalo sauce and drizzled with gorgonzola dressing. From there, we shared two delicious dishes. First, the Fettucini Fra Diavolo, which did not skimp on the fresh shellfish. Then, the filet mignon topped with sauteed mushrooms and Italian hot peppers. A rich meal? Yes. But if you're going to splurge somewhere in Dutchess County, this is the place to do it.
Back at our hotel we waddled — yes, waddled — up to our rooms, opting for the stairs over the elevator to burn off some of our dinner. With the car parked for the night, we dipped into a bottle of wine we'd purchased from Millbrook Winery during the day and headed to the hotel hot tub to relax.
Our beautiful weekend exploring outdoor beauty and local flavor in New York may have been coming to an end, but we'd be back. Dutchess County is only 90 minutes from NYC, after all.
What are your favorite things to do in Dutchess County?
Logistics:

Getting There: The drive to Dutchess County from NYC is about 90 minutes to two hours, depending where you stay. I do recommend driving as it's a fun road trip destination with lots to explore (plus how else will you go to the drive-in?!); however, you can get there by train easily from NYC.

Packing:

Vigilant Personal Alarm (Dutchess County is safe to explore, but I never leave home without this)
Pickpocket-Proof Garments (Great for safety, but also for exploring without needing a bag)
Speakeasy Travel Scarf (A secure hidden pocket stores essentials so you don't need a bag)
Insect repellent (Forgot mine and regretted it)
Sunscreen
Comfortable clothing for outdoor adventure
Rain jacket / umbrella
Bathing suit
One nicer outfit for dinner at Shadows on the Hudson
Neat, casual clothing for exploring the restaurants, Beacon highlights and craft beverage trail
Camera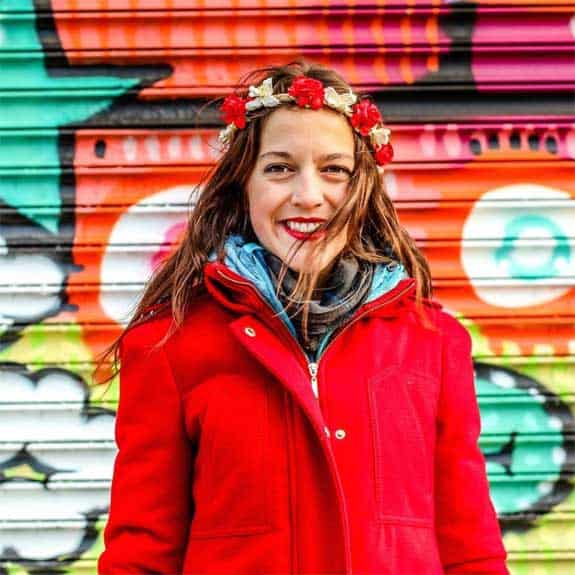 Hi, I'm Jessie on a journey!
I'm a conscious solo traveler on a mission to take you beyond the guidebook to inspire you to live your best life through travel. Come join me!
Want to live your best life through travel?
Subscribe for FREE access to my library of fun blogging worksheets and learn how to get paid to travel more!