Dublin Solo Travel: The Ultimate Guide (With Map!)
By Aisha Preece. This guide to traveling alone in Dublin contains affiliate links to trusted partners!
Interested in having a Dublin solo travel adventure for yourself, but want to make sure you have everything covered?
Then you're in luck, as I'm here to share the only Dublin travel guide you will ever need based on my frequent trips to the city.
Dublin is a metropolis known for its rich history and culture, with museums and cultural institutions around every corner of this compact capital city.
Although it isn't as famous as Paris or Rome as a top European city break, there are still plenty of things to do in Dublin alone — some of which even include a free beer. More on that below!
By the way, the city got its name from the Vikings who ruled Dublin in the 9th century. Originating from the Irish word "Duibhlinn" — which translates to "black pool" — this dark tidal pool sat at the confluence of the River Poddle and River Liffey and still exists today below Dublin Castle's gardens.
Read on to find out about the local sights and sounds and how you can have the best experience on your solo trip to Dublin!
Quick tip: While Dublin is safe for solo travel, it's still smart to pack travel safety essentials. One top pick is the She's Birdie Personal Safety Alarm, which is TSA-approved and can help scare away potential attackers. Other recommendations include Clever Travel Companion Pickpocket-Proof Garments and Speakeasy Travel Supply Hidden Pocket Scarves.
Travel Solo In Dublin With Confidence [Free Course]
But first, before we get into our guide to solo female travel in Dublin, I invite you to grab a seat in Jessie's free Savvy Solo Traveler E-Course.
The 6-day course is designed to help you feel confident about booking your first solo trip and exploring the world alone.
Lessons include:
Common solo travel fears and how to overcome them
How to choose your perfect solo trip
How to tell loved ones you're hitting the road solo
Mentally preparing for your solo journey without losing your mind
Essential steps for staying safe on a solo trip
How to take amazing solo selfies
Once you've grabbed your seat, read on to learn how to plan an unforgettable solo trip to Dublin.
Dublin Solo Travel: Is It Worth It?
Absolutely! Traveling solo in Ireland is an incredible experience in general, with Dublin being a highlight.
Why? First of all, getting around the city as almost every tourist destination is within walking distance.
You will also discover many hidden gems within the art and literary space that are often free or at an affordable price.
Be ready to mingle as Dubliners are easy-going and friendly people and will go out of their way to make you feel comfortable whether you are on a tour or ordering a beer.
Dublin does experience some rainy days, which gives people the excuse to grab a drink or visit the museums indoors. Otherwise, the weather is often breezy and cool.
This is also why it's popular with locals wanting to enjoy a staycation in Dublin!
Where Is Dublin?
Dublin is the capital city of Ireland, which is located on the northwestern side of Europe.
A body of water known as the Irish Sea is located on the east side that separates Ireland from Great Britain.
On the north and west of Ireland is the North Atlantic Ocean and on the south is the Celtic Sea, which is named after the Celts who were once residents of Ireland.
Ireland is partitioned into two countries under the Government of Ireland Act 1920.
Northern Ireland is part of the United Kingdom whereas the Republic of Ireland (also known as Ireland) is part of the European Union.
Dublin is located on the East Coast of Ireland, where the River Liffey meets the Irish Sea. With its strategic location, it is also Ireland's main port and has the largest population in Ireland.
Best Time To Visit Dublin
The best time to visit Dublin is during the summer season between June and August.
Filled with exciting festivals throughout the season (hello Longitude!), there is no better time to soak up the sun and roam around public parks, gardens, and museums.
However, do note that this is the season when accommodation prices are the highest.
Despite being the hottest time of the year, it frequently rains, so bring a light waterproof jacket.
Alternatively, if you prefer a less crowded holiday, you can opt to travel during the shoulder season —which is the travel period between off-peak and peak seasons.
Dublin's shoulder season is during late spring (mid-April to May) and fall (late September to October) when you can still enjoy the nice and mild weather outdoors.
Getting To Dublin
There are two ways to solo travel to Dublin: by flight or ferry.
Getting To Dublin By Flight
Many international tourists prefer flying to Dublin.
The city only has one international airport called Dublin Airport with most international flights arriving at Terminal 2. On the other hand, Terminal 1 is for shorter flights and certain European locations.
From the airport, it takes about 35 minutes for a 15-kilometer (9-mile) journey south into the city center.
You can either take a metered taxi that costs around €25 to €30 ($26 to $32) or one of the many buses that operate 24/7 and depart every 15 to 30 minutes.
Tip: Before or after a long flight you may want to stay at or close to the airport. Here are some cool things you can do near Dublin airport!
The bus fee usually costs €8 ($9) for a one-way trip and €9 ($10) for a return trip.
Depending on your bus stop location and the traffic congestion, your journey will take 20 to 55 minutes. You can book your tickets online in advance to ensure you have a seat.
Getting To Dublin By Ferry
If you are interested in reducing your carbon footprint while you travel alone, you can take the ferry!
All ferries arrive at Dublin Port, which is just 3 kilometers (1.9 miles) northeast of the city center.
There are 3 direct ferry routes to Dublin from Wales (Holyhead), England (Liverpool), and France (Cherbourg).
The most convenient way to get to the city center is to catch the bus. The Dublin Bus 53 from the port costs €1.30 to €2 ($1.40 to $2.15) for a 20- to 45-minute ride to Talbot Street at Connolly Train Station.
There is also an express bus that goes to and from George's Quay for €3 ($3.20) one-way. Both are located close to O'Connell Street, which is Dublin's main thoroughfare.
Getting Around Dublin As A Solo Traveler
There are many ways to get around when visiting Dublin alone, including:
Bicycle: Dublin is inching towards becoming a bike-friendly city with over 115 bike stations and several cycling lanes.
They have one of the coolest bike-share schemes, Dublin Bikes, which allows you to rent a bike for either a day or a 3-day pass.
The 3-day pass costs only €5 ($5.30) and you get a free pass for the first 30 minutes of your ride! How awesome is that?
Public transportation: Dublin has an efficient transportation system that connects buses, trains (DART), and trams (Luas).
The Luas does get bad rap from time to time, with minimal ticket checks and sketchy individuals sometimes boarding the tram; however, I find it no different than taking public transpotation in other cities like New York.
I recommend getting a LEAP Card, Ireland's prepaid travel card, as it is super convenient and gets you discounted fare prices.
And the best part? You can use the LEAP Card on most of Dublin's public transportation operated by Dublin Bus, Go-Ahead Ireland, DART and Commuter Rail, Luas and Bus Éireann, and a number of other bus operators.
If you feel stressed planning out your stops, there is also the option to do a Dublin Hop-On Hop-Off Bus Tour.
Car: While driving a car will give you the most autonomy, the trade-off is the time and cost that comes with it.
Dublin has terrible traffic congestion — and it doesn't help that the speed limit is 50 kilometers (31 miles) per hour or lower. There is also no free street parking on weekdays except after 7pm and on Sundays.
But if you want the freedom of having your own transport, you can book a car rental here through DiscoverCars — which can help you save up to 70% using their comparison tool!

Taxi/ride-hailing: Hailing a taxi may be the most efficient albeit expensive way to get around Dublin.
Most taxi drivers prefer cash payment, so make sure you carry some cash with you.
Taxi fares start from €4.20 ($4.50). Pro tip: Make sure the driver resets the taximeter before you begin your ride and provide a 10% tip at the end!
Prefer ride-hailing? There are also apps such as FREE NOW, Uber, or Bolt, which also allow you to book a ride in advance.
Walk: Sometimes the best option to get around the city is by foot. Thankfully, Dublin is a very walkable city.
Not only is it completely free, but you'll also avoid sitting in traffic.
There are also a number of Dublin walking tours that take you to the city's top destinations and lesser-known gems.
Dublin Travel Map
To help give you a lay of the land, here is a map. It has most of the main points and solo activities mentioned in this solo female travel guide pre-plotted.
You can also click here for the interactive version.
Is Dublin Safe For Solo Female Travel?
Dublin solo female travel may make you feel nervous; but, you have nothing to worry about, as Dublin is safe to roam around. In fact, it ranks #3 on the Global Peace Index!
That being said, as with anywhere else you visit, it's smart to take some safety precautions, like:
Don't flash your valuables, whether it is your gold necklace or fancy bag, or you may risk getting pickpocketed.
While O'Connell Street has cleaned up its streets — and reputation — it is best to avoid the street in the early morning hours when it's still dark, especially the General Post Office (GPO) area where drug deals aren't uncommon.
Be vigilant on the streets, especially with traffic. If you are unsure when to cross the road, follow what the locals are doing. Also, it is normal for bus passengers to flag down a Dublin bus!

Don't drink over your limit and watch your glass. As a solo female traveler, you are at higher risk of uncomfortable situations with strangers, especially after a few pints of beer.
If you would like to bar hop safely, I recommend going on a guided pub crawl tour that also allows you to skip the lines!
Where To Stay In Dublin When Traveling Solo
Now, it's time to pick the best area to stay for your solo trip in Dublin.
Safety, convenience, and accessibility are some of the many things I prioritize as a solo traveler.
Hence, here are my picks for the top neighborhoods — which also have some of the best hostels in Dublin for solo travelers.
Temple Bar
Located on the Southside of Dublin, staying in the Temple Bar area will bring all the action right to your doorstep.
It's perfect for solo travelers who want to be within walking distance of some of the city's best nightlife. And, along with the dozens of pubs to choose from, Temple Bar has daytime attractions like street markets and art museums.
I stayed at Abigail's Hostel, which is located right by the River Liffey, and absolutely loved how clean and comfortable it was. Plus, they offer a mix of private and dorm-style accommodation, with cages under the bed to lock your belongings.
Despite being close to the bar scene, I was still able to get some good night's sleep.
Click here for a full list of Temple Bar hotels!
Smithfield
If you want to know what it is like to be a Dubliner, then Smithfield is where you want to be.
Located on the lower Northside separated by the River Liffey, it has several local pubs and eateries where you can wine and dine.
You can also find the cheapest accommodations here in this neighborhood.
The Generator Hostel has a very hospitable staff as well as spacious common rooms to mingle with other solo travelers. It also feels nothing like a 1-star hostel; in fact, they offer both dorms and private rooms.
The beds are comfortable and the security is amazing with night guards by the main door. It is also next to Jameson Distillery, making your Dublin solo travel trip super convenient.
Click here for a full list Smithfield hotels!
Portobello
A neighborhood that means "beautiful harbor," it is the ideal place for hipster gastronomes who love 5-star food. You can even have a creative meal at the local Michelin-star restaurant Bastible.
Aside from great eateries and bars, you are also only minutes away from some of the best tourist attractions like St. Stephen's Green Park.
As it is slightly removed from the lively nightlife scene at O'Connell Street and Temple Bar, accommodation may be pricier for the trade-off of a peaceful night.
If you want a budget-friendly place with great breakfast, fast WiFi, and clean rooms, then check out Maldron Hotel Kevin Street – one of my personal favorites. It's perfect for those trying to keep solo travel costs down.
Aside from everything I have mentioned, I love this place for its strategic location as it is just a stone's throw away from Marsh's Library and St. Patrick's Cathedral. It is worth splurging for the spectacular views!
Click here for a full list of Portobello hotels!
Hotels & Rentals In Dublin
If you want to research local Dublin hotels as well as self-contained stays, this map can help you compare your options. It's set to show hotels and rentals in the Temple Bar district, but you can easily change this based on where you're staying:
Top Things To Do In Dublin Alone
Nervous about exploring Dublin solo? You'll be happy to know there are many fun things to do when exploring the city on your own. A few top picks include:
Travel back in time at Dublin Castle
Whether it's your first solo trip to Dublin or your 100th, this attraction is a must. You'll explore a former Viking settlement and a British administration quarter at the 700-year-old Dublin Castle.
Located within walking distance from Trinity College Dublin, you will find generations of Irish art and historical artifacts that will delight any history buff.
While paintings make up most of the exhibits, there is also a large collection of furniture, china, stained glass, and textiles from the 17th century.
Most of the castle's fortified structures were destroyed in a fire in 1684, with only the Record Tower left as its surviving tower.
It was rebuilt into a Georgian palace, hence, you will notice the decorative window headers — a symbol of Georgian architecture — at the castle's Upper Yard.
Dublin Castle is not entirely vacant as part of this complex is used for government affairs and Presidential Inaugurations at the State Apartments.
A self-guided tour ticket costs €8 ($8.56) which will take you to the State Apartments.
However, other historic locations such as the Medieval Undercroft and Chapel Royal are only accessible through a guided tour. You can purchase this guided tour from the counter on the day of your visit.
Drop by Ireland's largest library
Your Dublin solo travel trip is not complete until you visit Ireland's most beautiful campus, Trinity College Dublin.
Make sure your phone is charged as you will take lots of photos in this gorgeous library.
Enter the main chamber of the Old Library at Trinity College and you will be in awe of the Long Room.
Measuring 65 meters (213 feet) long with two stories of floor-to-ceiling bookshelves, immerse yourself in this surreal location that looks straight out of Harry Potter.
The library's main attraction is the legendary Book of Kells, an ancient illuminated manuscript of the four Gospels of the Christian New Testament of the Bible.
You have to see it yourself to understand why this well-preserved artifact is a magnificent work of art.
If you want to beat the crowds and visit Dublin Castle's exterior at the same time, get the combo deal on this Book of Kells and Dublin Castle tour.
Interesting fact: Catholics were banned from attending Trinity College for over 100 years until 1970. The ban was imposed by Catholic Archbishop McQuaid to prevent the influence of a Protestant-founded college on Irish Catholics. Thankfully, it isn't the case today!
Visit the National Museum & National Gallery of Ireland
Want to go to an Irish attraction that has free admission?
Then make a trip to the National Museum of Ireland, the National Gallery Of Ireland, and even the National Library of Ireland!
The National Museum has four themed exhibitions scattered around Dublin: Natural History, Archaeology, Decorative Arts & History, and Country Life. You can find tons of treasures dating back to prehistoric times through today.
Spot jewelry from the Iron and Bronze Ages in the museum's Archaeology branch or the "Dead Zoo" at the Natural History branch. The museum has eight permanent exhibitions and houses temporary exhibitions from time to time.
You can easily avoid crowds on weekday afternoons. The museum also opens late on certain Thursday evenings until 8pm, compared to its usual closing time of 5pm.
Located near Merrion Square Park and a block away from Trinity College, the National Gallery of Ireland is a great way to spend time indoors for free during the Irish rain.
Head there in the morning for some zen time, studying the works of renowned European and Irish artists such as Rembrandt, Jack B Yeats, and Caravaggio.
Fun fact: Dublin is also known as a UNESCO City of Literature where many famous Irish writers like Oscar Wilde and Samuel Beckett are from.
Unfortunately, the famed Dublin Writers Museum attraction is permanently closed, though you can still do a Literary Pub Crawl! This is a great option when traveling alone as it makes it easy to meet other people.
Quench your thirst with Irish beverages
Not a whiskey or beer fan? Visiting Ireland's most popular distillery and brewery may change your mind.
Find out everything you need to know and get a taste of Jameson whiskey and Guinness beer — aka the Irish "black stuff" — straight from the source and get a free beer and whiskey at the end of the experience!
The Guinness Storehouse is a 20-minute walk from St. Patrick's Cathedral. Once a fermentation plant, this 7-story building was converted into Ireland's most popular tourist attraction.
A self-guided tour will start from €26 ($27.81) and takes around 1.5 hours, though another option is this top-rated Skip the Line Guinness and Jameson Irish Whiskey Experience Tour.
Every floor has its own interactive experience that tells Guinness' 250-year-old history, from its beer-making process to pouring your pint.
Curious to know what it is like to have your face printed on top of a Guinness drink?
Go for the STOUTie experience that includes the self-guided tour starting from €34 ($36.37).
The Jameson Distillery is worth visiting as well and was the original whiskey's location since 1780. It is located on Bow Street at Smithfield next to the Generator Hostel, which is very convenient if you are looking for things to do in Dublin as a solo traveler.
Although it is no longer a functioning distillery, you can still learn a lot about Jameson's history. Within a 40-minute guided tour, you will go on a whiskey-tasting journey and enjoy a free Jameson drink to cap it off.
Explore both locations in a day with this Guinness and Irish Whiskey tour.
Fun fact: The legal drinking age is 18 in Ireland!
Explore Temple Bar
Temple Bar has an ironic name. On one side, it hosts annual Messiah performances on Fishamble Street; on the other, it is a lively neighborhood with buzzing nightlife, art galleries, and eateries.
The neighborhood got its name not from the famous namesake pub, but from the Temple family who had a property in the area in the early 17th century.
It then became a notorious area for prostitution, but thankfully this place cleaned up its act in the late 20th century.
Today, Temple Bar has transformed into a cultural quarter with 22 million visitors annually.
You can enjoy your time walking around without worries — although rowdy behavior is still common during the night.
Explore the local Meetinghouse Square and the central Temple Bar Square, which are extra lively on weekends when you can find food and books in street markets.
Temple Bar Food Market is held at Meetinghouse Square on Saturdays from 9:30am to 4pm and is a great place to try Dublin street food. The book market is held at Barnardo Square on Saturdays from 10:30am to 5pm.
If you are a fan of street art, Temple Bar is a great spot for this too. It's recommended to go on a Dublin Street Art Walking Tour where a local guide will take you to all the hidden spots of the city. You will see Dublin in a whole new light!
Take a day trip from Dublin
Need a break from the city and want to see some beautiful places? If you have 3 or 4 days in Dublin, take a guided tour to Northern Ireland where you can admire one of nature's best artworks, The Giant's Causeway.
It was formed from an ancient volcanic eruption and consists of many unique rock formations — such as The Giant's Boot — crafted by Mother Nature through millions of years of weather exposure.
Legend has it that these formations were part of a causeway built by a giant, hence its name. You do not want to miss out on the only UNESCO World Heritage Site in Northern Ireland.
This tour also brings you around the capital city Belfast and some of the film locations used in the Game Of Thrones series, like Dunluce Castle.
As Northern Ireland is part of the United Kingdom, you may need to apply for a UK visa. You can check this UK government website to see if your passport requires one.
Tip: If you'd like to stay the night, there are many UK hotels with private hot tubs for a little self-care on your solo trip!
Other fun things to do on a solo trip to Dublin
Along with the above-mentioned must-have experiences, here is a quick list sharing some other fun things to do when traveling alone in Dublin:
1. Explore the culinary culture of Dublin through a guided food tour
2. Eat or cook in a local home through EatWith
3. Take in an epic view over Dublin from Killiney Hill in Killiney Hill Park, located about 45 minutes from Dublin via DART train
4. Visit the Kilmainham Gaol Museum, a former prison turned Irish history museum
5. Have your photo taken around Dublin on a Private Personal Travel Photographer Tour
6. Get into nature at St. Stephen's Green, a 22-acre (8.9-hectare) greenspace with gardens
7. Immerse yourself in Irish tea culture at a local teahouse or by booking an Afternoon Tea Bus Tour
8. Visit the EPIC The Irish Emigration Museum to gain a deeper understanding of Ireland's emigrants
9. Enjoy a sightseeing cruise on the River Liffey
10. Book tickets for unique events in Dublin through Fever, from immersive art experiences to comedy shows to candlelit concerts and beyond
Best Tours For Solo Travelers In Dublin
Along with the above-mentioned attractions and experiences, there are loads of great tours. The beauty of a guided tour for those traveling solo in Dublin is they offer a fun way to learn about the destination and important travel tips while also interacting with locals and connecting with other travelers.
A few top-rated tours to add to your Dublin itinerary:
Click here for a full list of Dublin tours!
Tips For Solo Dining In Dublin
Feeling self-conscious eating alone in a restaurant? Let me show you how I navigate dining comfortably when traveling solo in Dublin:
Eat during off-peak hours
If you are feeling overwhelmed being the "third wheel" as a lone diner, dine in restaurants during their off-peak hours. These are the early-bird hours between 5pm and 7pm where you will find fewer patrons.
Many restaurants also have an early-bird or happy hour menu, meaning you can save money on food and drinks too!
Request a bar or window seat
Another tip for an enjoyable dining experience is to request a bar or window seat so you can people-watch or have some privacy while relaxing with a book.
You can also check out pubs as they tend to be friendlier and are used to single patrons. This is a great way to make small talk with the bartender and learn more about Dublin from a local.
Save money with smaller plates
Dining alone can be more expensive as you are paying for yourself, especially if the portion is sizably large; that hearty Sunday Roast is quite a serving for one!
Lucky for you, some restaurants in Dublin offer half-portion platters.
For example, the Legal Eagle is one such gastro pub that welcomes solo diners. The staff makes great beverage recommendations and will customize sharing plates to half a portion so you can enjoy a lovely platter for one.
Use accessories to save your seat
Also, there's a good chance you will need to use the restroom while dining solo. Bring a spare book, beanie, or scarf to save your seat for your quick toilet break.
Make reservations at restaurants in Dublin
It's wise to make reservations in advance to avoid disappointment, especially if there is an eatery you really want to dine at. High-end restaurants typically require a booking at least two weeks in advance.
Here are my go-to restaurants for a solo dining experience in Dublin:
Understand tipping in Dublin
Tipping isn't compulsory in Dublin, especially as some restaurants will add a service charge to the bill.
If there isn't one, you can choose to give a cash tip to the server; however, some pubs don't accept them so don't feel offended if they refuse your generosity.
Travel Insurance For A Solo Trip To Dublin?
When visiting Dublin — or anywhere else in the world — it's wise to get travel insurance.
One of the best travel medical insurance for travelers is SafetyWing as they've got a large network and offer both short-term and long-term coverage — including coverage if you're traveling for months as well as limited coverage in your home country.
Additionally, SafetyWing is budget-friendly and offers $250,000 worth of coverage with just one low overall deductible of $250.
Click here to price out travel insurance for your trip in just a few clicks.
Frequently Asked Questions About Dublin Solo Travel
Q: Is Dublin a good place to solo travel?
Yes! This historical city is easy to travel around, plus English is its predominant language along with bilingual Irish-English signboards.
In addition, almost all their tourist attractions are within walking distance from the city center so you can reduce your travel time!
Q: Is Dublin safe to travel alone?
Yes, it is completely safe traveling to Dublin alone; however, like any big city, it pays to stay alert and be aware of your surroundings, especially in rowdy nightlife areas like Temple Bar.
The most common crime in Dublin is pickpocketing, so watch your belongings at all times!
Q: Is Dublin a walkable city?
Yes, Dublin is a walkable city as it is relatively flat, compact, and pedestrian-friendly. There are also commonly well-maintained sidewalks, especially near popular shopping streets and the quay area.
Honestly, Dublin can sometimes experience heavy traffic congestion, so it is often much easier to travel by foot.
Q: What are the top things to do with 2 days in Dublin solo?
For two days of solo travel in Dublin, you can visit the main highlights of the city such as Temple Bar for food and live music, the Guinness Storehouse for a fresh pint of beer, and the Kilmainham Goal former prison nearby.
Then, shop 'til you drop at Dublin's main shopping street, Grafton Street.
Fast-track your Dublin solo travel trip with this 5-hour guided tour of the city's main attractions.
Q: Is Dublin expensive?
Yes, Dublin is an expensive city for tourists and is known as one of Europe's most expensive cities. Typically, you can expect to spend anywhere from €75 to €210 ($80 to $226) per day in Dublin which is higher than the average trip cost in Europe between €37 to $92 ($40 to $100) per day.
Final Thoughts On Dublin Solo Travel
I hope this comprehensive guide gets you excited to pack your bags for a Dublin solo travel trip!
There is something for everyone in this city — whether you are a bookworm, a beer connoisseur, a creative traveler, or are just living in the moment.
With so many things to do and places to visit in Dublin, this city is now one of my favorite spots to go as a solo traveler. Now go get the craic!
What tips would you add to this Dublin solo travel guide?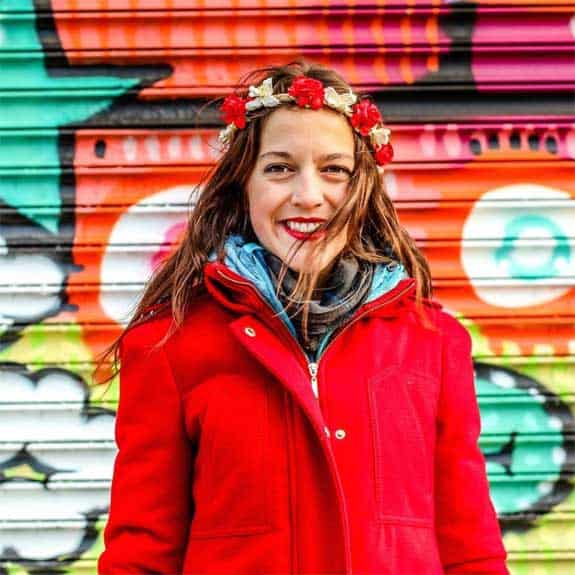 Hi, I'm Jessie on a journey!
I'm a conscious solo traveler on a mission to take you beyond the guidebook to inspire you to live your best life through travel. Come join me!
Want to live your best life through travel?
Subscribe for FREE access to my library of fun blogging worksheets and learn how to get paid to travel more!