10 Ways Colombia Stole My Heart
When I was 25, I booked a one-way flight to Brazil, wanting to see how far I could make it in across the continent in three months. To this day, the trip is one of my absolute favorites. The adventures I had in South America are some I truly cherish: traveling by 4×4 across Bolivia's Soleli Desert, glacier trekking in Patagonia, learning to tango in Argentina, hiking the Inca Trail to Peru's Machu Picchu, exploring exotic wildlife in the Galapagos Islands and just meeting fantastic locals and other travelers along the way.
That being said, one major disappointment for me was not making it to Colombia, especially as many of the other backpackers I met had touted it as their favorite destination of their trip's.
Luckily, I recently had the opportunity to visit Colombia, traveling through Cartagena, Santa Marta, Tayrona National Park, Medellin and Bogota. At the end of my two weeks, I was in no way ready to return home to NYC. The country had completely stolen my heart. Here's why:
2. Adventure Abounds
If you enjoy getting active, there are many opportunities around Colombia. While from Cartagena I took a weekend trip to hammock camp, jungle hike and snorkel in Tayrona National Park, Medellin allowed me to try paragliding for the first time. In Bogota, I took a street art-themed bike tour around the city and hiked three kilometers (1.8 miles) to the top of Monserrate. There's no shortage of ways to explore the beautiful landscapes and cities that litter this country.
3. Futbol Fever
I always wished I could be one of those cool girls that loved to watch sports; however, while I play soccer, I was never able to understand the point of watching strangers tackle each other or kick balls around. Until I went to Medellin.
Watching a Medellin futbol (soccer) game is like being in a techno club with some very energetic, angry people who are out for blood. There is so much energy in the crowd — nobody sits aside for halftime — and everyone chants and fist pumps nonstop (even when players fall and injure themselves).
I was warned by a local to absolutely make sure to not accidentally wear the opposing team's color to a game, and after going myself, I understand why. While rowdy, I loved the experience, and would absolutely buy season tickets if I lived in the city.
The above video should give you somewhat of an idea of what the experience is like.
4. It's Budget-Friendly
One of the hardest parts of coming back to NYC from Colombia was not being able to take inexpensive taxis everywhere I went. For most Western travelers, Colombia is an inexpensive destination where you can stretch you dollar far to have an array of memorable experiences. To give you an idea, at a medium-priced restaurant for an enormous meal with a glass of wine I spent on average about $15 including tip. There are also more inexpensive restaurants for those on tighter budgets. Moreover, a hostel cost about $12 a night, while a 20-minute cab ride cost about $7.
5. It Surprised Me
Unfortunately, Colombia deals with a number of negative stereotypes, from being the capital of cocaine to having a large amount of violent crime. While I'm not saying drugs aren't prevalent there (they are) and that you shouldn't watch your back and what neighborhoods you're in, I was surprised how safe I felt — even in Bogota, which is a dangerous city — and how friendly the people were. Despite a part of me expecting to feel too unsafe to meet locals or venture too far from my hostels, by the end of the two-week trip I genuinely felt like Colombia was a place I could live one day.
6. Free Fun
There are some really great free activities to enjoy in Colombia. For one, most of the major cities offer free walking and/or bike tours, such as Bogota Bike Tours in Bogota and Real City Tours. Moreover, in Medellin there are the Botanical Gardens, the Metro Cables (free to a certain point) for beautiful views and Plaza Botero, with its 23 disproportionate Fernando Botero statues. In Cartagena, I recommend wandering the Old Town and admiring the colorful (mainly) Colonial-style architecture before crossing the wall and enjoying a beer on the beach. When in Bogota, stroll through Parque Simón Bolívar with its gardens, bike paths and library before heading to some of the free museums, like the Museo Botero or the National Museum.
Basically, there is a lot of really awesome things to do in Colombia without spending a dime.
7. Great Hostels
I've written about how amazing backpacking South America is, with one reason being the continent has great hostels, typically with lots of amenities. In Colombia it's no different, as the country is full of social hostels that make it easy to make friends — especially for those traveling solo — and explore the best of the city. Some hostel recommendations from the trip include Casa Kiwi in Medellin, Masaya Hostel in Santa Marta and Bogota, and El Viajero Hostel in Cartagena.
8. A Chance To Practice My Spanish
I'm not totally foreign to Spanish. Along with taking classes in high school and traveling through Latin America, I've also spent time practicing with Pimsleur Spanish Conversational Course | Level 1 Lessons 1-16 CD: Learn to Speak and Understand Latin American Spanish with Pimsleur Language Programs (English and Spanish Edition)
. That being said, there's a difference between having a decent grasp of Spanish and being fluent. While I won't lie and say that visiting Colombia made me fluent, I will say it helped me feel more confident in my abilities.
Many of the activities I did — from taking a cooking class in Bogota to canoeing through mangroves in Cartagena — were completely in Spanish. This forced me to pay attention, make note of words I wasn't sure of for later research and engage in conversations with locals. There's definitely truth to the idea that there's no better way to learn a language than to be immersed in it.
9. The Food
Is there any better way to immerse yourself in local culture than the food? Colombia was heaven for me — especially as I also love to eat on a budget. For me, the highlights were the hearty soups and stews, such as Bogota's famous Ajiaco, a soup featuring chicken, potatoes, corn, capers and sour cream and a special herb called guasca. I also took a cooking class through Bogota Bike Tours and made Sancocho, a delicious soup featuring chicken, corn, potatoes, beans, yucca and salt served with a side of avocado and typically only made on Sundays and holidays.
Colombia's national dish, Bandeja Paisa, was also a favorite. While not a soup, this was possibly my favorite meal in Colombia, a hearty platter of eats like beans, rice, chorizo, avocado, arepa and pork crackling. Note: there are different versions of the dish all over the country, so the version you sample might be slightly different.
10. The Artwork
There are two main facets of arts culture that really drew me in in Colombia. One was seeing the works of Fernando Botero — born in Medellin — scattered around the country. In Medellin you can head to Botero Plaza while in Bogota there is the Museo Botero, where you can see the mid-proportioned sculptures the artist is so famous for.
I also fell in love with Bogota's street art, which I explored through an excursion with Bogota Bike Tours (only 35,000 COP/about $17 for four hours). What's impressive about Bogota's graffiti isn't just the sheer amount of colorful works, but also the ideas behind them. Something truly inspirational to me was how the city commissioned the works, many focusing on ideas like peace, healthy communities and paying homage to people who had lost their lives. For a truly immersive street art experience, bike or walk down Bogota's Calle 26.
Have you visited Colombia? What did you love/not love about the destination? Please share in the comments below.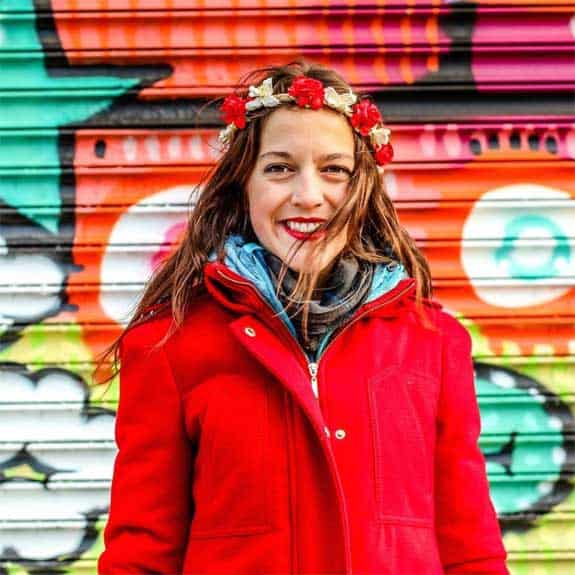 Hi, I'm Jessie on a journey!
I'm a conscious solo traveler on a mission to take you beyond the guidebook to inspire you to live your best life through travel. Come join me!
Want to live your best life through travel?
Subscribe for FREE access to my library of fun blogging worksheets and learn how to get paid to travel more!