How To Visit Tayrona National Park In Colombia (And Have An Amazing Time!)
traveling to Colombia
, a trip begins in Cartagena. This was the case for me, as well, and while the city has much to offer, I especially liked its day and weekend trip offerings. If you have a few extra days in Cartagena, allot at least three to making the trip to Tayrona National Park (Parque Tayrona), located within Colombia's northern Caribbean region. As a homebase in Cartagena, I recommend
El Viajero Hostel
, which has free wifi and breakfast, air conditioned dorms and private rooms, nightly activities like drinking games and dance classes, a bar, bike rentals, social spaces and a communal kitchen. It's centrally located in Cartagena's Old Town, allowing you to easily explore the city and beyond.

Santa Marta
Before arriving to Tayrona, you should spend a night in Santa Marta so you're not rushing to get to the park (plus, shuttles in Colombia rarely leave or arrive on time). To get to Santa Marta you can take a shuttle with
Marsol
 to Santa Marta. Tickets can be purchased straight from El Viajero Hostel for 42,000 Colombian Pesos (about $21 USD), and depending on the day will either pick you up from the hostel or you'll walk about 15 minutes to their office. The journey takes about four hours in total, and allows you to snap some photos of places in Colombia you may not have visited otherwise. Spend the night in Santa Marta — I recommend
Maysaya Hostel
starting at $12USD per night, which has cultural activities, two pools, and an amazing rooftop lounge and bar — and then get up early to reach Tayrona National Park. You'll walk to the nearby Mercado and then turn down 11th to see different buses going to different places. Look for the one that says "Tayrona" in the windshield. The bus ride takes about 1-hour in total.
Packing Tips
Pack a weekend backpack (
I use this one from Beside-U
) for the trip and leave your luggage in El Viajero or Masaya's storage room — both free of charge — as you won't want to hike with a huge backpack. Make sure to allot room for water and food, as these can be expensive in the park. I personally also brought
my GoPro
(highly recommended for water activities!), iPod, notebook and pen, a sundress, towel, light blanket, bathing suit, two tanks, leggings, long sleeves and flip flops — plus sunscreen and toiletries. This was along with the sneakers, tank top and shorts that I wore. On the way hiking out, I left behind the towel, blanket and food to lighten my pack. For safety, I don't go anywhere without
Clever Travel Companion Pickpocket-Proof Garments
 (these have hidden interior pockets) and my 
Vigilant Personal Alarm
.
Tayrona National Park Logistics
Once you reach the park, the entrance fee is about $19 USD + an optional but recommended $1 shuttle ride to the trailheads. From here, you can either hike two hours to the beachfront area, or hire a horse to ride or have it carry your stuff. There's also a boat option that takes you to and from Cabo San Juan (the National Park's most popular beach and camping area) and Taganga, a small fishing village near the park. You'll want to arrive to the beach as early as possible. Not all locations are created equal — some offer aerial water views from a deck — so get their early to get your choice of the best spot. Typically around noon-1pm is a safe arrival time. Lockers are available free-of-charge to store valuables and belongings when you're out exploring or sleeping.
Accommodation
If you've got money to spend, the
Ecohabs Tayrona
provide comfortable beehive huts perched on the hillside and overlooking the water that offer the most comfortable experience in the park. The pro here is the ambience and the fact you get a bed, sea views, and access to a great restaurant, spa, Jacuzzi and the beautiful Cañaveral beach. Moreover, you're located right near the entrance to the park, so no need to hike for hours with luggage. The con: the price. These huts will set you back $405 USD per night.
Budget travelers
can instead opt for bringing their own tents, or renting tents or hammocks on the water — or even aerial hammocks on an elevated terrace on the water. Pure serenity. For these you'll pay about 15,000 COP (about $8 USD) for DIY camping to 50,000 COP (about $25 USD) for a 2-person tent. I recommend the aerial hammocks, as they offer a nice breeze, aerial Caribbean views and a more peaceful ambiance then being huddled with the other travelers on the ground.
About Tayrona National Park
Tayrona National Park was created in 1964 by the Colombian Government to protect and promote local ecology and archeology. Home to everything from mangrove swamps to pristine beaches to lush jungle and beyond — not to mention native village ruins from before the Spanish Conquest, when the Tayrona indigenous peoples lived here. There's certainly much to explore in this 15,000-hectare (37,067-acre) park, and you'll leave with not only a great tan, but feeling rejuvenated, educated and fit (from all the hiking and swimming!).  Within the park, you'll find 100+ mammals, 300+ bird species and 1,000+ marine species, to name a few. In terms of plants, you'll find over 770 different species.
The Experience
Now to the good stuff — the experience. While the horseback ride can be fun for those who enjoy riding (and for those with a lot of gear),
the hike is absolutely amazing
. Every 10 minutes the scenery seems to change, shifting from jungle to beach to otherworldly boulders to fields of enormous plants that look like giant clovers. You'll scramble up boulders, climb up and down stairs, take your shoes off to walk through sea water, and sometimes find yourself overlooking immaculate white sand beaches and turquoise waters. If you're like most travelers your destination will be
Cabo San Juan
, an idyllic beach with treehouse hammocks, tents and private accommodation — as well as a restaurant and dive and snorkel tour operator. Leave those laptops and iPads behind, as this tropical getaway comes without Wi-Fi. Instead, keep yourself occupied with swimming, snorkeling, hiking to beaches, boulder scrambling and making new friends over beers at the beach bar and midnight swims. I opted for the
aerial hammocks
, just slightly more expensive than the hammocks on the ground with a better breeze and way nicer view. This area is a very social space, so no worries if you're
traveling solo
. Just note that the only way up and down to these hammocks is by hiking up a short but steep path with uneven rocks steps. Keep this in mind if you're not in peak physical condition or if you often find you've had one too many beers. It's also worth noting the bathrooms are about a 10 minute walk from the hammocks once you take into consideration climbing. That being said, the ocean is right nearby, and there's a secluded outcropping coming off the aerial hammock area that many people use to do their business (#1 only!) in the middle of the night. I want to touch again on what a
great place this is for solo travelers
. The hike in is well-traversed enough that you'll feel safe, and once at the beach it's a very social scene. In fact, as soon as I hopped in the warm Caribbean waters a guy named Tomas from Argentina swam over and offered me his goggles to check out the fish he'd seen. Moreover, when an iguana ambled into the hammock area the group quickly bonded while trying to capture photos of the cute creature.
In the showers you'll also have some social time.
You know that awkward moment when you walk into the wrong gender's bathroom, maybe even catching a glimpse of something you shouldn't? Well, you'll do that here, only there's no need to feel awkward, as you're in the right place. The showers are co-ed, and while most of them have shower curtains, the dividers between each stall aren't very high. Meaning if you're uncomfortable with a stranger or the opposite sex seeing your naughty bits, wear a bathing suit in the shower. From 6-9pm the scene becomes social as the evening bar and restaurant opens. Beer and red wine are the only drink options, which doesn't matter because the focus is on socializing, anyway. One bottle of red wine later and myself and group of other travelers ended up playing a game of beach Man Hunt and laying in the sand giggling until 2am. Priceless. If you're spending two nights in the park — like I did — spend the next day snorkeling at La Piscina, a more tranquil and less populated beach with azure waters filled with tropical fish. You can book a guided snorkeling tour for 40,000 COP (about $20) or just go to the beach and enjoy it on your own. Additionally, there are loads of rock out-droppings to climb for photos, as well as an indigenous village if you access the Pueblito trail behind the toilets of Cabo San Juan. Note: This trail is yet albeit difficult with lots of bouldering and technical stretches. For something easier, hike to the other nearby beaches.
Tayrona National Park Trip Highlights
*The varied scenery and Caribbean Sea lookout points on the trail in. *Trekking and climbing to Pueblito, indigenous ruins and village. *Falling asleep to the sounds of crashing waves in an aerial hammock. *The social atmosphere of Cabo San Juan and how easy it was to make new friends. *Snorkeling at La Piscina Beach. I saw a sand shark, Sargent Majors and Blue Tangs, and am told you can often see sea turtles and blowfish, too.
Cost Breakdown
Bus from Santa Marta to Tayrona: $6,000 pesos (about $3 USD) Groceries for two nights for two people: $30 (bread, peanut butter, bananas, trail mix, apples, crackers, Chocolate, jerky, cereal, 8-1500 milliliter water bottles) Food in the restaurant: While a typical meal in the restaurant is about $10, you can also find little street food-style stalls littered around the beach which are cheaper. Water bottles (1500 ml) are about $2.50. Essentials: $6 (bug spray, sunscreen and plastic bags to keep gear dry in case of rain) Park entrance: $38,000 (about $19) for general admission. Tip: if you have a student card bring it. Admission will be only $7500 (about $3.75). Bus from entrance to the beginning of the beach trails: 2,000 COP (about $1 USD) Horse ride (optional, we used for carrying our gear; if you have a lot of stuff it's worth it as the hike is moderate-challenging): 18,000 COP (about $9) Boat ride to and/or from the park and Taganga (optional): 45,000 COP (about $22). Hammock: 20,000-25,000 ($10-$12 USD)
Packing List
For this trip you'll want to pack as lightly as possible, as you'll be trekking with your things. For 2 nights/3 days I recommend packing: *Long pants & long sleeves for sleeping *A light sheet or blanket (or, my choice,
a truly mutipurpose shawl scarf
) *Towel *Toiletries *Swim suit *
Goggles
(to see the fish!) *Bug spray *Sunscreen *
Small lock
(the big ones won't fit in the locker holes) *Hiking shorts *Three clean hiking/active shirts *Sneakers *Extra socks *Flip flops *One outfit to wear when not sweaty *Wallet (cash, ID, credit card) and passport *Toilet paper (they don't supply it) *Flashlight (I love
Leschi Lantern & Flashlight
as it's tiny and can be mounted to use hands-free).
Additional Notes
*Sunscreen, water and bug spray will be the three most important items you pack, followed by sunglasses and your swimsuit. *Don't even think about trying to smuggle in drugs or alcohol, as police thoroughly check your bags at the park entrance. *Bring some activities. While there is plenty to do — hiking, photography, swimming and socializing — you'll be remote. Cards, books, a journal and games are all smart options for added entertainment. *There are no water sport equipment rentals at the beach, so if you plan on snorkeling or body boarding bring your own equipment.
What tips would you add for those visiting Tayrona National Park?
ENJOYED THIS POST? PIN IT FOR LATER!
For many people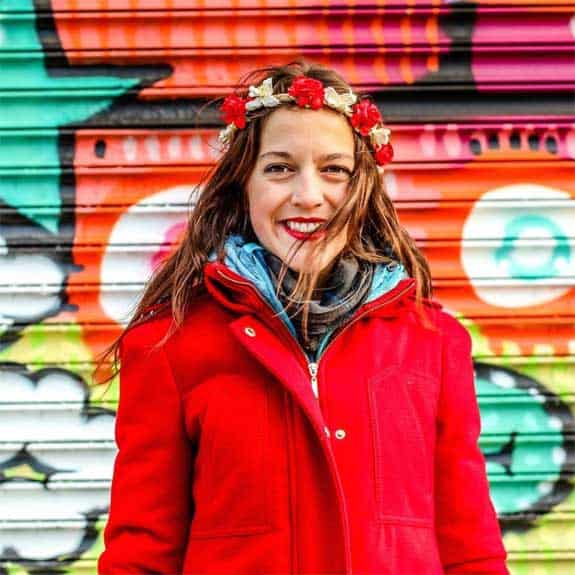 Hi, I'm Jessie on a journey!
I'm a conscious solo traveler on a mission to take you beyond the guidebook to inspire you to live your best life through travel. Come join me!
Want to live your best life through travel?
Subscribe for FREE access to my library of fun blogging worksheets and learn how to get paid to travel more!