Going Back In Time On The Inca Trail In Peru
"…The highland road has to be seen to be believed, because the terrain is very rough and yet in Christiandom we have never seen such beautiful roads, and the whole length of the roads all the streams are crossed by hanging bridges, wonderful to behold…"-Hernando Pizarro
No
Peru travel guide
would be complete without mentioning the Inca Trail — one of the last preserved routes of the Incas and one of the Seven Wonders Of The World. Because of its rare beauty and history, it's also a popular tourist attraction. One of the biggest factors that will determine whether you enjoy your experience or not is which tour operator you choose. For my 4-day trek, I chose to go with Llama Path, a company I highly recommend to other hikers.
Preparation
Before entering into this journey, it's important to forget your own culture for a bit, and put yourself in the place of the Incas. With the knowledge Llama Path gives you, you'll be able to understand the ideas and way of life of the these people: how important agriculture was, how they honored reciprocity, how they used terrace farming and granite rock to grow quality food and how they respected the sun, moon, and mountains. Throughout the four days, you'll become more engrossed in this, physically and mentally, giving you an experiential tour. Some of the reasons I decided on Llama Path were that I heard they were well-organized, knowledgeable, fun and treated their porters well, all of which turned out to be true. The night before the Inca Trail trek, the group was given a briefing on what to pack and what to expect. Take what they say to heart. Don't not rent a raincoat or forgo wrapping your
hiking clothes
in plastic because you think it won't rain. Trust me, you don't want to be wet and uncomfortable when hiking and camping at high altitude. Moreover, bring a headlamp and walking stick, two items I didn't bring but thankfully were lent by other group members.
Day 1
Day one started bright and early at 4:30 AM. A bus took us first to a charming, family-run restaurant in Ollantaytambo called Quinta Restaurant for a buffet breakfast. The group prepared for the challenging 9-mile hike by filling up on scrambled eggs, ham, fruits, cereal, yogurt, bread, pancakes, juice and hot drinks. From there, we made our way to the start of the hike at Kilometer 83 in Llactapata. Although there was much steep up and downhill walking, there were many beautiful landscapes, culturally-rich towns and unique Inca sites, like the small communities of Meskay and Tarayoq, and the archeological sites of Willkarakay, Q'entimarka, and Patawasi. As you walk, the guides give information on the history of the area. According to Edwin, one of the Llama Path guides, the Spanish arrived in 1532, and tried with all their power to destroy the Inca culture. What's interesting is that, at first, the Incas believed the Spanish were the gods they had been waiting for, and were hospitable and friendly – that is, until they started killing off the Incas for no reason.
The city of Machu Picchu has been able to stay so well-preserved because the Incas made sure never to talk about it around the Spanish. When the Incas moved to the Amazon and the highlands, they took any evidence of the site with them. Moreover, the Inca Trail was originally used for holidays and rituals only, not commercial purposes. What's really amazing is these Inca villages are still intact. Moreover, the architecture is brilliant, especially since these sites are from 1,430 A.D. While you trek, you're literally walking on centuries of history.
Food & Drink
Along with great information, Llama Path also provided the group with large helpings of tasty food. For example, on the first day we were immediately greeted with snacks of fruit and cookies. Additionally, lunch consisted of a 3-course meal with an avocado salad appetizer, soup, fish, cheese, vegetables, potatoes, garlic bread and rice. There's also a daily "happy hour" with tea, chocolate, popcorn, crackers and jam, as well as lavish dinners with dessert. And to help wake and warm you up early in the morning, hot coca tea is brought to you in your tent.
Day 2
The second day was also difficult, but unbelievably beautiful, as we hiked 11 miles, exploring the Inca sites of Runkuraquay and Sayaqmarka. Runkuraquay means "egg shape", and the site is an oval designed place that was once a resting place for messengers. Here we discussed how the Incas didn't have a formal language, but instead used different colored strings with knots to account for population and production numbers. They also used shells to make sounds and communicate.
Sayaqmarka was a lot bigger, with many hidden corners and rooms. It was a spiritual and religious place, and was also used for astronomy. You can still see the rocks where the Incas would put water to see reflections of the stars.
My favorite site was "Dead Woman's Pass", a mountain that looks like a woman laying down. It is 13,500 feet in altitude, and the highest point on the Inca Trail. From here you'll be able to get excellent mountain and valley views, as well as see the mystical cloud forest. It's also the point you reach after hiking over two hours uphill, and is the start of the downward descent. During the trek, the Llama Path team also showed they were willing to go above and beyond for the trekkers. When one of the group members wasn't feeling well and wasn't going to make it to camp before dark, two porters ran with headlamps to find her, even giving her a piggy-back ride back to camp. At night, astronomy became part of the tour, as our guides showed us Saturn, the Southern Cross, the Milky Way, and other constellations that were vivid and easy to make out in the unpolluted sky.
Day 3
Aside for actually seeing Machu Picchu, the third day is the best. The group got to visit the famous Cloud Forest, which is always serenely wrapped in clouds. Going along with this, we saw the Inca ruins of Phuyupatamarka, which means "clouds in the town". This was one of the first Inca sites ever discovered, and was a temple and religious site. The group also explored Yunkapata, a beautiful terraced site with excellent landscape views and a perfect siesta spot overlooking the valley. This is the day Edwin taught us about how the Incas were prepared for natural disasters by predicting the weather. For example, El Nino, which occurs about every five years, was predicted by finding strange seashells uncommon in Peru. This is how the Incas survived so much longer than other cultures. We also discussed the Andean Cross, or Chacana, and the various meanings of its symbols. The boxes represent
Cusco
and its four regions, while the condor stands for the messenger from Earth to Heaven. Moreover, the snake exemplifies knowledge, the puma the army and the sun and moon gods the Incas worshipped. Many people don't know this, because when the Spaniards came they tried to change these meanings and symbols. After an expansive lunch of noodle soup, chicken, beef, rice, pumpkin, lentils, potatoes and salad, we walked to the Inca site of Winaywayna, which means "forever young". The site is known as "mini Machu Picchu", as it's a complete community site with homes, an urban center, religious space and terraces for farming. You can explore the myriad rooms and see how the Incas created their own irrigation system for the immense structure. What I found really interesting was how they used granite rock to absorb and release the sun's energy, creating a natural greenhouse for plentiful and quality crops.
Machu Picchu
The final day is the big one: The race to Machu Picchu. The group awoke at 3:00 am to the usual expansive buffet breakfast to give us enough energy to trek. This is where the headlamps come in handy, as the hike begins in the dark. You'll have to traverse over narrow cliffs and climb the "gringo killer", an extremely steep staircase you have to scramble to get to the top. At the end, you'll be rewarded with a view of Machu Picchu and the surrounding mountains from the Sungate. The best part was our guides made sure we were one of the first groups there, meaning we had the place all to ourselves. Machu Picchu itself is unreal, as you'll easily slip back in time wandering around the pristine and well-preserved structures. Although 55% of the site is still hidden by the jungle, it's massive. Machu Picchu took over 100 years to build, and was home to 800 people of the noble class. It's a complete site, with temples, an urban sector and agriculture. You can tell which sections were for religious purposes because the walls are straight and precise. While exploring, you'll also see llamas grazing on the terraces.
Overall Tour Evaluation
Overall, the tour was one of the most memorable I've ever done, especially since hiking Machu Picchu is truly a once-in-a-lifetime experience. As I've said in past posts, what really makes a tour stand out for me is how close you get with the group and tour guides. By the end of the first day, the group already felt like family, with guides Edwin and Maricello as our two dads. Additionally, the staff are very supportive, always clapping and high-fiving hikers once they make it to a certain section. And at our final dinner together, tears were shed as we shook hands with the porters, gave speeches and were given "family" t-shirts. This, combined with the rare sites, beautiful scenery and interesting information made hiking the Inca Trail with Llama Path truly unforgettable.
The cost of the trek with Llama Path is $550, which includes a porter, meals, tents, sleeping mattress, two bilingual guides, transportation, entrance to the trail and Machu Picchu, drinking water and first aid kit. You can also hire an extra porter for $130, a 5-season sleeping bag for $30, an inflatable mattress for $25 and a walking stick for $12. While this is convenient, I personally rented my gear from Speedy Gonzalez at 393 Procuradores in Cusco, which was a lot cheaper. One problem the group did run into was scheduling on the last day. While some of us had purchased tickets through Llama Path to do to the Wayna Picchu trek, we were unable to complete the excursion as our trains home had been booked for 2:00 PM from town, not giving us enough time. I would suggest if this happens to you either skipping the guided tour of Machu Picchu given early in the morning, or asking your guides if you can switch your train ticket home.
This post was made possible thanks to Llama Path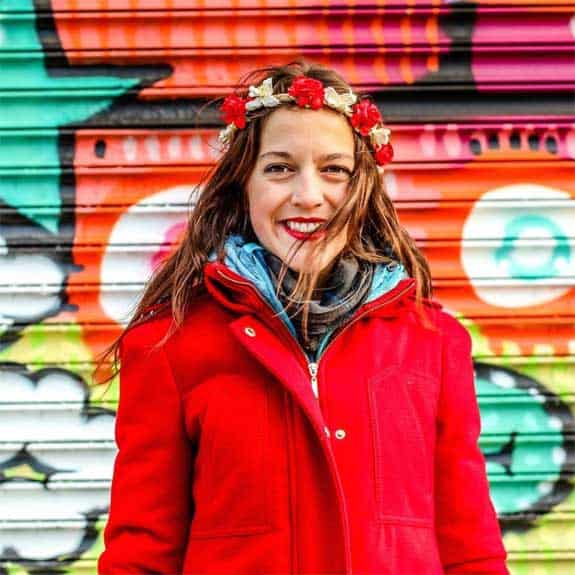 Hi, I'm Jessie on a journey!
I'm a conscious solo traveler on a mission to take you beyond the guidebook to inspire you to live your best life through travel. Come join me!
Want to live your best life through travel?
Subscribe for FREE access to my library of fun blogging worksheets and learn how to get paid to travel more!