Budget Guide: Essential Tips For Saving Money On Food While Traveling
Re-Write The Menu
Looking to score a free meal? One trick not many people know about is re-writing menus in exchange for food. If you're in a country where English isn't the first language, head to a restaurant that claims to have an English menu. Most likely, it will be filled with spelling and grammar mistakes. Talk to the owner and offer to fix these mistakes so the menu is in perfect English in exchange for a free meal. You'd be surprised how many restaurant owners will be thrilled to do the trade.
Picnic
Not only can picnicking help you save money on food while traveling, it's also a great way to
make friends when traveling solo
. Ask some people at your accommodation or from a tour if they'd like to join you, or simply purchase some items like bread, cheese and fruit and head to the park. See if anyone else is eating or drinking and offer to combine picnics for a social and affordable meal.
Stick To Local Mom-And-Pop Eateries
When traveling to a foreign country, it can be scary to go to the local restaurants, especially if the culture is very different from your own. You may be nervous you won't know how to order properly or won't understand the menu. Forget fear and try it — at least once. Most likely, you'll see it's not only an interesting cultural experiences, but one that will save you more than 50% on your bill.
Book A Hostel That Offers Meals And/Or Has A Kitchen
I'm saying hostel here because typically they offer more free meals than hotels. At a minimum make sure there is a buffet breakfast offered wherever you stay. If possible, also try to book a place that offers free dinner on certain nights or does a nightly affordable set-price meal. For example, many of the
Oasis brand hostels
in
Europe
offer a home-cooked meal each night for about five  Euros. Moreover, if the hostel has a kitchen you can save money by grocery shopping and cooking your own meals.
Host A Meetup On CouchSurfing
CouchSurfing isn't just a great resource for scoring free accommodation by staying on locals' couches, it's also effective at helping travelers make friends through their group message boards. When you're in a city, find the appropriate forum and write something like "Anyone want to go for a picnic?" or "Would anyone want to do a group cookout?" You can also plan to share some appetizers at a restaurant to help make the bill more affordable.
Stop Thinking "Everything Is So Cheap"
This is a dilemma many travelers face when in low-cost countries, or simply when they find a snack they enjoy that is less than $3. Instead of thinking you don't have to worry about purchasing something because "it's only $1," think about how all those "it's only $1" times add up. Moreover, if you're the type of person who needs to eat something in between lunch and dinner, opt for a big lunch on a set menu. In most countries, you can find filling and cheap lunch specials and combos during this time, which can also help you eat a smaller dinner.
Skip The Cocktails
While it can be nice to have a cocktail with dinner, it will usually tack on quite a bit of money. Think about it. Say you have one $5 drink with dinner each night. At the time, this will seem like no big deal. However, after a week you'll have spent $35 extra dollars, and after a month $150 or more. Along with saying no to alcohol with dinner, I also bring my own water bottle so I won't have to buy a beverage at all.
Pack Your Own Lunch For The Airport And Excursions
It's nice when tours include a lunch in the price, but if they don't it's best to pack your own. Tourist sites and airports usually charge a crazy amount of money, and usually don't have the best food, anyway.
Buy Large Water Jugs
If you're in a city where the tap water is undrinkable, purchase a gallon bottle of water and use it to refill your smaller one. While it may not sound like much, a huge water is usually less than a dollar more than a small one, and lasts for days. And of course, if the tap water is drinkable, drink it.
Check For Extra Fees
Certain things that may be free in your home country when eating out may not be complimentary in the place you're visiting. For example, in certain countries it's common to charge for condiments and the use of the table. Likewise, the breads and small appetizers the server automatically brings over may have a charge associated with them. Make sure to ask and, if they're not free and you don't want them, have the server take them back, as you'll get charged for having them on the table.

This article was adapted from my original post on Gadling

When traveling, one of the biggest strains on your wallet is the cost of food. The problem isn't that there aren't affordable food options, but more that many people are unsure of how to navigate the dining scene in foreign locations. Instead of asking your hotel for recommendations or going to restaurants that "look nice," use this guide for saving money on food while traveling.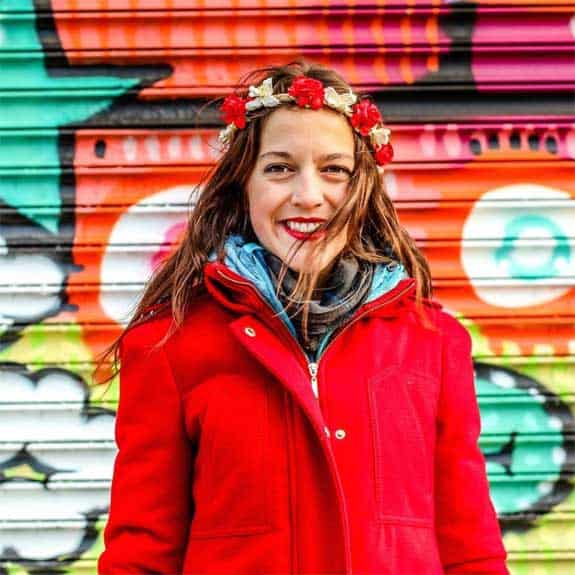 Hi, I'm Jessie on a journey!
I'm a conscious solo traveler on a mission to take you beyond the guidebook to inspire you to live your best life through travel. Come join me!
Want to live your best life through travel?
Subscribe for FREE access to my library of fun blogging worksheets and learn how to get paid to travel more!