Backpacker's Guide To Tahiti And Her Islands
Budget Tips
Advertisements and brochures lead you to believe Tahiti is one of the most expensive destinations in the world, and it can be. That being said, there are many ways to make a
trip to French Polynesia
more
budget-friendly
, for example:
1. Stay At Pensions
Pensions are simple accommodations run by families and locals that can help you save money while also getting to stay with a family (essentially, it's a homestay). Although basic, you can still get a waterfront room, private bungalows and delicious communal meals served family-style so you can meet other travelers.
2. Take Advantage Of Free Activities
Whether you stay at a pension or resort there are usually certain free activities included, like kayaking, cycling, hiking, snorkeling and certain cultural experiences. Check beforehand what accommodations include to compare and contrast what you'd enjoy doing.
3. Skip The Luxury Resort Restaurants
Luxury resort restaurants tend to be the most expensive. Instead, if you're n Tahiti head to Vai'ete Square on the waterfront to check out the mobile food trucks (an especially lively area after 6pm) or the small mom and pop establishments serving local favorites for a cheap price.
4. Skip The Taxis
Especially if you're backpacking solo, taxis can be expensive. Skip the taxis altogether and opt for Le Truck, a colorful open-air vehicle that costs about $2 per person. Bikes are another popular mode of transportation that can save you money while helping you to really feel the beat of the island.
5. Travel During Shoulder Season
For French Polynesia, shoulder season is April through June and September through November. During this time, you'll be able to snag cheaper flights, hotels, tours and packages.
6. Choose Lesser-Known Islands
Traveling to Bora Bora, Tahiti and Moorea will typically be more expensive than the other islands as they are the most touristy. Keep in mind there are other islands with much to offer visitors that are less frequented and less expensive.
7. Opt For An Island Hopping Flight Ticket
If you'll be traveling to a number of islands on your trip, opt for Air Tahiti's flight hopping passes — good for up to six islands — which can save you about 30% on domestic flights.
8. Book A Package Deal
Do some digging and see what kinds of packages you can find that include air, accommodation and meals. As French Polynesia tends to be an expensive destination, this can often help you save money in the long run.
Tahiti
The largest of the Polynesian islands, Tahiti boasts volcanoes, waterfalls, mountains, archeological sites, lagoons, valleys, barrier reefs, lively markets, tropical gardens and many activities and attractions. For a bit of culture, head down to the Papeete Market. Covering 7,000 square meters (75, 350 square feet) visitors can peruse flowers, fruits, Polynesian handicrafts, vanilla, pearls and more. It's also a great place to get a
cheap bite to eat.
Another way to see how the locals live (and eat) is walking along the Waterfront Esplanade, checking out the buskers, street stalls and view, and spending some time in the lively Vai'ete Square. After 6pm, the square fills up with mobile food trucks know as Les Roulettes selling everything from pizza to chow mein to poisson cru — a typical Polynesian dish that's reminiscent of tuna ceviche — and beyond. To help satiate your
sense of adventure
, explore as much of the scenery as possible. Scuba dive a ship or plane wreck, go deep sea fishing, hike the Fautaua Waterfall or Mount Aorai (requires two days), go barefoot water skiing, go on a
4WD safari adventure through the Papenoo Valley
or horseback ride through the Taravao Plateau. There are such diverse landscapes with myriad ways to explore them, you could spend weeks trying to do it all. You should also see what activities your hotel offers for free, as many offer things cycling, kayaking, hiking, snorkeling and certain cultural activities. And for those who want to experience French Polynesia's famous beaches, the serene Punaaui Beach offers white sand, translucent waters, tropical fish and colorful corals. Keep in mind, while you often see photos of Tahiti with luxurious overwater bungalows, the island is home to plenty of family hotels, family-run guesthouses, pensions, bed and breakfasts and even dormitories. Some top picks include Pension de la Plage, Chez Jeannine (
[email protected]
),
Pension Chayan
and
Pension Te Miti
.
Fakarava
An hour and 10 minute plane ride from Papeete on Tahiti, Fakarava is an easy jaunt with much to offer backpackers.There is only one hotel on the island (built with respect to the surroundings to protect the natural landscape), although plenty of budget-friendly pensions abound, allowing you to stay with locals and enjoy home-cooked meals while sleeping in a private beachfront bungalow. One of my top picks is
Pension Tokerau Village
, which includes breakfast and a delicious famil- style dinner each night as well as free Wi-Fi, kayaking and snorkeling and bikes for hire. A biosphere reserve of UNESCO, Fakarava is known for its protected atoll, rare flora and fauna, Tahitian pearl farms and world-class diving. In fact, while French Polynesia in general is known for diving, Fakarava is touted as one of the very best within the islands. The northern coral reef pass of Garuae is the largest in French Polynesia and is known for its "big fauna", drift dives and unique corals. Some highlights include hammerhead sharks and eagle rays (from November to April), manta rays (July to October), grey sharks and mating grouper (may to June) and year round turtles, dolphins and oceanic sharks. And if you're not a diver, snorkeling, kayaking or swimming in the warm turquoise waters of the lagoon are great ways to experience the local landscape. Visitors should also check out one of the island's pearl farms, as there are only a few islands in French Polynesia where you can visit these. For example, at Hinano Pearl Farm, visitors can see how pearls are made from start to finish. You'll learn about how the oysters are caught, how to open the oyster and manipulate its pearl pocket and why the oyster shells iridescence is so important (hint: it's what makes the color of Tahitian pearls so unique). The tour ends with a stop in their pearl shop so you can make a purchase or just browse the different shapes and classes of the pearls. Cycling is a popular activity on Fakarava, with many of the accommodations offering to rent bicycles for about $10-$15 for a half day. It's a great way to get a feel of the island vibe, passing through long stretches of palm tree and beach before entering villages full of friendly locals selling art, fruits and inexpensive meals.
Raitaea
One of French Polynesia's lesser-traversed islands, Raiatea is a budget-friendly option for backpackers as it remains largely untouched by tourism. Known as the "Sacred Island," Raiatea is the cradle of Polynesian culture and is thought to be the first island that was settled. Its unique history can be explored through one of French Polynesia's most important marae, Taputapuatea. Already established by 1000 AD, it was the first royal marae — a sacred place ancient Polynesians believed priests could call on gods to come to Earth to give them strength — in French Polynesia. This particular marae was a gathering place for priests and navigators from all over the country for ceremonies, the giving of offerings to gods and deep discussions about the origins of the universe. As this particular temple was devoted to Oro — the bloodthirsty god of war — human sacrifices were thought to be a particularly generous gift. Today, visitors to the open-air temple can view seven marae sites beautifully constructed from coral and stone. Raiatea is also a land known for its untouched natural features, like deep bays, coral-filled lagoon, majestic waterfalls, lush jungle and French Polynesia's only navigable river, the River Faaroa. Much of the landscape you can choose to explore on your own (free of charge) or by hiring a local guide. Interestingly, atop Raiatea's Mount Temehani is the only place in the world the Tiare Apetahi flower grows, and you can trek to the top for a once in a lifetime adventure with a knowledgable local. Moreover, cycling around the island allows you to take in its wild nature as well as visit local pearl farms and vanilla plantations. While Raiatea is home to budget-friendly pensions — some of which include the
Pension Te Maeva
,
Pension Tepua
and Pension Yolande — the island offers for the rare opportunity to stay in a comfortable 3-star hotel called the
Raiatea Lodge Hotel
for just a little bit more money. Additionally, Raiatea Lodge Hotel includes free activities that can help you explore Raiatea's landscape without spending money, like bicycle rentals for cycling around the island, kayaks for paddling to nearby Motu Miri Miri and snorkeling equipment for exploring their lagoon's vibrant coral gardens. Through their food and beverage program, you can sample dishes made with local seafood and produce, as well as cocktails infused with Raiatea fruits and flowers.
Tahaa
Tahaa does not have an airport, but can be reached by boat in about 25 minutes from Raiatae (most accommodations will pick their guests up from Raiatea). Known as the "Vanilla Island," Tahaa is where over 80% of French Polynesia's world-renowned vanilla comes from. While there are many plantations across the island, La Vallee de la Vanille (Valley of the Vanilla;

[email protected]

) is a top pick, as it is one of the island's few organic operations. You'll see how Brian Hansen and his wife Moeata Hioe grow the vanilla pods on a lush hill slope observing the pollination, drying, weighing and selling of the vanilla. They also feature a boutique selling an impressive array of vanilla-infused products, some of which include rum, soap, body oil, cooking oil, sea salt, coffee, perfume, cologne, volcano rocks, shampoo and more. Bonus: Tours of the plantation are free and include a cold juice drink and fruit tasting, as their 4,000 square-meter property grows an array of tropical fruits. Tahaa is also known for its untamed vegetation and abundance of tropical fruits, as well as for being a giant natural aquarium. These features allowing backpackers to satiate their adventurous side as they explore the island's flora and fauna. In the lagoon, snorkel or dive to see eels, gray sharks, napoleon wrasses, schools of barracuda and enchanting coral gardens, or kayak to a nearby uninhabited motu for a picnic or short hike. Moreover, cycling around the island allows you to take in the lush jungle and vibrant flowers, while trails like the "Route Traversiete" take hikers deep inland into virgin forest while granting views of Haamene and Hurepiti Bays from the top. In terms of accommodation,

Fare Pea Iti

is a clean and comfortable pension with an air of romance. Bungalows are a mix of traditional French Polynesian — with walls made of interwoven peue leaves, bardau shingled roofs and Monoi oil bath amenities — as well as Japanese with sliding shōji doors and Japanese snacks in the mini bar. On the grounds you'll find a white sand beach littered with palm trees, an in-ground pool surrounded by cushioned lounge chairs, a lounge area with free Wifi, books and games, and lush tropical foliage and fruits. Room amenities include a self-catering kitchen (which can help you save money on food), mini bar, oversized stone walk-in shower and a patio with beach views. To help you save money, free activities like cycling, kayaking and snorkeling are offered.

While destinations like Europe, South America, and South East Asia are often touted as popular backpacking destinations, another lesser-know option is French Polynesia, more commonly known as "Tahiti," named after one of the destination's largest islands. There are many ways to make a trip to Tahiti budget-friendly, as well as plenty of options for having authentic local and lesser-traversed experiences. The following guide will give you some insight into successfully backpacking Tahiti and some of her nearby islands.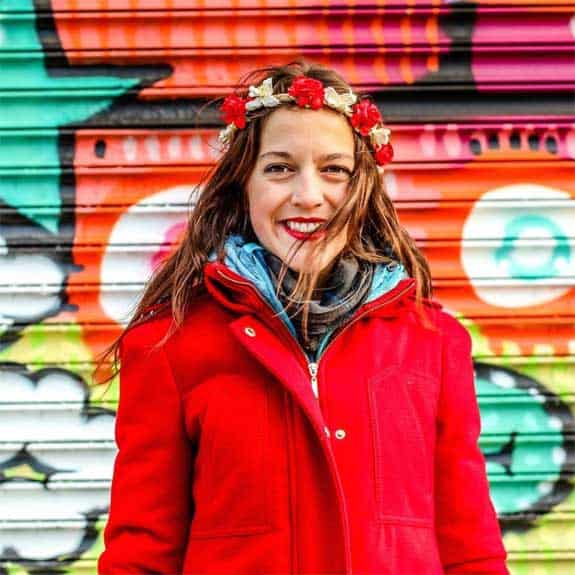 Hi, I'm Jessie on a journey!
I'm a conscious solo traveler on a mission to take you beyond the guidebook to inspire you to live your best life through travel. Come join me!
Want to live your best life through travel?
Subscribe for FREE access to my library of fun blogging worksheets and learn how to get paid to travel more!