15 Fun Things To Do On A Long Bus Ride [Updated]
Looking for things to do on a long bus ride, or even a lengthy plane or train journey?
I've got you covered.
Personally, spending entire nights or days out by coach makes me incredibly antsy, and I need activities to pass the time — without wasting it.
Luckily, there are a number of entertaining and productive ways to spend your time.
Find some of my favorite long bus ride essentials and activities below.
Not sure where to go on your next trip?
This fun and free travel personality quiz can help you uncover unique destinations based on your answers to 10 questions!
---
Psst, don't forget to pin this post for later!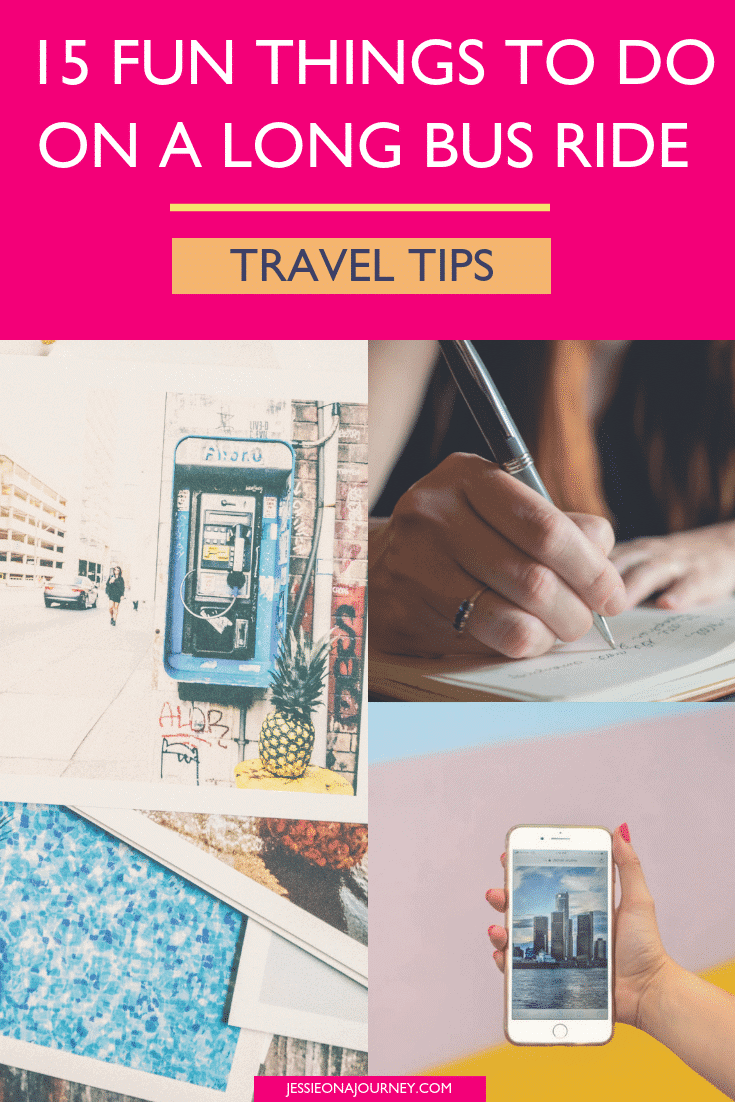 ---
Things To Do On A Long Bus Ride: Top Picks
1. Write
As you pass the beautiful, interesting or simply foreign scenery, get inspired.
Stare out your window and lose yourself in thought, letting yourself really be affected by what you're seeing.
Take your time, really letting the view sink in.
Then, from there, write.
Write in your journal about your experience. And, by the way, how cute is this travel notebook?
You might also craft a poem or song about the destination, pen a blog post, jot down your feelings about what you're seeing, create a fictional story based on a scene outside your window, make the locals on the bus into characters in a play or just use your creativity to have fun.
Need prompts?
Check out this Travel Listography Journal, this 52-week gratitude journal, and this and journal with 300 writing prompts.
2. Play Offline Phone Games
While considering what to do on long bus rides, you may nix games, assuming that there won't be Wi-Fi to play.
And the probability is you won't have Wi-Fi on your bus journey or at least reliable Wi-Fi.
If that is the case, you can still entertain yourself with a number of games that work offline.
My personal favorites are Word Connect, a puzzle type game where you try to create words out of available letters, and Fruit Ninja, where players use their finger to slice flying fruit ninja-style without letting pieces fall or touching a surprise bomb.
Some other fun offline phone games include:
Ben Stein: It's Trivial
Zen Pinball
Subway Surfers
Downhill Xtreme Pro
Cocoto Kart HD
3. Do Work
I'm the type of person who hates wasting time. Living in New York's Upper East Side, I'm constantly taking buses, subways, and trains to get around, which means a lot of potentially wasted time.
Before setting out for the station, I load drafts, outlines, and ideas for articles into Google Drive and set them to have offline access. That way, I can work during the train ride.
Sometimes I'll also download my emails so I can reply to them or at least draft them while I'm getting from place to place.
See if there is any work you can get done on the bus to save you the trouble later.
4. Do A Craft
Along with writing, another way to strengthen those creative muscles on a long bus ride is to immerse yourself in crafting.
While a bus seat isn't the ideal place to layout paints, piles of construction paper and bundles of tools, there are projects that require little space.
A few ideas:
Knit some socks
Crochet an image from your trip
Make your own puzzle
Color
Create figures from clay
Edit photos
Personally, I'm a big fan of these travel-sized rainbow scratch cards.
5. Listen To Music
A great playlist can be a lifesaver when on a long bus journey.
With my headphones on, I'm transported to a different world every three minutes, depending on the song I'm listening to.
I was a dancer in high school and college, so I'll often make up choreography and music videos in my mind to entertain myself.
Otherwise, I'll just let my thoughts wander and enjoy the sounds coming flowing into my ears.
For a pair of headphones that has incredible sound and noise-canceling capabilities — very helpful on a loud bus ride — check out the Sony WH-1000XM3. Or, if you're on a budget, Plantronics BackBeat Pro 2 is a great choice.
Pro tip:
What is neat about Spotify is you can make your own playlist or search for playlists made by other people based on moods and events, like travel.
6. Plan Your Trip
Still in need of things to do on long bus rides?
Coach journeys offer a great opportunity to further plan your trip.
If you don't have your itinerary planned out yet, grab a guidebook or print some blog articles, pack a highlighter and pen, and find some interesting things to do in your upcoming cities.
Even if you're the type of person who likes to travel without making plans it's still interesting to see what experiences are available for a loose itinerary idea.
You might even sign up for a free trial of Mighty Travels Premium to search for error fares and crazy flight deals.
7. Laugh
While the people around you may think it's odd if you start telling yourself jokes, downloading a joke app — for example, 18,000 Cool Jokes or 20,000 Awesome Jokes — allows you to silently read thousands of hysterical jokes and entertain yourself for long periods of time.
If anyone looks at you funny when you start to laugh, you can tell them a joke for a great ice breaker.
You might also buy a comical book to make you laugh out loud. I love:
8. Change Your Life
Long bus journeys mean you'll have much time to think and reflect on the person you are and the life you're living.
Even wonderful people have room for improvement.
Think about something you want to change in your life — your job, your relationship status, the way people perceive you, your health — and make a step-by-step plan on how you will reach your goal.
Not only will this kill time, but it also makes the plan more real so that you actually do it, as opposed to just thinking about it for a few moments and forgetting.
Even if you're not a particularly introspective person, coach travel and long bus rides can make the mind wander and reflect without you needing to push for it to happen.
9. Enjoy A Complimentary Language Exchange
Of course, this will depend on where you're taking the bus; however, if you're in a foreign country where they speak a language other than your own you could use the time to essentially have a complimentary language exchange.
I did this often while backpacking South America, as I had a basic understanding of Spanish but wanted to improve my skills.
How?
Well, I'd simply start a conversation with the person next to me, telling them Spanish wasn't my first language so they didn't speak too quickly. Or I would ask someone if they wouldn't mind practicing with me.
Interestingly, I had a lot of enthusiastic responses, especially from people who were interested in learning English in exchange.
Side note:
If you're interested in learning another language by conversing with a local, check out Live Lingua.
They offer Skype language lessons in various languages. Plus you can try it out for free!
10. Read
When deciding what to do on a long bus ride, books probably come to mind.
You'll want to make sure it's a good one to keep your interest piqued. A few personal recommendations:
If you don't enjoy reading full books — which you can enjoy via old-fashioned paperback or by downloading a title on the Kindle app to save luggage space — iPhone users can save internet articles while online to their Reading List to read when offline.
I suggest this list of funny stories about traveling or this collection of romantic travel stories.
Additionally, the Pocket app allows you to save articles, videos and photos for both online and office reading later on.
11. Sleep
Traveling is exhausting. No matter what you do, the constant rushing around and exploring always leaves you feeling like you didn't get enough shut-eye.
Luckily, a long bus journey provides the perfect opportunity for catching up on those Zzz's.
Pro tip:
Grab a silk eye mask for a truly sumptuous sleep experience, even on public transportation!
12. Invent Something
Another way to get creative is inventing something.
It may sound childish, but using the time to invent something — whether it be a cocktail, a recipe, a household appliance, an app or something else — can be entertaining and good for the mind.
Think back to when you were a child and how much fun you had using your imagination.
This is something we tend to lose as we get older, which is a pity because it's from where great ideas are born.
Who knows, you may stumble upon an invention that could turn into a successful business.
13. Write Letters To Family And Friends
In our advanced modern society correspondence between friends and family is usually done through e-mail, phone or social media.
That being said, it's hard to deny how special it is to receive a handwritten letter or postcard, especially since it's no longer the norm.
Show your loved ones they're important to you by sending them a handwritten message about your trip.
14. Crossword Puzzles
Crossword puzzles. are not only addictive and fun; they're also great brain food.
Studies have shown doing crossword puzzles can improve mental functioning and memory.
Other benefits of doing crossword puzzles include teaching you new words, instilling patience in you, helping you to hone your problem-solving skills and allowing you some downtime and an escape from reality.
Here are a few links to great crossword puzzle books by The New York Times:
15. Paint
Not with real paint — that would be too messy.
Paint By Number: Coloring Book is one of many free artistic apps allowing you to "paint" masterpieces on your smartphone.
Fun feature:
They offer a Daily Update showcasing a new image to paint each day.
Travel Insurance
While you hope everything runs smoothly, sometimes travel just doesn't go according to plan.
This is why I recommend always purchasing travel insurance. The scary truth is it only takes one bad accident to lose everything — or be thankful you were covered.
Personally, I use SafetyWing, as they've got a large network, offer both short-term and long-term coverage (including limited coverage in your home country), are budget-friendly, and offer $250,000 worth of coverage with just one low overall deductible of $250.
Click here to price out travel insurance for your trip in just a few clicks.
What are your favorite things to do on a long bus ride?
*This post contains affiliate links. I only ever recommend products I think would truly benefit you!
---
Psst, enjoyed this post? Pin it for later!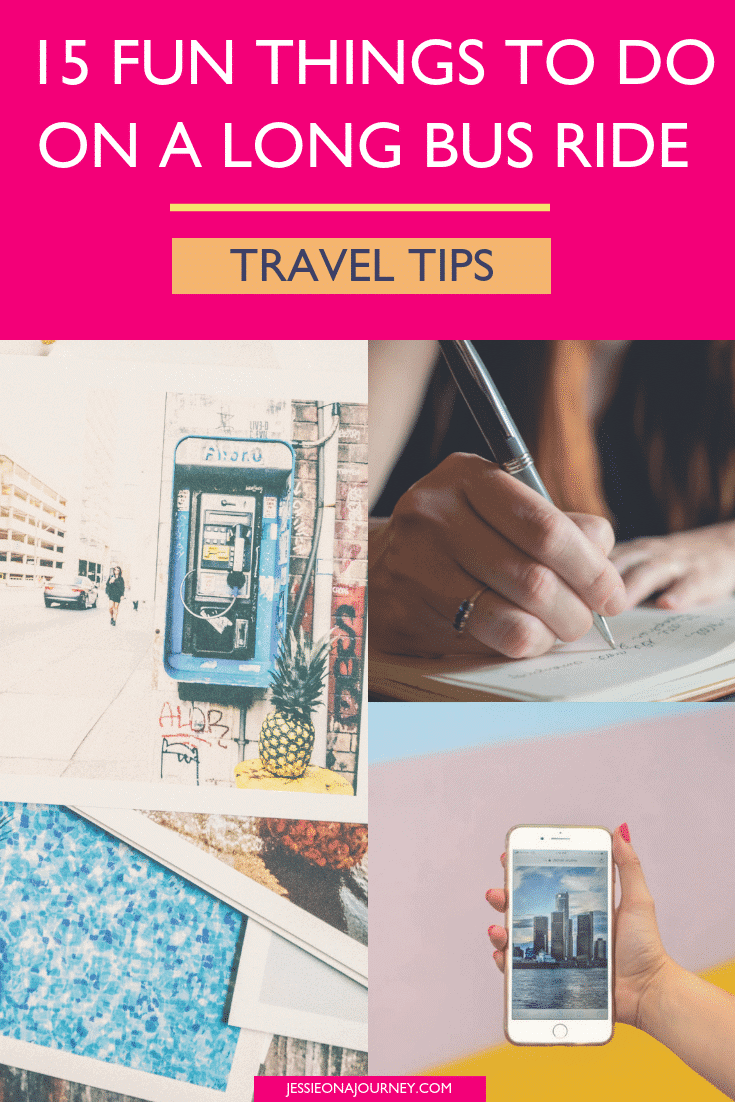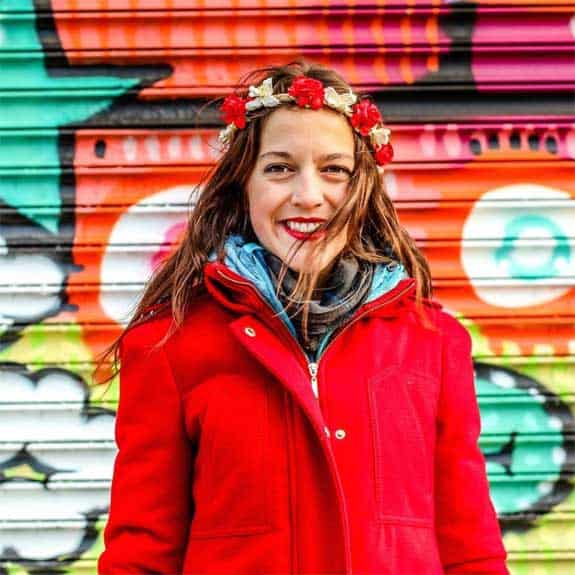 Hi, I'm Jessie on a journey!
I'm a conscious solo traveler on a mission to take you beyond the guidebook to inspire you to live your best life through travel. Come join me!
Want to live your best life through travel?
Subscribe for FREE access to my library of fun blogging worksheets and learn how to get paid to travel more!