Wonderful Washington: Exploring Seattle Beyond The Space Needle
The Space Needle, a 605-foot observation tower in Seattle, is one of the city's top attractions. The iconic landmark is absolutely stunning, adding a futuristic element to the already diverse skyline with its retro signs, modern skyscrapers and stunning mountains. And on a recent trip to the Emerald City I enjoyed the site…from afar. Instead of spending $14 to go to the top I found even better views, not to mention lesser-traversed things to do.
To help you get beyond the guidebook, here is how I went beyond the Space Needle in Seattle.
Getting Around
If you're on a budget, the Link Light Rail provides transportation to the airport. I paid $3 to get to the airport from downtown on the return journey of the trip. Otherwise, Blacklane offers luxury black car service — I had a spacious suburban — while Uber and Lyft can also be called. Note: The Uber link provides a free trip for first-time riders, while with LYFT you can use code "JESSIE299142" for the same deal.
For getting around the city, I used a mix of Link Light Rail, Uber/Lyft rides and a Budget-Rent-a-Car (for day trips), though bus and monorail service are also available. Seattle also has a bike share program, though note some areas of the city are very hilly. Bring comfortable shoes and you'll be able to walk to most destinations. For instance, I walked from my hotel in downtown Seattle to Belltown, Pioneer Square, the International District, Capitol Hill and Queen Anne easily, which was great as these were the neighborhoods I spent the most time in.
1. Get Inspired At The Olympic Sculpture Park
Affiliated with the Seattle Art Museum, the free-to-enter 9-acre park features a winding paved trail lined with about 18 giant outdoor sculptures that starts high and takes you down to the waterfront. This is a great way to burn off some of the delicious eats around Belltown, the neighborhood where the park is located and what ended up being my favorite for dining and nightlife. Within walking distance, some restaurant favorites included Local 360 Cafe & Bar, Shiro's Sushi, and, on the way home from a night out, Rocco's for hearty slices of pizza with generous servings of cheese and toppings.
2. Have A Speakeasy Experience
Along with food, Belltown helped me indulge my craft cocktail cravings. My personal favorite: The Upstairs. You'll walk up the stairs of a Victorian house — creaky floorboards, vintage mirrors and lamps, and charmingly weathered thrift store furniture adding to the appeal — especially when paired with classic, original and local libation-infused cocktails. As I'm a hot head my personal favorite was the uber spicy "Every Rose Has Its Thorn" made with house-infused Ghost Chili tequila (they'll ask how spicy you want it), fresh lemon, honey and a BroVo Rose Geranium Liqueur from Woodinville, about 30 minutes from Seattle.
Also in this neighborhood is Bathtub Gin & Co, which you enter through a back alley (it's in the basement of the Humphrey Apartments) and slip into a moody basement with jazz, blues and r&b, waitresses in slinky black dresses and a hardbound menu filled with options like the "Death Star" with bourbon, maple syrup and fig and the "Holden Caufield" with Applejack, Fernet Branca, lime juice and creme de cocoa.
3. Indulge Locally
Along with great drinks, Seattle has a plethora of uber local restaurants sourcing sustainable Washington ingredients — not too hard as the state's fertile grounds and diverse landscape allow for producing everything from apples to mussels to hops (the country's largest producer!). Brimmer & Heeltap in the Ballard neighborhood was my first introduction to dining out in the city, and it set a high bar to match for the rest of the trip. Opened by Ballard native Chef Mike Whisenhunt and local resident Jen Doak, the team created a space that drew from the bones of the historic building and infused light, playfulness, pops of color and replicas of old schoolhouse lights. The Pacific Northwest menu has a distinct Asian flare and changes depending on what's in season. Some dishes I tried and loved included seasonal kimchi, a grilled halibut with nettles and fish cakes in a lemongrass broth and a grass-fed local beef with king oyster mushrooms and bonito aioli, and a unique koji rice sorbet that was both salty and sweet and transcended into herbaceous.
Another favorite: Local 360 Cafe & Bar, sourcing most of its ingredients from within 360 miles of Seattle. The two-floor space has lots of raw wood, natural lighting, chalk boards, pendant lights and Mason jars along with vintage elements like rotary phones and silver candelabras, and sustainable eats. At happy hour I loved the Dungeness crab-topped deviled eggs ($4), rabbit liver mousse ($9), fried pumpkin seeds ($3) and "Sage in the City" cocktail with 100% blue agave tequila, vermouth, fresh lemon, honey sage simple syrup and nutmeg.
Surprisingly, one of the most hyper local eateries I encountered was Pike Brewing. Their fare goes beyond your typical pub grub for dishes like Dungeness crab chowder, Puget Sound Penn Cover mussels, organic salads with Pike Market-sourced produce and homemade dressings, and a sustainable ground beef burger topped with foraged mushrooms and locally baked bread. While going local isn't too uncommon nowadays, Pike Brewing takes it to the next level by even locally sourcing their condiments and soft drinks, and purchasing organic, humane and high fructose corn syrup-free even when local is not possible.
4. Experience The History Of Beer
Speaking of Pike Brewing, they're much more than just upscale locavore grub. Walking down the stairs of the brewery entrance is like strolling into a kaleidoscope of history. Actually, when the founder and owner of the brewery, Charles Finkel, took me and a beer nerd friend on a tour of the space and onsite microbrewery museum my companion turned into a total fanboy, telling me over a plate of steaming mussels that "this guy is a beer legend!"
According to their team Pike Brewing was the fourth brewery to open in Washington state, and today is the second oldest family-run independently owned brewery in Washington. Charles and Rose Ann Finkel started their foray into beer in 1979 through their import business, Merchant du Vin, bringing the beers they'd savored and loved in Europe like Samuel Smith and Ayinger over to the USA where lager still reigned king, back from when it was brought over by the Germans in the 1800s. Over time the Finkels realized they wanted to create their own brews focused on flavor and terroir and opened Pike in 1989.
What I loved most about Pike Brewing was that every beer seemed to tell a story, whether it was the Pike Locale made in partnership with Washington State University's Bread Lab and local farmers to bring back heirloom grains (it's an exciting attempt to create varietals like with wine) or the Naughty Nellie American Blonde Ale paying homage to Nellie Curtis, the madam of Pike Place Market in the early 1900s. Pike Brewery actually has an entire dining room dedicated to this historically risqué lady, although memorabilia is mixed in with photos of donkeys drinking beer and other fun artifacts.
Rooms like this are part of Pike's effort to be educational, which is seen through the restaurant booths covered in authentic brewing artifacts and infographics and the onsite microbrewery museum that takes you through the various time periods of beer. I sat at the Brewer's Table for my meal, so was privy to a lesson in the history of beer production.
5. Journey Outside The City For Wine, Waterfalls & Chocolate
Did you know Washington is the second-largest producer of wine after California? About 30 minutes from Seattle is Woodinville, the perfect place to explore this facet of local culture. I signed up for a Wine & Waterfall Tour with Customized Seattle Tours. This trip was intoxicating — literally — as it included tastings at two wineries (including the famous Chateau Ste Michelle, the world's largest producer of riesling), a sampling of homemade local chocolate from a 1942 candy chalet, a visit to the 270-foot Snoqualmie Falls and scenic countryside driving with stops for photos. While this would be fun for any traveler, I especially recommend it for couples wanting a whimsical day trip.
6. Savor Free Samples At Pike Place Market
Pike Place Market has been an artisanal institution since 1907 and is a US National Historic Landmark. Today you'll find 11 buildings chock full of local vendors, many with free samples of cacao body lotions, pepper jellies, honey, truffle chocolate cherries, apple pie butter, cheese, pickles and more — though I did buy spices and handmade travel-themed fridge magnets to support the community. For a sit down meal Athenian Inn was great for fresh seafood with a stellar waterfront view, while those looking for something quirky shouldn't miss The Gum Wall.
7. Play Pinball
Pinball machines in dive bars seem to be the norm in Seattle, as I played a few rounds in The Comet Tavern, Shorty's, Unicorn & Narwhal and The Lookout. There are also numerous arcades, like John John's Game Room and GameWorks, and a Pinball Museum featuring over 50 rotating modern and classic pinball machines (it's $15 all you can play and there are cheap beers, too!).
8. Take In Alternative Views
As this post is about experiences beyond the Space Needle — a popular place for views — I want to offer some alternatives. The top recommendation I received from locals was the Columbia Center Observatory, the tallest skyscraper in downtown Seattle and the tallest building in Washington at 967 feet (though the observatory is 902 feet) with 360-degree views. If you like rides the Seattle Great Wheel is a giant Ferris wheel on the water reaching heights of 175 feet.
I also loved the view from my 17th floor guestroom at the Motif Seattle, a Destination Hotel. It's one thing to pay an entry fee and go up into an attraction to see a view; it's another to have stunning vistas at your fingertips at sunrise, sunset and anytime in between. The property does a complimentary wine tasting each evening, and you can take your glass up to your room to enjoy the scenery. Even if you're not staying at the hotel their onsite Frolik Kitchen + Cocktails features a fun fifth floor restaurant and patio with bocce, table tennis, music and socializing — not to mention views of the downtown skyline.
9. See A Dancing Landmark
Although I stumbled upon Seattle's dancing International Fountain in the Seattle Center accidentally, it made for a lovely spot to enjoy the fountain's shooting and splashing to music with the Space Needle in the background. Here's a sampling of the music mix played.
10. Meet The Seattle Distillers
One major highlight of my trip was a Seattle Distillery Tour with Road Dog Tours. I met my guide in the market before boarding a comfortable van, with the first stop Von's Gustobistro immediately introducing me to cocktails crafted with all natural and local ingredients, from Washington apples to ginger beer. Whether you take the tour or not Von's is a must visit for their sanctified vodkas, a meal from the sourdough pasta engine, the display of rare spirits, craft cocktails starting at $5, a Wagering Wheel spun every 30 minutes to determine the drink special and the friendly hospitality.
After Von's I headed on to three other distilleries on the tour, with delicious tastings that bent the rules at each. Some highlights of my sipping experience were an apple pie moonshine, a gin that tasted like cucumbers, a bread pudding-like bourbon, a honey-sweetened limoncello and chili liqueur.
Tip: eat a big breakfast beforehand, as there is a lot of straight booze included on this tour and the distillers don't sell food.
11. Stay At A Wine-Themed Hotel
One of the hotels I stayed at during the trip was the Hotel Vintage, A Kimpton Hotel, a beautiful boutique property in downtown Seattle. Along with the great location, the property featured a wine theme through cork artwork, vino-themed wall quotes and pillows, local wine in the minibar and decanter-like lamps. And in true Kimpton fashion, a complimentary wine hour took place each night to show off Washington's delicious homegrown offerings.
Love hot tubs? There are also many amazing hotels in Seattle with hot tubs in room!
Bonus Tip
Love nature and animals? My friends over at Waking up Wild creating an awesome guide to Seattle's top wildlife experiences!
Check out this complete guide to exploring Seattle's food and drink scene.
What other things to do in Seattle beyond the Space Needle would you recommend?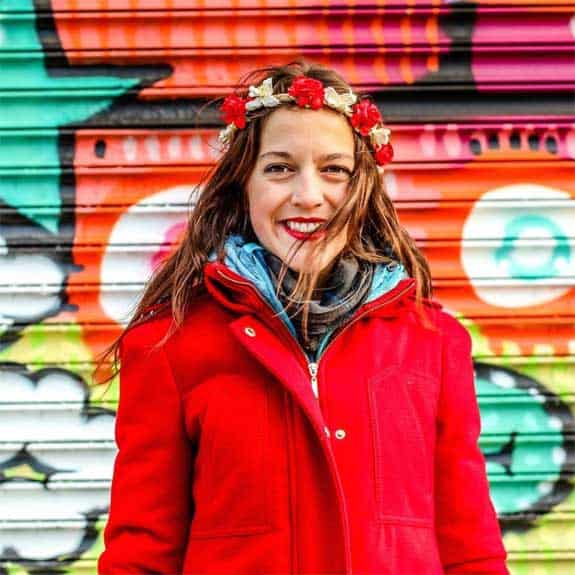 Hi, I'm Jessie on a journey!
I'm a conscious solo traveler on a mission to take you beyond the guidebook to inspire you to live your best life through travel. Come join me!
Want to live your best life through travel?
Subscribe for FREE access to my library of fun blogging worksheets and learn how to get paid to travel more!