How To Get Fat & Drunk Like A Local In Seattle
Stay
Hotel Vintage, A Kimpton Boutique Hotel. 
This beautiful boutique property in downtown Seattle had an immersive wine theme 
through cork artwork, vino-themed wall quotes and pillows, local wine in the minibar and decanter-like lamps. And in true Kimpton fashion, a complimentary wine hour took place each night to show off Washington's delicious homegrown offerings. Other highlights of this property: complimentary in-room yoga mats, free Wi-Fi and a mini bar credit for Kimpton Karma members, an expansive Starbucks coffee station in the mornings, free bike rentals, a 24/7 fitness center and in-room spa treatments like a wild lavender body wrap and spray and a hot stone massage enhanced by rosemary, juniper and grapefruit essences. Starting rate: $229 per night. 
Another idea: book one of the many amazing
Seattle hotels with jacuzzi tub in room
!
Morning
1. A Boozy Breakfast Happy Hour At Toulouse Petit
My wallet tends to be on the thinner side, but sitting down at this New Orleans-influenced restaurant made me want to throw caution (and my savings) to the wind and order everything on the very, very large menu. It all just looked so good! Luckily, many dishes drop down to $10 before 11am, with discounted cocktails to boot; and I don't mean mimosas made with cheap Champagne, but true well-balanced yet boozy cocktails. I felt the classic and very boozy Sazerac was the perfect way to start my day, and we paired it with a smorgasbord of dishes to share like crawfish beignets, butter pecan-laced caramel French toast, scrambled eggs with housemade andouille sausage, spicy shrimp creole with eggs over creamy grits and gooey sweet bread pudding with vanilla ice cream. Note: I recommend walking to your next destination, as you'll feel satiated while also much like a beached whale.
2. Cheers With Washington Wines
If you're the type who loves to eat and drink local on your travels — and if you're reading this, I hope you are — then
Seattle
is awesome. Washington has myriad state-grown ingredients, though to really see Mother Nature's bounty growing you'll need to leave the city limits. A
Woodinville Wine & Waterfall Tour
is perfect for this, taking you to two wineries — including Chateau Ste Michelle, the largest producer of Riesling in the world — an adorable homemade chocolate factory that looks like a German gingerbread house and a waterfall taller (though not wider) than Niagara at 268 feet, Snoqualmie Falls. What I really loved about the excursion was simply driving through the countryside enjoying little wooden towns and wooden bridges amongst lush green and rivers.
3. Stall Hop At Pike Place Market
There's a reason this iconic attraction is so popular — it's artisan fare at its finest. While plenty of restaurants serve up farm to fork food,
Pike Place Market
 allows you to meet the producers, plus many offer free samples (wallets rejoice!). I tried everything from hot pepper jelly to wildflower honey to cocoa butter lotion, though also bought a few things to support the locals. Tip: have lunch at the historic 1909
Athenian Inn
for local seafood and views of the Puget Sound, Seattle ferries and Seattle Great Wheel.
Afternoon
4. Meet The Local Distillers (And Sample Their Goods)
I'm a picky drinker when it comes to cocktails. I don't mind paying for a $15 drink, pending it tastes like a $15 drink. Over the years I've discovered I have a preference for a caramel-accented whiskey or a spicy tequila libation — until a
Seattle distillery tour
. The excursion not only introduced me to the cheerful 
Von's House of 1000 Spirits
(just read that once more to understand its amazing-ness), but also delicious local products like apple pie moonshine, cucumber-esque gin, honey-sweetened limoncello, vodka infused with real candy canes and naturally-flavored liqueurs (I loved the chili pepper variety!). It was an afternoon of delicious education.
5. Shop While Drunk At E. Smith Mercantile
Well, hopefully not drunk, but maybe a nice buzz. And you won't need many of these extremely strong cocktails to do so. Peruse E. Smith Mercantile's made-in-the-USA wares ranging from nice watches to leather belted chef aprons (that are over $300, by the way, so don't get too drunk), before tucking into the corner back bar for some cold press coffee-infused drinks and creative cocktails. My favorite: the "Blue Beard's Wife" with gin, lemon, egg whites, lavender bitters, Sambuca, honey and cold brew. Did I mentioned I like coffee?
6. Varietal Beers At Pike Brewing
There are a lot of breweries you can visit in Seattle, though my favorite was
Pike Brewing
, open since 1989 and the second oldest independently owned brewery in
Washington state
. For one, the brewpub is an immersive beer education palace, chock full of beer artifacts, memorabilia, brew-themed sheet music, a microbrew museum, brewery tours, exhibits on women in beer (they were the original brewers, you know), guides on how to brew and more. Their menu is hyper local — even down to local and organic sodas and condiments — with dishes offering a suggested pairing. I loved how almost every beer had a unique story, like their Locale series using Washington heirloom grains to create varietal beers, similar to wine.
7. Pair Beer With Art At McMenamins
McMenamins
started as a small brewpub in 1974 in Portland, Oregon and has since expanded to one of the most successful brewing operations in the Pacific Northwest. I've always been a fan of this brand, as their unpretentious brewpubs and hotels are extremely experiential. First of all, they make their own beer, cider, wine, spirits and soon drinking vinegars; roast their own coffee; hire artists to paint murals all over their interiors and fermentation vessels; and host everything from movie nights to concerts at certain spaces (the hotels tend to have the most going on). Aside for a few company standard beers, brewers at each space have freedom to experiment, though I'll admit when I visited
their Queen Anne location
my favorite was the "Ruby" made with raspberry purée, a signature offering since the 80s. The brewery uses mainly natural carbonation, with beers brewed in small batches of 12 kegs. They have a nice selection of pub food, though the standout for me was the Jamaican Rice Bowl with chicken, coconut curry, black beans, cilantro and avocado, perfectly paired with the chill calypso music playing around me.
Happy Hour
8. Drink Up, No Matter The Weather
Seattle isn't exactly known for its balmy and sunny days (tip: bring a raincoat!).
Damn The Weather
plays on this, giving locals a space to more than comfortably wait out the storm. They serve a small menu of elevated bar bites and seasonal dishes paired with craft cocktails separated by "tall, fizzy," "short, fresh" and "boozy, evocative" to help you find just what you want. The beautiful brick building emulates the interior vibe of the space perfectly, with lots of exposed brick, candlestick chandeliers, pendant lights and sunlight flooding through floor-to-ceiling windows and illuminating wooden tables topped with seasonal dishes. My favorites: baby lettuces in a smokey and creamy bacon, chive and blue cheese dressing; parsley butter-laced artichoke risotto featuring their Foursquare-famous snails; and a BBQ beef sandwich showcasing a melt-in-your mouth smoked short rib between house-made bread with a complex pea and turnip coleslaw. This slaw was crazy good, and surprisingly the highlight of my meal. I seriously need this recipe to re-create at home. Per my server's suggestion, I ended with a rose-like Amaro Montenegro matched with a buttery rhubarb crumble with a very fresh flavor. Tip: They open at 4pm and are a hot spot for the after work crowd, so get there early to grab a spot at the bar and watch mixologists work their magic. The bar program is headed by the restaurant's founder, Bryn Lumsden, formerly of the amazing Rob Roy (I'll get to this later).
9. Savor Free Happy Hour Snacks And Gun Powder-Infused Cocktails At Rob Roy
As promised, one of my favorite drinking spots was the famed cocktail bar
Rob Roy
, named after a Scotch-focused libation
invented at NYC's Waldorf Astoria in 1894
for the premier of the operetta, 
Rob Roy. 
The dimly-lit study-like lounge features high top tables and low leather banquettes surrounded by art-covered walls as well as free (yes, you read that right) happy hour snacks like goldfish crackers and cuppa noodles as well as half off the entire food menu. Drinks feature large hand chipped ice cubes that take longer to melt, clueing drinkers in that these bartenders take all details, from the proper serving-wear to the housemade infusions, into consideration to provide the full experience. Along with pre-Prohibition cocktails I loved the innovative options like a "Gunpowder Punch" with a house rum blend, citrus, demerara, old world spices and gunpowder, and a "Saffron Sandalwood Sour" with gin, lemon, lime, Saffron Sharbat, Angostura bitters, egg whites and sandalwood dust. Inspiring quotes litter the thick paper menu, like "I feel sorry for the people who don't drink. When they wake up in the morning, that's as good as they're going to feel all day" (Frank Sinatra). Agreed.
10. Eat Food Sourced From Within 360 Miles Of Seattle
I went to
Local 360
for happy hour and it was superb — and not just the drinks; the food, too. The space screams old fashioned handmade ethics with rotary phones, candelabras and uber rustic interiors. Their before-dinner menu has bites like fried pumpkin seeds and duck liver mousse alongside standards such as chicken wings and corn dogs, though the fact they source all their ingredients from within 360 miles of Seattle and buy whole animals for their in-house butcher to process instead of ground meat still puts them on another level.
Evening
11. Eat Bold In Ballard At Brimmer & Heeltap
I loved Seattle's plethora of eat local-focused menus with seasonal ingredients, like the neighborhood favorite
Brimmer & Heeltap
. Opened by Ballard native Chef Mike Whisenhunt and local resident Jen Doak, the team created a space that drew from the bones of the historic building and infused light, playfulness, pops of color and replicas of old schoolhouse lights. The Pacific Northwest menu has a distinct Asian flare and changes depending on what's in season. Some dishes I tried and loved included seasonal kimchi, a grilled halibut with nettles and fish cakes in a lemongrass broth ,and a grass-fed local beef with king oyster mushrooms and bonito aioli. While I tend to opt for savory over sweet, my favorite bite was dessert, a unique koji rice sorbet that was both salty and sweet and transcended into herbaceous. If you like creativity, don't miss this spot!
12. Go Back To Prohibition Times In A Moody Basement…
While the craft quality of the cocktails at speakeasy-esque establishments harken back to before Prohibition, the secret space idea is from Prohibition itself, a time when alcohol was illegal to sell and consume in the USA (despite popular belief, the drinks during this time were so bad they could actually kill you; and there certainly weren't housemade bitters or infusions). At
Bathtub Gin & Co
in Belltown you'll walk down a back alley and enter through a discrete door into a moody basement, where luckily only the playful name of the venue gives any hint of not-so-great bathroom concoctions. My pick: their "Death Star" with bourbon, maple syrup and fig, a sweet and satiating drink that's not cloying.
13…Or A Creaky Old Upstairs
Another speakeasy vibe spot is
The Upstairs
, also in the cocktail bar-centric Belltown, where I entered an old Victorian home and wandered up the creaky wooden staircase — clutching the banister in fear it might crumble — into a cozy weathered two-room bar with vintage mirrors and lamps and mismatched thrift store furniture, though a gallery of somewhat dark modern art brought it into present times. As I'm a hot head my personal favorite was the uber spicy "Every Rose Has Its Thorn," made with house-infused Ghost Chili tequila (they'll ask how spicy you want it), fresh lemon, honey and a BroVo Rose Geranium Liqueur from Woodinville. This is where I visited on the above-mentioned wine tour.
14. Work Off Your Drinks — While Drinking Some More — With Pinball
If you like pinball you'll be right at home in Seattle, where every dive bar seemed to also sport a pinball machine (or 10). I played a few rounds in
The Comet Tavern
,
Shorty's
,
Unicorn & Narwhal
and
The Lookout
. There are also numerous arcades such as 
John John's Game Room
 and
GameWorks
, and a
Pinball Museum
featuring over 50 rotating modern and classic pinball machines. It's $15 all you can play and there are cheap beers, too! Pair your games with a beer from one of Seattle's 45+ breweries.
What Seattle restaurants and bars focused on going local do you love? Please share in the comments below! 
Recommended:
How One Woman Uses Food As A Vehicle For Travel

[Blog Inspiration]

The Ultimate Bar Book: The Comprehensive Guide to Over 1,000 Cocktails

by Mittie Hellmich [Great Reads]

Koji rice sorbet. Apple pie moonshine. Crawfish beignets. I was in search of a culinary-focused vacation, and Seattle disappoint, especially in terms of creativity, locavore philosophy and hospitality. Hell, upon arrival to the city from the airport I found my chef boyfriend, Brendon, whose flight had arrived four hours before mine, posted up at Nijo Sushi taking part in a cocktail training seminar with the bar staff (no, he didn't work there) and becoming best friends with the staff. That seemed to be a theme of our culinary-focused trip. And to help you experiencing the awesomeness of Seattle that we experienced, I'm sharing my favorites with you.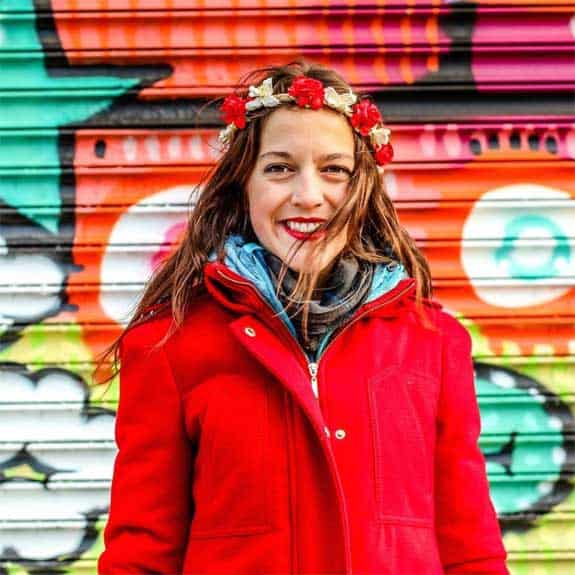 Hi, I'm Jessie on a journey!
I'm a conscious solo traveler on a mission to take you beyond the guidebook to inspire you to live your best life through travel. Come join me!
Want to live your best life through travel?
Subscribe for FREE access to my library of fun blogging worksheets and learn how to get paid to travel more!