12 Fun Things To Do In Puerto Ayora + Day Trips [Galapagos Islands Travel]
*A big thanks to Andando Tours for sponsoring my trip to the Galapagos Islands!
Looking for things to do in Puerto Ayora on Santa Cruz Island?
I've got you covered!
Despite this Galapagos town's small size, there are actually a surprising amount of attractions and experiences to be had — most within walking distance of your hotel, though I've also included a few Puerto Ayora day trips in this travel guide.
Keep in mind, the following is part of what I consider to be the best Galapagos Islands itinerary, which includes spending a few days in Puerto Ayora followed by a luxury cruise aboard WildAid's M/Y Passion, bookable through Andando Tours.
I don't recommend arriving into the Galapagos Islands the day your cruise departs, just in case there are any flight issues.
Plus, having two or three days to relax and acclimate to your new surroundings will make your cruise much more enjoyable.
Pro tip:
Before paying for any Puerto Ayora tours or experiences, check to see if they're already included in your Galapagos cruise itinerary. This way you don't do anything twice.
On that note, let's dive into this incredible Galapagos itinerary!
PSST, DON'T FORGET TO PIN THIS POST FOR LATER!
But first…
Explore Santa Cruz Island — including Puerto Ayora — and North Seymour Island with me via the video above.
Spoiler:
You can expect lots of stunning beaches and adorable Galapagos animals.
Puerto Ayora Hotels: Ikala Hotel
This beautiful property has an excellent location on a car-free street that's within walking distance to many restaurants and things to do. In fact, it's just one block from the Puerto Ayora pier.
In terms of sustainability, the hotel uses solar energy to heat water and for garden lighting, and it has a robust recycling program.
Other onsite highlights include:
A rooftop restaurant serving up one of the most delicious breakfasts I've ever had
A beautiful pool with loungers and cabanas, as well as a bar serving tropical drinks and local craft beer
22 clean and comfortable rooms with modern amenities and lots of natural lighting
They offer free bike rentals
The staff is also incredibly kind and helpful. They have free maps at the front desk and are happy to share activity suggestions and directions.
Click here to learn more about the property.
Things To Do In Puerto Ayora, Santa Cruz Island
While I'm usually traveling solo, on this trip I got to bring my fiance, Andy, along for the adventure.
We spent two nights in Puerto Ayora before embarking on a Galapagos cruise aboard the M/Y Passion. Again, this is highly recommended to give your itinerary space for any bumps along the way.
Plus, it's a few more days of fun, as you'll see below.
1. Visit Playa de las Alemanes (German Beach)
After a local La Endemica Galapagos beer by the hotel pool, we grabbed a $0.80 water taxi to nearby Playa de las Alemanes.
To get there you'll walk on a flat path for about five minutes — 15 minutes if you want to spend some time trying to spot iguanas on the giant bed of igneous rock where they nest along the way.
They camouflage very well!
Playa de las Alemanes is a small, quiet beach with azure waters and tons of birdlife.
It's near a number of stunning eco-hotels and restaurants, too, like #3 on this list.
2. Swim & Cliff Jump At Las Grietas
This is one of the best things to do in Eucador!
If you keep walking past Playa de las Alemanes you'll eventually get to Las Grietas, which means creases or cracks.
This makes perfect sense, as the Santa Cruz Island attraction is actually a swimming hole within an earth fracture.
You'll be surrounded by jagged rocky cliffs stretching out from crystalline emerald water.
And at 33 feet deep, it's a popular spot to swim and cliff jump.
What is also neat about this beautiful place is to get there you'll hike through brush and cacti. When you come upon Las Grietas it almost feels like it shouldn't be there.
But it is, which is something to be thankful for.
3. Have A Cocktail At The Angermeyer Waterfront Inn
When visiting Las Grietas and Playa de las Alemanes you'll be near a number of lovely Santa Cruz restaurants and hotels worth exploring.
One place we happily spent a few hours:
The Angermeyer Waterfront Inn.
Andy and I shared a delicious plate of seafood rice with two happy hour two-for-one cocktails right on the water.
The view of Academy Bay and Galapagos island mountains paired perfectly with the meal.
Pro tip:
For an incredible one-day Santa Cruz itinerary, spend a few hours jumping off the cliffs at Las Grietas, sunbathing and bird-watching at Playa de las Alemanes, and trying to spot iguanas at the iguana nesting area, before heading to the Angermeyer Waterfront Inn for sunset.
4. Head To Tortuga Bay Beach
Another Puerto Ayora beach worth the trip:
Tortuga Bay Beach.
It's about a 40-minute walk or a 15-minute bike ride to reach this beach down a clearly marked path from town.
Here you'll find two big bays:
A longer big with big waves great for surfing, and a smaller one with calm waves that's better for swimming, snorkeling, and kayaking.
Whichever activity you choose at this more tranquil beach, just make sure to get in the water as there is so much to see — sea lions, rays, sea turtles, white-tip sharks, tropical fish, and more.
At the name makes clear, this white-sand beach is also where sea turtles lay their eggs.
It's truly a slice of paradise.
By the way, when visiting the Galapagos it's possible to work on a turtle conservation project.
5. Wildlife Watch On The Puerto Ayora Pier
While you can see sea lions, sharks and fish swimming around at all times, they're particularly active at night.
I heard this is because they're attracted to the evening lights that are on after dark.
Whether that's the case or not, this is a great time to see adorable sea lions and black-tip sharks, which interestingly can weigh up to 55 pounds, with females tending to be larger than males.
Another fun fact about these creatures:
They can jump out of the water and spin in the air!
This experience really took me back to my previous trip to the Galapagos when I went swimming with sharks.
That is still one of my most epic adventures to date.
6. Explore Puerto Ayora Restaurants
There are so many great restaurants in Puerto Ayora. Honestly, we did not put a single thing in our mouths that wasn't delicious.
A few of our favorite culinary experiences included:
Charles Binford Street
Specifically where it intersects with Baltra Avenue.
This pedestrian-only section of the street is lined with open-air seafood restaurants with tables out front showcasing the day's fresh catch — scorpionfish, grouper, lobster and more.
You'll also find happy hour deals alongside an enormous $25 seafood platter-for-two deal, shown above.
Baha Mar
If you're looking for a fancy night out head to this al fresco restaurant on the water.
It's a bit pricey — the seafood pasta, my go-to dish, was $25; about $7 more than elsewhere — but it's worth it for the ambiance and the view.
And for the paella, as every scoop is full of seafood.
Il Giardino Restaurant
Eat inside an artsy treehouse serving conscious food fare.
We had the ceviche followed by a seafood pasta and a three pepper beef entree that were both delicious — especially when paired with 2-for-one mojitos.
Prefer plant-based food?
This Puerto Ayora restaurant has a large selection of vegetarian and vegan fare, like a mushroom "ceviche," grilled mushrooms and zucchini in Ecuadorian coconut sauce, and spaghetti in vegan pesto.
Santa Cruz Brewery
If you're a beer fan, you must come here.
Pair your burger or seafood platter with a delicious local beer and games.
It's a great social venue for those traveling solo in the Galapagos, and also offers excellent people-watching from the upstairs balcony.
Hotel Ikala Restaurant
While we only had the included breakfast at this rooftop restaurant, it was so good!
I usually don't eat French toast or pancakes, but these were the best I ever had.
Moreover, the service is outstanding, and they feature telescopes for a closer view out toward the water.
They open for dinner at 6:30 pm. 
7. See Galapagos Tortoises At Reserva El Chato
If you want to be guaranteed to see Galapagos tortoises in their natural habitat, you must visit El Chato in the Santa Cruz Highlands.
The tortoises stop here when migrating across the island, enjoying the shade of the Scalesia forests and the abundance of grass and guava leaves to eat.
One thing to note is the Galapagos actually gets its name from these giant tortoises, as early explorers named the islands using the old Spanish word for tortoise ("galapago").
Actually, the Galapagos Islands would be a very different place without these "gardeners of the Galapagos," spreading seeds, light and even insects for birds to eat as they move through plants.
For the perfect tortoise photo, make sure to keep your distance and stand quietly behind them so they don't get scared. Then you can have a friend take the photo from in front of the tortoise, as shown above.
By the way, you won't only see gentle giants, you'll become them, as the visitor center has real tortoise shells you can climb into.
Warning:
You'll be surprised how heavy the shells are, though it makes total sense as males can weigh over 500 pounds!
Other highlights of El Chato include the bird-watching — you'll likely see Darwin finches, vermillion flycatchers, and short-eared owls — and the chance to walk through a lava tunnel.
After your visit, enjoy a meal onsite or grab a cup of their free coffee made with locally-grown beans.
Click here to purchase your tickets.
8. Explore Conservation At The Charles Darwin Research Station
Visiting the Galapagos on a budget?
The Charles Darwin Research Station, which is free to enjoy, is a must, especially as it will help you really understand conservation in the Galapagos Islands and the history of the destination.
This Puerto Ayora attraction — which is run by the nonprofit Charles Darwin Foundation — dates back to 1959. It's a place where extensive research is done in an effort to preserve the unique environment and biodiversity of the Galapagos Islands.
Onsite you'll find an active breeding center for tortoises and land iguanas, and exhibits on Galapagos ecology and history.
The breeding programs are essential, especially as early pirates and settlers used the tortoises for food and money, leading to a sharp decline in their population that can still be felt today, though the numbers are improving thanks to projects like this.
You'll also get to see tortoises at all stages of development, from unhatched eggs to full-grown adults.
To get here, you can take a taxi or walk one mile heading east on Charles Darwin Avenue.
9. Peruse The Puerto Ayora Handicraft Market
Along the main stretch of tourist shops in Puerto Ayora you'll find the town's handicraft market.
Located at the intersection of Charles Darwin Avenue and Thomas de Berlanga, you'll find woven bags, stylish clothing, Galapagos t-shirts, jewelry, tapestries, and handmade goods.
It's definitely worth a peek if you're passing by!
10. Shop Sustainably At Darwin & Wolf
You'll see numerous tourist shops selling "I love boobies" and Darwin-themed t-shirts along the main drag of Puerto Ayora, Avenida Charles Darwin.
You'll also find a great shop weaving together style and sustainability:
Darwin & Wolf.
The store is named after the Galapagos Islands of Darwin and Wolf, known for their incredible diving opportunities. In fact, these islands have the largest shark biomass on the planet, according to the Charles Darwin Research Foundation.
The vibe is similar to Abercrombie & Fitch, though with a Galapagos diving theme.
Clothing is hip and high-quality, with garments spreading educational messages about sharks, local wildlife, and sustainability.
Puerto Ayora Day Trips
11. Take A Las Bachas + North Seymour Island Tour
This excursion was booked for me by Andando Tours, and I'm so happy they suggested it.
A tour bus picked Andy and me up at our hotel around 8am, driving us the 40 minutes to the Itabaca Channel for a three-minute panga ride to our vessel for the day.
First stop:
Las Bachas, a stunning beach on Santa Cruz, on the opposite side of the island from Puerto Ayora.
Not only is the sand soft white and the waters turquoise, but our group saw wildlife like flamingos, marine iguanas, Sally Lightfoot crabs, pelicans, and frigates.
Fun fact:
The beach is named after the "barges" — which got misinterpreted as "bachas" — that drifted here from Baltra Island after WWII and are still stuck under the sand.
You need to be careful when walking, as bits of the barges poke up from the sand and can be painful to step on.
From the shore it's sometimes also possible to snorkel with sea turtles, these majestic creatures gliding gracefully through the water.
Next, after a delicious lunch of albacore and raisin rice on board, we made the scenic journey to our highlight destination, North Seymour Island.
Oh. My. Wildlife.
Immediately upon reaching the island, we saw 20+ pelicans and frigates gliding over the island's rocky outcroppings.
As we took in views of surrounding islands and volcanos, an iguana suddenly appeared, walking slowly among the volcanic rock.
"That's a land iguana, a very special sight to see this quickly," says Johan. "It's believed that iguanas came here on a raft from the mainland. Some, the marine iguanas, learned to swim, and others, the land iguanas, did not."
Our group followed the marked path, being careful to only walk where there was sand so we didn't disturb any nesting birds or animal habitats.
While you could probably finish the North Seymour Island trail in less than 30 minutes, it takes us an hour and a half because we stopped to take so many photos.
Honestly, we could have spent more time, but the 90 minutes was all we were allowed.
Why?
Well, it's actually a good thing. The Galapagos National Park only allows so many people at one visiting site per day and at a given time to ensure the birds do not get too stressed.
A few visual North Seymour Island highlights:
A baby sea lion nursing its mother. By the way, there are no seals in the Galápagos Islands. There are only sea lions and fur seals — which aren't actually seals.
Two blue-footed boobies kissing. Interestingly, the color of their feet comes from the fish they eat. As babies, their feet are pale.
Male frigate birds puffing out their red balloon chests to attract females. The bigger the red balloon, the easier it will be to attract a mate.
Baby frigate birds. Possibly one of the cutest things I've ever seen.
One animal that North Seymour Island is currently fighting to eradicate is the black rat — which I guess aren't just a problem in NYC, but in the Galapagos, too.
Just like in New York there are rat boxes in certain places, meant to feed rats poison that they'll take back to their burrow.
Why do they do this?
Because rats — which are not native North Seymour, but who swam over from nearby Baltra Island — are ruining the habitats of so many other animals, eating bird eggs and turtle shells, for example.
It's a small island with a lot to see — and a lot to learn about, for sure.
12. Hike Around Dragon Hill (Cerro Dragon)
Dragon Hill, located in the northwest of Santa Cruz Island, is where you'll find loads of land iguanas.
It's also where you'll see a real-life miracle.
In the mid-1970s land iguanas were almost completely wiped out by feral dogs (since Santa Cruz is one of the Galapagos' inhabited islands).
It was the Charles Darwin Research Station that began a breeding program to help preserve the species, reintroducing them to this area up until 1991.
Today there are loads of these real-life dragons, though you'll need to keep a sharp eye to spot them as their yellow bodies camouflage well with the surrounding desert-like landscape.
What are your favorite things to do in Puerto Ayora + day trips?
ENJOYED THIS POST? PIN IT FOR LATER!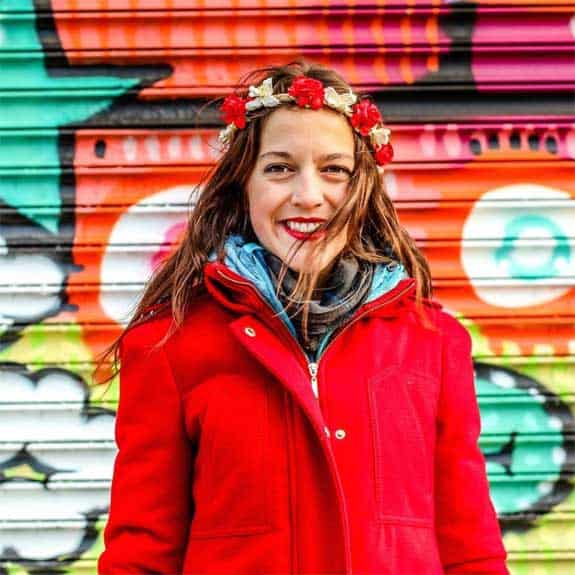 Hi, I'm Jessie on a journey!
I'm a conscious solo traveler on a mission to take you beyond the guidebook to inspire you to live your best life through travel. Come join me!
Want to live your best life through travel?
Subscribe for FREE access to my library of fun blogging worksheets and learn how to get paid to travel more!