Thanksgiving Getaways From NYC: 13 Unforgettable Holiday Escapes
By Charlotte Dow. This post contains affiliate links, meaning if a booking/purchase is made Jessie on a Journey earns a commission, at no additional cost to you. Thank you for supporting this site!
Looking for Thanksgiving getaways from NYC?
Then you're in the right place!
Thanksgiving and travel go together like turkey and stuffing.
Whether you're heading over the river and through the woods to visit family or just to the grocery store for some extra cranberry sauce, you're bound to be in transit for at least some of the holiday.
This year, why not make a new tradition and head out of town for a holiday escape?
With the built-in long weekend, Thanksgiving is a great time to plan a mini-adventure, especially for New Yorkers.
Luckily, there are plenty of great destinations just a short drive or train ride from New York City.
And if you've been wondering where to celebrate Thanksgiving in New York and nearby, this list of easily accessible hotels and resorts offers incredible holiday getaways for locals as well as those visiting New York City in fall.
💡 Short on time? Top picks for Thanksgiving getaways from NYC include:

⛰️ Mohonk Mountain House (New Paltz, NY) – loads of onsite activities & a delicious Thanksgiving feast
🏨 Morris House Hotel (Philadelphia, PA) – a luxurious yet historic stay
🍂 The Wick (Hudson, NY) – a boutique property with Upstate New York charm
11 Thanksgiving Getaways From NYC
2 hrs 45 min from NYC by car
Looking for fun Thanksgiving travel ideas?
The Jersey Shore has so much to offer outside of the summer season, and the region doesn't get much more picturesque than Cape May.
Located in the heart of Cape May's historic district, Congress Hall offers gorgeous, classically-styled rooms, several dining and drinking options, and a full-service spa for peak relaxation.
Book their Winter Warm-Up package for dining and cocktail credits, complimentary hot chocolate, and a discount at the spa.
2 hrs from NYC by car
Located in both the Catskills and the Hudson Valley, there's a reason Mohonk Mountain House has been a go-to getaway for New Yorkers since the 1870s.
This resort has something for everyone at any point in the year, from ax-throwing to board games to Qigong. Plus, it's one of the most romantic getaways in New York State!
Visit during Thanksgiving for family-focused activities and an extensive buffet that will please even the pickiest of eaters.
Ready to venture off property? Visit Historic Huguenot Street in New Paltz and check out ten acres of 17th-century buildings and artifacts.
1 hr 45 min from NYC by train
More of an urban explorer?
Hop on Amtrak for a Thanksgiving getaway in the City of Brotherly Love.
Located just three blocks from Independence Hall, you'll feel like you're back in the Colonial era at the Morris House Hotel — with all the comforts of the modern age, of course.
Grab some complimentary continental breakfast and head down to the Ben Franklin Parkway for the Philadelphia Thanksgiving Day Parade, the oldest in the country and a great celebration of the city's community.
Need help capturing the best views in NYC — with you in the photos? Book a private NYC Photo Journey, a walking tour that includes photos of your group to keep. Or step your game up even further with an NYC Influencer Shoot. Email [email protected] with inquiries.
6 hrs from NYC by car; 1 hr flight to nearby Burlington
Vermont is full of adventurous getaways.
Can't wait for the (official) first day of winter to get your ski on?
Head up to Stowe in Vermont for some of the best snow on the east coast.
Whether you're ready to carve down the mountain or not, spend your Thanksgiving at the Green Mountain Inn.
Bonus:
Enjoy a traditional holiday meal in their Main Street Dining Room — no cooking or dishwashing required.
2 hrs, 15 min from NYC by car; 2 hrs by train
You'll find tons of cute towns in New York's Hudson Valley, but Hudson is a must-visit for art lovers looking to get away from the hustle and bustle of the city.
Located just steps from the Hudson train station, The Wick, a Tribute Portfolio Hotel, is a boutique hotel that blends city style with Upstate charm.
From the hotel, you can easily walk to Warren Street, where you can find tons of great restaurants, galleries, and antique shops to enjoy.
And you'll definitely want to get some late-season leaf-peeping in while you're there; book a cruise down the Hudson or go for a hike in the nearby Greenport Conservation Area.
3 hrs from NYC by car; accessible by bus and train
If you're wondering what to do for Thanksgiving in New York, the answer may be trading the city for the island.
Long Island wineries, farms, beach walks; there is a lot to experience on the North Fork of L.I. — especially if you stay at the Sound View Hotel in Greenport, a very relaxing holiday by the sea.
Lounge in one of their luxe nautically inspired rooms, have a drink and sing some songs in the piano bar, and visit the adjoining SALT Live Energized dry salt therapy spa for some R&R.
2 hrs from NYC by car
If you're searching for Thanksgiving trips you can enjoy with the family — or family of friends — here is a tip:
Book a room, suite, or entire home at Woodloch Resort in the Poconos.
Aside from their year-round offerings of indoor waterslides, nature trails, and a top-rated spa, Woodloch has plenty of Thanksgiving-themed activities planned to keep your whole crew entertained.
And don't worry:
They've got the big dinner all sorted.
Need help capturing the best views in NYC — with you in the photos? Book a private NYC Photo Journey, a walking tour that includes photos of your group to keep. Or step your game up even further with an NYC Influencer Shoot. Email [email protected] with inquiries.
1.5 hrs from NYC by car; 2 hrs, 15 min by train
This recent addition to the famous Asbury Park Boardwalk is one of the Jersey Shore's finest hidden gems.
The Asbury Ocean Club is a gorgeous, luxurious seaside escape that you definitely won't want to leave.
With cozy and chic rooms, incredibly inviting lounge spaces and a terrace with stunning views of the ocean, the Asbury Ocean Club has everything you need to transport you away from the stress of city life.
The city of Asbury Park also has tons of fun and exciting things to do year-round, from concerts at the famous Stone Pony to endless rounds of pinball at the Silverball Museum.
7 hrs from NYC by car
Hikers and skiers alike will enjoy a Thanksgiving adventure up to New Hampshire's Omni Mount Washington Resort.
Aside from some of the best trails in the White Mountain National Forest, this historic resort boasts a 25,000 square foot spa, restaurants, and bars to tempt every palate, and some of the best golf courses in the state.
Visit at Thanksgiving for a holiday buffet and flag football on the lawn.
3 hrs from NYC by car; accessible by train
The healing spring waters, exciting racetracks, and gorgeous scenery of Saratoga Springs have made the city a popular travel destination for nearly two centuries.
The Adelphi Hotel offers travelers a luxurious and historic home base for their Saratoga adventures right in the heart of Downtown.
Enjoy a delicious meal in one of the hotel's three restaurants and lounges and try your luck in one of the nearby casinos.
And don't forget to stop by one of the city's historic spas, like the Roosevelt Baths and Spa.
When it comes to New York State travel, this property should definitely be on your radar!
3.5 hrs from NYC by car; accessible by train
The elegance of Newport, Rhode Island meets today's design trends at The Wayfinder Hotel, a charming boutique hotel in this famous seaside city.
Warm yourself by the fire in the Wayfinder's cozy lobby or enjoy unique eats at the hotel's main restaurant, Nomi Park.
While you're in town, enjoy a hike along the cliffs or a tour of one of the city's famous Gilded Age mansions.
And don't forget to visit Newport's iconic beaches while you're in town, a stunning sight any time of year.
5 hrs from NYC by car
Visiting the Adirondacks? Enjoy a relaxing Thanksgiving at the Mirror Lake Inn Resort and Spa, one of Lake Placid's top resorts.
Featuring a beautiful, historic lakeside lodge, a world-class spa, and tons of great activities all year round, the Mirror Lake Inn is the perfect getaway for anyone looking for some fresh mountain air.
Explore the Adirondacks on foot on one of the area's many Upstate NY hiking trails, take a boat tour of beautiful Lake Placid, or visit venues from the 1932 and 1980 Winter Olympics.
You definitely won't get bored here!
1.5 hrs from NYC by car
Experience the Pocono Mountains' best at the Shawnee Inn & Golf Resort, located just a short drive from Manhattan.
This sprawling resort offers tons of activities year-round such as hiking, trips on the Delaware River, and even axe throwing to get you in vacation mode.
The Shawnee Inn is also home to ShawneeCraft Brewery, a craft brewery that offers tours, tastings, and live music almost every day.
Don't miss the Thanksgiving buffet during your stay, complete with plenty of turkey and all the traditional holiday fixings!
Bonus Stays For Thanksgiving In Upstate NY
Looking for Upstate New York accommodation?
Click here for a list of local hotels!
Prefer self-contained stays?
Click here to check out unique local rentals!
You can also use the map below to search for local stays. I currently have it set to Cold Spring, which is a popular Upstate New York hiking destination, but you can easily change that:
Travel Insurance
While you hope everything runs smoothly, sometimes travel just doesn't go according to plan.
This is why I recommend always purchasing travel insurance. The scary truth is it only takes one bad accident to lose everything — or be thankful you were covered.
Personally, I use SafetyWing, as they've got a large network, offer both short-term and long-term coverage (including limited coverage in your home country), are budget-friendly, and offer $250,000 worth of coverage with just one low overall deductible of $250.
Click here to price out travel insurance for your trip in just a few clicks.
---

What are your favorite Thanksgiving getaways from NYC?
Enjoyed this post? Pin it for later!
---
Pin me! 🙂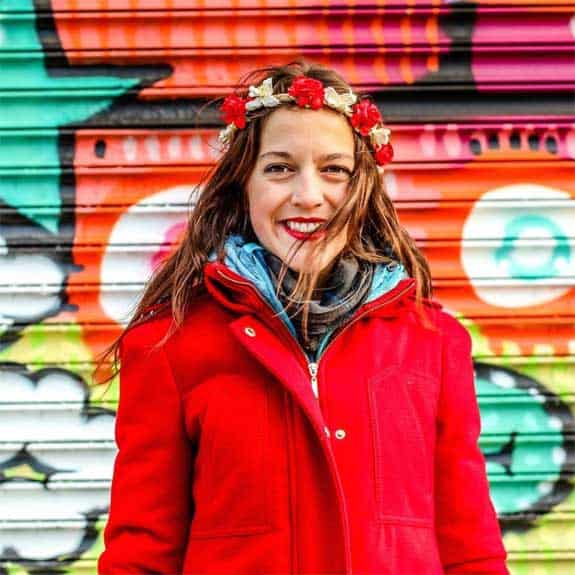 Hi, I'm Jessie on a journey!
I'm a conscious solo traveler on a mission to take you beyond the guidebook to inspire you to live your best life through travel. Come join me!
Want to live your best life through travel?
Subscribe for FREE access to my library of fun blogging worksheets and learn how to get paid to travel more!