Solo Travel In Prague: How To Have An Amazing Trip On Your Own
By Tanya Bindra. This post on planning a solo trip to Prague contains affiliate links to trusted partners!
Are you planning for solo travel in Prague?
Then you're in the right place, as this guide has everything you need to make your trip a breeze — and, of course, fun!
While traveling alone can be a little disconcerting for many, Prague is a great place to begin your solo travel journey.
Prague (Czech: Praha) is the largest city and the capital of the Czech Republic.
The city, located at the heart of Europe, is a literal 3D architectural textbook. It is famous for its well-preserved buildings, exuberant nightlife, Baroque and Gothic cathedrals, Romanesque chapels, old cellars, magnificent palaces and castles, medieval squares, and scenic landscapes.
Prague is also known as "the golden city of one thousand spires" thanks to its grand cathedrals and their conical steeples.
Covering almost 200 square miles of Europe, Prague is a paradigm of Czech heritage, the millennia-old urban life, and the confluence of history in Bohemia. It is also a modern representation of Czech economic and artistic growth.
Over time, though, a lot has changed in the city. There are more tourists and expats now, it's more international, and prices are higher; however, the soul of Prague — including the quaint medieval houses, cobblestoned streets, and dreamy vibe — remains the same.
⏳Short on time? Here are some quick tips for traveling alone in Prague:

✈️ Airport Transfer: Click here to book

🚅 Train & Bus Travel: Omio

🎉 Experiences: Viator (tours), GetYourGuide (tours), and EatWith (cooking classes & dining in local homes)

📍Things To Do: A few top-rated Prague tours include:
–Prague Old Town New Town and Jewish Quarter Morning Tour
–Prague Foodie Tour
–Communism and Bunker Walking Tour in Prague
Click here for a full list of Prague tours

🏨 Where To Stay: A few of the best Prague accommodations include:
–Mosaic House
–NYX Hotel Prague by Leonardo Hotels
–Madhouse Prague Hostel
Click here for an accommodation map with prices. It's currently set to Old Town, one of the best areas to stay in Prague.

☂️ Prague Safety: While Prague is safe for solo travel, it's still smart to pack travel safety essentials. One top pick is the She's Birdie Personal Safety Alarm, which is TSA-approved and can help scare away potential attackers. Other recommendations include Clever Travel Companion Pickpocket-Proof Garments and Speakeasy Travel Supply Hidden Pocket Scarves.

🏥 Travel Insurance: SafetyWing

📞 Staying Connected: Airalo eSIM
Enjoy Solo Travel In Prague With Confidence (Free Course)
Now first, before we dive into this guide to solo female travel in Prague, I want to invite you to grab access to the free Savvy Solo Traveler ecourse, which can help you successfully plan your first solo travel experience!
The six-day ecourse is designed to help you feel confident about booking your solo trip and exploring the world alone. Lessons include:
Common solo travel fears and how to overcome them
How to choose your perfect solo trip
How to tell loved ones you're hitting the road solo
Mentally preparing for your solo journey without losing your mind
Essential steps for staying safe on a solo trip
How to travel by yourself and take amazing solo selfies
Grab your seat in the course here!
Then keep reading to learn everything you need to know about how to travel in Prague solo.
Where Is Prague Located?
Let's kick off this Czech Republic travel guide by giving you a lay of the land.
As mentioned above, Prague is the capital of the Czech Republic, one of the most popular countries to visit when traveling Europe. It shares borders with Poland (north and northeast), Slovakia (east), Austria (south), and Germany (west and northwest).
Here is a Prague map to help give you a visual:
You can click here for an interactive version of the above map.
Why Travel To Prague As A Solo Traveler?
Let me start off by saying that Prague is one of the best places in Europe to travel alone.
As a fascinating, captivating, and memorable travel destination, there's a reason solo travel in Prague is so prominent.
Prague may be known as the city of lovers but it offers a lot for solo travelers, as well. Exploring solo in Prague will give you the advantage of being able to engage with the culture on a deeper level.
According to Numbeo, Prague is one of the safest cities in Europe. Because it is popular among tourists, you're bound to meet fellow travelers; and so, having the independence to make and change plans is always a bonus.
Besides, Prague is safe for solo female travelers, as well.
For instance, you don't have to be too concerned while on your own, even at night. In fact, most areas are invariably buzzing with crowds so you'll never really be alone unless you venture into the wrong part of town.
What's more, the city is easy to navigate, so you won't lose your way.
As with most European cities, an added benefit that solo travelers in Prague can enjoy is a variety of free walking tours available. Accompanied by local tour guides, these walks take you through the main highlights of the city.
My favorite is Sandeman's Tour, whch covers the Old Town attractions such as the Astronomical Clock, the Charles Bridge, St Nicholas Church, the Jewish Quarter, the Church of our Lady Before Tyn, and so on. There are also alternative tours available.
Lastly, Prague is fairly easy to get to from the nearby bigger cities like Vienna and Munich. Much of the continent offers travelers many ways to get around Europe, and Prague also enjoys excellent connections by road, rail, and air.
The Best Time To Visit Prague
The best time for solo travel in Prague would be during the shoulder seasons in spring and early fall. At this time of the year, the city is a tad less busy and the weather is relatively pleasant.
The summer months are also lovely but are extremely busy and attract the most tourists. Hence, there are higher accommodation costs.
The spring and early fall in Prague are the sweet spots for travel. The temperature sits in double digits and the hotels are much cheaper.
Additionally, Prague shines vehemently during the holiday season with its European Christmas markets and a festive mood, which is why this is also a good time to visit; however, it can get very cold and the sun sets early.
Is Prague Safe To Travel Alone
Visiting a new city without the slightest idea of where to head out or how to make the most of your time can be thrilling but also a little alarming — though do feel good knowing that Prague is safe to travel alone. In fact, it is one of the safest cities in Europe.
That said, the crime rates in Prague are low but not zero. Like most other leading cities, petty crimes such as pickpocketing are common.
Therefore, it is advisable to take special care of your belongings, especially on public transport, and know a few strategies for how to avoid pickpockets. In truth though, as long as you're street smart you'll be fine!
How To Get From The Airport To Prague
Prague Airport (Václav Havel Airport Prague) is located around 17 kilometres (~11 miles) and 25-30 minutes (when there is no traffic) and almost 40 minutes (during heavy traffic) from the city center.
The surge hours are typical during the working days in the morning (7am to 10am) and the evening (5pm to 8pm). During these hours, add an extra 20-30 minutes to your ride.
Taking a taxi/Uber to your location is the fastest and the most convenient option; however, a cheaper alternative would be to take the airport bus.
Here are a few ways to reach Prague from the airport:
Private pickup vehicles (time: 30-40 minutes; charge: ~$30-$36 USD); you can book this here
Airport shuttle service (time: 30-60 minutes; charge: ~$11-$14 USD)
Uber (time: 30-50 minutes; charge: ~$24 USD)
Public transport (time: 50 minutes-1 hour; charge: ~$1-$2 USD)
Prague airport taxi (time: 35-40 minutes; charge: ~$32 USD)
How To Get Around Prague
Prague is best explored on foot. Walking your way through the city is my favorite way to get around — and, of course, the cheapest.
That being said, Prague has one of the most promising public transport systems in the world. Especially if you are staying away from the city center, the most time- and cost-effective way to get around Prague is employing public transportation like buses, trams, metro, and trains.
These are highly integrated — as in, the same ticket is valid on all types of transport — efficient, and cheap. The cheapest tickets cost around 25 CZK (~$1.17).
On foot: The city is walkable and compact; individual neighborhoods are best explored on foot. Be sure to wear comfortable shoes, though.
Trams: The vast network of trams is useful to get around shorter lengths between neighborhoods.
Bikes: Prague has marked bike lanes. You can borrow/rent bikes at the Information Office by the main entrance.
Metros: Fast and systematic; useful for direct connections to outlying neighborhoods or covering longer distances.
Taxis: Taxis are relatively expensive; however, they are fast and efficient. The rate is calculated using fare per kilometer + entry fee.
Uber: Prague is the only city in the Czech Republic where Uber is available.
Car: You can use your car to get around but, like most places in Europe, car travel in central Prague is restricted. Parking is also limited. If you do rent a car, you can use a tool like Discover Cars to quickly compare your rental options on one page and save up to 70%!
Practical Tips For Visiting Prague Alone
Here are some practical tips that you can make use of while visiting Prague alone:
Where to stay on a solo trip to Prague
Generally, solo travelers prefer downtown in neighborhoods like Alstadt, Mala Strana, and the Castle District. Nové Mĕsto, Zizkov and Karlin are also nice areas to stay if you are visiting Prague solo.
These areas are reasonably close to most attractions and have plenty of restaurants and bars.
One good hotel option is the design-centric Mosaic House if you're looking for a chill atmosphere and a laid back vibe. The property has an in-house bar, cafe, and spa, too.
Another option is NYX Hotel Prague by Leonardo Hotels. They have cool themed rooms with friendly staff.
If you are looking to party it up, the Madhouse Prague Hostel is the best place to be.
Click here for a full list of hotels in Prague!
Prefer self-contained stays?
Click here to view unique local rentals or peruse the map below. It's currently set to Old Town, but you can easily change this to your preferred neighborhood:
How to efficiently plan your solo travel in Prague
Packing a good pair of shoes is of paramount importance when traveling solo in Prague. You are going to walk a lot!
It might also be worth buying a transportation pass, which offers unlimited rides for 24 hours/36 hours/48 hours and allows switching between all types of public transports.
Also, consider joining a walking tour with local guides to help get a headstart on your trip. If you are traveling in summer, one cool solo activity is paddle boarding near the Vltava river.
Lastly, you can check the Czech tourism apps on Playstore and Appstore to better augment your travel experience.
Where to meet locals
The locals in Prague don't have much of a reputation for being overly friendly with tourists. They are not much for small talk, like, say, in Italy. Additionally, some people feel shy about making conversation in English.
However, some alternative ways to meet locals can be by going on walking tours, signing up for pub crawls, staying in hostels, and so on.
Of course, you can always get a drink at the bar and say hi to the person sitting next to you! This may not always work but if it doesn't, no harm no foul!
These are just a few tips for meeting locals while traveling as well as other travelers.
Things To Do In Prague When Traveling Solo
The amazing thing about the city is that there are many things to do for free in Prague. Additionally, here are a few things that you can do in Prague while traveling solo, whether it's your first time visiting or your hundredth.
Remember, one of the biggest advantages of traveling solo is having ultimate freedom over your schedule, so feel free to adapt the below suggestions to suit your itinerary.
Visit the National Museum & Museum of Communism
Founded in 1818 by Kašpar Maria Šternberg, the Prague National Museum (Národní Muzeum) houses exhibits from the areas of arts, natural history, music, and librarianship.
The museum is also located across from Wenceslas Square, a boulevard featuring a mix of modern shops and eateries and historic sites.
Moreover, the Museum of Communism offers a glimpse of post-WW2 life in Czechoslovakia, and in particular in Prague. It chronicles the events on the Eastern side of the Iron Curtain leading up to the country's split into Slovakia and Czech Republic. You can visit the museum on its own or as part of an in-depth communism tour.
Walk along Charles Bridge
Enjoy an aimless stroll on Charles Bridge and watch the myriad street artist acts on display. Notice the statues lining the bridge which depict venerated saints from the time the bridge was constructed.
Catch a festival in the Naplavka area
Is it fun to travel alone? It certainly can be, especially if you listen to this tip!
There are often really cool events happening in Naplavka like the Prague Naplavka Farmers Market and the Smichovska Naplavka Food Festival. A quick stop at the Tourist Information Center will get you all the details on what's happening in Prague when you visit.
Party at Hangar Bar & Club
One of the best bars to visit in Prague, alone or with company, is Hangar Bar & Club. They have a huge selection of cocktails, great service, and very friendly staff. The bar is themed as a plane hangar with the staff dressed as flight crew.
Visit Prague Castle
Dating back to the year 870 and taking up about 750,000 square feet, Prague Castle is known as one of the world's largest ancient castles!
Take a guided tour through the castle complex and St. Vitus Cathedral as well as a walk through the castle gardens. You can view guided tour options here.
Spend an afternoon at Old Town Square
Prague's Old Town Square is a great place not only to catch the city's medieval architecture, but also to people-watch. Grab a table at a cafe and admire the whimsical colors, old buildings, and the perennial rush of people.
Walk up to Petrin Hill
You can hike up to Petrin Hill to enjoy a scenic view of the castle looking over the city. Pack some Czech beer and sandwiches from a supermarket and head up to the park on Petrin Hill to make a picnic out of it just like the locals do.
Visit Prague's libraries
I love visiting libraries, especially in Europe. As a solo traveler in Prague, you can spend several hours at one of the many libraries such as Strahov and the Municipal Library.
Visit the John Lennon Wall
Located in the beautiful and historic Malá Strana neighborhood, the John Lennon Wall dates back to the 1980s and features Beatles' song lyrics, symbols of peace and global movements, and, of course, paintings of Lennon himself. You'll undoubtedly leave feeling inspired.
Fun Tours In Prague For Solo Travelers
A great way to meet people when you're exploring Prague on your own is to book a group walking tour. Wandering a new city together and learning about local culture is one of the easiest ways to turn strangers into friends.
There are many fun tours in Prague to choose from, a few of which include:
Click here for a full list of Prague tours!
Recommendations For Eating Alone In Prague
The culinary options in Prague are remarkable and endless. You can find any type of cuisine you like.
For eating alone in Prague, you can wander around the Old Town or go slightly off the main streets. Below are a few restaurant recommendations:
Kampa Park Restaurant: Visit for a delicous over-the-top brunch or breakfast.
Czech Slovak Restaurant: Perfect for a traditional dinner after exploring the neighborhoods on foot.
U Prince: This is a boutique hotel with an exceptional terrace bar and grill. It's a great spot to enjoy a drink while looking out over the quintessential orange rooftops of the city.
Country life at Melantrichova: This eatery is excellent for a tasty vegan lunch.
Kogo in Slovansky Dum: Expect great food! It's amazing for a quick bite.
These eateries are on top of the myriad bars scattered all over the city. Just head into any bar of your liking –especially in the Old Town — to enjoy a local dish and wash it down with ridiculously cheap beer. It's one of the best ways to eat in Prague like the locals do!
Czech Republic Travel Insurance
When visiting the Czech Republic — or anywhere else in the world — it's wise to get travel insurance.
One of the best travel medical insurance for travelers is SafetyWing as they've got a large network and offer both short-term and long-term coverage — including coverage if you're traveling for months as well as limited coverage in your home country.
Additionally, SafetyWing is budget-friendly and offers $250,000 worth of coverage with just one low overall deductible of $250.
Click here to price out travel insurance for your trip in just a few clicks.
What tips would you add to this solo travel in Prague guide?
About The Author
Tanya Bindra runs a travel blog at myrightsock.com. She writes about traveling smart in Europe, drinks coffee like an Italian, and makes animated gesticulations while talking. You can subscribe to her bad jokes and handy travel tips on Instagram.
Enjoyed this post on planning a solo trip to Prague? Pin it for later!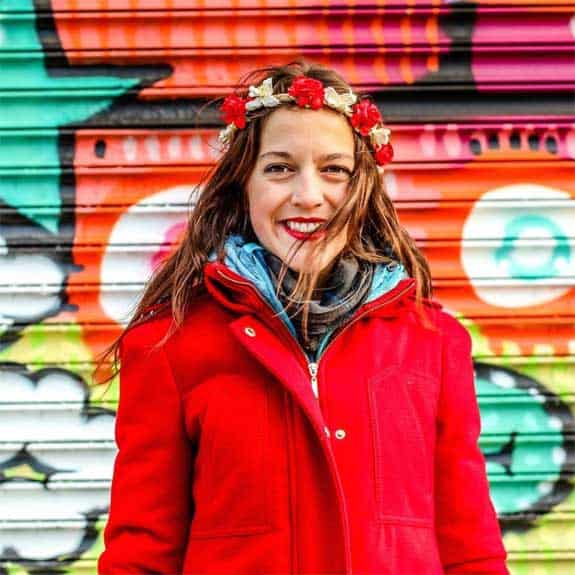 Hi, I'm Jessie on a journey!
I'm a conscious solo traveler on a mission to take you beyond the guidebook to inspire you to live your best life through travel. Come join me!
Want to live your best life through travel?
Subscribe for FREE access to my library of fun blogging worksheets and learn how to get paid to travel more!