4 Do-It-Yourself Dining Experiences Near Namba Station In Osaka, Japan
dining experiences
based on my travels. Trust me. After a day of
Japan sightseeing
, these eateries really hit the spot!
Getting Around
The easiest way to get around Osaka is the subway, and you can
view a subway map here
. Tickets are 180 yen (about $1.75 USD) each way. Signs are maps are in Japanese and English, making it easy to understand where you're going. For a local guide, I recommend Michiko Moriwaki (moriwaki.michiko (at) gmail (dot) com), a certified English and Spanish speaking guide with vast knowledge and a great sense of humor.
Korean BBQ Video taken by Jessica Festa using a Nokia Lumia Icon
1. Kisshan
Address: Namba dining maison 8F We sit in our private dining room, fresh grilled meats sizzling on a wood-fire griddle. The smell of cooking onion mixes with Kuroge Wagyu beef, and I sit staring as white turns to black and red turns to brown in seconds. A plump piece of chicken sits on my dish from the previous course, and I struggle to cut it in half with my chopsticks, stabbing the meat with my righthand and then attempting to saw through with my left. I realize this is probably offensive and put the chopsticks down, hoping nobody saw me. "Michiko, how would someone cut this in half?" I ask, assuming there must be some trick I can use. She looks confused. "You wouldn't." I realize now why our server at Kisshan has provided us bibs. I'm currently savoring yakiniku, Korean-style barbecue (or Japanese-style, depending who you ask) where the tables double as grills and, after coating the top of the grill with beef fat, you cook your own beef tongue, Kuroge Wagyu beef, pork, chicken and vegetables while savoring already-prepared sides of kimchi, bibimbap (a mixed rice bowl with vegetables) and egg drop soup (which some people add into their bibimbap). It costs about $50 USD per person including dessert, and will leave you completely satisfied — as long as you're not a vegetarian.
2. Kushiya Monogatari
Address: Multiple locations. I ate at Nanbanaka 2-10-70, Nanba Parks 6F. Walking down the aisles of the brightly lit buffet-style restaurant, tables featuring oil tubs with baskets of frying food, all preconceived notions that Japanese only eat healthy are washed from my mind. Kushiage-style cuisine refers to deep fried skewered-foods; however, while many restaurants cook the skewers for you, Kushiya Monogatari allows you to be your own chef. In the restaurant clear display cases are filled with meats and vegetables: chicken tenderloin, shrimp, salmon, squid, sweet potato, shrimp dumplings, takoyaki, mushrooms and more. I slide open the cases, placing raw bites to be deep fried at the table. Nearby, pastas, fresh fruit and prepared salads remind me a meal of only fried foods may not be a completely nutritious (no matter how tasty). I enhance my enormous spilling pile of food with some sauces for dipping — cheese sauce, spicy sauce and plum sauce are just a few options — and make a bowl of wet flour and yam and another of bread crumbs to coat the food before dipping it into the oil. I'm no gourmet chef — which becomes obvious by how many times I forget to first dip the meats in the flour/bread crumb mixture — but you really can't go wrong with fried food. I can't stop. I'm not even hungry anymore and the shrimp and chicken just won't stop finding their way into my mouth. At one point I notice I'm chewing crisp breading-coated yam on one side and oil soaked mushrooms on another, but I'm too happy to be ashamed. Another highlight for me is dessert. Along with a make-your-own sundae station, a decadent chocolate fountain cascades like a waterfall, and you can stick donut and marshmallow skewers — obviously a major focus of the restaurant — under its ripples. The price for the lunch buffet is about $16 per person while the dinner buffet is about $25 per, both for 90 minutes.
Tonpeiyaki video taken by Jessica Festa with a Nokia Lumia Icon
3. Fuku Ebisu
Address: 7-6 Soemoncho Tyuoku, Osaka Phone: 06 6484 0839 "They're like pancakes and you can put squid and bonito fish flakes on top." Gross. A fishy pancake? This is how okonomiyaki — thought to have originated in Osaka — is described to me. From my Western mindset, pancakes were meant for maple syrup, bananas and chocolate, not creatures from the sea. Little did I know these were not the floury griddle-fried pools of batter, soon to be pastry-like bread, I was accustomed to. Like the other restaurants in this series, the tables at Fuku Ebisu double as kitchen appliances, this time a large flat iron grill. In Osaka, okonomiyaki batter is composed of flour, yam, water or dashi, eggs and shredded cabbage — as well as additional ingredients like pork belly, squid, cheese, leeks, octopus, shrimp, onions and much more. For toppings, ingredients like bonito fish flakes, mayo and thick Worcester-like sauce are common. The meal is hearty, which is why it's often known as "Osaka Soul Food." The restaurant is located in Osaka's famous street food area, Dotonbori, one of two downtowns. Unlike the many private quiet meals I'd enjoyed in Kyoto, Fuku Ebisu was loud and raucous, with beers flowing, laughter booming and plum liqueur dribbling out of the side of my mouth. It was downright fun. For the meal, the server brings the okonomiyaki mixture to the table and places it on the grill to be made before my eyes. While I did not entirely making it myself — probably for the best — you I'm given a special spatula called a kote to cut up the tableside-made meal and continuously move it so it doesn't burn and slap it to expand it's size — an important part of the cooking process. Another delicious dish you can order to have cooked before you is tonpei yaki, consisting of eggs stuffed with shredded cabbage and pork and topped with rich sauces, mayo and bonito flakes that melt onto the meal as it cooks. Again, if you're looking for dainty Japanese dishes, this is not the place for you; however, if you want something delicious and filling, Fuku Ebisu is for you.
4. Shabu Zen
Address: Inside the DF Gurukasu City Building at 2-4-2 Shinsai Bashi, Tyuoku, Osaka Phone: 06-6213-2935 "Shabushabu! Shabushabu! Shabushabu!" I watch as Michiko snatches a piece of beef with her chopsticks and quickly swishes it around the hot pot's boiling water, saying in a hushed but excited fashion the word "shabushabu" over and over. "Michiko, what are you saying?" "Shabushabu! Shabushabu! Shabushabu!" Possibly the most fun Japanese dish to say — and to make — is shabushabu. The name comes from the very sound Michiko is making across the table from me as she boils her beef. And this is exactly what shabushabu is, boiling delicious slices of beef, as well as shrimp, octopus, pumpkin, sprouts, mushrooms, cabbage, crab, scallops, green onion and other tasty local ingredients. Oh yea, and like yakiniku make sure you're wearing your bib. Shabushabu can get very messy as chopsticks and food fly around the table.
Have you ever had an interactive dining experience in Osaka? Please share in the comments below.
My trip to Japan's Kansai Region was sponsored by the Japan National Tourism Organization. I was not required to write this post nor was I compensated for it. All opinions are 100% my own.
Also Check Out:
Explore Italy's Amalfi Coast Taking Part In A Traditional Tea Ceremony In Tokyo, Japan A Tale Of Two Japans: From Cosmopolitan Tokyo To Okinawa's Tropical Islands

For food-focused travelers, Japan should be at the top of the to-do list. Not only is traditional Japanese cuisine on UNESCO's Intangible Cultural Heritage list, but you'll find an array of dining and meal styles. During a recent trip to Osaka — often touted as the "food capital of Japan" — I found do-it-yourself-dining to be a fun and popular way to discover the country through the cuisine. Coming from Kyoto, where meals were focused on presentation and showcasing the seasons in a very detailed manner, Osaka was more practical, serving good food in a variety of styles and atmospheres. For those wanting to explore restaurants in Japan and Osaka through their stomach, here are four recommended interactive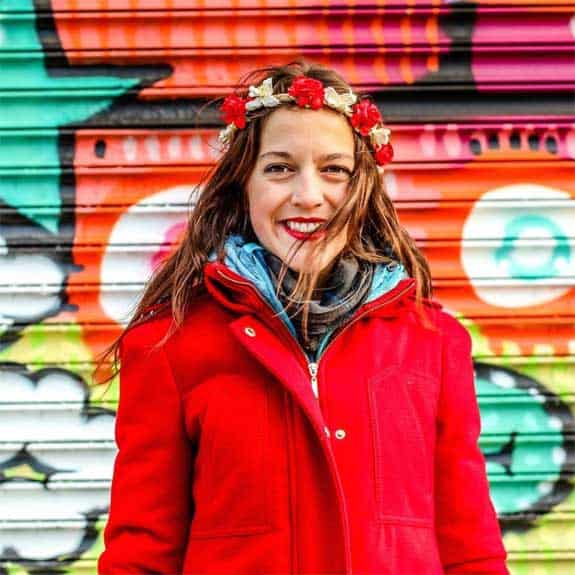 Hi, I'm Jessie on a journey!
I'm a conscious solo traveler on a mission to take you beyond the guidebook to inspire you to live your best life through travel. Come join me!
Want to live your best life through travel?
Subscribe for FREE access to my library of fun blogging worksheets and learn how to get paid to travel more!