NYC Escape: A Surprising Adventure In Milford, Pennsylvania
Disclosure: This post is part of a local trips series and giveaway I'm doing in partnership with Amazon. Amazon compensated me and provided my travel and accommodations in exchange for writing about my travels. Regardless, everything I have said in the post reflects my honest observations and opinions from my solo road trip.
This week I've had the opportunity to tour some great road trip getaway easily accessible from New York City with Amazon Destinations, including the whimsical Milford, Pennsylvania. The borough sits on an escarpment above the Delaware River, with local streams flowing over cliff side to reach it. Milford dates back to 1733, when the Native Americans and first settlers made use of the lush local nature: forests, lakes, orchards, streams and, the most popular attraction, the Delaware River, the longest un-dammed river east of the Mississippi. Today, you'll find a grid street plan created by Judge John Biddis in the late 18th century, the streets named after his family and the lanes after his favorite fruit (holy cuteness!). Victorian homes, numerous bed and breakfasts and inns, a mix of local and antique shops, and a plethora of gardens and natural opportunities add to the charm. The latter is exactly what I head to Milford to explore, mainly the over 100 miles (161 kilometers) of hiking trails and 40 miles (64 kilometers) of waterway in the 70,000 acre (28,328 hectare) Delaware Water Gap National Recreation Area.
Stay: Hotel Fauchère
Amazon Destinations set me up with one of their hand-curated properties, and they done well. Hotel Fauchère, a Relais Châteaux property, was founded in 1852 by Louis Fauchère, the head chef of the famous Delmonico's in New York — which is why they have a fine dining Delmonico Room onsite, as well as a more gastropub-style Bar Louis. Tip: A design-your-own burger here will be a trip highlight, especially if you add the truffle fries. The property was a gem of the Gilded Era, with some notable guests including Teddy Roosevelt, Franklin D. Roosevelt, John F. Kennedy, Charlie Chaplin, Babe Ruth, Andrew Carnegie, Robert Frost, Sarah Bernhardt and many others. In 2006 the hotel was restored and re-opened as a 16-bedroom boutique hotel, still in the original family with many original features, like the marble entry-way, chestnut floors and mahogany banisters. Around the property you'll also find inspiring paintings by the mid-19th century Hudson River School, a group of talented romantic landscape painters. While you certainly get a classic historic feel, there are also modern luxury amenities, like Frette linens, Kiehl's bath products, in-room Wi-Fi, iPod docks, flatscreen TV's, an in-room Nespresso machines, and bathrooms with rainshowers and heated towel racks and floors. What I loved most about the property, however, was the location. I was literally able to explore the best of Milford on foot and by renting a bike from the nearby cycle shop. As an active traveler, having a centrally-located hotel where I don't need to worry about how to get around is crucial. And get around I did, partaking in activities like:
Hiking The McDade Recreational Trail
Running for 32 miles (51 kilometers) along the Delaware River, the McDade Recreational Trail is within the Delaware Water Gap National Recreation Area and is accessible without a car — about a 10-minute walk, actually, from the hotel. In my opinion, it's one of the
best one day hikes in the world
, especially if you're looking for something flat and relaxing but long for an
active adventure
. To get there, you'll first walk along the water's edge until you get to River Road. Head up the hill until you get to Milford Beach Road, which eventually hits Milford Beach. While there is beach and boating, this is also where the McDade Recreational Trail officially begins (or ends, depending where you start). The well-groomed and flat trail starts off in a heavily wooded area, although I hear the running water of the river nearby. There are a few manageable hills, until suddenly I come to the bridge connecting Pennsylvania to New Jersey — yes, they're that close — and walk under the enormous structure. As a traveler, it reminds me of how lucky I am to live in the US, where it's so easy to experience different destinations and cultures by car. The woods continue until I spill out into what feels like endless plains, wheat billowing in the breeze to one side and mountains forming a backdrop on the other. Then come the sycamores and Eastern hemlock, adding texture to the farmland. If I'd waited until June and July, I may even have seen some mountain laurel and rhododendrons, although there is plenty to enjoy without them.
At one point I find myself in a field of dandelions, trees lining the edge of the pathway with bright green grass at the base. I almost feel like I'm in a movie, or a music video where I'm running through meadows painted gold by sun rays. So, I do what any normal
solo female hiker
would do at this point. I dance under the trees, and I capture it on film using my
Joby GorillaPod
and
DSLR intervalometer
. I'm definitely happy I was, indeed, solo at this point.
Tweet: In a meadow of dandelions, I do what any normal solo hiker would do: #dance http://ctt.ec/OksUh+ #travel #hike
There are different "destinations" along the way, which you can read about at Milford Beach. It tells me that it should be 2.2 miles (3.5 kilometers) to Pitman Orchard, which is where I end and turn around; however, I did notice that if I walked over a small bridge at the end of this trail section I could have hiked the Wyoming-Minisink Path, an "important Indian trail connecting the Delaware and Suseuqhanna Rivers ascended Indian Point to Powwow Hill." Apparently, the path was used by Delaware Indians for their migration to the Wyoming Valley, and later Connecticut settlers. Oh well, tomorrow is another day. While I'm sure I'll lose some solo female traveler street cred with my following admission, here goes: I was so hungry during the hike I tried to order an Uber to take me to get food. Not surprisingly, there was none near my location…in the middle of a field. I guess you can take the girl out of New York, but you can't take the New York out of the girl. By the way, if you'd like to listen to some tunes while hiking, here is a list of
songs about Pennsylvania
that would be appropriate for this long trail!
Milford Knob Trail
That next morning after a complimentary continental breakfast of homemade vanilla bean yogurt (made with real vanilla beans!), lemon poppy-seed muffin and grapefruit brûlée on the sun deck, I spot a painting in Hotel Fauchère's hallway — which is essentially an art gallery paying homage to the surrounding landscape — done by
Kurt Moyer.
It shows an aerial view of Milford, as does a similar sketch dating back to 1886. "Where is this place?" I ask the front desk reception, a man named Xavier. "That was painted from the top of The Knob. Would you like to go there? It's a nice hike." This is exactly why I love
planning a trip without making plans
. And so, I set off to conquer the Milford Knob Trail, a section of plateau escarpment formed by the Delaware River at the top of Raymondskill Ridge. While only 1.3 miles (2.1 kilometers) each way, it'll take me to one of, if not the, highest point in Milford, sitting at 390 feet (119 meters). The trailhead is walkable from the hotel — less than a mile — although Xavier, the man who checked me in, is nice enough to give me a ride since it's mainly on busy roads. Immediately upon entering the green blaze-marked path the sun turns to shade, dense lowland forest enveloping me and song birds cheering me on as I make my solo hike forward.
It seems entirely flat for about half a mile, until suddenly, BOOM!, there it is. The trail becomes a completely steep uphill climb, my chance to work off that muffin right in front of me. I guess you can't summit the highest point of Milford without going uphill. The flora becomes a mix of hardwood trees and scrub. At times, other hiking trails intersect with my path, but I continue following the green dot, until finally I come to…a giant metal star with a cross in the center wrapped in Christmas lights. Huh?
I'll admit I didn't understand the meaning while up there, but simply enjoyed the aerial views of leafy green Milford, the odd bell tower or steeple popping up, and the surrounding mountains. While I'd seen Moyer's painting before leaving the hotel that morning, it really came to life after completing the hike. Upon my return I also researched the meaning of the star, which was apparently placed there
in the 1930s by the Milford Lions Club
, shining to put the community in a festive spirit during the holiday season.
Raymondskill Falls
I would have loved to stay up there longer, but there's still much to explore outdoors in Milford. I decide for the rest of the day I will explore Milford by bike. Near to Hotel Fauchère is
Action Bikes and Outdoor
, from whom I'm able to rent a bike for $39.99 for four hours. Sweet. In the saddle I go. First quest: Raymondskill Falls, Pennsylvania's highest waterfall. It was a super sunny day, but for some reason I dress like it's winter, which adds an (unpleasant) element to the ride. Thankfully, I love a challenge. While I could have chosen to ride over the McDade Trail again — I was beginning to realize the McDade connects almost every hiking trail and scenic attraction in Milford — I decide on the road for a new scene. There's something about street riding; it feels like you're really at one with the place you're in. I ride up Broad Street and make a left at Milford's only traffic light, pedaling about 20 minutes until I come to Raymondskill Road…aka one of the steepest uphill climbs I'd ever seen. Gulp. I'll admit I hop off and walk the bike. I'm not up for
that
much of a challenge, or at least my legs aren't this early in the spring. The walk lasts about 10 minutes until I come to the first trailhead: Hackers. According to the map at the trailhead, at some point this intersects with Milford Knob. Potentially, I could have hiked both, as well as the falls, without ever leaving the forest. The real trailhead for Raymondskill Falls is adjacent to Hackers, and even has a bathroom facility. There are more people on this trail than any of the others I've been on, something to consider if you're solo but don't like being alone in the woods. While the best viewpoints are only a 0.5-mile (0.8-kilometer) round trip trek — my shortest hike in a while — it ends up being one of the most scenic. At the Upper Falls the views are pretty meh, especially as from above I can't really grasp the intensity of it all. As I descend lower down a set of stone steps to the center viewing platform, however, it all comes to life. A three-tiered waterfall reaching 150 feet (46 meters) plunges down before me, surrounded by lush green flora. Best of all, I only had to travel 90 minutes from NYC to witness such beauty.
Tweet: There's something about street riding; it feels like you're really at one with the place you're in http://bit.ly/1KgHj3N #travel #bike #PA
Grey Towers
I've paid for my bike for four hours, and I plan to use every minute of it. About 3 miles (4.8 kilometers) from the waterfalls is
Grey Towers
, a grand mansion with manicured grounds and colorful gardens once home to Gifford Pinchot, the first chief of the US Forest Service and twice-elected Governor of Pennsylvania. Milford boasts being the "Birthplace of the American Forest Conservation Movement," and Pinchot is the main reason. There's even a 23-mile (37-kilometer) loop
trail named after him
. At Grey Towers they focus a lot on conservation programs for the public, with guided tours offered of the mansion from Memorial Day through October 31 from 11am to 4pm. As I'm outside of this time frame, I spend my time where I believe Pinchot spent most of his: the gardens and grounds.
What I love is that the property is grand without being tacky or overly showy. Short hiking trails through experimental forest, 30+ types of trees (there are plaques and QR codes for information), a long slender pool and garden, a stone "letter box" (or what I would call an office building), a "bait box" (or what I would call a children's play room), a colorful walled garden, an intricate nautical themed marble court
, a tadpole-filled moat (very modest, by moat standards), and, what I find most impressive, The Finger Bowl. Quaint names aside, the Finger Bowl is actually an outdoor dining area with a circular table … that's actually a pool. Not a swimming pool, an eating pool. Floating dishes of food would be floated around to the different guests, who would eat on the pool's thick stone ledge, which can to table height. I'd never seen anything like it before, and am already pondering where I can install one in my tiny Brooklyn apartment. Just kidding. Hey, a girl can dream.
Starving
After all my day's activity I'm famished. I want something delicious, hearty, cheap and close so I can be eating it within the next 10 minutes. "Where should I eat if I'm starving? Something nearby, please." All three bike shop employees reply, "Milford Diner." Don't get me wrong, Milford has some trendy local restaurants: Bar Louis for amazing craft cocktails and food in a sexy subterranean setting, The Delmonico Room for dine dining on a beautiful patio, The Grotto Restaurant for BYOB Italian,
Waterwheel Cafe, Bakery & Bar
for live music. I'm not completely surprised in a place like Milford, however, that the locals love their diner. And after being greeted by a vertical retro diner sign, sweet-as-pie staff and diving into a Greek wrap, fries, slaw and ice cream sundae — all for $13 — I am, too.
Rejuvenate
After two full days of hiking and cycling — seriously, I don't use my rental car once — my muscles feel a bit fatigued. Hey, no pain no gain, right? Hotel Fauchère's Badea & Soul Day Spa is just what I need, especially given it's surprisingly budget-friendly menu for a luxury hotel. As in, prices start at $35 for a 30-minute "Refresher Special" where you can get a mini massage "wherever you feel you need it most." For the most part, 60-90 minute massages cost about $95-$125, with everything from the classic Swedish to deep tissue to cranial-sacral and more. I call up, but realize I have no idea what I was to get. Usually I just choose the Swedish because it's the cheapest, but here everything is basically the same price. Maybe I should try something I've never heard of? After I change my mind 12.5 times about what I want to get, she tells me not to worry, the masseuse will create a special "something special" for me. Oh, that he did. The spa itself feels like a cozy old home, a quiet space with eclectic and calming decor that gives the place personality. As for my treatment, my masseuse, Justin, creates a sort of 90-minute Swedish/Deep Tissue/Thai fusion massage. It begins with a paraffin hand treatment and foot bath, segueing into every knot being worked out of my aching back, my hamstrings and gluts being stretched and my pesky sinuses being cleared. When it's all over I'm in that state where you're not sure if you've just woken up from a dream, or you're just THAT relaxed. The answer doesn't really matter though; I feel superb. I leave the spa feeling completely rejuvenated, to the point where I almost forget I've hiked and biked 15+ miles in the past two days. It seems like in Milford, Pennsylvania, if you enjoy the outdoors, you could spend weeks and still not cover all the scenic ground there is to explore. I'll definitely be returning to cover more ground, literally.
Have you visited Milford, Pennsylvania? What's your favorite local experience? Please share in the comments below.
Essential Information:
Hotel Fauchère: Rates start at about $189 per night, including freebies like Wi-Fi, parking, in-room espressos and Kiehl's body products (my personal favorite). 401 Broad St, Milford, Pennsylvania; (570) 409-1212;
[email protected]
.
Getting There
: To reach Milford, Pennyslvania, I rented a car. I recommend using
Discover Car Hire
to easily compare your options — and save up to 70% on your booking! The quickest route in terms of mileage is via NJ-15 N.
Click here
for specific directions from your starting point. The drive is about 90 minutes depending on traffic.
Getting Around
: While having a car can be helpful, it's completely possible to have an epic adventure in Milford by walking and renting a bike to get around.
Pike Count Hiking
: I highly recommend the trails I talk about above; however, Milford and the larger Pike County are full of amazing paths.
Click here
for more suggestions. Also make sure you understand
what to wear hiking
for the best experience.
Have you visited Milford, Pennsylvania? What was your highlight? Please share in the comments below.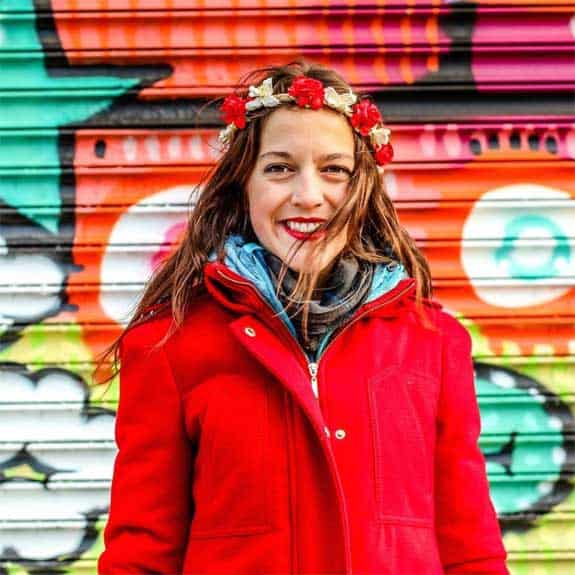 Hi, I'm Jessie on a journey!
I'm a conscious solo traveler on a mission to take you beyond the guidebook to inspire you to live your best life through travel. Come join me!
Want to live your best life through travel?
Subscribe for FREE access to my library of fun blogging worksheets and learn how to get paid to travel more!