26 Unique Gifts For Backpackers & Adventure Travelers
Looking for unique gifts for backpackers?
You're in the right place!
Here's the deal:
When shopping for travel gear, serious backpackers know what they want.
But often, they could use a little something extra.
And that's where this guide to backpacking gifts comes in.
From edibles to essentials, to active innovations, here are 26 of the best gifts for backpackers and adventure travelers.
Each gives road warriors extra leverage, while going easy on their load.
Note that this guide contains affiliate links to trusted partners I think you'll love!
Free Solo Female Travel E-Course
Love traveling solo or know someone who does?
Don't miss my *FREE* Savvy Solo Traveler Email Course.
In this FREE 6-day email course, you'll learn step-by-step how to plan and navigate a safe and fun solo trip without fear.
You can also click here to share with your pals on Twitter!
Unique Gifts For Backpackers [The List]
This stylish safety accessory from Speakeasy Travel Supply was created by a traveler who created a prototype while on the road.
It features a double-stitched pocket for maximum durability and a hidden, self-locking zipper for additional security.
And there's a style for every season.
For instance, the lightweight Masasi Plum scarf is best for spring/summer, and made from a silky soft rayon jersey.
On the other hand, the soft sweater-knit Soda Springs Collection features scarves perfect for fall/winter.
For backpackers looking for warm garments that are perfect for active travel as well as relaxing or sightseeing after an adventure, Title Nine's Barra Sweater is the perfect option.
Made from Title Nine's own Woolicious™ blend featuring 60% extra fine Merino wool, the sweater is super soft and won't leave you feeling itchy. And because the other 40% of the blend is polyester it dries quickly, too.
In terms of fit, it's relaxed but flattering and can be perfectly paired with jeans, leggings, a skirt — really any bottom your heart desires.
Honestly, it's so cozy and cute it'll likely become your favorite sweater both at home and on the road!

If you're looking for unique gifts for backpackers that keep on giving, Cairn has your answer.
It seems there is a subscription box for everything nowadays, and for adventure-seekers and curious nomads, Cairn offers the perfect monthly surprises.
Think brands like Clif Bar, Cotopaxi, Grand Trunk, ExOfficio, LifeStraw, Marmot, Smartwool and more.
If you'd prefer not to pay a monthly fee, check out their online shop.
And if you want to give back, the brand offers a Gear Up Give Back Program.
Through this, they'll mail you a bag with a pre-paid shipping label to send in your used adventure gear to help benefit The Conservation Alliance.
Monthly Cairn boxes hold six products relating to apparel, gear, food and energy, skincare and emergency items.
For big adventurers, Cairn Obsidian premium boxes offer 5-10 products.
One important consideration when exploring the outdoors:
Potable water.
Luckily, this gadget makes water filtration easier and more effective with "the world's first and only water filter bottle and inline pump filter combined."
The Liberty bottle's cartridge removes:
99.9999% of bacteria
99.99% of microbial cysts
99.999% of viruses
And while some water filtration systems are complicated, the Liberty Bottle lets travelers pump and filter directly using a five-foot hose, leaving you with 13.5 ounces of drinking water.
Sleep easy — or should I say, hike easy — knowing that the bottle's FailSafe Technology won't allow water to pass through once the filter doesn't work anymore.
It's common for travelers to have an Instagram feed showcasing the many places they've been.
But as time goes on, those photos disappear from view.
For extra special photos, your traveling giftee wants to remember forever, CanvasPop is perfect.
This is one of those backpacker gifts with sentimental value.
I recently got a 16″ x 24″ Canvas Print ($39) from them showcasing one of my favorite photos from a trip to Panama with my boyfriend (shown above).
The quality — from the details to the colors — was so rich I almost felt like I was back in Bocas del Toro.
Bonus:
Their prints are handmade in the USA, with a satisfaction guarantee backing up all purchases. If you don't love what you've bought your favorite backpacker, just let them know and they'll fix the issue.
Looking for gift ideas for backpackers that also do good?
You'll love this one.
Here's the deal:
Single-use plastics are wreaking havoc on our planet, especially lightweight straws that can easily blow into the ocean; which, by the way, are not recyclable.
Which is where Simply Straws comes in.
This woman-owned Certified B-Corp company makes reuseable straws that help cut back on waste.
They sell stainless steel straws, glass straws, reusable lids, reuseable cutlery sets, and more.
Bonus:
Feel good knowing they're a 1% For The Planet member, meaning that at least 1% of their profits gets put toward environmental causes.
Continuing on the topic of eliminating plastic waste, another culprit is product bottles.
This is especially true for the mini bottles often used by travelers.
For backpackers wanting to be part of the solution, HiBAR offers solid salon-quality shampoo and conditioner bars
The sulfate-free, nearly 100% plant-based bars come in clarifying, moisturizing and volumizing varieties.
Each bar lasts about the equivalent of 16-ounce bottle of shampoo.
Bonus:
The packaging is recyclable and compostable!
This durable 25L backpack is so versatile it can be used for almost anything, and makes a great personal item for carry-on-only travelers.
Made from recycled canvas-like material, it's sustainable as well as waterproof.
Inside the spacious main compartment, there is a sleeve for gadgets — though you'll find a completely separate impact protective "crash pad" pocket, as well, which also features a pathway to snake charging cables so they don't get tangled.
On the front of the backpack, there is a top pouch for smaller items like keys and lip balm plus a large front pocket that can fit anything from a travel journal to protein bars and beyond. A water bottle pocket and exterior straps allow for additional places to store your gear.
Padded and adjustable straps, as well as a cooling system on the back, ensure you're always comfortable while wearing your Commuter Backpack, too.
Did you know that identity thieves can hack your phone, seeing your location, photos, payment apps and more.
For backpackers who are constantly moving about different public places, it's especially vital to protect this information.
This is the purpose of Tarriss' GoDark Privacy Bag.
The bag blocks all incoming and outgoing signals to mobile devices and tablets.
And it's stylish, too.
Feel good knowing these bags have been thoroughly tested, and come with a lifetime warranty.
If you need a gift for a backpacker who values security, they'll love this.
While backpacking is an incredible experience, there's no doubt constantly exploring — especially if there is outdoor adventure involved — can lead to sore muscles.
The good news:
You don't need to shell out a fortune on a massage to alleviate those aches and pains, as the Moji Pro Massage Bundle features three portable massagers equipped with stainless steel rollers.
These include the:
Moji Foot Pro Massager. This one grips into the floor so you can roll out feet while watching TV in the hotel room or hanging in the hostel lounge.
Moji Mini Pro Massager. Place your hand in the strap to turn your palm into a magic massager.
Moji Curve Pro Massager. This item has an incredible grip to really roll out your IT band, hips, and other problem areas.
Buy as a bundle or individually.
Pro tip:
Place the massagers in the freezer for an ice massage — great for pain relief and quick recovery.
Feel good knowing this product is made 100% in the USA.
Raise your hand if you don't understand neck pillows because they're usually pretty uncomfortable.
Raises both hands.
Infinity Pillow solves this problem by offering an ergonomic Möbius shape.
As you move, the pillow adjusts, making it easy to fall asleep on airplanes.
Bonus:
The bamboo fabric means the pillow is breathable and soft.
A not-so-fun backpacking moment:
When the phone dies just as the traveler is trying to snap a photo, look up directions on Google Maps or contact their tour guide to let them know they're running late.
FosPower's PowerActive USB PowerBank helps stop these frustrating occurrences from happening.
What makes this power bank unique over others is that along with the USB charging ability, it's wildly rugged.
In fact, it's snow proof, dirt proof, drop proof and waterproof — up to three feet for 30 minutes!
Moreover, it'll self-power down when it's getting overheated, overcharged or may short circuit.
Bonus features for backpackers include a:
LED flashlight
Compass
Carabiner
It might not be the first (or last) thing a backpacker would think to carry, but this small personal alarm system can startle any wild creature or aggressor.
It weighs less than one ounce, but its siren is piercing with a 130dB that's as loud as an ambulance siren.
14. SAS Shoes Travel-Engineered Shoes
While there are plenty of shoes to choose from when holiday shopping, few are truly crafted with travel in mind.
Which is where SAS Shoes comes in.
Specifically, backpackers should check out the Women's Sunny and the Men's Weekender.
SAS Shoes kindly gave me a pair of Sunny slipons to try.
They're snug without pinching, and offer a removable foam footbed for extra cushion.
For sightseeing days, they feature a shock-absorbing sole pad for hitting the pavement with.
And if your giftee is a light packer, they'll love how easily these shoes roll up.
For men, there's the Weekender slipons, which offer incredible foot contouring technology.
Click here to view the Women's Sunny slip on and click here to view the Men's Weekender.
15. Inspirational Travel Quote Accessories
This line of wanderlust-inducing products can be found in the Jessie on a Journey Travel Shop.
Designed by Jessie, each tote bag, pillow, mug, iPhone case, laptop skin and t-shirt is meant to encourage travel through inspirational quotes and stunning travel photography.
For adventure and solo travelers specifically, these accessories and home products show off a love of seeing the world.
To ensure comfort in sun, sand, rain and snow, start with underwear that is as ready-for-anything as you are.
Give-N-Go underwear is designed for travel and active use by ExOfficio, being:
Lightweight
Odor-reducing
Moisture-wicking
Quick to clean on-the-road
Choose from multiple styles which are surprisingly fashionable.
Women can peruse the Lacy Collection, which is "technically sexy" with bikinis, low-rise bikinis and thongs.
Men will enjoy the Sport Mesh Boxer Briefs style, with an athletic fit and highly breathable 4-way stretch mesh fabric for maximum airflow.
The seams are flat-lock stitched as to not dig in while seated for long periods (perfect for the plane!).
As you're researching backpacker gift ideas, keep this in mind:
A rainy day can be frustrating enough without having to deal with managing an umbrella in the wind or bulky, wet rain jackets.
For a lightweight, stylish and hands-free alternative, check out RAINRAPS.
The hooded, waterproof RAINRAP weighs only eight ounces and comes with a travel pouch that fits in your handbag, glove compartment or suitcase.
The one-size-fits-all RAINRAPS come in eight color combinations, with a double-sided button closure for reversibility.
If you plan to travel somewhere chilly, check out the WINTER RAP.
With this style, one side repels rain, while the soft heavier, fabric on the inside keeps you warm.
Do you know an adventurous traveler that's constantly roaming from place-to-place, sometimes finding themselves in rougher foreign cities?
This is a present for them.
Pickpocket-proof garments eliminate the need for purses and wallets, as shirts, underwear and pants provide hidden interior pockets, so thieves never know they're carrying valuables.
With pickpocket-proof clothing, you'll be giving your fearless loved one the gift of safety.
Clever Travel Companion truly offers stylish and practical gifts for world travelers (all of them!).
Lonely Planet's "Atlas of Adventure" is a must-read for anyone needing inspiration for future journeys.
It's one of their more thought-provoking travel guides, packed with trip ideas from mountaineering in Argentina to dogsledding in Greenland and beyond.
The book showcases thrills in over 150 countries, so it'll be relevant pretty much no matter where they're itching to go.
Bonus:
Their book 1000 Ultimate Adventures is also a great read!
E/T Lights from Triage offers the latest in portable low-level illumination, which has countless uses for the adventure traveler.
For example:
They can illuminate their book during a camping trip, or get things organized during an early wake-up at a hostel dormitory room.
These tough and compact lights provide one week of continuous illumination.
Originally developed for Special Ops medics to prioritize wounded, they are combat-proven.
Even better, each purchase of the E/T Light comes with an f-Ready app that keeps family and friends up-to-date with their current location.
It turns screens into visual signaling devices, transmitting a lifeline email to three friends/family.
This affordable yet amazing gift is perfect for nomads who like to lounge on a blanket, but don't want to waste valuable packing space on a non-necessity.
It's a mini option that can accommodate two people.
Moreover, Pocket Blanket 2.0 features corner weights that pull out to act as corner stakes and sand pockets for improved performance in breezy conditions.
It's water repellent, puncture resistant and extremely compact.
Bonus:
It comes in two colors!
This premium brand of instant coffee offers an original blend that comes in a single-serve sachet crafted from high-quality, high-altitude Arabica beans sourced from Colombia.
It can dissolve in hot or cold liquids.
If you need gift ideas for hikers and backpackers who crave caffeine, Alpine Start Foods is a terrific option.
Sold through Backcountry, this mini-stove for backpacking, camping, and climbing works quickly.
In fact, you can have a hot cup of tea at the top of the trail in under three minutes.
Other selling points:
Sideways burner storage that takes up less pack space
A convenient piezo ignitor
Advanced simmer control with a redesigned valve.
Another bonus:
You can eat right from the cup with lower spoon angle!
This small, seamless garment — which can fit in a backpacker's pocket — protects the neck, face, and head from wind and hail.
It's great on its own, or for wearing under a larger scarf for an extra barrier.
Actually, the lightweight, moisture-wicking, sun-deflecting BUFF can be worn over 13 different ways, from a du-rag to a neck gaiter to a face mask and beyond.
There are a variety of patterns to choose from, too.
I am absolutely obsessed with KEH for affordable camera gear — which, by the way, is both cheaper and more environmentally responsible than buying new.
The KEH team quality tests each product to give it an honest rating, and their customer service is superb.
If your giftee is an adventure traveler, make sure they have an action camera to document their experiences, whether they're going downhill mountain biking in Colorado, going hiking in Antigua, trekking through Nepal, hiking the Lakes Trail in Sequoia National Park or something else.
Enjoyed this list? Make sure to head over to my buddy Will's site at The Broke Backpacker to see his list of adventure gift ideas, too!
What great gifts for backpackers did this guide leave out?
Enjoyed this post? Pin it for later!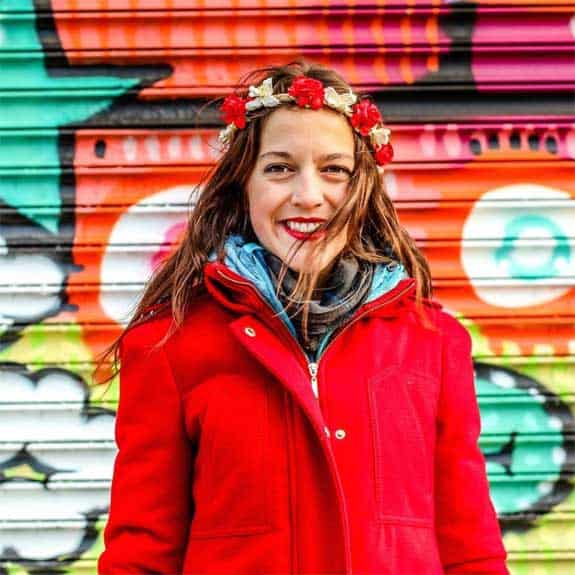 Hi, I'm Jessie on a journey!
I'm a conscious solo traveler on a mission to take you beyond the guidebook to inspire you to live your best life through travel. Come join me!
Want to live your best life through travel?
Subscribe for FREE access to my library of fun blogging worksheets and learn how to get paid to travel more!