Italy Travel: Pesto, Hiking, & Lots Of Sciacchetra In Cinque Terre's Riomaggiore
Getting There The easiest way to get to Riomaggiore is by train. The Genoa-La Spezia rail line will bring you right into the region and from La Spezia you can take the local train to Riomaggiore. There is also a passenger ferry that runs between the five towns. The nearest airports are Genoa and Pisa, which are about 90 minutes away.  I wouldn't recommend driving unless you are comfortable navigating narrow streets. If you must drive, you can exit the A12 or A15 motorway at La Spezia then follow the signs that lead you to the city center. From here, follow the signs for Cinque Terre and exit at Riomaggiore. 

From the train my accommodation was only a short walk, through a tunnel straight ahead from the platform followed by a quick left onto Via Columbo. About 10 feet from the corner I spotted the office and was greeted by a short, friendly Italian woman.

Where to Stay When visiting Riomaggiore I booked through Mar-Mar, a room and apartment rental agency, located within walking distance of the Riomaggiore train station. Hotels aren't really an option in this region, and apartments and dorms are where tourists reside. Even though I stayed on a weekend in June I paid the same price as for a weekday, €22. This was for a 13-bed dorm. In the apartment there are also double rooms, which cost €32.50. Each room had it's own bathroom, with a shared kitchen and balcony. The best part about the room was it was on the main street of the town, Via Columbo, and a 2 minute walk down to the Italian Riviera. If you are looking for something a bit more private but still in a good location, Gigi features double room apartments that are right on Via Columbo, as well. A friend of mine stayed here and it was extremely clean and neat and even had a TV, although hopefully you will be spending less time in your room and more time hiking the five towns and cliff diving at the marina. Expect to pay about €35. 

From our apartment, we can see the streets in Riomaggiore are lined with markets, each differing a little from the next. Going to take a closer look, we are amazed at how the shelves are stocked with more varieties of pastas, sauces, seasonings, breads, and crackers than I ever knew existed, while meats and deli items aplenty could be purchased at the counter. "We're in Italy, so we need to get some Italian cheeses," I said to Lindsay, one of my roommates, as we began clearing out the store. A bottle of Grappa was also added to the purchase, as were some deli meats, eggs, and a selection of crackers, including my Italian favorite, Crostini.

Food and Drink Aside from a slice of pizza, I did not eat at a restaurant once in Riomaggiore. While there are a few restaurants located on the main street of Via Columbo, there are also markets selling fresh fruits, cheeses, wines, meats, seafoods, and baked goods, making cooking an ideal option.  The region is well known for its delicious pesto, mainly because the unique climate of the area gives its pesto a special flavor that differs from the more well-known variety of Pesto Genovese. In fact, Liguria is where basil-based pesto originally came from.  Grapes and olives are harvested in the area and can be bought fresh in the local markets or already prepared at locally eateries. Focaccia is also a popular Riomaggiore item. Kill two birds with one stone and order focaccia with olives on top and eat with a glass of locally produced wine.  Sciacchetra is a famous wine for which Cinque Terre is known for. It is a full-bodied sweet wine with colors of gold and amber made using Bosco, Albarola, and Vermentino grapes. Flavors include honey, white blossoms, and hints of citrus. Other popular alcoholic treats of the area include Limoncello, a lemon-flavored liqueur, and Grappa, a brandy made with pomace.

Lindsay and I had set our alarms for 7:30 AM the following morning to put on our

hiking attire

 and get an early start on hiking the Cinque Terre. What was most striking about the region when we first started was the terrain. This mountainous coastal area is framed at the base by water, from which a rainbow of brightly colored tower houses rise with the cliffs, dipping with each indentation of slope and cove. When looking at a photo, the green and pointed mountain appears to be hugging the colorful towns, blending together with the different terrains while at the same time offering an interesting contrast. From Riomaggiore to Manarola, we hiked the "lover's walk", a path of flat-ground with constant reminders of never-ending commitment as metal locks hang from railings and fence posts. The walk became tougher as we hit Corniglia and began traversing uphill, making us sweat through our tank tops. Despite looking haggard we stopped to snap photos of grape fields (so that was where our wine came from!) and forest landscape that is unique to this specific portion of the hike. It wasn't until we reached Vernazza that we saw an actual sand beach. While Riomaggiore had rocky outcrops adjoining the water, here our feet were padded by soft granules as we sprinted to the ocean and jumped in for a quick dip before returning to the trails. Our final stretch of the hike took us from Vernazza to Monterosso al Mare which was made up of inconsistent terrain. While some parts of this hike seemed scary with narrow, borderless paths, there were others sections that were wide and worry free. Sometimes we were going uphill, really putting in the effort to see the coastal views from an ariel location, and at other times we were traveling downhill, our legs gaining momentum as our upper bodies struggled to catch up. Even with our swim break, we managed to finish in five hours. And for this, we rewarded ourselves with gelato. I got the "frutti di bosco" flavor because I liked the way it sounded.

Things to Do Riomaggiore is part of the Cinque Terre, a UNESCO World Heritage Site, and the five towns hike, which is about 12 kilometers long, is a good way to see a vast majority of the natural landscape. Begin the hike early when it is cooler in the day, as some parts of the hike can be strenuous, especially the 250 meters of climbing between Vernazza and Monterosso. Moreover, you want to give yourself time to be able to stop at lookout points, visit the local beaches, and explore each town a bit during the hike. There are different types of passes you can purchase when doing the hike, including trail, trail & train, and trail & train & ferry. The price of these passes will vary depending on how many days you are going to use it. A basic one day trail pass will cost you €5 while a one day pass that also includes the train will cost €8.50. Ferry pass add-ons are only sold in one-day increments and will cost €19.50. I would recommend purchasing the trail & train option, as once you walk the five towns you will most likely not want to walk all the way back.  There is also a "beach" in Riomaggiore. While it is more like a small harbor surrounded by large rocks and cliffs, people come down to this area to swim, layout on the rocks, and cliff jump into the water. At night, come here to watch fishing boats pass by and snap some colorful shots of the sunset on the Italian Riviera.  Riomaggiore is also home to The Church of San Giovanni Batista, located in the upper area of Riomaggiore on Via Signorini. This gothic style basilica was built in 1340 by Antonio Fieschi and is adorned with white and green marble and seems to be perfectly symmetrical, with door-shaped windows and small crosses adorning the exterior. Inside, you will find wooden crucifixes, delicate candle settings, stained glass, and an organ dating back to the mid-1800's.  Just above this church resides the Castle of Riommagiore, which was built in 1260 and later turned into a cemetery. It has been successfully restored, with the castle having a square base and two towers surrounding the entrance. There is also a large staircase on the outside of the castle which holds magnificent views at the top.

"Be careful you don't knock over the wine!" I warn Lindsay, slurring a little, as she tipsily begins climbing over giant boulders with her camera. Our half empty bottles of local Sciacchetra sit precariously on the rocks as we amble about our uneven viewpoint trying to capture the most striking pictures possible of the Italian sunset. "Do you girls need some help?" asks a nearby tourist with an American accent. He is with his girlfriend and they, too, are taking in the majestic feeling of the setting sun turning the sky into pinks and oranges that dance on top of the Italian Riviera. Earlier that day we had been diving off of these very rocks that lined the shore, people shrieking and children laughing, a ruckus of activity and noise. And now, it is just peaceful. I ask Lindsay to hold our wine steady as I crawl over the boulders and hand the man my camera. He takes a few photos of my friend and I in a moment we will undoubtedly brag about to our friends later.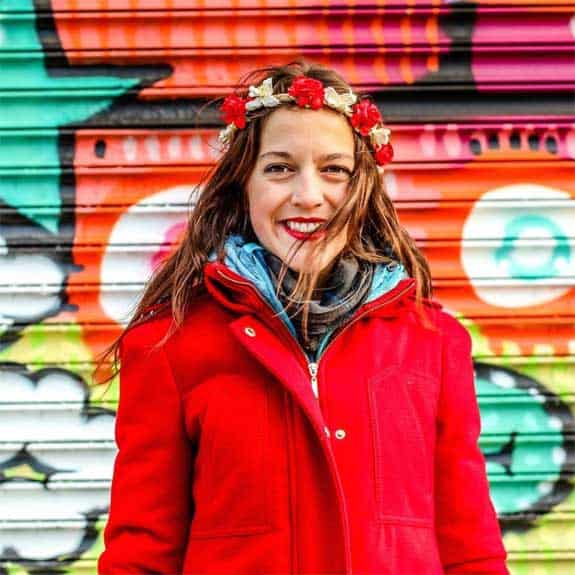 Hi, I'm Jessie on a journey!
I'm a conscious solo traveler on a mission to take you beyond the guidebook to inspire you to live your best life through travel. Come join me!
Want to live your best life through travel?
Subscribe for FREE access to my library of fun blogging worksheets and learn how to get paid to travel more!