10 Unique Experiences In Victoria BC (Beyond Butchart Gardens)
This guest post on unique Victoria BC experiences is by Amy Aed. It contains affiliate links to trusted partners.
Looking for unique experiences in Victoria BC?
As the yearly influx of tourists slowly dies down, there couldn't be a better time to take a trip to Victoria.
Seaplanes take visitors back to their hotels, while flights ship them back to places like London, Paris, and Tokyo.
Afterward, the city seems to finally be able to breathe again.
And with that comes an understanding that no one knows the city quite like the locals do.
At least, until now.
Any Victorian knows the places that are worth — and not worth — going to.
They know the secret places that are sheltered from the outside world, places that are hidden gems glimmering amongst the plethora of cheap souvenirs.
It's not hard to stay off the beaten track if you know where to look.
These places are Victoria's best-kept secrets — and I'm ready to spill them.
Keep reading to discover some of my personal favorite unique Victoria BC experiences — beyond the famous Butchart Gardens!
Quick tip: One of the best ways to explore Victoria is through a guided tour. Some top-rated options include a Half-Day Whale Watching Tour, a Private Wine Tasting in Beautiful Cowichan Valley, and a Victoria Castles and Neighborhoods Bike Tour. You can click here for a full list of Victoria BC tours!
Planning A Trip To Victoria BC (And Beyond)
Before we dive into the things to do in Victoria BC, here is a suite of free travel planning printables from Jessie on a Journey.
The resource library features free travel planning worksheets, maps, PDF guides, quizzes, and more!
Once you've grabbed it, continue scrolling to take a trip to Canada and discover the best of travel in Victoria BC.
Where Is Victoria BC Located?
Victoria BC — as in, Victoria, British Columbia — is located on the southern tip of Vancouver Island off Canada's Pacific coast.
The destination is actually the capital city of British Columbia, the westernmost province in Canada, and part of North America's Pacific Northwest region.
It makes for a great stop on a Vancouver Island road trip or on its own, as the below experiences make clear.
Unique Experiences In Victoria BC
1. The Robert Bateman Centre (Instead Of The Art Gallery Of Greater Victoria)
The Robert Bateman Centre in Downtown Victoria is more accessible, more interactive, and arguably filled with better artwork than the Art Gallery of Greater Victoria — and yet, fewer people know about it.
Dedicated to the infamous landscape and wildlife painter, it displays Bateman's artwork from the past century all the way up to his work today, where he still travels and captures the world around him at the age of 89.
It's the sort of place that you can spend hours exploring, laughing at the anecdotes of his childhood mishaps, and getting goosebumps around the more humbling exhibitions which depict the influence of humankind on nature.
2. The Teahouse At Abkhazi Gardens (Instead Of The Empress Hotel)
While it may be an inherently Victorian thing to go for afternoon tea at the nearby Empress Hotel, you can both save money and skip the queues if you instead head to the Teahouse at Abkhazi.
Situated in the middle of a gorgeous garden, the area was created by two lovers who had been forced apart for many years, only to come together and create this little haven.
Afternoon tea is divine, set in a small house with mismatched china, rich truffles, and a view of their beautiful gardens.
3. Abkhazi Gardens (Instead Of the Empress)
Not only does Abhkazi Gardens offer the most divine afternoon tea, but it also holds a beautiful history.
According to the website, Peggy Pemberton-Carter met Prince Nicholas Abkhazi in Paris in 1922, and the two quickly fell for each other.
During WWII, Prince Nicholas joined the French Army but was quickly captured.
Despite not having seen each other in a very long time, the pair made the decision to be together once the war ended, meeting in New York in November 1946. They were married and she became Princess Nicholas Abkhazi.
Today, their ashes are now scattered across the gardens.
It really is a wonderful place, and I cannot recommend this Victoria attraction enough.
4. A Victoria BC Food Tour (Instead Of The Hop-On Hop-Off Tour Bus)
You may be tempted to go on a simple bus tour to learn the history and see the sights of Victoria; however, there is always the option for a much more in-depth way to learn about the city — with a food tour!
I've tried all of the food in Victoria BC, both independently and on tours — but personally I prefer the latter option.
Not only do you have the opportunity to try endless little dishes, but you are also able to learn about the history of Victoria simultaneously.
My favorite Victoria food tours include:
A Taste Of Victoria Food Tours
My tour here was run by the friendliest, chattiest, most knowledgable guide there is.
We were able to learn about dishes from the restaurant owners themselves and quickly understood just how in-touch the city is to its belly.
This food tour is all about the, well, food.
We tried so many dishes, from my first-ever kombucha to gorgeous handmade sandwiches to thick buttered chicken — and all of the stops were within a five-minute walk of each other.
This tour is a lot more into its history and local stories, so I think that I learned the bulk about what I now know about Victoria from this tour.
As usual, the food is absolutely delicious and our guide was wonderful — but what really made this Victoria tour for me was the in-depth knowledge about the history around us that wasn't always apparent just from walking around.
If you're looking to discover hidden gems in Victoria BC, this tour is a must!
5. The Maritime Museum (Instead Of The Royal Museum Of BC)
Due to Victoria being an island surrounded by vast expanses of ocean, it comes as no surprise that it features a small maritime museum depicting the nautical history of the past few centuries.
While a much lesser-known tourist stop than the Royal Museum of BC, the Maritime Museum offers weekly Victoria events and talks, unknown history, and some of the cheapest souvenirs in the city to take back home.
6. The Belfry Theatre (Instead Of The IMAX)
The Belfy Theatre is one of the prettiest buildings in the Fernwood area — which is saying a lot, as Fernwood is full to the brim with charming buildings showcasing historic architecture that transports you to a small European village.
In my opinion, this non-profit theater is one of the best experiences in Victoria BC, particularly if you're looking for a fun night out.
Featuring shows that will make you laugh, cry, and everything in between, the Belfry is a cultural hub that really encompasses the best of Victoria –and even puts on numerous annual events (so check their calendar!).
7. Shaw Centre For The Salish Sea (Instead Of Blue World)
Situated a little out of Victoria itself, located in the beautiful town of Sidney, this not-for-profit aquarium is one of the coolest places on Van Isle.
Shaw Centre for the Salish Sea is home to over 3,500 animals in their natural habitats. Along with helping people to learn about these animals, the centre is also passionate about helping visitors explore and conserve the Salish Sea Bioregion.
Moreover, this Victoria attraction is very interactive — from the silver metal submarine door that you get to "operate" yourself to the exhibitions you can learn about hands-on, there is a lot to see and do.
There's also the best gift store on the island here, selling cool souvenirs and adventure gear.
8. South Island SUP (Instead Of A Walking Tour)
When you travel Victoria BC, you must experience the water!
I had always wanted to try my hand at paddleboarding but sadly the opportunity had never come up — until now.
It was a little nerve-wracking at first, trying to balance myself on this precarious little board, but once I got the hang of it it was actually a lot of fun.
Our South Island SUP guide was incredibly nice and took loads of lovely photos of the group while also telling us about the local area.
The company has numerous tours to choose from, too. Focus on Victoria wildlife, go island hopping, ride the ocean currents, or paddle around the calm and beautiful Oak Bay.
An experience that I won't be forgetting any time soon, the board, sunset, and company will forever be one of my most special moments in Victoria — and believe me, I experienced a lot while living in Victoria BC!
9. Goldstream (Instead Of Beacon Hill)
A beautiful rainforest in the middle of Van Isle, Goldstream is a gorgeous provincial park that makes for a wonderful place to spend an afternoon in Victoria BC. It's even home to some beautiful hiking trails!
Pro tip:
Visit the Trestle Bridge, a top tourist spot where you can walk the abandoned train tracks to take photos and walk to the open stream to watch the return of the salmon.
Along with Victoria's Inner Harbour, it's one of the city's most incredible spots to take in scenic views.
In my opinion, this is one of the best places to go in Victoria BC if you want to explore the outdoors.
10. Just Matcha (Instead Of Literally Any Other Cafe In The City)
Want to know what my favorite place to spend an afternoon in Victoria BC is?
This tea shop is run by two of the loveliest people I have ever met — Kip and Tiffanie — and together they make some killer matcha beverages.
I have tried to make my own matcha beverages at home since, but they're never the same.
This Victoria cafe is where I tried my first-ever matcha latte and matcha chocolates — and went on some of the best study dates of my life!
The whole atmosphere is warm and welcoming, making it the first place I will return to when I am finally able to re-visit this city that I once called home.
Victoria BC Travel Tips
Getting To Victoria BC
Whether you're planning an extended stay or are looking to take a weekend trip to Victoria BC, this Canadian destination is easily asscessible.
You can reach Victoria via the Clipper from Seattle on the USA's west coast, or the BC Ferry from mainland Canada.
With food tours, museums, and afternoon tea in places shrouded in history and beauty, what more could you want?
Victoria is also a great base to go island-hopping across BC, where each island has its own wonderful experiences.
Victoria BC Travel Insurance
When visiting Victoria BC — or anywhere else in the world — make sure to get travel insurance.
In my opinion, the best travel medical insurance for travelers is SafetyWing as they've got a large network and offer both short-term and long-term coverage — including coverage if you're traveling for months as well as limited coverage in your home country.
Additionally, SafetyWing is budget-friendly and offers $250,000 worth of coverage with just one low overall deductible of $250.
Click my referral link here to price out travel insurance for your trip in just a few clicks.
Renting A Car In Victoria BC
There are so many things to see in Victoria BC. To experience them all while maximizing time, having a car can be helpful.
Pro tip:
Use Discover Cars to quickly compare your car rental options.
Their comparison tool does the homework for you, so there's no need to have up 10+ tabs trying to figure out which company is the most affordable. Actually, you can save up to 70% using their tool!

Check it out here:
Guided Victoria BC Tours
Check out these fun tours in Victoria BC:
Click here for a full list of tours in Victoria!
What are your favorite unique experiences during a trip to Victoria BC?
About the Author
Amy Aed is a travel writer and explorer from South Wales. While half of her time is spent writing for her blog Wandering Everywhere, the other half is either spent making notes for new stories, dragging people around cafes trying to find the best hot cocoa, or impulse booking flights away to Poland or Galicia.
Enjoyed this post on unique things to do in Victoria BC? Pin it for later!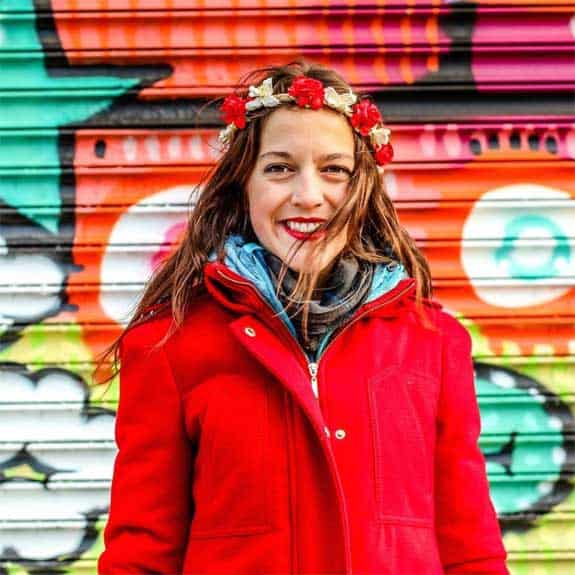 Hi, I'm Jessie on a journey!
I'm a conscious solo traveler on a mission to take you beyond the guidebook to inspire you to live your best life through travel. Come join me!
Want to live your best life through travel?
Subscribe for FREE access to my library of fun blogging worksheets and learn how to get paid to travel more!