One 'Missguided Mama' Shows Travel With Kids Doesn't Have To Mean Disney World
1. Before you had children what was your travel style?
Before children, my husband and I both prioritized travel — internationally and domestically. We still do. That hasn't changed. Before children, we loved exploring the geographical regions surrounding the cities we lived in. We had a very adult birthday party with friends of ours in South Beach, Miami. We had a destination wedding in Positano,
Italy
. We'd go hiking in nearby mountains, and escape to nearby beaches. We still have the same craving for travel. Now, with kids in school, it simply can't happen as often as we like. But, we take any simultaneous, random breaks in work and personal life to get away with the whole family — even if it's a small, regional trip.
And, side note, you can also book private family group tours to take some of the stress out of travel planning!
2. What was it like switching from that to family travel?
Traveling with family
means our trip preferences have changed slightly. Not so much in destination, but in experiences. We used to seek high-end hotels with spas and luxury amenities. We don't stay in horrible, deplorable hotels now. But, we welcome budget-friendly options as we now have to spend so much more on airfare and food for the whole family. We choose destinations that have kid-friendly activities available and plan accordingly. Before kids, our travel "plans" would include heavy sight-seeing and plenty of cocktail beach/pool time. Now, we make itineraries that ebb and flow with activities the kids will enjoy, and activities adults will enjoy. Most of the activities we collectively enjoy. The major difference is the fact that there is an itinerary at all. We used to go on trips and plan our destinations on our smartphone while waiting to board our plan to the actual destination. Now, more planning is involved i.e. looking up destinations, looking up reviews, calculating the distance from the hotel, acquiring passports and proper documentation, gathering chewable medications (like Tylenol and tummy medications because in some countries these medicines are not available over the counter), gathering the kid's prescription medications (my oldest child has an inhaler for asthma), gathering entertainment for plane rides, train rides and long excursions, seeking out family-friendly restaurants in advance (no one likes a tired, hungry toddler on a trip), researching English-speaking doctors in certain destinations, researching appropriate cultural rules and norms, etc. Needless to say, a lot more planning occurs when traveling with kids.
3. What is the most rewarding part of traveling with your kids?
Experiencing something so awesome, and life-affirming together. Gazing at the layers upon, layers of stars in the Sahara Desert was a great moment for us.
4. When planning a family trip, what do you try to incorporate into the itinerary?
Especially with young children, you have to sprinkle in activities that interest them. One morning we would go to the zoo, the next, we'd go to a museum to see Picasso. One day we'd hang by the pool and drink a few cocktails, the next, we'd go to the beach to build sand castles. They key is to keep them interested. They're making memories, too. You don't want them having a bad, boring experience. You also have to plan for plenty of rest. My kids are 4 and 5-years old. They tire easily from the walking. I didn't have strict times on our itineraries. And sometimes, depending on what was happening at the time, we deviated from the schedule a bit. For example, on our last trip, once we got there, we decided to stay in Marrakech,
Morocco
, an extra day. Normally it would throw your itinerary into a tail spin if it's too packed. But, I had built in a throw away day in another city. I hate to say throw away, because what we would've experienced on that "throw away" day would have been awesome. But, I wasn't going to be devastated if threw away the one day. I think it's important to know in your mind what days or activities you'd like to ax if you ever get into situation where you have to. Like, train delays, plane delays, weather issues and medical issues.
5. What is one of the biggest misconceptions about family travel?
That it's impossible with little ones, especially babies. Not true. It's not impossible. It's not horrifying. It just takes planning. It also takes a family that's willing to shed some sh*t! Like, you have to strip away all of your addictions to certain things in your life and really pair down what you're going to bring with you. No, your kid doesn't need to have five pairs of shoes. They need sneakers and sandals — or boots if going to a cold place. No, you don't need a hair dryer. Traveling is the perfect time to embrace
au naturel
tresses. You don't need hair products and special lotions. For our last trip as a family to Morocco and
Spain
we were gone for two weeks. We didn't check a single bag of luggage. We traveled as light as possible. We wore the same clothes repeatedly. We washed our clothes with travel packets of laundry detergent in the sinks of the hotels we stayed in. The other big misconception, or comment I get all of the time:
Why would you take your kid ______________ when they won't remember it later?
They do remember. Maybe they don't remember exactly the way I do. They're 4 and 5-years old, after all. But the experience is valuable to who they become as human beings. They may not remember that we fed a rare breed of monkeys in the mountains of Fes, Morocco with our bare hands. But, in the depths of their psyches and souls they'll remember what it feels like to have such great wonder, and awe in the face of something so fantastic, like interacting with nature. Or interacting with another culture. Like the way the Moroccans kissed their little cheeks and poured water on their hot skin. It was a scorching 106 most days, and the Moroccans took care of my kids. They will, in some way, remember it. The feelings. The abstract lessons in it all. I don't care if they don't remember the specific experiences, I don't care if it's not in their brain necessarily. I'd rather the experience of travel be embedded in their souls. I want the experience of travel to carry them through life.
6. For parents afraid to take their children abroad, what would you tell them?
Research all of your fears, get the facts, then be creative about how to avoid them. Then just
go
already. However, I don't think anyone should travel to countries that the US says it's not safe to travel to.
7. What has been your favorite destination for family travel? Why?
So hard to choose! I can't. We've loved almost every place we've ever gone.
8. What has been your least favorite destination for family travel? Why?
Ocean City, Maryland. We traveled there on an impromptu end of the summer beach vacation. The place is gross. Every parent was acting like they were on a twenty-one year old Spring Break trip — with kids in tow. The sand was horrible. The tide too high. The hotel options were all pretty dismal. Very commercialized. Hated it.
9. What is one of the biggest challenges of traveling with children, and how do you cope?
Illness. My kid puked three times in the mountains of Morocco. I was having trouble adequately describing to the driver — who spoke Arabic — that we needed to stop. He kept telling me to let her sleep. I was worried about dehydration. By the third time she threw up, he got it and pulled over to a restaurant for two hours.
10. In terms of personal growth, how do you think family travel helps you? Your children?
It makes you feel like you can do anything. Family travel is challenging; but, once you do it, and do it well — meaning it's enjoyed by all — it feels like you really accomplished something great. We also feel like the more we're connected to other cultures and have awareness — the more self-aware we are. The more empathetic we are.
11. What's next for your family in terms of travel?
Finally, for the first time in 5 years, a trip alone for me and my husband to
London
and
Paris
for a week. Yippee! *
All photos courtesy of Sarah Hosseini
About Sarah Hosseini
Sarah is a former television producer that traded the newsroom for the playroom. She's back to writing, but with peanut butter stains on her shirt and a wine tolerance like never before. She's one of those moms that never dreamed of marriage, babies or houses as a little girl. So clearly, when she got married, and knocked up just weeks later she was blind-sided — and is still jilted, sharing her stories of travel with kids and the raw moments of motherhood on her blog, Missguided Mama, with no sugar coating and lots of cussing for emphasis.

There's a stereotype, or, rather, a popular line of thought, that travel with kids should consist of trips to Disney Land or nearby camping jaunts. While these journeys certainly have value, those willing to get more adventurous with their family travel itineraries — like mother and nomad Sarah Hosseini of Missguided Mama — will also be rewarded. I caught up with Sarah to learn more about the pros and cons of traveling abroad with kids, what goes into making a culturally immersive itinerary and the joys of embedding travel into a child's soul at a young age.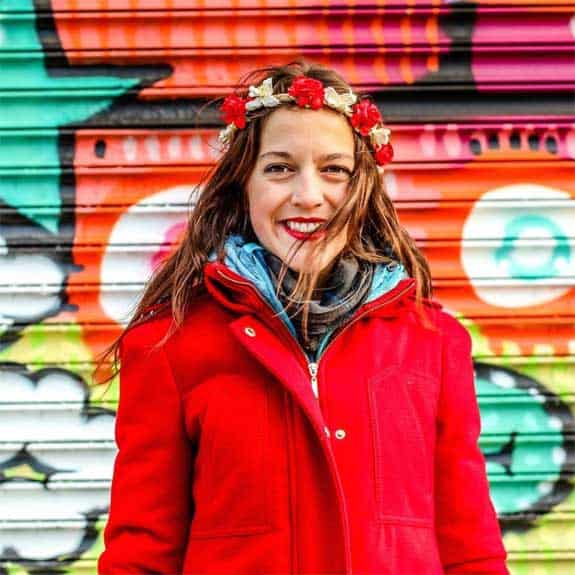 Hi, I'm Jessie on a journey!
I'm a conscious solo traveler on a mission to take you beyond the guidebook to inspire you to live your best life through travel. Come join me!
Want to live your best life through travel?
Subscribe for FREE access to my library of fun blogging worksheets and learn how to get paid to travel more!