Expert Tips For Traveling Full Time With Family
Looking for tips for traveling full time with family?
Then you're in the right place!
As part of my Inspiring Traveler series, I got the opportunity to interview full-time traveler Megan Tenney, who also runs the blog Family Gap Year Guide.
Get this:
Megan has been traveling full time with her family for over two years, and they're still going strong and loving the adventure.
Below, Megan shares her top tips for living on the road with family, including advice on trip planning, roadschooling the kids, funding the lifestyle, and more.
Note: This post on how to travel full-time with a family features affiliate links to trusted partners I think you'll love!
Where To Travel Next (Free Travel Personality Quiz!)
Wondering where to start your full time travel adventure or simply where to go for your next trip?
Take my free travel personality quiz for suggestions based on your unique interests:
After you take the quiz, keep reading for advice on long-term travel with family.
Expert Tips For Traveling Full Time With Family (Interview)
1. Thank you so much for taking the time to do this interview on how to travel the world with family. To get started, can you just tell us a little bit about yourself?
Absolutely, and thanks for having me as a guest on your blog!
My name is Megan and my family of six has been traveling full-time for over two years now. Our kids are 12, 9, 7, and 4 (boy, girl, boy, girl).
I grew up in Maine and then lived in Arizona with my husband, where he's from, for 13 years before we hit the road. We both have a background in teaching and the performing arts, and I've been a blogger for 12 years and now also work in digital advertising.
Earlier this year I started a new website, Family Gap Year Guide, where we share our travel adventures and teach other families how to take life on the road!
2. Before you hit the road, you note on your blog that you were miserable from having jam-packed schedules that ultimately felt unfulfilling. What led you to choose full time family travel as a way to change this?
I'm sure a lot of families can identify — we just kept saying yes to everything and ended up with a calendar that was overflowing.
Originally, when we were feeling burned out, I confided that I wanted to move back to the east coast. We realized that if we were going to sell our house and move anyway, there was no reason we couldn't take some time to travel before buying our next house.
We both had long bucket lists and wanted to see the world.
The list of places we wanted to visit would have taken us years and years, taking short trips in between work, school, and other commitments. We were overjoyed when we realized that traveling full-time meant we could go everywhere on our lists, one right after the other!
3. What were some of the important steps you took to prepare for the leap into full-time travel with a family?
The biggest step was definitely selling our house. We had to go through all of our belongings and decide what to sell, giveaway, store, or bring with us. We had a huge yard sale, made many trips to Goodwill, and filled up a 10'x10' storage unit.
I was already working an online job that could be done remotely, and my husband switched to a part-time remote job. We had to file an affidavit with our state, saying we intended to homeschool our kids, and then we were free from all ties!
We directed our mail to my parents' house, sketched out a general route we planned to take across the US for the next nine months, gave our van a tune-up, and booked our first Airbnb for four weeks on Whidbey Island, near Seattle.
4. When it comes to education, you homeschool — or, as you call it on your blog, "roadschool" — your kids. What does this look like and how did you prepare for teaching on the road?
We've definitely honed our homeschooling skills over the past two years, but it didn't take long to get into a pretty solid routine.
My husband works some mornings and evenings, and I work during the day, so he took on most of the homeschooling. We use free online resources, like Khan Academy, along with workbooks and reading books, and then we try to incorporate local learning opportunities in each destination we visit.
Here are just a few experiences we've had because of where we were located:
Learned about the Oregon Trail — on the Oregon Trail
Toured all three branches of government in Washington DC
Learned about the Battle of the Alamo — at the Alamo
Went clamming and learned how to cook clams
Learned about space at the Griffith Observatory
Took a sandcastle-building lesson in Texas
Watched Louisville Sluggers being made in Kentucky
Saw hot air balloons take off in New Mexico
With all of the personal attention they get, the kids are flying through their schoolwork and are several grades ahead of where they would be in school.
In addition, we've incorporated a lot of life skills into their day, so they know how to cook meals, do laundry, and care for the little ones. Our oldest son even started doing about an hour of work a day for my father's software company, so he's learning about computer programming and already logging work experience that will serve him well in the future.
This is a super well-rounded system of schooling that we feel is really preparing our kids to face the world as adults!
I wrote all about our system in my Ultimate Guide to Roadschooling!
5. Let's talk a bit about the financial aspect of traveling full-time. How did you pinpoint how much money to save before hitting the road?
We saved nothing!
I don't necessarily recommend that, but our decision was a little last-minute and we had next to no savings.
Since we are working while we travel, we budget with the funds we have coming in.
6. What were some strategies you used to save money for full-time travel, and how do you fund the lifestyle now?
I work full-time at a wonderful remote job, and that income is enough to cover our regular expenses with a little for savings.
Additionally, my husband works part-time, and as a side hustle, I make money travel blogging. We use those funds as our "fun money" for dining out or extra activities that aren't in the day-to-day budget.
The major factor to being able to afford full-time travel is if you're willing to give up the safety of having a homebase. If you sell or rent your home, you no longer have a mortgage or rent payments and can put that money toward lodging while you travel.
But also, think of how many of your bills are associated with your house — electricity, gas, water, insurance, internet, landscaping, pest control, HOA, and so on. Those all go away!
Once we sold our house, we still had to pay for our car insurance, storage unit, cell phone bill, regular living expenses like food and gas, and subscriptions like Netflix and Hulu. That's about it!
We mostly stay in Airbnbs for a month at a time. This allows us to take advantage of hefty discounts that Airbnb owners sometimes offer for longer stays — often up to 50-80% off!
It also means we have a little bit of stability — not always rushing off to a new place every few days — and lets us fully experience each destination like locals!
7. You run your blog from the road, so I'm curious how you balance blogging with traveling with family full-time?
In addition to traveling and blogging, I also work a full-time job! So yes I'm pretty busy, but that fits my personality. I love to work, and I love my job, so I'm happy to log on every day, and I spend a lot of my free time before and after my regular work hours working on my blog.
As I mentioned, my husband does most of the homeschooling, and we get lots of family time because we are always together.
On the weekends and in the evenings we make sure to explore the location we're in, and I'm an ultra-organized planner, so that helps us keep track of everything.
8. What have been some of the biggest challenges you've faced while traveling full-time as a family? How have you overcome them?
The biggest challenge was just making the decision to go — to pull kids out of school, to sell our house, to leave our town.
After we discovered how awesome full-time traveling is, we never looked back. The pandemic has been a big challenge because we had plans to travel overseas that have been pushed back an entire year, and in the meantime, we've just kept traveling within the US.
We want to make sure we've done all the traveling we want to do before we settle down again, so we're kind of just biding time now, but we're doing it in all of our favorite locations and some new ones.
9. What is one of your favorite short travel stories from the road that really exemplifies your perfect moment traveling as a family?
I love this question because I could share some very polarizing examples of what full-time family travel looks like!
We've had lots of incredible experiences, such as the day we gathered on the beach in south Texas to watch a rehabilitated sea turtle return to the ocean…and then there was the day we sat in non-moving traffic for seven hours because of an accident on the highway.
A lot of days are very normal for us — we do work and school, cook meals, clean the house, etc. And then some days we are touring the White House or hiking the Appalachian Trail.
Recently we were traveling through Kansas, and my husband had our three oldest kids gathered in a corner of the hotel room, reading scenes from Romeo and Juliet and then watching a few different versions of the play on YouTube.
Later that day we explored a salt mine, 650 feet underground! It has been so fun to be creative with what we learn and see while traveling.
10. What advice would you give a family looking to leave the settled 9-to-5 life to travel full-time and roadschool their children, but who may be nervous?
First, I would say that you will never regret it. It's a little cliche, but you only live once! Don't get stuck in a day-to-day life that isn't making you happy.
Second, you don't have to adopt this lifestyle forever.
Plan a family gap year and try it out for 12 months. If you love it, keep going — if it's not for you, then it was a great adventure and you can go right back home and settle down again.
11. In terms of a practical tip, what is the first thing a family wanting to travel the world full-time should do, in your opinion?
I definitely think the first thing to do would be to take a look at your finances and figure out how you would budget for a year or more of full-time travel.
If you're going to save up first, you might have to limit the amount of time you plan to travel, but if you have jobs that you can take on the road, then you can probably travel indefinitely!
I have a great guide focused on how to budget for full-time travel, and you can grab that for free here!
And, since that first step isn't necessarily a fun step, the second step is planning the locations you want to visit. Way more fun!
Create a list of places you'd like to go — maybe have each member of the family make separate lists and see where you overlap — and then sketch out a route.
Hop on Airbnb.com and look for stays in those locations and create a favorites list to revisit when you're ready to book.
12. What is one of the most important lessons you've learned from the road?
Hands down, the most important lesson I've learned is that there's no "right" way to live your life.
If you only do what you think is "normal" then you're missing out.
I've always been a rule-follower, so I pushed back on the idea at first, thinking, "People just don't do this. We can't do this."
But we can and we did, and you can do it, too!
Do you have any tips for traveling full time with family to add?
Enjoyed this post on traveling full time with family? Pin it for later!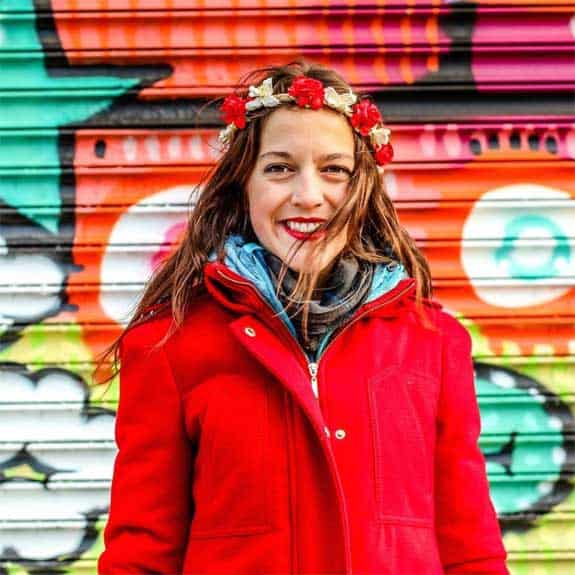 Hi, I'm Jessie on a journey!
I'm a conscious solo traveler on a mission to take you beyond the guidebook to inspire you to live your best life through travel. Come join me!
Want to live your best life through travel?
Subscribe for FREE access to my library of fun blogging worksheets and learn how to get paid to travel more!