Immersive Travel: Top Cultural Experiences In French Polynesia
For those who enjoy cultural travel, French Polynesia is an excellent destination. Settled by ancient Polynesians who arrived from Southeast Asia on outrigger canoes, each island has its own personality and tells a piece of the story.
To help you with planning a trip to French Polynesia, here are some top culturally-immersive experiences.
1. Visit The Vanilla Plantations Of Tahaa
Tahiti is world-renowned for its high-quality vanilla, with over 80% of it coming from the island of Tahaa. Vanilla isn't just something produced for tourists to buy, but is used by locals in cooking, fragrance, beauty oils and to remedy intestinal ailments and fever. It's also considered a natural aphrodisiac. On Tahaa you can tour the many vanilla plantations, including one of the island's only organic vanilla farms, La Vallee de la Vanille. Here Brian Hansen and his wife Morita Hioe use coconut shells to feed the plants, soak up water for nourishment and act as a natural fertilizer. During a free tour of the plantation you'll see how vanilla plants are hand pollinated and massaged and learn about vanilla's importance to French Polynesia. After a snack of homegrown banana and coconut you can check out their vanilla boutique, packed with vanilla-laced goodies like rum, coffee sea salt, lotions, oils, sugar, perfume, soap, olive oil and more.
2. Delve Into Ancient Polynesia On Raiatea
Known as the "Sacred Island," Raiatea is said to have been the first island settled in French Polynesia. This history can be explored with a visit to open-air Marae Taputapuatea, French Polynesia's first royal marae and an important sacred space built sometime before 1000 AD. It was here helmsmen and priests would gather to give offerings — sometimes human flesh — to the gods and discuss the universe and the meaning of life.
As Raiatea is one of French Polynesia's more untouched islands — lush with wild flora and fruits — you'll find less bus tour-type offerings (there's only one main road around the island) and more active adventures like jungle trekking, motu kayaking and climbing to the top of Mount Temehani, the only place in the world you can find the Tiare Apetahi flower. You can also raft down French Polynesia's only navigable river, the Faaroa River, the very body of water the ancestors of ancient Polynesians (Maohi) sailed to settle Hawaii and New Zealand.
From here it's easy to take a boat trip to the above-mentioned Tahaa, which folklore states was separated from Raitea by a princess in the form of a sacred eel.
3. Get To Know The Culinary Culture
No cultural journey to French Polynesia would be complete without sampling the local culinary culture. In French Polynesia some traditional dishes include Tahitian po'e,a sweet pudding containing sweet local fruits like banana or mango and cooked with brown sugar, vanilla and coconut cream, and Poisson Cru, a dish featuring raw fish drenched in coconut milk and soaked in lime juice. There are also food-focused experiences one can have, like attending a luau or savoring a hima'a feast of meat and vegetables like yams, taro and cassava wrapped in banana leaves and cooked in an underground oven. There are a number of tours offering the experience to see this in person during a private island picnic, or you can head to a resort during a Polynesian Night to sample this type of food.
4. Take A 4×4 Ride Through The Papenoo Valley
For a trip back in time on the island of Tahiti, opt for a 4×4 tour of the Papenoo Valley with Marama Tours. The valley was the home of ancient Polynesians, situated in Tahiti's lesser-traversed interior in a volcanic crater. Tours are led by English-speaking locals who can tell you about their own heritage — especially if you ask them about their tattoos and what they mean. Once in the valley, you'll forage for fruits and nuts — just like the ancient Polynesians — learn stories of the past and visit Marae Fare Hape, a rectangular space lined with stones and wood posts where ancient Polynesians worshiped the god of the dog. A traditional meal at Relais de la Maroto is also part of the experience, as you dine while inhaling fresh air and looking out over lush flora and high peaks.
5. Attend A Festival
One of the most fun ways to experience a culture is through its festivals. In French Polynesia there is no shortage of exciting events year-round. While winter hosts the Chinese New Year, Pacific International Documentary Film Festival, Tahiti Guitar Festival and the Tahiti Tere Faati — a day of traditional food, live music and touring the island via le truck — the spring brings the Polynesia Tattoo Convention (tattoos are an important part of Polynesian culture), athletic Tu'aro Ma'ohi Tahiti Championship and the Dancing School Heiva. In summer, visitors can attend the Ukulele Festival, Tahiti Vanilla Week, a large array of surfing and sport competitions, and the Papeete International Festival, focused on art and tradition through music, dancing and exchange. And in the fall, events like Tahiti-Sapinus SUP Surfing and Body Board, the Hawaiki Nui race and Te Ahi Nui fire dancing contest make French Polynesia a great destination to visit for culture.
6. Dive In
The outdoor offerings of French Polynesia's notoriously blue lagoons are just as much a part of the culture as the food and history. Spend time diving French Polynesia's largest pass — the northern pass of Garuae — at 800 meters wide and filled with marinel ife like hammerhead and grey sharks, eagle and manta rays, grouper, sea turtles, dolphin, and barracuda. While Fakarava is a UNESCO Biosphere Reserve known for its exceptional diving and untouched landscape, all the islands of French Polynesia have beautiful lagoons where you can snorkel coral gardens, ride traditional outrigger canoes, windsurf, swim and have fun in the water.
Also Check Out:
Do You Want To Be A Travel Blogger?
Backpacker's Guide To Tahiti And Her Islands
Tips For Traveling Tahiti On A Budget
My trip to French Polynesia was sponsored by Tahiti Tourism. I was not required to write this post nor was I compensated for it. All opinions are 100% my own.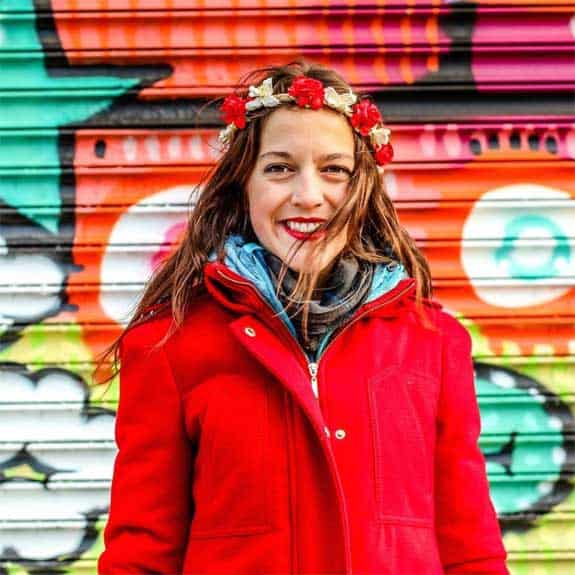 Hi, I'm Jessie on a journey!
I'm a conscious solo traveler on a mission to take you beyond the guidebook to inspire you to live your best life through travel. Come join me!
Want to live your best life through travel?
Subscribe for FREE access to my library of fun blogging worksheets and learn how to get paid to travel more!