Croatia Adventure: Learning To Rock Climb In Split
I don't even notice at first. One minute I'm chatting animatedly with my Croactive Holidays climbing guides, Kristian and Pacho, the next I hear a loud thud and feel my teeth smash together.
I'm confused. Did something just happen?
Suddenly, I feel a warm liquid begin to drizzle down my face, into my eye. Instinctively I wipe it away, and notice my hand is now covered in dark red blood. Which is also now all over my shoes, shirt, sunglasses and camera.
I feel no pain at all — aside for the mortal embarrassment at having already injured myself on a climbing tour…before the climbing even begins.
Who walks into a giant fallen tree the size of a spaceship without seeing it? Apparently walking and talking can be a dangerous combination for some (raises hand shamefully).
Once my guides have cleaned my wound and have deemed it a surface cut, Pacho shakes his head while smirking. "We're going to have to update our policy to mandate helmets be put on in the car."
Ironically, when I tore my skin Pacho had been telling me about Bura, violent, dry, and freezing gusts of wind that occur in March and can wreak havoc, like knocking down giant pine trees. Thanks Bura.
After showing how clumsy I can be, I really want to prove to them — and myself — that I'm not always a total spaz. And so, my first ever climbing adventure begins.
Learning To Climb In Split
The setting for this Croatia travel story is the beautiful Park Forest Marjan, a preserved pine forest overlooking Split.
While the day before I'd explored this enchanting place on foot, hiking the many trails, taking in Adriatic Sea views, and visiting historic sites like the 13th-century St. Nicholas Church — aptly paying homage to the patron saint of travelers — today I'll be exploring it by climbing some of its many limestone cliffs.
A bit about Marjan Park Forest, often touted as the "city's lungs":
According to Pacho, evidence shows humans have inhabited the area of Marjan ever since the Bronze Age – fragments of ceramic art were found, Greeks had their settlement and Romans built temple of Diana at the west promontory.
Throughout its history Marjan was considered a special place, even protected during Medieval times from exploitation and having churches built.
Sadly, however, during the 17th and 18th centuries, it started to become barren due to the Turkish invasions.
People started settling more in the area of Marjan and consequently, there were pillages, forest fires, and deforestation. In the 19th century, the community came together to fund the rehabilitation of Park Forest Marjan, allowing it to blossom into the abundance of lush Mediterranean flora, pine, and beauty it is today.
Says Pacho, "For most locals it's a 'sacred place,' whether we like to go there for walking, playing, learning, experiencing, thinking, cycling, climbing, meditating, praying, kissing, swimming, kayaking or for whatever reason not interfering with common sense or preservation of the area.
It belongs to all of us as a community and individuals with responsibility towards it. Just try to imagine Manhattan without Central Park."
Croactive Holidays is one of Split's oldest adventure tour companies, in existence for 10 years and run by guides who see what they do not as jobs, but as doing what they genuinely love to do.
It's clear it isn't Kristian and Pacho's first rodeo, and both talk about how they've been climbing in the park since they were kids.
This not only makes me feel safe but adds to the appeal of the location, a place that's special to both visitors and locals.
How Climbing Is Like Solo Travel
I've never climbed before aside from in a rock gym, so today we'll be focusing on beginner climbing trails on the park's south side, starting with 15-meter- (49-foot-) -high Vananas, considered a 4b level, according to the French grading system Croactive uses.
Looking up, it's hard for me to believe this is possible for a newbie.
Explains Pacho, "Climbing in a rock gym is like traveling in a group. Climbing outdoors is like traveling solo, like you're ding. Nobody has placed colorful steps for you, and you can't see the entire route beforehand. You have to rely on your instincts and take things step by step."
With that logic, I should be a pro at this.
Pacho shows me how to tie a Figure 8 Knot, which looks exactly like a figure eight. I only need to be shown once before I can replicate the design.
So far so good. Next, he explains how I should attempt to use small instead of large steps whenever possible, as this exerts more energy than necessary.
"Before climbing do some stretching first," adds Kristian. "Make sure all the gear is in its place, that your knot is properly tied and that the belayer has properly attached the rope to his/her belaying device – you can check each other, then focus on the route from below, remember you first climb with your head, then with eyes, feet and only then with your hands. The more relaxed you are the better you are going to climb. Don't forget to breathe and enjoy it."
Taking On Vananas
For the first climb, Pacho is the "lead climber."
How it works is like this:
A partner belays from below the lead climber, by feeding out enough rope to allow upward progression without undue slack.
As the leader progresses he or she clips quickdraws (extenders) into pre-placed bolts and the rope into the quickdraws to finally clip the rope into the top anchor, thus enabling others to climb as second or top rope.
While I've never climbed I have gone canyoning and repelling before, so I get the gist of the belay system and am aware of what to expect in terms of heights.
It's hard for me to remember less than 10 years ago being terrified of heights, as my travels and constant contact with adventure sports have literally washed that fear completely from my system.
Now, I absolutely love being high in the air and taking in the scenery from above.
The main difference between climbing and repelling is, well, with climbing I actually have to have some kind of fitness and mental skill level.
"You need to use both you feet and hands when climbing, as well as," Kristian pauses and smirks. "Your head."
"Looks like I'm out of luck," I joke, looking down at my bloody shirt.
"Don't worry, you won't literally use your head," he laughs. "You just need to always be looking for your next step. If you grab something with your hands that might make a good foot step later on, remember it. If you notice a rock with white chalk on it, it's probably a good hand hold, because the chalk indicates other hikers have used it."
Climbing shoes. Check. Harness. Check. (Much needed) helmet. Check. GoPro. Check.
I check to make sure Kristian is ready to belay me and, after he confirms he is, I'm off.
At first I climb with ease and confidence. It seems pretty simple. Find a rock that juts out and grab onto it, or indents in the cliff and step into it. I can handle that. Except…what about when there aren't any indents or outcrops?
"I'm stuck!" I shout, probably only three meters off the ground.
Kristian and Pacho help to guide me — a little to the left, put your right foot where your left knee is — but as I get higher they encourage me to start making my own decisions.
"Should I grab this rock?" I would ask.
"Does it feel good?"
"Sort of."
"Then it probably is. Sometimes you don't know the answer until you try."
While at times I just want to hurl my body at nothing and see what I can grab, their coaching helps me to be a bit more strategic, straying from the original path or back tracking when needed. I'll admit there are points when I need to take breaks — it's amazing the different muscles used for climbing, especially in your arms, ones I'm not used to using — but in the end I make it to the top, slapping the giant metal top anchor triumphantly.
"Ready to come down!" I shout happily.
"Before you come down, breath a bit and enjoy the view."
Aerial Split Views
Oh yea, the view. I'd been so busy staring at the craggy limestone in front of my face that I'd forgotten I was in one of Croatia's most scenic locations — in the air, no less.
Taking a deep breath is almost impossible once I turn around, not because of how high up I am (although, I am!), but because from my high perch, I sit above thick woodland, staring out over Šolta, Brac, Hvar Islands. Birds fly, boats sail, locals cycle… and I dangle like a happy Christmas ornament from a cliff.
There is no better place in the world to be in this moment than here. I feel unstoppable.
Coming Down
Surprisingly, Pacho explains most people don't get freaked out by the actual climb or the heights, but by coming down.
I think this is because people don't trust the rope to hold them. It's certainly strange doing everything your body is telling you not to.
"Let go of the rocks. Don't hold onto the rope. Lean back and straighten out your legs. Arms at your sides."
You're essentially hopping down a cliff as if it were a paved road and not a sheer vertical drop.
But I advise, as I do with most things on this blog, have some faith and try it once. Face those fears and you'll be surprised what you can accomplish.
Climbing Pimi
And right now I certainly feel accomplished. But, the day isn't over. Now, it was time to take on Pimi, also a beginner 4b level and 11 meters (36 feet) high.
While this climb looks a lot less sheer than the last — there's actually a small cave on the cliff face that appears promising — once I start my arms are literally dead. When I reach the cave about halfway up I wedge myself inside of it.
"Don't do that or you'll get stuck!" warns Pacho.
Ugh. I just want to curl into it and take a nap. I think he knows this though — just like he warned me not to rest by sitting in my harness and dangling my legs — because he can see I'm starting to give up.
My positive mindset, the one I had only 20 minutes ago, has suddenly gone on vacation. I'm throwing in the towel.
"I'm tired!" I whine. "I think I'm happy with the one cliff I completed. Maybe I'll just finish now and end the day with one-and-a-half climbs."
While Pacho looks small from where I'm stuck on the cliff, I can see him shake his head. "You have two options. You're tired, so you can move quickly and just get to the top. Or, you can lift your right leg to the spot where your left knee is, and then move slowly and strategically."
It's clear I'm not coming down until I make it to the top.
For a moment a perturbed feeling flashes through me, but then I remember who I am. Jessie Festa. Solo female traveler extraordinaire. Adventurous vagabond. Head gash survivor.
It's amazing what a little mindset switch can do.
I let Pacho and Kristian guide me to the top, and when I once again slap the top anchor with success, I'm elated they made me work through the struggle.
You know what they say, whatever doesn't kill you only makes you stronger.
And I certainly feel stronger. Well, not literally, my arms and legs feel like Jell-O. But mentally I felt like a stronger person. Someone who can accomplish anything they put their mind to.
Exploring Marjan On Foot
Due to my fatigue, my guides decide it's best to do a bit more exploration on foot, as once you become too tired you risk injury when climbing.
We ascend upward higher into the park, seeing cliffside caves as well as the still-active 15th century Church of Saint Jere, with its relief of Saint Geronimo and proximity to the Ascetic Cave where it's believed Saint Geronimo lived.
We spy (and eat) delicious plants like asparagus, chives, olives, figs, and blackberries — not to mention herbs like sage and rosemary — and watch as (crazy) climbers take on advanced routes that appear to only be suitable for super-humans like Spiderman to complete.
Connected To The World
The active day ends with the three of us having coffees at the nearby Caffe Bar Cvrcak, right on the water, re-hashing the fun events of the day, and comparing cultural anecdotes.
Croactive Holidays isn't just about adventure, but about weaving in cultural and historical components to help visitors gain a better understanding of Split (or where the tour is taking place) and have a more local experience.
"We have a saying here," says Pacho, looking out over the Adriatic. "If you put your finger in the sea, you're connected to the world."
In this moment, I certainly felt connected to Split, its people and its landscape. And isn't that what travel is all about? For me it is.
And climbing in Marjan Park Forest with Croative has allowed for this.
"Travelers who come to the coast to climb will probably be interested in climbing in Split – there are almost 80 routes, from easy to hard, within walking distance of a 1700-year-old Roman Palace in the very heart of Split – and people actually still live there," explains Kristian. "How likely it is that someone would just come to climb without paying attention to the historical monuments of the city when you are exposed to them simply by strolling the downtown…and then right there in the climbing site, that, by the way, hosted 4th climbing competition in the world back in 1986. There are caves walled-up by hermits about 500 years ago that, along with a beautiful little church from 15th century, give a special touch to climbers' aspirations to rise above the ground."
In my opinion, rock climbing in Split should be included in every Europe travel guide!
Have you visited or climbed in Split? What was your experience like?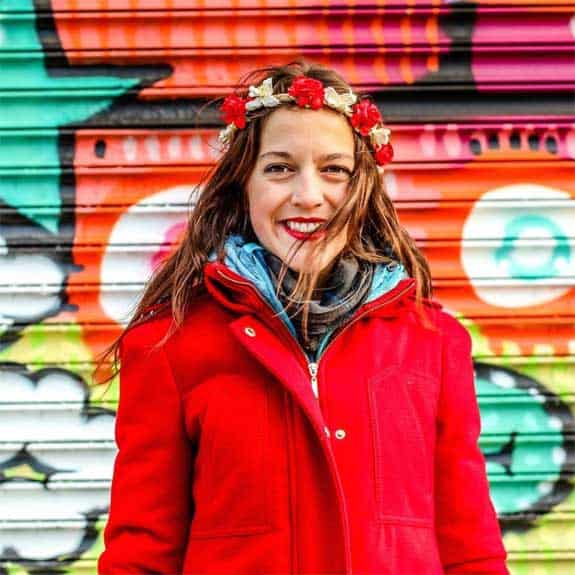 Hi, I'm Jessie on a journey!
I'm a conscious solo traveler on a mission to take you beyond the guidebook to inspire you to live your best life through travel. Come join me!
Want to live your best life through travel?
Subscribe for FREE access to my library of fun blogging worksheets and learn how to get paid to travel more!