Solo Trip To Dubai: Your Ultimate Guide (With Map!)
By Monica Chapon. This guide to solo travel in Dubai solo contains affiliate links to trusted partners!
Considering a solo trip to Dubai, but need help with the planning?
Then you're in the right place!
Offering a blend of modern marvels, interesting history, and natural attractions in a safe place, Dubai is an excellent choice for solo travel.
That being said, the more you can plan and prepare, the better off you'll be — which is where this solo female travel guide to Dubai comes in.
We'll cover where Dubai is, how to get around, things to do, safety concerns, expected costs, and more. By the end, I hope to have convinced you that traveling Dubai solo is an excellent decision! It certainly was for me.
I fell in love with the culture and people; the landscapes and nature. And, since my very first trip, I've returned countless times. There is always something new to see in this ever-changing place.
Quick tip: While Dubai is safe for solo travel, it's still smart to pack travel safety essentials. One top pick is the She's Birdie Personal Safety Alarm, which is TSA-approved and can help scare away potential attackers. Other recommendations include Clever Travel Companion Pickpocket-Proof Garments and Speakeasy Travel Supply Hidden Pocket Scarves.
Enjoy The Benefits Of Solo Travel [Free Course]
But first, before we get into our guide to traveling Dubai alone, I invite you to grab a seat in Jessie's free Savvy Solo Traveler E-Course.
The 6-day course is designed to help you feel confident about booking your first solo trip and exploring the world alone.
Lessons include:
Common solo travel fears and how to overcome them
How to choose your perfect solo trip
How to tell loved ones you're hitting the road solo
Mentally preparing for your solo journey without losing your mind
Essential steps for staying safe on a solo trip
How to take amazing solo selfies
Once you've grabbed your seat, read on to learn how to plan a safe fun solo trip to Dubai.
Solo Travel In Dubai: Is It Worth It?
Let's kick off this solo female travel guide by discussing if traveling to Dubai alone is even worth it.
When solo travelers consider visiting the Middle East, it is fairly typical to feel a few nerves. After all, this region does not get the best press in western media.
In my opinion, that is a shame. I've had some of the best travel experiences of my life in the Middle East, particularly in Dubai.
Dubai is a great place to dip your toes into solo travel in the Middle East. It has everything a visitor could ask for, and then some: a welcoming culture, incredible architecture, interesting history, rugged nature, and adventure activities galore.
Additionally, English is commonly spoken, and the infrastructure is modern and reliable.
I originally went to Dubai not necessarily expecting to ever return back; but now, many years later, I've visited the United Arab Emirates countless times. I'm continuously impressed by Dubai, and I'm willing to bet that you will be too!
Where Is Dubai?
Dubai is an Emirate within the United Arab Emirates on the Arabian Peninsula. Think of "emirates" as states – and Dubai is the best known one.
The city of Dubai is located within the Emirate of Dubai, and it sits next to Abu Dhabi, which is the nation's capital. Dubai is also bordered by the Arabian Sea.
Best Time To Visit Dubai
Dubai is a great place to visit year-round, but you may opt for one season over another depending on the activities you plan to do.
Summer in Dubai
If you enjoy outdoor adventures, you will likely want to avoid the summer heat. Summers can be overwhelmingly warm if you aren't used to it. Triple digits and scorching sun should be expected.
That being said, almost anywhere you visit indoors will be expertly air-conditioned, such as hotels, malls, restaurants, and attractions. Be aware that some outdoor attractions are closed in the summer.
Winter in Dubai
The most pleasant weather is found in the winter months, between November and March. It's the best time for outdoor activities and sightseeing.
But with the comfortable temperatures comes larger crowds. The winter season is when most tourists visit Dubai, so your accommodation and tours may carry a higher price tag during this time.
Getting To Dubai
Dubai International Airport (DXB) is the central hub in the Middle East, so you can catch flights here from just about anywhere.
Most cities in Europe and Asia have easy direct flights here, and even the USA's larger cities have non-stop and connecting routes here. The airport is modern, clean, and easy to navigate.
Alternatively, Abu Dhabi's airport sometimes offers cheaper flights, but be aware that it is at least one hour away from most places in Dubai.
Getting from either airport to Dubai is easy, either via taxi or Uber, and even the metro stops at DXB.
Getting Around Dubai As A Solo Traveler
Those traveling alone in Dubai will be happy to know it is an easily navigable city. If you only have limited time, you will likely hire taxis and Ubers to get around. These are reliable and safe.
If you have more time to spare and are traveling on a budget, consider taking the Dubai Metro. It is clean and simple, with different colored routes carrying passengers around the city. You can reach many of the major attractions from the Dubai Metro too.
Overall, Dubai is not an easily walkable city. Think of it like Los Angeles – certain pockets are very walkable, but you will need transportation of some kind to get from one area to another.
Dubai Travel Map
To help give you a lay of the land, here is a map. It has most of the main points and solo activities mentioned in this guide to solo travel in Dubai pre-plotted:
You can also click here for the interactive version.
Is It Safe To Travel To Dubai Alone As A Woman?
One of the reasons that Dubai is an excellent place to travel solo is due to its safety. In fact, according to Numbeo, the risk of violent crime and even petty theft and robby are very low.
Note that while Dubai is known for being ultra-modern, it is still a Muslim country. Women should dress conservatively and cover shoulders, knees, and heads for mosques. And, in areas outside of Dubai, this is even more important.
While you may see other women dressing in a casual way, I typically see it as a sign of respect to dress in a way that locals would. This also helps you avoid unwanted attention when you're traveling solo!
Additionally, don't leave valuables out in cars, restaurants, or hotels when you are not present. It's also wise not to wear flashy jewelry or carry tons of cash when traveling solo to avoid pickpockets.
And, as with anywhere, don't go out late at night alone. While walking at night in Dubai is generally considered safe, it's still smart to take precautions when on your own.
Overall, you can travel Dubai without worry, even if you are solo.
Where To Stay On A Solo Trip To Dubai
Wondering where to stay when going to Dubai alone? You've got plenty of safe options, both near to the tourist spots and in more secluded areas away from the hustle and bustle.
Dubai Marina
One of the best areas to stay for first timers in Dubai is near the Dubai Marina, which is within walking distance of the popular Marina Beach. You can also walk to a few popular attractions, like the Dubai Eye Ferris Wheel (Ain Dubai) — the world's tallest observation wheel — and trendy eateries and shops.
This is also a good base to reach many of the other sights by car.
Dubai Marina Hotels: Click here for a full list of hotels in Dubai Marina.
Dubai Marina Tours: Click here for a full list of fun tours in Dubai Marina.
Al Seef
For traditional Emirati charm on your solo trip in Dubai, consider staying in Old Dubai, specifically in its waterfront Al Seef area. Here you'll find shopping, restaurants, and easy access to Dubai Creek – a waterway that divides the city.
This area will often have cheaper prices, but is farther from some of the main attractions.
Al Seef Hotels: Click here for a full list of hotels in Al Seef.
Al Seef Tour: Click here to book a 3-hour Al Seef Sightseeing Tour.
Downtown Dubai
Downtown Dubai is a great place to be if you are a city person. You'll be close to the Dubai Mall and the Dubai Aquarium, as well as many of the public art exhibits.
You will also be close to Jumeirah Beach, which is a free and very popular public beach.
Downtown Dubai Hotels: Click here for a full list of hotels in Downtown Dubai.
Downtown Dubai Tours: Click here to book a Burj Khalifa, Dubai Mall, Downtown Plaza and Dubai Opera Walking Tour in Downtown Dubai.
Deira
Deira is the place to stay if you have an overnight stopover or an early departure flight. It's on the other side of Dubai Creek from the areas mentioned; however, it is cheaper and closer to the airport.
Deira Hotels: Click here for a full list of hotels in Deira.
Hostels in Dubai
In recent years, several hostels have popped up in Dubai. These offer a great way to meet other travelers to sightsee with. You can even find hostels with private rooms, which are a popular option for solo female travel in Dubai!
Hostels in Dubai (from $25!): Click here for a full list of hostels in Dubai.
Top Things To Do Alone In Dubai
Dubai is known for being a modern, clean city with impressive architecture; but, there is much more to it than that!
It's truly a city that offers something for every type of traveler. After spending countless months here, I have found some of the best things to do in Dubai as a solo traveler:
1. Go to the top of Burj Khalifa
You can't visit Dubai and not see the world's tallest building, the Burj Khalifa. While it is stunning from the ground, visitors have the option to ride up to the 148th floor for some of the best views in the city.
Every evening at 6pm, you can catch the famous Dubai Fountain show in front of the Burj Khalifa. If you get a table at one of the restaurants inside the adjacent Dubai Mall, you will have one of the best vantage points. Just get there early as tables sometimes fill up.
Whether you appreciate architecture or just a spectacular view, the Burj Khalifa is a must see.
Click here to view ticket options for the Burj Khalifa — including skip-the-line access!
2. Explore outdoor public art
Dubai has a steadily growing art scene, and plentiful artworks have been cropping up around the city.
During my time enjoying Dubai solo female travel, I fell in love with the Wings of Mexico by Gorge Marin. Not only are the wings themselves beautiful, but the sculpture perfectly frames the Burj Khalifa and is a great photo spot.
Another unique artwork in Dubai is Mirek Struzik's Dandelions. Located just outside of the Dubai Opera, the artwork consists of 14 giant steel dandelions. Stay until after sunset, when they light up in different colors that reflect the mood of their surroundings.
And near to the Dandelions is another piece called Declaration. Bright pink calligraphy is etched into a grey wall that depicts a saying from Sheikh Mohammed: "Art in all its colors and types reflects the culture of the nations, their history and civilization."
3. Take an abra to Old Dubai
Old Dubai is, as you would guess, the older and more traditional side of the city. Though it has been getting a bit of a facelift over the years, this is where you can still find the old souks and shops from days before.
Take an abra, or traditional wooden boat, across Dubai Creek to explore the Spice Souk, which showcases a colorful display of aromatic spices.
Or wander the Gold Souk, where a labyrinth of shimmering gold jewelry is on display. Explore the ornate mosques and get lost in Al Seef's alleyways.
Old Dubai is one of my favorite areas of the city. Don't miss it!
4. Stroll the Dubai Miracle Garden
The Dubai Miracle Garden offers a stunning display of colorful flowers and is one of the top Dubai attractions.
Closed during the summer, it's the largest outdoor flower garden in the world — which is quite a feat, given that it is in the middle of a desert city.
Featuring endless flower species in every bright color you can imagine, the garden is absolutely breathtaking.
Shapes and characters have been sculpted through expertly cut leaves and shrubs, and you may even see animatronic dancers and animals covered in blankets of petals!
5. Book a desert safari
Whether you spend one day or one week in Dubai, make it a point to book a desert safari. For me, nothing says "Middle East" more than the stunning Arabian Desert.
You can choose from sunrise or sunset options, and both will include wild dune bashing — as in, driving at high speeds over the dunes — beautiful photo stops, and often a trip to a camel farm.
If you book the dinner safari, you'll also be treated to a Middle Eastern buffet, a belly dancing show, henna tattoos, and more.
6. Visit the Jumeirah Mosque
If you are a first time visitor to Dubai, be sure to add the Jumeirah Mosque to your list of things to do in Dubai solo.
Dubbed by some as the "love mosque," the Jumeirah Mosque has become a popular spot for newlyweds to take their wedding photos. You may catch a couple standing against the backdrop of its striking white facade, with intricate designs and towering minarets that seem to touch the sky.
I like to wander around the outside and inside, when allowed, of various mosques when in the UAE. The architecture is usually stunning, with plush carpets and Arabic calligraphy adorning the interior.
Be sure check the day's prayer times to avoid disturbing any services.
7. Take a sunset dhow dinner cruise on Dubai Creek
Explore Dubai from the water! As vibrant Dubai shifts from day to night, there's no better way to witness the colorful sky than on a sunset cruise on a dhow, which is a traditional wooden sailing vessel.
Prepare to be amazed as you set sail with a backdrop of the cityscape against the fiery red sky.
Most tours, like these, serve a buffet dinner and provide entertainment as you glide along the tranquil waters of the Arabian Gulf. Bring your camera, as there will be traditional dancing, singing, and lively music on board.
You will also have the best views of iconic landmarks such as the Burj Al Arab or Old Dubai, depending on where you sail.
A sunset cruise is a great way to close out an evening of solo traveling in Dubai.
Click here for a full list of Dubai cruises and sailing tours.
8. Explore Dubai through its shopping malls
Both travelers and Emirati citizens tend to love Dubai's shopping options. When it comes to shopping, Dubai has it all — from sleek designer boutiques to traditional souks selling handmade trinkets.
Dubai is home to some of the biggest malls in the world. The top three mega malls in Dubai are the Dubai Mall, the Mall of the Emirates, and Ibn Battuta Mall.
The Dubai Mall is an absolute behemoth. Not only does it house over 1,300 stores, but it also has its own aquarium, ice rink, and indoor theme park. Did you ever think you could ice skate in the desert? You can in Dubai.
Meanwhile, the Mall of the Emirates has it's very own indoor ski slope, complete with man-made snow.
And if you're looking to indulge your wanderlust while shopping, then the Ibn Battuta Mall is the spot for you. This gigantic mall is designed to look like different countries, with each section themed after a different region of the world.
So whether you're a shopaholic or are just looking for an offbeat experience, Dubai's malls won't disappoint. And don't worry if you want to keep your Dubai visit budget-friendly, as window shopping is also an option!
9. Visit the Dubai Frame
This incredibly tall architectural marvel is a must see. Looming over Dubai, the Dubai Frame captures the skyline of this magnificent metropolis within its boundaries.
This stunning attraction offers visitors a unique experience too: from 150 meters (492 feet) high, visitors can see panoramic views of the city, the desert, and the Persian Gulf on a clear day.
My favorite part about this structure is that Old Dubai sits in one direction, and modern Dubai sits in the other.
With its shimmering gold design and unparalleled views, the Dubai Frame is one of the best things to do in Dubai as a solo traveler.
10. Take a day trip to Abu Dhabi
If you have the time while visiting Dubai, I highly recommend taking a day trip to Abu Dhabi, the capital of the UAE. Here you will experience a more quiet and understated atmosphere, but with equally stunning views.
In Abu Dhabi, you can tour the Emirates Palace or stroll the Louvre Abu Dhabi art museum. You can also visit the Sheik Zayed Grand Mosque, which will wow you with its opulence.
Abu Dhabi also has several theme parks, like Ferrari World — which is perfect for car fanatics — and Warner Brothers World, which is home to the world's largest indoor theme park.
Though very different than Dubai, visiting Abu Dhabi on a day trip will give you a deeper understanding of the country.
Best Tours For Solo Travelers In Dubai
As you can see, there are many fun solo activities to enjoy solo in Dubai — including guided tours. Booking a tour is a smart way to get to know the destination while also interacting with locals and connecting with other travelers.
A few top-rated tours to add to your Dubai itinerary include:
Click here for a full list of top-rated tours in Dubai.
Tips For Solo Dining In Dubai
Solo dining in Dubai is a non-issue, even for females. The worst that will happen is you may get a few curious stares, particularly when you choose establishments that typically cater to locals.
To help ease any discomfort or awkwardness, here are some tips for eating alone in Dubai:
Consider a food tour. If you aren't sure where to eat, book one of the many food tours in Dubai. Along with gaining an understanding of the local culinary culture, these types of tours also make it easier to meet other people while visiting Dubai alone.
Opt for a meal in a local home. If you love culturally-immersive dining experiences, EatWith is a platform showcasing in-home meals, cooking classes, and food tours hosted by locals. The experiences are perfect for solo travelers in Dubai nervous about eating alone at a restaurant.
Grab an outdoor table at the busy Marina. At the Dubai Marina, many restaurants have outdoor tables — like these — so you will feel like you're in a crowd even if you're alone. Plus, it is great people-watching!
Eat at your hotel restaurant bar. The hotels here are used to welcoming solo travelers. If you're not feeling up to braving Dubai's restaurants solo, this is a great option. And, you are likely to see or meet other travelers as well.
Other tips for dining solo in Dubai:
Dubai has everything from street food to local eateries to high end restaurants, and most of them will have menus in English on hand.
Smaller local eateries may require Google Translate, but for the most part you will have no problem.
Carry cards for larger restaurants and have cash on hand for the smaller stalls or street food.
Estimated Dubai Solo Trip Cost
It can be difficult to estimate expected costs for solo travelers in Dubai. This is because the city is home to such a wide spectrum of options — from the very cheap to the ultra luxe.
If you travel on a shoestring budget by staying in hostels and using the Dubai Metro to get around, you could get by on about $35 per day. This would require easy street food and casual meals.
A midrange traveler who stays in an affordable hotel, eats at local restaurants, and occasionally uses a taxi or Uber might pay around $75-$100 per day.
And, if you are looking for luxury, you will find it in Dubai. A more upscale itinerary might include glamorous hotels for hundreds to even thousands of dollars per night, eating at the fanciest restaurants, and shopping sprees at luxury malls.
Travel Insurance For Solo Travel In Dubai
When traveling solo in Dubai — or anywhere else in the world — it's wise to get travel insurance.
One of the best travel medical insurance for travelers is SafetyWing as they've got a large network and offer both short-term and long-term coverage — including coverage if you're traveling for months as well as limited coverage in your home country.
Additionally, SafetyWing is budget-friendly and offers $250,000 worth of coverage with just one low overall deductible of $250.
Click here to price out travel insurance for your trip in just a few clicks.
Frequently Asked Questions About Dubai Solo Travel
Q) Is Dubai good for solo travelers?
Yes! With a mix of stunning architecture in the city and great nature attractions in the desert, it's easy for solo travelers to find something they enjoy.
Q) What are the top things to do alone in Dubai at night?
The top activities for solo travelers at night are either the Dubai Fountain show, an evening desert safari, or a Dubai Creek dinner cruise.
Q) Is it safe to travel to Dubai as a woman?
It is generally safe to travel Dubai as a woman. While normal precautions should be taken, the city is very safe and risk of violent crime or even pretty crime is low. Don't drink too much, dress in accordance with local customs, avoid flashing valuables, and keep common sense practices in mind.
Q) How many days do you need to visit Dubai?
At minimum, you should allot three days for a solo Dubai trip. You'll be able to explore the large city, enjoy some of the nature attractions, and even take a day trip to Abu Dhabi.
Q) How strict is Dubai's dress code?
If entering mosques or public malls, the dress codes are posted and enforced. Traveling to Dubai as a woman means knees and shoulders should be covered. Men, depending on the venue, can occasionally get away with shorts, but it's best to wear pants for the most part.
In hotels and at the beach, things are typically more relaxed.
Women should plan to dress conservatively here so as to respect the locals and not attract unwanted attention.
Final Thoughts On Solo Travel To Dubai
Dubai is one of the most modern and diverse areas within the Middle East. In fact, it is becoming more and more common to see other solo travelers in the UAE, both male and female.
As a very safe and easily navigable city, Dubai is a great place to solo travel. And from the crystal Arabian Sea waters to the vast desert sand dunes to the impressive architecture that blends history with modern innovation, there is a lot to see and do.
Everyone who experiences solo travel in Dubai will likely find something they deeply enjoy.
What are your top tips for planning a solo trip to Dubai?
Enjoyed this guide to going to Dubai alone? Pin it for later!
About The Author
Monica Chapon is a long-time world traveler and founder of This Rare Earth. You can usually find her exploring the Middle East or other offbeat destinations for solo females. She has a passion for traveling the deserts of the world and immersing herself in cultures vastly different than the USA! Follow her adventures on Instagram, or connect via Facebook and Pinterest.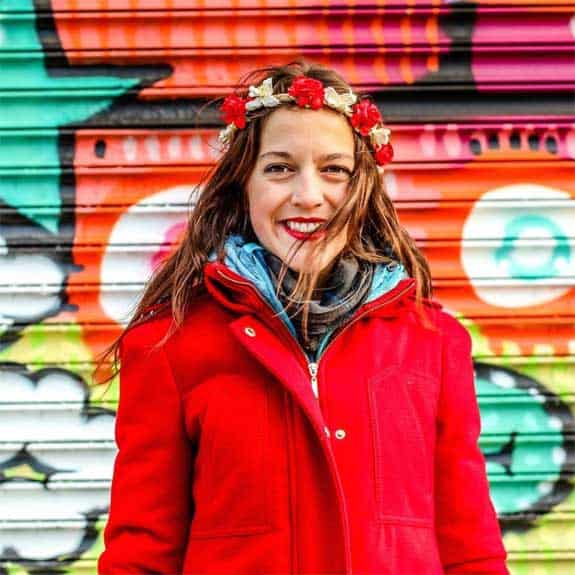 Hi, I'm Jessie on a journey!
I'm a conscious solo traveler on a mission to take you beyond the guidebook to inspire you to live your best life through travel. Come join me!
Want to live your best life through travel?
Subscribe for FREE access to my library of fun blogging worksheets and learn how to get paid to travel more!