This Is What Happens When You Escape NYC For The Shawangunk Wine Trail
I recently took a day trip from NYC to Long Island wine country and had an amazing time getting tipsy with friends on our local bounty.
As I sipped chardonnay and rode around in a chauffeured black car I wondered why I didn't do road trips from NYC more often, especially as within two hours of New York City there are vineyards, apple orchards, hiking trails, mountain towns and small coastal villages all waiting to be explored.
Fortunately I was approached by RideBooker, a ground transportation booking company serving North America, who offered to host me for a ride.
Because my friends and I all love wine I decided to stick with that theme but move the location to the Shawangunk Wine Trail, a region of 15+ wineries in the picturesque Hudson Valley — only 85 miles from NYC!
Pre-Trip Party
It was the perfect NYC day trip, beginning with a pre-party at my friend Liz' apartment in Tribeca. My friends and I setup a mini pot luck brunch — complete with mimosas — to get pumped for our road trip. I highly recommend this, both to get in an upbeat mindset and to get something to eat before heading out. We had our vehicle for 10 hours; definitely a recipe for disaster on an empty stomach.
Riding With RideBooker
My friends and I were picked up in our RideBooker vehicle from the apartment at 10am sharp, a shiny black six-passenger 2016 GMC Yukon Denali XL awaiting us like a chariot. It was equipped with bluetooth, an aux port and mini bottled waters, as well as a driver.
We were able to stop off when we needed, which was great for those of us with small bladders (especially as we were drinking prosecco along the journey). My boyfriend Andy and my buddy Hillary, being the musical ones of the group, also made an epic playlist that led to a karaoke-filled car ride.
Click here if you'd like to use it for your Shawangunk Wine Trail drive or other road trip.
The total cost for a 10-hour trip like the one we booked costs $1,147.13 including tax and 15% gratuity (the rate is $95 per hour).
It may seem like a lot at first glance, but if you're splitting that with six people it comes to about $191 per person — not bad when you consider you're relieved of having to make a friend stay sober and drive.
Plus the one public tour I found cost $150, making it only $41 extra per person to go private.
We weren't even an hour outside NYC when the scenery began to change — drastically.
The Empire State Building, which had gently faded to highway, transformed to lush greenery, rolling hills and endless rows of baco noir hugged by mountains. We even spotted multiple deer crossing the road.
When we reached Woodbury signs in the shape of grape bunches start highlighting local winery names, beckoning us to pop in and try the homegrown and fermented offerings.
The Shawangunk Wine Trail
A little introduction to the trail for you. The Shawangunk Wine Trail, which resides in the Hudson Valley Wine Country, runs for 80 miles from Orange to Ulster County. It's pure countryside and a true highlight of New York State travel — there is a reason hiking the Hudson Valley is so popular — and I settled back into my plush leather seat admiring the idyllic scenery.
The region features a moderate climate thanks to the Shawangunk Mountains to the west and the Hudson River.  
In terms of grapes, they're known for seyval blanc, a hybrid grape primarily grown in England and the USA; noiret, a hybrid developed by Cornell University that's typically blended for complexity; and riesling, a grape New York State is becoming increasingly notable for. Hard cider is also growing in popularity, which makes sense since the region is ripe with apple orchards (get it?).
Along the Shawangunk Wine Trail you'll hardly be limited to the above, though. You'll also find tons of French hybrid grapes, chardonnay, sauvignon blanc, cabernet franc, Bordeaux blends, roses and winemakers mixing French inspiration with their own creativity.
Not only that, but whether you're exploring during the warmer months or visiting the Hudson Valley or Catskills in winter, you can enjoy this trail.
Tip: For an easy to digest tutorial of New York Wine Country, check out the following blog posts: Sommelier Certification: Getting To Know American Wine and Inside New York Wine Country. There's also a great book, The Wine Bible, which I used to pass my sommelier exam
Winery Appointments
You typically do not need an appointment to visit the Shawangunk Wine Trail wineries unless you have a particularly large party. Our group of seven didn't make any appointments and had no issues.
Dress
If you're the type of person who loves wearing floral maxi dresses and button downs this is a great opportunity for that. Keep in mind it's a very laid back trail, so you can really wear whatever you want (I found there be less giant floppy hats than in Long Island Wine Country).
There's no strict dress code, but the atmosphere definitely calls for some fun, whimsical outdoor dress, bright colors and big shades if you're that type of person.
Money For Tastings
Our RideBooker price did not include tastings, and at each stop we paid about $5-$10 per tasting flight. It's also easy to find bottles for $25 or less though, again, some wineries are pricier than others.
Make sure to sign up for the Hudson Valley Wine Tasting Passport ($25), which gets you complimentary tastings at local wineries.
While many wineries offer food, I like to bring my own homemade picnic basket to ward off drunkenness and save money. Cheese, meats, fresh fruit, crudite, chips and crackers are all great suggestions, as is something more substantial like a sandwich. You can typically bring a cooler into the vines with you, or an uber cute picnic basket like this one.
Winery Picks + What To Drink
So what special experiences can you have along the Shawangunk Wine Trail? On our trip with RideBooker we made it to four wineries, each with very distinct personalities and experiences. Note that some of the below venues — like Weeds — isn't technically on the wine trail (yet), but are very close to it.
Tip: Once you choose the wineries you'll be visiting check their respective websites for printable coupons for free tastings and food.
1. The Oldest Winery In America At Brotherhood (Washingtonville)
Brotherhood Winery was definitely the largest and most commercial feeling of the wineries we visited, and they hold themselves to high standards due to their heritage. For $7 you get a tasting glass to keep and can choose between a Varietal or Traditional tasting, each with five different wines to try. The Traditional tasting has some wines that have been produced since the 1800s which is cool, though for much of our group were a bit too sweet. Your best bet: find a partner and split both.
Brotherhood Winery is doing some really interesting things, like a Champagne they can actually call Champagne despite it being made in New York and not France (they've been grandfathered in thanks to their 10+ year-old untouched recipe). Another noteworthy wine is their "Carrolls Mead," a honey wine crafted from a 15th century recipe. Interestingly honey wines were made before grape wines, and are historically said to promote fertility. Even my friends who don't typically enjoy sweet wines loved this one!
Lastly, their Port was used for medicinal purposes during Prohibition. Pretty interesting!
Afterward, we got $5 glasses of wine at the bar — they also have wine slushies — and sat outside under shaded picnic tables listening to live acoustic music.
2. Sip In Someone's Home At Brunel & Rafael Winery (Marlboro)
Our next stop provided the exact opposite atmosphere. In fact, we weren't even sure it was open to the public at first, as it felt like we were in someone's actual home.
In reality nobody lives at Brunel & Rafael Winery, though it is a very old farmhouse transformed into a winery, complete with lots of natural light, an entrance room with shelves of wine and wine connoisseur paraphernalia, a living room and kitchen, and a dining room with a long wooden tasting bar. This was our quickest stop as there wasn't much onsite, though the wines were very tasty.
Right now they're only doing dry wines, though they're looking to create a sweet wine soon. They also gave us a slew of awesome local recommendations. The price was $8 for six tastings: a merlot rose, a chardonnay, a pinot noir, a cabernet franc, a medium dry merlot and a fragrant dry gewürztraminer.
3. An All-Encompassing Farm & Vineyard Experience At Weed Orchards & Winery (Marlboro)
As soon as we stepped onto this beautiful crop-filled family-owned and operated property, John Weed, the owner, came running out to greet my friends and I.
"Have you tried the blueberry hard cider?" he asked, smiling and holding up a glass. "I'll make sure you guys get a free sample at our tasting bar."
John glowed as he talks about Weed Orchards & Winery, their farm, their many ciders, beers and wines, and their U-Pick offerings — everything from tomatoes to pumpkins to apples to peaches. To me this is what makes a venue special, a warm welcome and connecting with the people that run it.
Our group ordered a delicious apple-topped White Pizza laced with balsamic and paired with truffle fries (and live music!). We also opted for a slew of hard fruit ciders. Don't miss the peach and blueberry ciders, as well as homemade apple cider donuts from a little bakery outside the main tasting room.
We burned off the calories playing on the onsite playground and frolicking on the sunny grounds.
4. Take In An Ohh Ahh View At Benmarl Winery (Marlboro)
Benmarl Winery was the most breathtaking of the wineries we visited, perched on a hill overlooking the Hudson River Valley. It was super lush, with peaks and trees dissected by roadways and trains.
Because there was a wedding going on when we arrived much of the grounds were off limits, so we passed the bakery, rusted vintage cars and gardens, and headed into the tasting room ($10 for six wine tastings).
This stop was my favorite in terms of taste — I loved every single wine we tried, which almost never happens. My boyfriend and I purchased a bottle of their cabernet franc and sauvignon blanc, both $19.99, and headed outside to take photos under the wedding pergola and sip our purchases on the hillside. Our group had brought a spread of meats, cheeses and fruits, so our afternoon ended perfectly with this scenic wine picnic.
The Drive Home
After a long day of wine touring, the group climbed back into the black car to make our way back to NYC. We said goodbye to the farmland scenery, the rolling hills and the slower pace of life. In what seemed like no time the One World Trade Center — one of my favorite buildings in the city — was dominating my view.
On my right was also the Hudson River, the sun setting in bright oranges, reds and yellows and creating a fiery blanket over the water and surrounding cityscape. The scene reflected off Andy's sunglasses, and I captured it with my camera to document our journey.
Our journey. Sometimes, the ride is just as important as the destination. Everything from singing in the car to sipping through the vineyards to the gorgeous ride home — that also included nobody having to worry about drinking and driving — was superb.
The day was truly full of lasting memories made. I can't wait to do it again and continue exploring New York City's amazing lesser-known day trips.
Further Exploring
Along with wine, the Shawangunk Wine Trail area is also known for adventure. In fact, I'd visited the area before but for a totally different reason: hiking. Here is where you'll find the Shawangunk Mountains, a continuation of the Appalachian Mountains that reaches 2,289 feet and stretches from the northernmost point of New Jersey to the Catskill Mountains. It's also known for rock and ice climbing, a popular day trip for many of my friends. It's definitely worth mentioning to your foreign friends who don't believe that New York has peaks.
Hiking suggestions: Do a section of the 71-mile Shawangunk Ridge Trail — or the whole thing if you're really adventurous. Camping is permitted along the way.
For a truly Ohhh Ahhh experience drive along the 88-mile Shawangunk Mountains Scenic Byway, full of diverse landscapes ranging from farms and forests to mountains and rivers and beyond. It surrounds the northern Shawangunk Mountains and runs through the Rondout and Wallkill Valleys. Definitely a journey worthy of packing your DSLR for!
And if you need a place to stay, here are some of the top romantic places to stay in Upstate New York, which are great for couples, families, friends, and those traveling solo!
Have you visited the Shawangunk Wine Trail?
*A big thank you to RideBooker for sponsoring my trip. As always, all opinions are my own.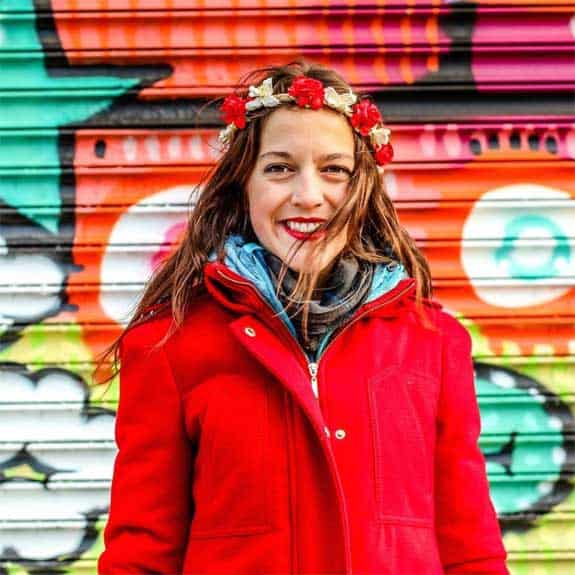 Hi, I'm Jessie on a journey!
I'm a conscious solo traveler on a mission to take you beyond the guidebook to inspire you to live your best life through travel. Come join me!
Want to live your best life through travel?
Subscribe for FREE access to my library of fun blogging worksheets and learn how to get paid to travel more!