Aura Readings, Head Shops And The Midnight Ramble: Quintessential Experiences To Have In Woodstock
"Woodstock came to symbolize our solidarity…the connection to one another felt by all of us…we showed the best of ourselves…the time was right…the spirit was right, and we were right. What resulted was a celebration…when joy became big news…It was a strange, sometimes magical trip…Woodstock was an opportunity, a moment, a home…" — Michael Lang from "The Road to Woodstock"
While many people know of Woodstock as the site of one of the world's craziest festivals, the truth is Woodstock 1969 happened in Bethel, New York.
That being said, festival organizer Michael Lang was not only from Woodstock, but inspired by it.
Being that the town was America's first arts colony, surrounded by natural beauty and filled with creative minds, this should be no surprise.
Even today, you can still experience this vibrant culture. To help you plan your itinerary, here are some quintessential experiences to have when visiting Woodstock — a highlight of any Catskills trip.
1. Gallery Hop
The charming, pedestrian-friendly sidewalks of Woodstock are littered with galleries, all easily visited without a car. Start your tour at the Woodstock Artists Association & Museum, where you can explore two floors of diverse works created by local artists. Another popular stop is the nearby BYRDCLIFFE Kleinert/James Center for the Arts, another place to see works by local artists as well as take in live performances and purchase artisanal handicrafts. For a range of creative spaces, take a stroll down Gallery Row on Tannery Brook Road, which has five exceptional galleries located one next to the other.
2. Take A Walking Tour Of Byrdcliffe Arts Colony
Byrdcliffe Arts Colony is America's oldest continuing arts colony and is listed on the National Register of Historic Places. Featuring 300 wooded acres and 30 "Arts and Crafts Style" buildings, visitors can take a self-guided one-mile walking tour taking in heritage buildings, still-in-use artist studios and artist residences. Check out The Forge, built in the summer of 1903 for iron, brass, jewelry and silver workers. Today, it is used as an artist home and work space. There's also the White Pines, built in 1903 as a home and the heart of the colony, the structure is the quintessential example of Arts and Crafts Style architecture in harmony with nature.
3. Browse The Books In The Golden Notebook
Woodstock's independent bookstore since 1978, The Golden Notebook showcases quality titles and rare gems in a space that is surprisingly big as far as Woodstock shops go. The atmosphere is laid-back, and you can browse the novels at your leisure without being pressured. Additionally, staff here know their stuff, so if you're looking for a stimulating literary conversation this is the place to go. What's also intriguing about The Golden Notebook is you never know who you'll find perusing the shelves (I saw Yann Martel, author of Life of Pi, chatting with staff when I was there). On weekends you can always find events happening in the store, like book signings, lectures and literary programs.
4. Enjoy Free Jam Samples & Artisanal Salted Caramel At Chez Grand'Mere
Chez Grand'Mere is a one-of-a-kind gift shop with a vintage feel. Browse antiques, hand-knit sweaters, French linens, old time postcards and classic bath and beauty products. The shop's real draw, however, is the shelves lined with homemade spreads, with certain ones set out for free sampling, and the counter display of artisanal chocolates. Try the dark chocolate salted caramels, decadent, gooey and sprinkled with sea salt.
5. Hunt For Hippie Memorabilia
Walking along the sidewalks of Woodstock, you'll notice myriad hippie-inspired stores and head shops. The Forge on Tinker Street blasts classic rock and has hysterical signs advising hippies to "enter through the side door" — despite the fact these are undoubtedly the store's biggest customers. You'll find Woodstock memorabilia, peace t-shirts, old records, pipes and 70s inspired paraphanalia. These types of shops epitomize Woodstock's free-thinking philosophy, and you won't have to look hard to find them littered throughout the town.
6. Check Out The Midnight Ramble
Started by The Band's Levon Helm, The Midnight Ramble was what his early performance career revolved around in the 2000s, taking place in his barn home and studio in Woodstock. At the time Helm had been diagnosed with throat cancer — which he passed away from on April 19, 1012 — and the concerts were a way to help him raise money for his medical bills. Today the lively nightly shows continue, taking place at least once per month to pay tribute to Helm and his music. You never know what type of music will be played or what famous musicians may show up to play a set or just take in the energetic atmosphere
7. Eat Innovative Farm-to-Table From A Chopped Winner
Just outside of Woodstock you'll find New World Home Cooking, where Chopped-winner Ric Orlando does farm-to-table dining in an innovative way. You can get everything from Thai to Italian to Southern to burgers, all made with local ingredients and bursting flavor, but without "secret ingredients" to help make dining fun and simple for people on special diets. Some typical menu items include a "Pan Roasted Organic Salmon Filet" made Sardinian-style with blood orange sauce, Gaeta olives, fregola and arugala; "Cage Blackened Mississippi Catfish" with Wild Hive yellow grits, braised kale and Louisiana bearnaise; and "Hudson Valley Duck and Sausage," a dish featuring confit leg and cotecchino sausage, black trumpet sauce, corn pudding and fresh greens.
8. See What The Woodstock Town Crier Has To Say
In the center of Woodstock you'll find a chalkboard, also known as the Town Crier, advertising the town's upcoming events. There is always something happening in Woodstock, whether it's a concert, gallery exhibition, creative performance, horse parade or community festival. It's an interesting landmark to see, as well as a great way to experience the best the town has to offer.
9. Take A Hike
Surrounded by the beautiful Catskill mountains, there are many opportunities for hiking around Woodstock. One of the most scenic treks is hiking to the Overlook Mountain Fire Tower, accessible from Mead Mountain Road across from the across from the Karma Triyana Dharmachakra Budhist monastery. You'll make your way uphill for about two miles before reaching the ruins of the once- luxurious Overlook Mountain House. Continue uphill to the top summit, which is about 3,140 feet, climbing the fire tower to give yourself even more height.
While you may feel accomplished, the best views are actually had at the rock ledge accessed via a narrow trail behind the information cabin. Here you'll be awarded aerial views of the Hudson Valley and Ashokan Resovoir.
Want to hike even more? Another great trail is the Giant Ledge Catskills trek, which offers sweeping valley and mountain views!
Additionally, other popular hikes in the area include Bellayre Mountain, Mohonk Preserve, Balsam Lake Mountain, Black Creek Forest Preserve and the Codfish Point Trail.
10. Have Your Aura Read
While River Rock Health Spa offers the ambiance and professionalism of a luxury health spa, as well as typical treatments like Swedish massage and anti-aging facial, you can also experience quintessential Woodstock culture through their alternative healing offerings. Ever heard of Aura Photography? It's when your unseen energy is captured on camera. A certified aurographer will read your aura colors and tell you what your energy means. The spa also offers hand analysis where you can have your handwriting, finger prints or hands read to tell you what your natural gifts are and how you can find fulfillment. Additionally, Intuitive Kinesiology is offered. This is where your muscles are assessed in order to clear the body of imbalances. For example, a traumatic experience that is causing you anxiety can be found and removed in order to give you a sense of euphoria.
And if you need a place to stay, here are some of the top romantic getaways in Upstate New York, which are great for couples, families, friends, and those traveling solo!
My trip to the Catskills was sponsored by I Love New York. I was not required this post nor was I compensated in any way. All opinions are my own.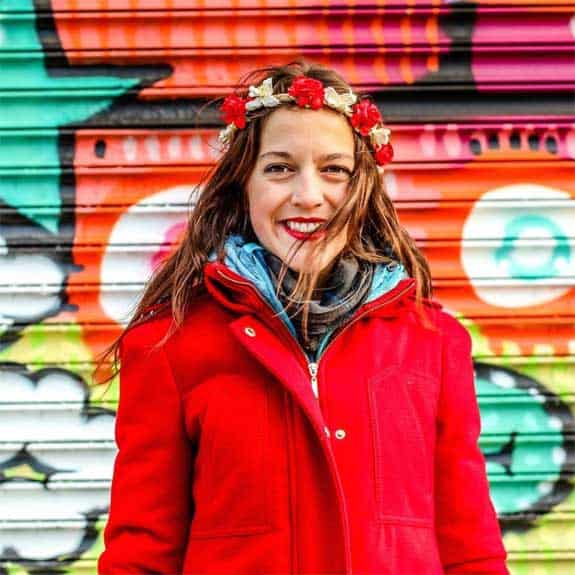 Hi, I'm Jessie on a journey!
I'm a conscious solo traveler on a mission to take you beyond the guidebook to inspire you to live your best life through travel. Come join me!
Want to live your best life through travel?
Subscribe for FREE access to my library of fun blogging worksheets and learn how to get paid to travel more!