8 Secrets To Traveling Madrid On A Budget
Madrid is a great city for travelers who love art and history, enjoy good food and appreciate beautiful architecture. Many also find it relatively inexpensive, especially compared to other capitals in Western Europe. In fact, there are enough free things to do in Madrid to keep you busy for a day or two. You can even feast on free tapas and visit the city's world-class museums without paying entrance fees if you know the tricks.
To help you plan your trip to Madrid on a budget, I've asked eight travel bloggers to share their little-known tips for visiting this fun-loving city. Here's what you need to know.
Bonus:
After you're done exploring Madrid, check out this Spain travel guide on unique things to do in Granada.
1) Have Dinner In Madrid's Chinatown
"As a local in Madrid, my favorite thing to do is to watch the sunset. The best spot is in Debod Temple, very close to the city center. And what would you usually do after watching an amazing sunset? Well, there's getting a good dinner, and after just a few minutes of walking, you can reach Plaza de España. Just go down to the parking lot and you will find a small Chinatown with really tasty and authentic Chinese cuisine. And the best thing is that the restaurant prices are very affordable. You can get a huge dinner for less than 5 Euros each. Definitely a bargain in Madrid."
Ruben Arribas from Gamin Travel (Facebook and Instagram)
2) Grab A Quick Bite From Cien Montaditos
"Cien Montaditos is perfect for the traveler that is trying to stay on budget; or for anyone that likes saving money because you can eat like a king for 5 Euros. On Sundays and Wednesdays, they have this amazing deal where the sandwiches are 1 Euro and large beers are 1.5 Euros. They also have multiple locations throughout the city so it shouldn't be too hard to take advantage of this tasty — but cheap — meal."
Heesun and Sharon from Me Want Travel (Facebook and Instagram)
3) Buy Last-Minute Tickets For Performances
"If you are interested in seeing a performance at Teatro Real — the Madrid Opera House — without the high price tag, do not buy tickets in advance! On the evening of the performance, arrive 1-2 hours early and request a last minute ticket. This can save you 90% provided the show hasn't sold out. My ticket was originally over 200 Euros!"
Teatro Real is one of the most notable landmarks in Madrid and an evening there is one you won't want to miss!
Cali O'Connor from Cali O On The Go (Pinterest and Instagram)
4) Go Clubbing On Thursday Night
"If you are a student, take your student ID everywhere when in Spain. Many attractions give discounts for this. During the day you can chill in beautiful Retiro Park and in the night head straight to Copas Rotas for your 1 Euro drink!
Thursday nights are the best to go clubbing since many don't charge for entrance, like El Son or Star Studio. Entrance fees are usually from 8 to 12 Euro, so you're saving a lot.
Bonus: Spanish people love to dance so you will get a free dancing class during your night out. You will certainly need it after all those tapas and churros!"
Maja from Mexatia (Pinterest and Instagram)
5) Explore El Retiro Park
"Ride the airport bus to city center for 1 Euro. Prado Museum — one of the most influential in the world — has free admission from 6-8pm on Monday-Saturday and 5-7pm on Sunday. Nearby El Retiro Park is a wonderful place to explore before the museum visit. After the museum, it is a short walk to the vibrant downtown."
Charles McCool from McCool Travel (Facebook and Instagram)
6) Visit The Museums In The Afternoon
"Three of the best museums in Europe are in Madrid. The Reina Sofia, Prado, and Thyssen-Bornemisza museums make up the Golden Triangle of Art. Free entry is available at all three! Prado is free for the last two hours of each day (mentioned above). The Reina Sofia likewise is free for the last two hours as well as Sunday afternoons. Thyssen-Bornemisza Museum has free entry from 12:00 – 16:00 on Mondays."
Hayden Albrey from Backpacker Track (Facebook and Instagram)
7) Participate In A Food Tour
"If you are in Madrid, participating in a food tour is a great idea and a good budgetary move for those who are passionate about trying new and local cuisine. This is because not only do you get to sample a lot of food, but you also get a mini walking tour of some of the most popular parts of the city where your guide points out all kinds of restaurants to revisit later at your leisure. For 85 Euros — this is a really good deal for the amount of stops and food tasting that you get to have — you sample everything from appetizers to entrees to drinks and dessert, get a goody-bag for later and also a list of places for budget dining which only locals know about.
I highly recommend the Ultimate Spanish Cuisine Tour by Devour Madrid which also accommodates vegetarians. A food tour will help you save time and get you to all the great food destinations for a set price."
Paroma Chakravarty from Year Of The Monkey (Facebook and Instagram)
8) Go For Free Tapas At A Traditional Spanish Bar
"At first glance, Bar Sidi might look like a run-of-the-mill, old man-style Spanish bar, but it's actually a hot spot in Malasaña, one of Madrid's trendiest neighborhoods. You'll be lucky if the bar isn't filled to capacity if you try to go around midnight on a weekend; Sidi brings in patrons from all age ranges and it's not a surprise why. The free tapas that come with the beer are worth skipping dinner for. Spanish tortilla, jamón, chorizo; you name it, you'll get it for free with your beer. Come with an empty stomach and an unquenchable thirst for beer."
Matt from Hostel Geeks (Facebook and Instagram)
What are your tips for traveling to Madrid on a budget?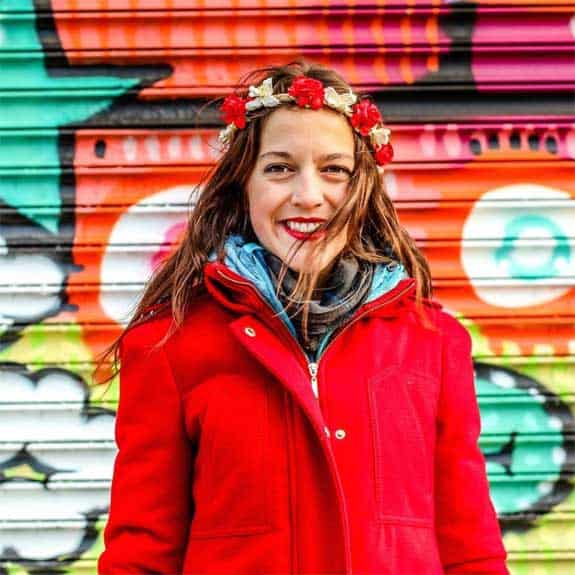 Hi, I'm Jessie on a journey!
I'm a conscious solo traveler on a mission to take you beyond the guidebook to inspire you to live your best life through travel. Come join me!
Want to live your best life through travel?
Subscribe for FREE access to my library of fun blogging worksheets and learn how to get paid to travel more!