How To Discover Yourself & Your Purpose By Connecting With Nature
Interview by Jessie Festa; Photos by Caroline van Hemert
Have you ever felt a desire to discover yourself and your purpose on a deeper level?
While travel and the great outdoors shouldn't be thought of as a cure-all, connecting with nature can have a profound effect on your mental state and help you see more clearly.
In this post — part of the Jessie on a Journey "Inspiring Travelers Series" — Caroline Van Hemert shares some incredible insight into why and how.
Caroline is a scientist, adventurer, and author of the new book The Sun is a Compass, which is based on her 4,000-mile human-powered expedition from Alaska to the Arctic coast.
With her husband Pat, she covered some of the most remote and rugged places remaining on earth by homemade rowboat, ski, foot, raft, and canoe. Sure, Caroline anticipated many of the tremendous physical challenges and dangers — among them, pursuit by bears, near starvation and biblical-sized swarms of mosquitos able to drain a caribou in minutes.
More surprising, though, were the doubts and re-evaluations that came with the journey — about her relationship, her career, motherhood and herself.

In this interview, Caroline will be sharing more about this experience, as well as about how others can also use travel, particularly nature travel, as a way to discover their sense of purpose.
Just a sampling of what you'll learn after digging into this inspiring interview includes:
What goes into planning an epic outdoor adventure
The key to getting started with nature travel
A hack for making your trip real so you don't back out
How to reap the transformational benefits of outdoor travel
And more!
Plus, you'll hear some epic and true adventure stories.
Ready for some serious outdoor travel inspiration? Read on.
Discover Yourself By Connecting With Nature [Video]
Prefer video?
Watch the extended Facebook Live version of the interview above!
By the way, I go live regularly with travelers who have inspiring stories and active travel adventures to share.
For instance, this woman used a Kilimanjaro trekking experience to heal after a divorce, while this female traveler went hiking on the Camino to mend herself after a physical accident left her without full mobility.
If you'd like to get updated on future Facebook Live events, click here to join my email list.
You'll snag my #BeyondTheGuidebook newsletter — full of stories and ideas for having unique travel adventures — as well as updates on fun online and offline events for travelers.
Discover Your Purpose Through Nature Travel [Interview]
1. Thank you so much for taking the time to do this interview. To start, can you give us a little introduction?
I'm a writer, wildlife biologist, and adventurer.
I live in Alaska and have two little boys (ages 3 and 5).
Most of my travels are in the backcountry —skiing, climbing, paddling, or backpacking.
We now make adventure a part of our family life [as you can see on Caroline's website here].
Here is how one #AdventureTravel couple planned + completed a 4,000-mile human-powered expedition from Alaska to the Arctic coast. #ThisIsSustainable
2. People get inspired to make travel a large part of their life for many different reasons. For you, it was the idea that a day job might dim your passions. Can you share what was going through your mind at this time and how you reached your ultimate decision to leave to travel?
I had just finished my Ph.D. in biology feeling very disconnected from the natural world.
Instead of going directly to a career in research, I decided to shift gears and spend six months outdoors exploring the bounds of my own physical and mental limits.
Besides the professional doubts I was facing, several things in my personal life had also pushed me to make a change. My dad had recently been diagnosed with Parkinson's Disease, my younger sister was pregnant, and Pat and I were considering starting a family.
Perhaps as a roundabout way to sort out the uncertainties we faced, we dreamed up a 4,000-mile human-powered adventure in the Alaskan and Canadian wilderness.
It felt like a time in our lives when it was now or never to do something on this scale.
3. The trip you decided to embark on was a six-month, human-powered, 4,000-mile expedition from the Pacific Rainforest to the Arctic Coast with your husband, Pat, covering some extremely rugged and remote places by foot, raft, canoe, and even homemade rowboat! Quite a challenging trip. How did you decide on this trip?
We had always been drawn to outdoor adventure and had spent a decade skiing, climbing, and traveling together. However, we knew that we wanted to set out on the grandest adventure of our lives.
As we started dreaming up our trip, we worked within several parameters:
Human-powered, backcountry (off-road and off-trail), remote wilderness, and as big and ambitious as we could manage.
We shaped the specifics of our route by figuring out ways to link places we wanted to see to those that held special significance in our lives.
This ended up including:
Rowing up the Inside Passage
Crossing the Coast Mountains by ski
Hiking and packrafting through the Yukon and Northwest Territories of Canada to the Arctic Ocean
Traversing the Brooks Mountain Range of northern Alaska
'We'd always been drawn to #OutdoorAdventure...; however, we knew that we wanted to set out on the grandest adventure of our lives.' -Caroline Van Hemert #AdventureTravel #BeyondTheGuidebook
4. What went into planning and preparing for such a remote and rugged adventure?
We spent almost a year preparing — while also working and, for me, finishing up my Ph.D.
To plan for such a long, remote journey, we needed everything organized in advance.
Some of our tasks included:
Packing endless Ziploc bags of dried food
Building rowboats
Poring over maps
Making detailed lists
Weighing our equipment
Researching route specifics
Organizing food drops (mostly through the postal service)
We had to prepare about 1,000 pounds of food resupplies and gear needed to row, ski, packraft, canoe, and hike.
Because of the remote nature of the terrain we would be covering, it was critical that we didn't overlook anything, and yet we planned to travel through many places that had little or no information available.
This meant we had to find a balance between being well-prepared and also eventually taking the leap to go — because if we waited until we felt completely ready, we would never leave.
5. What were some of the challenges you faced on the expedition, both mentally and physically, and how did you overcome them?
We traveled about 20 miles per day on average and we were challenged every day by the physical demands of our route, whether via water or by land.
We transitioned between different modes of transportation, so we needed our bodies to be strong on many fronts, and also avoid accidents and injuries.
Our safety depended on good route choices — since we weren't traveling on trails or previously established routes — as well as careful decision-making.
We were constantly negotiating the weather and other environmental conditions, including storms on the Pacific Coast, heavy rain and snow in the Arctic, and river crossings throughout the trip.
We also had to worry about bears and other wildlife encounters. Being stalked by a predatory black bear was one of the scariest parts of our trip.
The mental component of pushing our physical limits was probably similar to what other endurance athletes experience, though we did this over an extended period — daily for six months.
Each leg of the journey also presented its own challenges.
For example, on the Mackenzie Delta near the Arctic Ocean mosquitoes, while not the biggest physical hazard, affected everything we did, from eating to sleeping to paddling. In the Coast Mountains, avalanche hazards were a major danger to mitigate.
'We had to find a balance between being well-prepared + also eventually taking the leap to go — because if we waited until we felt completely ready, we would never leave.' -Caroline Van Hemert #travel #traveltips
6. What were some of the most rewarding aspects of the expedition?
As a biologist, connecting with the natural world by living in it for six months was essential for rediscovering my own love of science.
The journey instilled a deep sense of wonder, which was what drew me to biology in the first place.
By living by the whims of weather and the environment, I also learned to embrace the uncertainty that is inherent to being human.
The partnership and shared sense of purpose were very rewarding to this experience with my husband, and we came to rely on each other fully.
7. While you expected some of the physical dangers, you hadn't expected the doubts and reevaluations that entered your mind. What was it like unpacking and processing all of these things?
I had expected physical challenges along the way, but the specifics of these were unknown prior to leaving and constantly changing — by the day and sometimes by the minute.
In this sense, the physical experiences provided good training for thoughtful decision making while also coping with the surprises and scares that constantly arise, in adventure and in life.
The balance between letting go and pursuing our passions can be a tricky one — when to push hard, and when to pull back.
Given the constant barrage of information and input, it's increasingly rare to be fully present in the moment.
Surviving in remote and rugged outdoor environments demands such presence and narrowing my focus to what was in front of me helped me to process many of the questions and doubts about what might come next in my life.
I did journal regularly, sometimes as a means to process my thoughts and feelings, but more often as a way to record my observations.
Writing my book, The Sun is a Compass, also helped me to make sense of the experiences and ideas from the trip.
'By living by the whims of weather and the environment, I also learned to embrace the uncertainty that is inherent to being human.' -Caroline Van Hemert #AdventureTravel #EpicAdventures #FindYourPurpose
8. For others who would like to have a similar journey, using nature to discover their sense of purpose as well as the benefits of outdoor adventure, what advice would you give in terms of choosing a trip?
I wouldn't recommend setting out into the Alaskan wilderness to everyone in pursuit of connecting with the natural world.
However, finding something that challenges us — both physically and mentally — can certainly be a great mechanism for personal growth.
Starting small but dreaming big seems like a good way to hone in on one's passions.
In particular, being outdoors is a sure way to discover both humility and grace, especially if we take the time to observe.
I often look to birds and other wildlife for inspiration — any endurance feat we can dream up as humans has been done ten times over by birds!
9. In terms of getting in the mindset for a major transformation through travel, how can someone mentally prepare to both face all of the thoughts that will come into their mind as well as use them to have a transformation (vs brushing them off)?
I don't think mentally preparing for specific thoughts or experiences is nearly as important as embracing the idea of uncertainty — which is admittedly hard to do!
We can't know in advance what aspects of a journey will move us, or what might happen along the way. It's often terrifying to step out of our comfort zones and to take the leap of faith necessary when trying something new.
However, accepting the fact that being overwhelmed is a natural part of the process can make those feelings more manageable.
Often, the most important transformative moments come about only after everything has gone wrong.
'Often, the most important transformative moments come about only after everything has gone wrong.' -Caroline Van Hemert #TransformativeTravel #AdventureTravel #EpicAdventures
10. What advice would you give to others who are considering hitting pause on their career or quitting their day job to travel, but are afraid to take the leap?
I've never regretting taking a trip, only not taking a trip.
Leaving is undoubtedly the hardest part!
I've found that the first step in "breaking free" comes about when I tell others about my plans.
It doesn't have to be in detail, but simply articulating one's intentions somehow makes it all seem more real.
Commitments to jobs, family, and community are not trivial factors, but often there is more support and encouragement than we might expect.
However, in the end, it's important to keep in mind that certain sacrifices are necessary to pursue less conventional pursuits.
And, and least in my life, these have been well worth the rewards of new experiences and discoveries.
Have you ever used connecting with nature to discover yourself and your purpose?
ENJOYED THIS POST? PIN IT FOR LATER!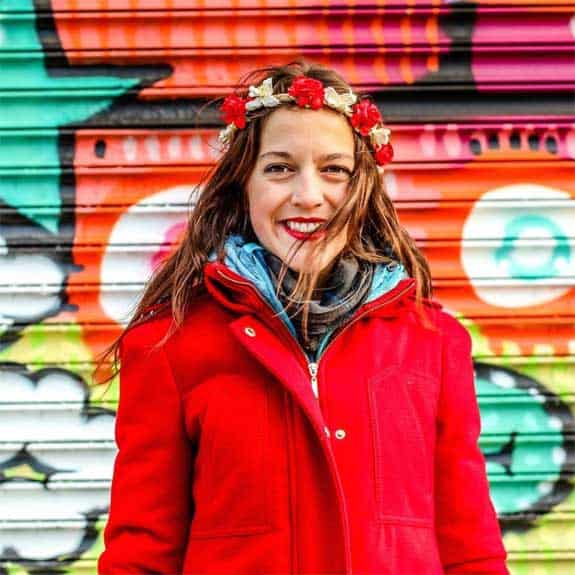 Hi, I'm Jessie on a journey!
I'm a conscious solo traveler on a mission to take you beyond the guidebook to inspire you to live your best life through travel. Come join me!
Want to live your best life through travel?
Subscribe for FREE access to my library of fun blogging worksheets and learn how to get paid to travel more!