Why Guatemala Should Be Your Next Trip
Despite warnings of violent crime and terrifying conditions, I booked a trip to Guatemala — and loved it!
Not only did I find the country to be safe for travel, but also full of memorable experiences and natural beauty that could be explored on a budget.
Want to know more?
In this Guatemala travel guide, I share 10 reasons why this incredible country should be your next trip.
1. It's Safer Than You Think
Obviously, this will depend on where you go — Guatemala City, in particular, is avoided by most tourists due to its high rate of violent crime; however, traveling through areas like Lake Atitlan, Antigua, Tikal, and the Earth Lodge allow for a memorable Guatemalan experience without the worry.
Of course, no matter where you go in the world you should always exercise caution.
For some ideas, check out 17 Safety Tips for Solo Travelers (much of this is also applicable for non-solo travelers, as well).
2. It's Affordable
For most western travelers, Guatemala's exchange rate allows for an extremely budget-friendly vacation.
Think dinner and a beer for about $6, hostel dorms from $3, private rooms for $13, and popular adventure travel tours like hiking India's Nose and Pacaya Volcano for $13 including transportation and guide.
Even if you splurge for a hotel for $20-$30 a night you'll typically also receive free breakfast, wifi, and drinking water, as well.
3. The Food
Barbecued meats, hearty dips, freshly-made tortillas, and Mayan staples like chilies, corn, and beans are the focus of Guatemalan cuisine.
While for the most part, the whole country is budget-friendly, one tip is to look for restaurants offering set menus where you can have soup, meat, rice, vegetables, and guacamole for about $4.
The national dish is Pepian, a hearty stew with slow-cooked meats, vegetables, and chunks of potatoes accompanied with a side of rice.
No matter what you order, make sure to pair it with a local Gallo beer or Quetzelteca rum (or Zacapa if you want to splurge!).
4. The Hiking
No Central America travel guide would be complete without mentioning the local trails which, in my opinion, are some of the best hikes in the world!
With a landscape dominated by volcanoes and mountains, there's no shortage of scenic and challenging hikes to enjoy.
My favorite trekking experience in Guatemala was a sunrise hike up Indian's Nose from San Pedro.
The steep uphill 45-minute hike — and the early 4am meeting time — is worth the effort as you sit above a blanket of clouds hovering over the emerald-green Lake Atitlan, watching hot pinks, oranges, yellows, and purples streaking the sky and mixing with black clouds over San Pedro Volcano.
5. The Views
Whether you're driving down the highway or lounging at Zoola's pool on Lake Atitlan Guatemala has no shortage of striking natural views.
My favorite view was from the treehouse of the above-mentioned Earth Lodge, where from my comfortable bed and private patio hammock I enjoyed clear aerial views of Ciudad Viejo, Hocatanengo Village, and the volcanoes of Agua, Acatango and the active Fuego.
Gliding vultures that appear close enough to touch enhance the visual.
6. The Locals
For the most part, Guatemalans — especially in areas where tourism is the bread and butter of the economy — are very friendly and receptive to visitors.
This allows you to not just interact with locals and get to know the culture, but also practice your Spanish. Thankfully, this is one of the easiest languages to learn for English speakers.
Tip:
Guatemala is full of language schools, and you might want to consider taking a course during your trip.
7. Budget-Friendly Holistic Offerings
Guatemala seems to attract a very hippie-style traveler, and you'll find many lodges and venues offering yoga, delicious vegan meals, permaculture classes, massages, and other holistic wellness travel offerings for very cheap.
My personal favorite holistic offering was staying at the secluded Earth Lodge near Antigua, located up in the mountains and not accessible by car.
Their most expensive accommodation is the Treehouse for $35 a night, totally worth the splurge to wake up to unobstructed views of the surrounding volcanoes.
The property is located on a farm, and meals incorporate ingredients sourced onsite and from the market in Antigua.
Enjoy complimentary morning yoga, a dry sauna, sports offerings like badminton and volleyball, scenic hiking and just lounging in hammocks with a Guatemalan Gallo beer and enjoying the natural beauty around you.
8. The Chocolate
Guatemala is one of the world's richest cocoa-growing countries. In fact, chocolate is said to have originated in Guatemala, used by the Mayans who worshiped the cacao tree and called chocolate the "food of the gods."
While you can find chocolate all over Guatemala, Antigua is particularly interesting for chocoholics.
Not only are there chocolate shops on every corner, but this is where you'll find the ChocoMuseo, a museum, and cafe offering free samples of fine chocolate, chocolate-making classes, chocolate fondues and drinks, and interesting displays talking about the history and culture of chocolate in Guatemala.
9. The Coffee
Coffee production in Guatemala began in the 1850s, and today the country is one of the world's leading coffee producers.
In order to keep quality high, Anacafe (Asociacion Nacional del Cafe) was established to represent all of Guatemala's coffee producers.
The group helped establish the eight different coffee zones in the country and its "Rainbow of Choices."
No matter where you are in Guatemala spend some time in a local cafe people watching and sipping this elite java, or book a coffee plantation tour to learn more about the crop firsthand.
10. The Beauty Of Antigua
Forget for a second that Antigua is overrun with tourists and language students and think about the bigger picture.
You'll walk down cobbled streets, weaving in and out of weathered colonial buildings in pinks, purples, blues, greens, yellows — some with a rainbow speckled exterior.
Relaxed plazas and parks abound, as do dramatic arched structures, ruins, and cathedrals. Here you'll find more trendy restaurants, bars, and cafes than in other places, and tourist attractions like the ChocoMuseo, Catedral de Santiago, and free salsa lessons every day at 5pm at Salsa con Gloria y Moi Dance Academy enhance the experience.
Bonus:
Antigua's location near numerous volcanoes — some of which include Agua, Acatenango, Fuego, and Pacaya — allows for some adventurous day trips.
What are your favorite things about Guatemala travel?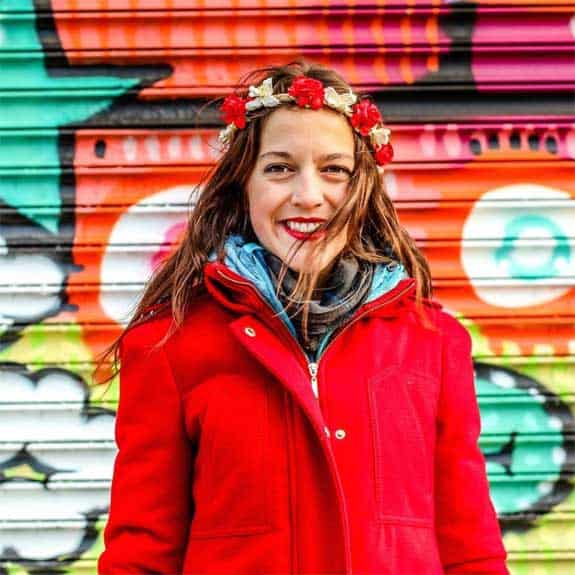 Hi, I'm Jessie on a journey!
I'm a conscious solo traveler on a mission to take you beyond the guidebook to inspire you to live your best life through travel. Come join me!
Want to live your best life through travel?
Subscribe for FREE access to my library of fun blogging worksheets and learn how to get paid to travel more!