The Fear Of Flying Treatment That Cured One Traveler's Aviophobia
If you suffer from aviophobia — as in, a phobia of flight — you've probably looked for a fear of flying treatment or strategies to help lessen the anxiety. Intrepid traveler Sarah Gallo, who runs the blog
The Five Foot Traveler
, used to feel this way. That is until she found a way to cure the extreme fear that held her back for so long. If you're looking for inspiring fear of flying stories with a happy ending, you won't want to miss this, as Sarah has now traveled to 114 countries across all seven continents! In this interview, which is part of my
Inspiring Travelers
series
, Sarah shares her own fear of flying story as well as the treatment that ultimately cured her aviophobia when nothing else worked.
But first…
If you love unique trips and heartfelt travel stories, then I invite you to sign up for my #BeyondTheGuidebook Newsletter and join the community:
The Fear Of Flying Treatment That Cured One Traveler's Aviophobia [Video]
Prefer video? Watch my interview with Sarah above! She not only shares her incredible story, but also natural remedies for flying anxiety and tips for how to overcome aviophobia. Alternatively, you can read the written interview below.
How I Overcame My Fear Of Flying
1) There are many fears of varying intensities that may keep people who want to travel from actually booking a trip. For you, it was a debilitating fear of flying. When did this fear begin?
My fear of flying began shortly after September 11th. I was nine years old at the time and we were on the tarmac, eagerly awaiting our family
trip to Mexico
. I had always loved flying as a kid, but that day we had the bumpiest takeoff of my life (to date). An adult I knew on the plane panicked and was visibly frightened, and that stuck with me because I was young and impressionable. Even though as I grew up I knew it was irrational, I couldn't control the intense fear.
2) For some people with a phobia, they may just deal with it and live with it. What was it about travel that made you want to put in the work to cure your fear of flying?
From a very young age, I loved the thrill of travel — even though, at the time, we just went to all-inclusive resorts as a family. I found the idea of new people, places, and cultures to be exciting and intriguing, and I loved the different food and activities to which I was exposed. But once I developed aviophobia, my love for travel dissipated. I dreaded having to fly for those family trips and used to ask if we could drive or take a boat to our destinations (which was always met with a hard "no" from my family). It wasn't until I was at University and wanted to study abroad to escape my terrible freshman-year roommates that I realized I simply had to overcome my fear of flying.
3) We spoke about hypnotherapy as being the fear of flying therapy that eventually help you, but before we discuss that I'm curious what other strategies you tried to overcome your fear of flying and how these may have helped or not helped.
Gosh, I tried just about everything! The thing about a phobia is that you know it's irrational, but you still can't shake the vice-like grip it has on you. I learned all of the stats about planes being safer than cars, spoke with pilots, spoke to doctors, tried deep breathing exercises, attempted to lose myself in music, and nothing helped. Ultimately, I was only able to fly with a high dose of (prescribed) Xanax and, even then, I would still get a major panic attack until we were up in the air, before I was calm enough for the Xanax to even kick in.
4) Ultimately it was hypnotherapy that helped you get over your extreme fear of flying. What is hypnotherapy and what is the experience like?
I'll start by saying that I was very anti-hypnotherapy before I began my sessions. I'd hit the point where I had done everything I could, and my mother pretty much dragged me into the office since she knew that I wanted to travel. She figured it was one last thing to try, and, after all, what did I have to lose? I didn't believe that it would work, but I sure was wrong. The best way to explain hypnotherapy is that you are bypassing the conscious mind and accessing the subconscious mind, which allows you to find the root cause of the fear and heal it. I know, it sounds crazy…. But it works! The experience was gentle and not at all what I thought it'd be like — nothing like a zombie and definitely not "going under." I remember every moment of each session and was very present during the entire therapy. If someone is looking for natural remedies for flight anxiety or natural remedies for fear of flying, hypnotherapy can be a great option.
5) What was your first flight experience like after using hypnotherapy as a therapy for your fear of flying?
My first flight was from New York to Ixtapa, Mexico, the week after I finished three hypnotherapy sessions! I was a bit anxious leading up to my trip because I didn't "feel" any different, but I knew I was prepared. For the first time in 10 years, I didn't take a Xanax on my flight… and I didn't have a panic attack! I haven't had a panic attack on a flight since overcoming my fear of flying via hypnotherapy.
6) Do you have any rituals or strategies for making flights a more relaxing experience, particularly for those who feel anxious in the air?
I still find that I like having a distraction, so I'm one of those people that needs to be listening to music or watching a movie with noise-canceling headphones. Anything that takes my mind off the physical act of flying helps. If I get really tense, I find "drawing" small counter-clockwise circles on my legs or cross-body tapping to be very calming. For those who like to
sleep on the plane
or who feel anxious when flying, these practices can be very helpful.
7) What advice would you give to someone who wants to travel, but hasn't been able to due to a fear of airplanes or from feeling anxious about flying — or even something else?
If it's due to a fear of flying, I recommend seeking help or finding a flight phobia treatment. I genuinely thought I was all out of ideas and ready to give up until I agreed to give hypnotherapy a try. That one decision to not allow myself to be controlled by my fear ended up changing my life. If you're unable to travel for other reasons, change up your perspective at home by
having a relaxing staycation
or
exploring your city as a tourist
. Go on an adventure to discover parts of your city or town that you hadn't previously noticed and try to see it in a new light. Personally, I've come to appreciate my little town so much more now since I started my travels. Or if you have a car, go on a short road trip. One of my favorite ways to explore is via road trip, as you can stumble upon so many hidden gems!
8) How has your life changed since overcoming your fear of flying?
My life has done a complete 180! I always imagined myself with a high-level PR or Publicity job in New York City; never did I imagine that I'd run my own
remote business
and have clients all over the world. It has given me the freedom to work wherever and whenever I'd like while allowing me to do what I truly love: Meet new people, experience new cultures, and discover new destinations. If you had told me back in high school that I'd go on to visit over 100 different countries across all seven continents while running my own business, I would've burst out laughing. Yet, somehow that became my reality and for that, I'm truly grateful.
9) When it comes to travel, what is your "why"?
I grew up in a rural, not particularly diverse community, so I always had this desire to get outside of my little bubble in Connecticut and experience the world firsthand. Turns out, I fell in love with it. I always loved history, so I found it fascinating to discover places that I'd previously only read about in textbooks or seen on TV. Additionally, I loved being exposed to new people and cultures and
connecting with locals while traveling
. I especially love sitting down to meals with locals while experiencing new cuisines for the first time. At the end of the day, travel provides me with a sense of gratitude and the ability to keep life's ups and downs in perspective. And that's something that I will cherish forever.
10) You mentioned that since overcoming your fear of flying you've explored 114 countries across all seven continents. Can you share one of your most memorable travel experiences and why it was so special?
If I had to choose just one, it'd be the month-long road trip through New Zealand with my brother back in 2016. It was a dream destination for both of us, so to share it with someone I love made it extra special. And to see his joy while
experiencing New Zealand
is something that I will never forget. We did everything from summiting mountains and volcanoes to bungy jumping together. But, crazy enough, we were in New Zealand exactly five years after overcoming my fear of flying! I always told myself growing up that the only way I'd ever skydive was if I was in New Zealand; when I was younger, that seemed like as far away from home as it got (and, as it turns out, it pretty much is!) so I thought that naming New Zealand would get me out of ever having to jump out of a plane. Fast-forward to our road trip, and I knew that I'd kick myself if I didn't skydive in New Zealand like I'd always said. Plus, it turns out that, as luck would have it, we scheduled our skydive for the exact anniversary — to the day — that I overcame my fear of flying. And, as you can probably guess,
I celebrated by jumping out of an airplane
!
Do you have any additional tips for facing a fear of flying?
Or even on how to enjoy flying?
Enjoyed this post on overcoming a fear of flying? Pin it for later!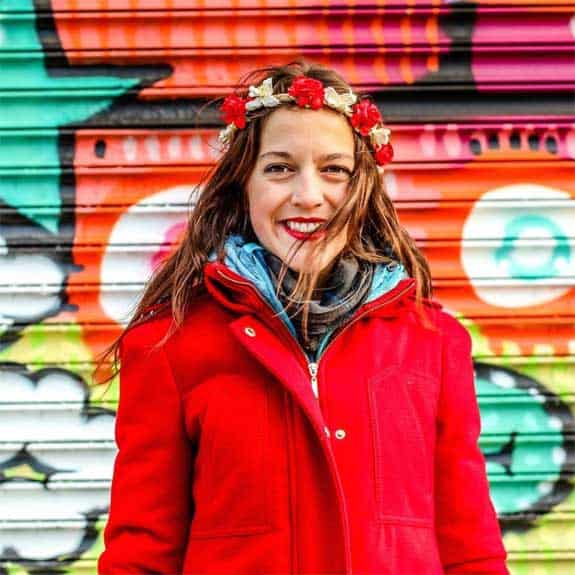 Hi, I'm Jessie on a journey!
I'm a conscious solo traveler on a mission to take you beyond the guidebook to inspire you to live your best life through travel. Come join me!
Want to live your best life through travel?
Subscribe for FREE access to my library of fun blogging worksheets and learn how to get paid to travel more!