How Traveling Can Help When Coping With Loss

By Michele Herrmann, Jessie on a Journey Contributor.
This post is part of Jessie on a Journey's Inspiring Travelers series.
If you follow the picturesque Instagrams of travel writers and influencers, it's easy to assume that their lives are sheer perfection; however, that's not usually the case. Megan Snedden, a traveling storyteller whose words and photos have appeared in publications like BBC, USA Today and National Geographic Traveler, lost her father in a plane crash six years ago.
Naturally, this unexpected tragedy hit extremely hard. A year after his passing and taking care of family responsibilities, Megan went on the road to further reflect upon and process this grief.
Now she helps people who've gone through loss rediscover their zest for life through play and adventure on her namesake blog. Jessie on a Journey spoke with Megan to discover how traveling can help individuals coping with loss, and how to channel grief into something positive.
1) I'm sorry to learn about the loss of your father, and really admire your decision to take a round-the-world trip as a way of reflection and coping with loss. Why did you feel this choice was best for you, at the time?
I enjoy sharing my personal story because I like connecting the dots between the power which travel has to heal grief and adversity.
Diving right in, six years ago my dad died unexpectedly in a plane crash. I was already an avid traveler when it happened, but seeing someone close to me go in such a way definitely rocked me to the core, especially since I fly so much.
I've worked hard to process the trauma and loss, much of which I did on the road. A year after he passed, I did a round-the-world trip to set my soul free for a while (after having to return to my hometown to run his construction business then going back to New York City to continue my journalism career).
It's quite the journey, but I have a lot to share with people about the dynamics of making it through a really tough loss, continuing to do what you love no matter the circumstances, and the benefits of travel for the heart and soul.
2) In hindsight, would you have made the same decision?
There's nothing more revitalizing for the soul than stepping out of your reality and into another, and travel is really how you do that. At that time of my life, it wasn't just the loss that had hit me so hard; it was everything. I was trying to cope with a new family dynamic at the same time as grieving, running the construction project my dad left behind, and trying to build my journalism career in New York City.
In order to feel revived, I needed time away from my own circumstance to experience the great things that travel brings to my life: a sense of wonderment, excitement, joy, play, awe, discovery, change, authentic connection, and above all, hope. It might sound silly, but standing barefoot in a quiet forest anywhere in the world, or sharing a laugh with six people from different countries in a cheap hostel living room really does wonders for your emotional recovery.
I definitely would have made the same decision, and anytime these days I need a time out to contemplate things, I travel.
3) Where did your round-the-world journey take you? What experiences did you have and what did you learn along the way?
On this particular trip, I visited the United Arab Emirates and spent over a month in India. Then, I got a Work and Holiday Visa to live in Sydney, Australia for a year and travel around the country. I capped it off with visits to Fiji, Thailand, Malaysia, and two months living in Ubud, Bali before coming home.
I'll never forget this moment in Delhi, India when I met a boy living in a slum who had been hit by a car and was told he'd spend the rest of his life paralyzed. He was lying in a wooden wheelbarrow padded with cardboard unable to move his legs. We didn't exchange words, but that didn't matter. When I took his hand in mine, we held eyes for what felt like ten minutes without saying anything and yet saying everything. I could feel his heart beat against my palm, and everything in me wanted to cry because he was so young and yet we were each so powerless against the odds of the earth that created what had happened to him.
I walked away feeling what was his pain, my pain; his sorrow, my sorrow; the despair of wanting things to be different. It's when I learned to embrace contradiction, that I could be happy he was so loved and supported and cared for by his community, yet so sad knowing that he deserved more. Through it all, I hated my own pain, but I fell in love with it the moment when I realized it helped me relate to others on a really deep level.
Months later I found out the boy regained sensation in his legs, and he was able to walk again.
4) From your perspective, how do you think traveling in this manner or as a way of coping with loss can help an individual? What would be your response to those who disagree with and/or question it?
Losing someone I loved as much as my father and seeing him go out in such a sudden and traumatic way made me wonder what the point of this whole living thing was. Getting out of my day-to-day routine and into the world where I could meet other people and get an inside look into their lives and values really helped put things into perspective for me.
The feeling of freedom out on the road really helped me to also let go of needing there to be concrete answers to everything, which I think can serve just about anyone. It can help lead you to acceptance.
The most critical feedback I received from people who didn't understand was, "you're just running from something." I wanted to pat them on the head because I knew they just didn't understand. It can be hard for other people to fully get why you're doing something, so if they argue your intentions it's because they're reacting from their own life experience. If anyone criticized me, I'd usually give him or her a quiet nod for loving me enough to care about my future, but also release my attachment to his or her judgment.
5) Have you met others who have done a trip for similar reasons?
I wouldn't say "similar reasons" necessarily because everyone's story is unique, but while traveling I often meet the most pensive, incredible people who were out there to make sense of something. There were so many people with different forms of struggle, yet that inevitable human element bonded us in a unique and loving way: compassion. I've never been so held in regard, as I've been held by travelers I hardly know who wanted the best for me and for themselves.
6) What advice would you give to someone who is considering traveling, possibly due to similar circumstances?
Stop considering it and just go. If you are lost in your pain, this is your permission slip to stop trying to make things perfect or cover it all up to make other people happy by pretending you've gotten over it and have moved on. Escape for a little while to let your soul rest, play and cry. You might think that this is the end, when really it's the beginning and setting out on an epic voyage really is the ultimate kick off party to your new life. And besides, don't you want to be that person who goes to the grave saying, "I turned gut-wrenching pain into a trip to the Great Barrier Reef and it was awesome?"
7) How is travel a part of your life nowadays?
I still do travel writing and photography, in addition to travel public relations. I'm really excited to be planning a trip back to Argentina next year for my friend's wedding. I met her in Buenos Aires ages ago, and we've been homies ever since. You make the best friends while traveling, and it's really a bond you shouldn't miss out on.
Have you used travel as a method for coping with loss?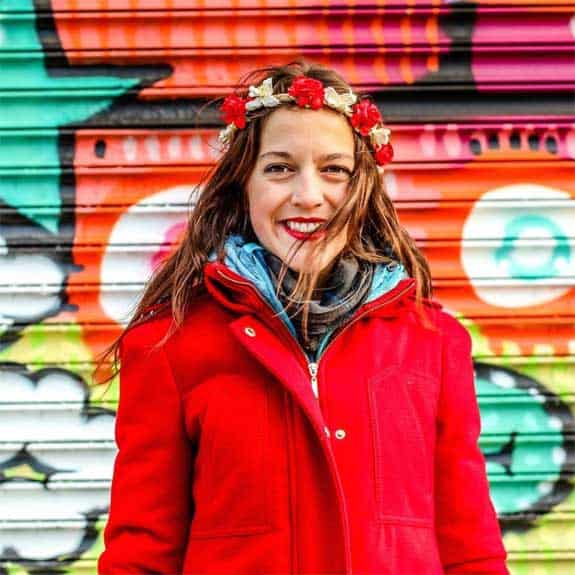 Hi, I'm Jessie on a journey!
I'm a conscious solo traveler on a mission to take you beyond the guidebook to inspire you to live your best life through travel. Come join me!
Want to live your best life through travel?
Subscribe for FREE access to my library of fun blogging worksheets and learn how to get paid to travel more!