Copenhagen Solo Travel: Have A Fun & Safe Time Traveling Alone
By Josephine Remo. This guide to traveling solo in Copenhagen contains affiliate links to trusted partners!
Looking to experience Copenhagen solo travel for yourself, but need help with the planning?
Then you're in the right place!
Consistently ranked as one of the world's safest, happiest, and most liveable cities, Copenhagen is an incredible place to travel solo.
The city is also famous for its food scene and is home to world-renowned restaurants like Noma and Geranium — both of which are World's 50 Best Restaurants winners.
Additionally, as the world's oldest monarchy, Denmark is a country full of history and culture, and its capital city of Copenhagen is the perfect place to explore both.
With so much to do and see, it can be tricky to plan. Luckily, I've outlined the perfect Copenhagen solo trip itinerary — including tips on how to stay safe and have a memorable time.
⏳ Short on time? Here are some quick tips for traveling solo in Copenhagen:

✈️ Airport Transfer: Book here

💸 Save Money: A Copenhagen Card includes free admission to 89+ attractions and activities

🎉 Experiences: There are many fun guided tours in Copenhagen – like a 3-Hour Culinary Bike Tour and a Classic Canal Tour With Live Guide. You can click here for a full list of Copenhagen tours.

🏨 Accommodation: This accommodation map showcases hotels and vacation rentals with pricing in the popular København neighborhood – though you can easily change this to your preferred location.

☔ Safety: While Copenhagen is safe for solo travel, it's still smart to pack travel safety essentials. One top pick is the She's Birdie Personal Safety Alarm, which is TSA-approved and can help scare away potential attackers. Other recommendations include Clever Travel Companion Pickpocket-Proof Garments and Speakeasy Travel Supply Hidden Pocket Scarves.

🏥 Travel Insurance: SafetyWing

📞 Staying Connected: Airalo eSIM
Confidently Enjoy Solo Travel In Copenhagen [Free Course]
Before we discuss how to have an amazing trip traveling to Copenhagen alone, here is an invite to grab a seat in Jessie's free Savvy Solo Traveler E-Course.
The 6-day course is designed to help you feel confident about booking your first solo trip and exploring the world alone.
Lessons include:
Common solo travel fears and how to overcome them
How to choose your perfect solo trip
How to tell loved ones you're going to travel solo
Mentally preparing for your solo journey without losing your mind
Essential steps for staying safe on a solo trip
How to take amazing solo selfies
Tips for taking amazing solo selfies
Once you've grabbed your seat, read on to dive into our solo travel guide on visiting Copenhagen.
Copenhagen Solo Travel: Is It Worth It?
Let's kick off our Copenhagen travel guide by answering this important question.
When people think of Copenhagen, they often picture the famous Little Mermaid Statue, the fun-filled Tivoli Gardens Amusement Park, and happy locals riding bikes. And while Copenhagen is all that, it is also so much more.
Copenhagen has gotten a reputation as one of the best cities in Europe thanks to its food scene, safety, and endless activities. For this, the city attracts thousands of travelers each year that wish to enjoy all the greatness that Copenhagen has to offer.
As a solo female traveler, there are plenty of unique experiences, theme parks, fun tours, and local areas to explore for several days. You truly will never feel like you're bored here!
Is Copenhagen Safe For Solo Female Travelers?
In 2021, Copenhagen was named the safest city in the world by the Economist's Safe City Index. This is because of the low crime rate and general trust amongst the Danish people.
Copenhagen is a very safe city in general and solo female travelers can visit without much worry.
Of course, even though Copenhagen is a safe travel destination, it's always smart to exercise caution. For instance, it is advised to travel with an anti-theft travel purse for ease of mind and to avoid petty crime.
Additionally, as you would in any destination, it's important to use common sense and be wary of your surroundings. Walking alone at night during the week and in the outer parts of the city should be done with caution. This is because there are fewer people around and most places close early during weeknights.
Finally, travelers should always keep an eye on their belongings in crowded spaces and on public transportation during rush hour.
If enjoying an evening out, be mindful of the amount of alcohol you consume and keep an eye on your glass.
Keep these tips in mind during Copenhagen solo travel and you'll most likely have no issues.
Where Is Copenhagen?
Copenhagen is Denmark's capital city and is located on the east coast of the most populated island of Zealand.
While Denmark is mainly a peninsula that sits at the top of Germany, called Jutland, the mainland is a large area mostly occupied by farms and beautiful open spaces.
The whole of Denmark consists of the mainland and more than a thousand islands. Of these, Zealand is the largest and most populated, as well as where the famous Scandinavian capital can be found.
Copenhagen Travel Map
To help give you a lay of the land for your Copenhagen solo travel adventure, here is a map:
It has some of the main points of interest mentioned in this Copenhagen solo female travel guide pre-plotted to make it easy for you to transfer to your phone and start exploring.
Best Time To Visit Copenhagen
As a Scandinavian city and nordic location, Copenhagen has colder weather, rain, and a lack of sunlight in the months from October through March.
Because of this, it's best to visit Copenhagen in the spring and summer season that runs from April through August, though September can also bring late summer heat waves and beautiful days.
During these months, travelers can experience true Scandinavian magic where the daylight hours seem endless. Expect the sun to rise around 4am and set at 10pm during peak summer.
Copenhagen is a beautiful place to visit during the warmer season as the city comes to life. Locals have been waiting during the colder and darker months for the sunlight, and enjoy the outdoors on every occasion.
During this time, the city is full of locals and travelers enjoying the outside by the swimming docks, dining at pop-up bars and restaurants, or attending seasonal events — like the Copenhagen Jazz Festival, Copenhagen Cooking & Food Festival, and Summer in the City Festival.
However, for those who don't mind the colder weather, Copenhagen can be visited outside of high season — with some main benefits being lower prices on accommodations and smaller crowds.
Getting To Copenhagen
The easiest and fastest way to get to Copenhagen is to arrive by plane at Copenhagen Airport and later take the metro into the city.
Copenhagen's city center is only 15 minutes from the airport and is reached by one direct metro line. Since there is only one, it is impossible to go wrong.
Alternatively, the city can be reached by regional train. Here you only have to make sure you take the train in the right direction towards the city. Otherwise, you will unwillingly pay a visit to Sweden since the bridge crossing the ocean to the country on the other side is right next to the airport.
While not a fatal mistake, it does cost quite a bit extra.
Finally, taxis are available right outside the airport and take around 30 minutes to the city center. Just note that taxis are pricey in Copenhagen and take longer — especially during rush hour.
Getting Around Copenhagen As A Solo Traveler
Biking around Copenhagen
The best way to get around in Copenhagen is to do like the locals and grab a bike.
There are several rental services in the city, though my personal recommendation is Swapfiets for multi-day trips or Copenhagen City Bike (Bycyklen) for shorter trips. The latter is a service any traveler can enjoy for just a few hours where these electric white bikes can be picked up and parked at various locations all over the city.
When riding a bike in Copenhagen, it is very important to follow the bike rules and lanes. Biking is the main form of transportation for locals in the city — and people ride fast! The rules are taken very seriously and doing something wrong can hurt yourself and others.
Always stick to the right side of the road, indicate with a hand when turning, look over your shoulder for orientation, and hold up a flat hand to indicate that you are stopping. Never block bike lanes and remember that hundreds of bikes are probably right behind you.
Finally, riding a bike is a fun way to see the city when traveling to Copenhagen alone, and you'll be able to enjoy it just like the locals do.
Public transportation in Copenhagen
For those not comfortable riding a bike, the metro provides a great alternative. In 2020, Copenhagen was enriched with the Cityring Metro line that connects the city. This makes it exceptionally easy to get around in no time.
The metro is new, well-lit, and has video surveillance. It is a safe and easy way for solo female travelers to Copenhagen to get around, even at night.
In terms of saving money, one of the best travel tips I can offer is to get a Rejsekort card from one of the ticket machines. It costs 80kr to purchase and you then refill it.
While public transportation is not cheap, this card gives you a discount each time you travel, so it's wise to get it if you know you'll be using public transportation more than 10 times during your solo trip to Copenhagen.
Walking around Copenhagen
Lastly, another great way to travel Copenhagen is by walking. In fact, it's a very walkable city, as it's compact with many parks and lakes to enjoy along with beautiful architecture.
Most scenic areas and Copenhagen attractions are within walking distance and can be reached in less than 30 minutes on foot.
Additionally, you'll find people walking around the city every day, and it is very safe to do so — though do keep an eye out when crossing bike lanes and roads.
Female solo travelers should also be careful walking late at night in areas further outside of the city center.
Where To Stay In Copenhagen When Traveling Solo
The best area to stay when traveling solo in Copenhagen is the entire space within the Cityring Metro stops. These tourist areas include:
København K (City center)
København V (Vesterbro)
København N (Nørrebro)
København Ø (Østerbro)
Frederiksberg
København S (Sydhavn)
What makes these areas so great for solo travelers to Copenhagen is that they're all pretty, well-populated, and within a short distance to top attractions and activities.
Every part of the city outside of the Cityring Metro is further away and less connected to the main areas of Copenhagen.
Click here for a full list of hotels in Copenhagen.
Prefer self-contained stays?
Click here for a full list of vacation rentals in Copenhagen, or view the map below. It's currently set to København, but you can easily change the neighborhood to your own destination:
Top 10 Things To Do Alone In Copenhagen
Here are some of the top places to visit when enjoying Copenhagen solo travel. Note that many of these attractions are included with a Copenhagen Card purchase.
1. Visit the National Museum
Here you can learn about the history of Denmark — which is a great way to begin your solo travels in Copenhagen.
Gain a better understanding of the destination as you learn about the vikings, dive into Danish Prehistory, see their famous ethnographic exhibition, and gain an understanding of the past events that have shaped the country.
2. Spend a day at Bakken Amusement Park (Dyrehavsbakken)
Did you know Copenhagen is home to the oldest amusement park in the world? Opened in 1583, Bakken retains its classic amusement park vibe — and is even home to 32 rides, including an 82-year-old wooden roller coaster that is a must-have experience.
Solo travelers on a budget will be happy to know it's free to enter and you only pay for the rides you go on and the games you play.
Even if you decide to skip the rollercoasters, you can wander around to enjoy the nostalgia, one of the many performances (which are free when they're outdoors), and some tasty food from any of the 26 onsite eateries.
3. Enjoy the many Copenhagen attractions within Tivoli Gardens
Also one of the oldest amusement parks in the world, Tivoli Gardens dates back to 1843 and is perfect for solo travelers to Copenhagen who want a fairytale experience.
In fact, both Hans Christian Andersen and Walt Disney found inspiration here for their fairytales and amusement parks (respectively).
Ride a few rollercoasters, wander through a haunted house, listen to live music in the grass, or wander the stunning onsite gardens.
The oldest and most popular ride is the wooden rollercoaster. Dating back to 1914, it's one of only seven rollercoasters in the world that have a driver, or brakeman, aboard every train.
Click here to view your ticket options — including an unlimited ride ticket that can help make this bucket list experience even more fun and budget-friendly.
4. Explore 400 years of royal history at Rosenborg Castle (Rosenborg Slot)
This Danish palace was built in the early 17th century as a summer home for King Christian IV.
Today, Rosenborg Castle functions as a museum and showcases opulent heirlooms and artifacts from royal Danish history from the late 16th to 19th centuries. It's also home to the Danish crown jewels!
5. Check out the view from the Round Tower (Rundetårn)
One highlight of solo travel to Copenhagen is the beauty of the city.
And for an epic view over Copenhagen, head to the top of this 17th century tower and observatory.
The Round Tower is actually the oldest functioning observatory in Europe, and from the top you can take in a vista over the the old part of Copenhagen.
6. Enjoy Renaissance beauty on a day trip to Kronborg Castle (Kronborg Slot)
This UNESCO World Heritage Site in Elsinore is renowned for being one of Northern Europe's most jaw-dropping Renaissance castles — though literary lovers likely know it as the setting of Shakespeare's Hamlet, a fun history that can be explored through a Kings, Castles & Countryside Tour through Hamlet´s North Sealand excursion.
While at Kronborg Castle, tour the castle and its many rooms, spend time in the beautiful chapel, wander the underground casemates, and take in stunning sea views. This attraction will undoubtedly be a highlight of your solo trip to Copenhagen!
7. Explore the Open Air Museum (Frilandsmuseet)
The Open Air Museum is an interactive attraction is for solo travelers to Copenhagen who love history and want to explore Danish culture and traditions from 1650 to 1940.
Dating back to 1897, this living museum is set in the countryside of Lyngby, just 30 minutes outside of the city.
Once there, you'll be transported back in time as you meet people from the past and explore their historic homes, farms, and gardens. Actually, there are 50 buildings that have been dismantled and transported from different areas of Denmark and reassembled at the museum.
You'll also enjoy animals like horses and sheep, guided tours, and rotating events like live music and craftsman workshops.
When hungry, there are onsite restaurants or you can bring your own picnic.
There is a lot to explore here, so take your time and go at your own pace.
8. Take a photo with the Little Mermaid Statue
Of course, no Copenhagen trip would be complete without snapping a shot of the Little Mermaid Statue — possibly the city's most iconic attraction.
Inspired by the namesake fairytale by Hans Christian Andersen, the bronze and granite statue was a gift to the city from Danish brewer Carl Jacobsen, who became enchanted with the character after seeing a ballet performance based on the story at the Royal Danish Theatre — another great attraction for solo travel in Copenhagen.
You can find this famous statue sitting in the water at Langelinie Pier.
Pro tip:
Add a bit of fun to your visit with the Charming Copenhagen: The Little Mermaid Exploration Game, a self-guided scavenger hunt that takes you through the city past popular landmarks as you solve an in-app quest.
9. Get to know Danish royalty at Amalienborg Palace
Amalienborg Palace is the official residence of the Danish royal family — home to the oldest monarchy in the world.
This popular Copenhagen attraction includes four main palaces to explore, including Christian VII's Palace, Frederik VIII's Palace, Christian IX's Palace, and Christian VIII's Palace.
Another highlight of visiting is seeing the changing of the guards!
10. Explore Copenhagen creativity at SMK – The National Gallery of Denmark
If you want to explore art during your solo travels to Copenhagen, SMK is a must-visit.
The largest art museum in the country, the institution has about 60,000 works of art — a portion of which are viewable through rotating exhibitions and presentations. These works include paintings and sculptures dating back to 1300 through present day, plaster statues, and paper works like prints and drawings.
Interestingly, the art here was originally the private property of the Danish kings; that is, until democracy was introduced to Denmark in the mid-1800s and the collection was given to the people.
Other Fun Things To Do On A Solo Trip To Copenhagen
One of the main reasons why solo travel in Copenhagen is so worthwhile is there is an endless array of things to do. While exploring Copenhagen, also don't miss:
Visit the Marble Church (Frederik's Church)
The Marble Church sits in the heart of the city, and is possibly the most popular and beautiful church in Copenhagen, famous for its impressive dome inspired by the Church of St. Peter in Rome.
While the official name is Frederik's Church, the church has adopted its nickname because of the marble material it's built from.
Fun fact:
While the first foundational stone was laid in 1749, the church wasn't finished until 145 years later.
Explore canals & Copenhagen Harbor views
On a sunny day, nothing beats a boat tour of the Copenhagen canals.
You can take a canal tour from the lively Nyhavn waterfront and entertainment district, which also allows you to see most of Copenhagen's important landmarks and learn about the city's history.
Click here for a list of Copenhagen canal cruise options.
Spend time in Copenhagen's lively main squares
A few of these main squares include:
Rådhuspladsen (Copenhagen City Hall Square). Thanks to its central location and position in front of Copenhagen City Hall, Rådhuspladsen is a popular spot for events, demonstrations, and celebrations.
It is almost impossible to visit Copenhagen and not pass through Rådhuspladsen, as it is the end point of the main shopping street of Strøget — which is the longest pedestrian street in the world — and is next to Tivoli Gardens.
Additionally, the popular company Copenhagen Free Walking Tours begins their Grand Tour of the city from this square.
Kongens Nytorv (The King's New Square). This charming square in the heart of Copenhagen functions as a hangout spot for locals, though it's also a historic site.
Kongens Nytorv was founded by King Christian V in 1670, who moved the city center from the old main square of Gammeltorv to this new one, which had cobbled streets and a garden.
The square is beautiful and faces a number of important buildings — like the Royal Danish Theater, the Royal Danish Academy of Fine Arts, and the French Embassy.
Gammeltorv (The Old Square). Gammeltorv was the city center of Copenhagen before it was moved to Kongens Nytorv in 1670. This was because Gammeltorv was a muddy and unpaved medieval marketplace.
Today the square stands finished and is surrounded by shops and restaurants. It's also home to the impressive City Court of Copenhagen, the largest of 24 city courts.
Visit Copenhagen neighborhoods
Visit the different areas of Copenhagen and see how the city changes.
In my opinion, you should prioritize visiting Christianshavn. Not only does this part of the city look like Amsterdam with its many canals, but it is also home to the famous Freetown Christiania.
Freetown Christiania, which is more commonly referred to as Christiania, is an autonomous anarchist district in the Christianshavn area. It sits on the site of former military barracks, where residents refused to leave and settled into a community.
Today Christiania is a popular attraction among locals and visitors. The district is famous for its local cafes, restaurants, events, street art, and stalls selling marijuana.
Marijuana is technically illegal in Denmark; but, it is widely sold on Pusher Street in Christiania. Because of this, the district has been the main topic of many debates and conflicts in Copenhagen.
Additionally, do a walking tour of the city center (like this one). Here you will see the most important historic landmarks of the city like Nyhavn, The Round Tower, Amalienborg Castle, Amargertorv, and much more.
You should also explore Nørrebro — a multicultural neighborhood in Copenhagen that is home to interesting bars, street art, cafes, and restaurants serving cuisine from around the world.
Finally, the hip Vesterbro area is full of trendy stores, nightlife, and the buzzing Meatpacking District.
See urban landscapes and nature unite
Solo travelers to Copenhagen should also walk around some of the natural areas. For example, a popular walk is exploring the Copenhagen Lakes — three artificial lakes that divide the city center. Here is a trail map of the walk.
These lakes function as a cultural hub in Copenhagen, and provide a place for locals to walk, rest, and even ice skate during exceptionally cold winters.
When walking by the Nørrebro area, make sure to visit Assistens Kirkegården, a beautiful and lush burial ground that is the final resting place of famous locals like Hans Christian Andersen (author of children's fairy tales) and Niels Bohr (who won the Nobel Prize in Physics in 1922).
Explore art & culture in Copenhagen
For solo travelers who love art and culture, the underground museum of Cisterne in the beautiful Frederiksberg Garden features rotating modern art exhibitions.
Moreover, SMK – Statens Museum for Kunst (the National Gallery of Denmark, mentioned above) and The Glyptoteket (which showcases the private art collection of Carl Jacobsen) are two other great options for diving into impressive art pieces for hours.
Tours In Copenhagen For Solo Travelers
Want to meet other people and learn about the city while traveling to Copenhagen alone? Then join a group tour! Some top-rated guided tour options include:
Click here for a full list of Copenhagen tours.
Just make sure to book ahead, especially during the busy summer months, to make sure you get the time slots and dates you want!
Tips For Solo Dining In Copenhagen
Copenhagen is a food lover's dream, so solo travelers should definitely prioritize eating well.
First of all, if you don't want to deal with eating alone in a restaurant on your solo trip to Copenhagen, there are many great street food markets and stalls around the city.
For something truly local, try Copenhagen's typical open-faced sandwich one day for lunch. Called "smørrebrød," it comes with a wide variety of topping choices and is a highlight of Danish cuisine. You can find this meal at eateries around Copenhagen.
Solo travelers can also visit the Meatpacking District for great restaurants and nightlife. The area is full of both locals and foreigners have a fun time and is a great place to make new friends. Moreover, during summer many music and food events are hosted here for an extra cultural experience.
For a high-end experience that is difficult to forget, enjoy a meal at either Restaurant Palægade or Møntergade.
For something traditional, visit Restaurant Puk or Restaurant Kronborg.
Restaurant Puk serves almost the same plates in the same surroundings since the place opened in 1750, and is one of the oldest pubs in Copenhagen.
On the other hand, Restaurant Kronborg's serves homemade smørrebrød in a cozy setting. The people running this eatery are particularly generous when introducing guests to their wide selection of Schnapps — a typical alcoholic beverage in Denmark that is paired with smørrebrød and a few other classic dishes.
Finally, Copenhagen is well-known for having some of the best bread and pastries. Solo travelers visiting the city should stop at a local bakery for a sweet delight or breakfast. Some of the best places are Hart Bageri, Andersen & Maillard, and Juno the Bakery.
Do You Need Travel Insurance For Copenhagen?
When visiting Copenhagen — or anywhere else in the world — it's wise to get travel insurance. This is one of the most important solo travel tips to keep in mind when exploring alone.
One of the best travel medical insurance for travelers is SafetyWing as they've got a large network and offer both short-term and long-term coverage — including coverage if you're traveling for months as well as limited coverage in your home country.
Additionally, SafetyWing is budget-friendly and offers $250,000 worth of coverage with just one low overall deductible of $250.
Click here to price out travel insurance for your trip in just a few clicks.
Frequently Asked Questions About Copenhagen Solo Travel
Q: Is Copenhagen a good place to travel alone?
Copenhagen is a great city to visit when traveling alone. The city is safe, the infrastructure is organized, the people are friendly, and there are plenty of activities to do to keep any solo female traveler in Copenhagen entertained for days.
Q: Is Copenhagen safe?
Yes, it's a very safe city. In fact, it's one of the safest cities in the world. Copenhagen was actually nominated the safest city in the world in 2021 by the Economist's Safe City Index.
Q: Is Copenhagen safe to travel alone?
The crime rate in Copenhagen is one of the lowest, the people are friendly, and English is widely spoken — all of which help to make it one of the safest and easiest cities for solo female travel.
Q: Is Copenhagen expensive?
Copenhagen is an expensive city, and eating out and accommodation tend to be pricey; however, hostels, Airbnbs, and cheap tasty street food offer budget-friendly options.
Q: Is 2 days enough in Copenhagen?
While 2 days in Copenhagen is better than none, it is difficult to experience everything the city has to offer. I'd suggest 2 nights and 3 full days to really enjoy all the great activities the city has to offer solo female travelers to Copenhagen.
Final Thoughts On Copenhagen Solo Travel
Solo travel in Copenhagen is a worthwhile experience. Not only is the city safe, inviting, and clean, but it provides great activities and dining experiences.
Copenhagen has also won many awards for being safe, happy, and liveable, further helping to prove just how incredible this city is.
Many solo female travelers have already discovered this, which is why thousands of visitors flock to Copenhagen every year.
In terms of a city to visit when traveling alone, it's hard to find any quite as easy, unique, and fun as Copenhagen.
What tips would you add to this Copenhagen solo travel guide?
About The Author
Josephine Remo is a former flight attendant whose biggest passion is traveling. For the past 10 years, Josephine has dedicated all of her spare time to traveling and is currently living as a digital nomad. Having lived in four different countries before the age of 25, she knows all the tips and tricks for experiencing new cultures. Josephine writes travel guides and tips from places she has visited all over the world on her blog, josephineremo.com. You can also follow Josephine and her journey on Pinterest and Instagram.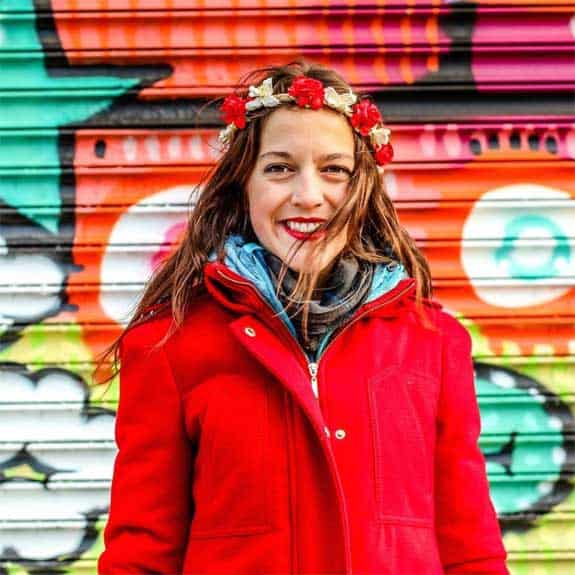 Hi, I'm Jessie on a journey!
I'm a conscious solo traveler on a mission to take you beyond the guidebook to inspire you to live your best life through travel. Come join me!
Want to live your best life through travel?
Subscribe for FREE access to my library of fun blogging worksheets and learn how to get paid to travel more!