Offbeat Thailand: Amazing Ways To Experience Chiang Mai Beyond The Guidebook
local flavor
to the bohemian vibe, Chiang Mai is one of the
best places to visit in Thailand
; a destination where traditional culture meets modern society. It's impossible to pick exactly what I love about the Rose of the North; it's just a feeling I have when I go there. This is not an ultimate guide or even a comprehensive list because discovering Chiang Mai for yourself is the fun part. It's more of a love letter to one of my favorite cities. Enjoy!
Rock Out With Your Chalk Out
If you're an adrenaline junkie, Chiang Mai has your fix. Adventure seekers should head to Crazy Horse for some sweet rock climbing and killer views at the top. It's where I first fell in love with climbing. I've gone three times with
Chiang Mai Rock Climbing Adventures
, most recently to take a lead climbing class. I also periodically cyber stalk their site for climbing porn. Beginners are welcome and they also offer rides to advanced climbers with their own gear.
Sons Of Anarchy
Want to feel the wind in your hair? Rent a motorcycle and drive up the mountainous roads to Pai or explore
other awesome moto trips
. This is
not
for novice motorcyclists.
Thailand
has one of the highest motorcycle death rates in the world and I've seen my fair share of tourists bandaged a la Darkman. Curiously, there aren't a heap of moto schools — someone more ambitious than me should really take advantage of the untapped market — but the
Yamaha Riding Academy
and Red Baron in Bangkok, and
Highside Tours
in Pattaya offer lessons.
Mr. Frodo, look! An Oliphant!
When you visit the
Elephant Nature Park
, you're basically on-staff but it's the best job you'll ever have. Spend the day (or week!) feeding, bathing and just hanging out with elephants rescued from logging or tourism. Many of them are damaged but all of them are magnificent. Sorry, no rides, circus tricks or silly costumes here, but seeing the baby elephants — the park's first generation not broken for commercial trades — more than makes up for it. Tip: Make a reservation well in advance.
Top Chef
My idea of cooking is adding diced tomatoes to Ramen soup, and grocery shopping is my version of Dante's Inferno, so the idea of paying cash so I can shop and prepare food is ludicrous. That said, Thailand is food nirvana and if you want to be able to devour authentic Penang beef, noodle soup or steamed fish with lemongrass at home, a cooking class is in order. There are a
plethora of options
but if you can convince
Wee Soysom
from Wee's to teach you, look no further. A couple of friends spent 13 nights in Chiang Mai last year and ate dinner there Every. Single. Night. Then they took her cooking class. If, like me, cooking is only something you do under duress, take a
street food tour
or spin in a circle and point to the first street cart you see.
Work Of Art
You know how people like to say that every child is an artist? Yeah, I wasn't. And sadly, not much has changed over the years. While I've never been artistically intelligent — someone please explain modern art to me — traveling has allowed me to see the Van Gogh Museum in Amsterdam, the Prado museum in Madrid and the Musee d'Orsay in Paris. So it's interesting that a small gallery in Chiang Mai called Supachet Studio gave me my first real ah-ha moment. Located at 56/2 Rachadamneon Road, Supachet creates whimsical, guileless paintings that make you feel you're inside a dream you never want to wake up from.
There's The Rub
Few among us can afford a $1,500 8-hour massage like Mariah Carey but, relax, you're in the land of affordable massage. If a traditional Thai massage is not athletic enough for you, get your back massaged by a inmate from the
Chiang Mai Women's Correctional Institution
. These lovely masseuses are part of a rehabilitation program and will work those kinks out pronto. Too Orange is the New Black? Check out the Association Massage Chiangmai of the Blind where sight-challenged masseuses use their sense of touch and hearing to loosen those tense muscles.
Binge
I've already mentioned Wee's is one of my favorite dinner spots. I suspect her addicting masama curry is laced with crack. But as any good traveler will tell you, you have to hit the streets for the real deal. Anthony Bourdain said that street food is the antidote to fast food. If street food markets are the cure then Chiang Mai is the Center for Disease Control…only more edible and with fewer maladies. Check out the Chiang Mai Gate (South Gate) or the Chang Pheuak Gate (North Gate) for a glut of options. Not in the mood for Thai? The
By Hand Pizza Café
is scrumptulescent. Ask the friendly European owner about his several fascinating career makeovers.
Where To Bunk
From
budget
to uber nice to
luxury
to
please invite me on your next trip
, there are a ton of places to stay in Chiang Mai. My favorite is Duang Champa. The rooms are large, clean and bright. The décor is reminiscent of historic Chiang Mai though it's centrally located in the Old City and has a nice free breakfast. There isn't a swimming pool but it is directly across from the
Museum of World Insects and Natural Wonders
, which is a steal at 2 Baht ($0.06 USD) and has an amazing backstory.
Money Train
In Thailand you can't swing a dead cat without hitting a budget airline. Bangkok Airways, Air Asia, and Nok Air among others all offer cheap, short flights to Chiang Mai. The safety demonstration/music video from Bangkok Airways alone is worth the price of admission. Still, I'm a huge fan of
the train
. Paul Simon said, "There's something about the sound of a train that's very romantic and nostalgic and hopeful." He has clearly never ridden the overnight sleeper to Chiang Mai. Not recommended for high maintenance travelers (a diva friend is still journaling about it) but the bar car + sunrise view – the cost of an airline ticket and hotel room = a damn good time. As for those niggling reports of derailment, the track was given a major overhaul last year so hopefully no
Unstoppable
spinoffs in the future.
Abby Sugrue is a travel blogger, documenting her misadventures on her site, Breakfast Included. She's wrapping up her first RTW journey through South East Asia, the Middle East, Europe and South America. Next she wants to explore Eastern Europe and Africa. She loves rock climbing, hiking, surfing badly, books, movies and, of course, Oreos.
Also Check Out:
Do You Want To Be A Travel Blogger? Solo Travel, Local Culture And Going Beyond The Guidebook In Thailand Traveler's Guide To Cultural Immersion

During our round-the-world trip, my boyfriend and I routinely played a game where you had to choose the top three places you'd live if you could. We ingeniously called it "Where Would You Live?" The list would always change (Koh Rong, Phong Nha, Aman, Amsterdam, El Bolson, Cusco, San Pedro, anywhere in Ireland) but one place always stayed the same: Chiang Mai. From the Old City to the New City; from the wilderness to adventure tourism; from the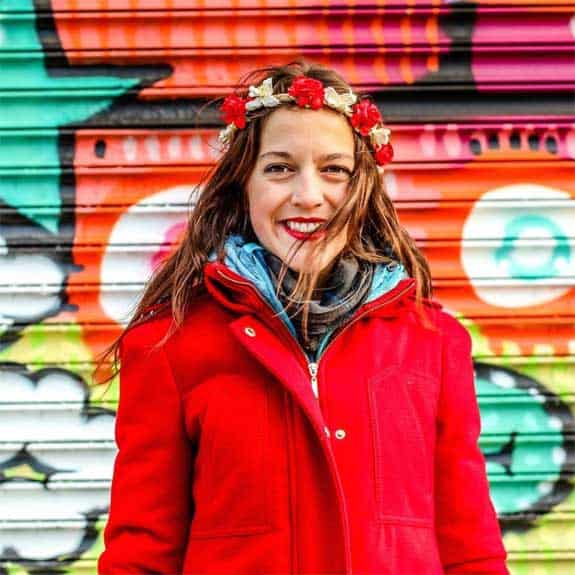 Hi, I'm Jessie on a journey!
I'm a conscious solo traveler on a mission to take you beyond the guidebook to inspire you to live your best life through travel. Come join me!
Want to live your best life through travel?
Subscribe for FREE access to my library of fun blogging worksheets and learn how to get paid to travel more!