Butterfly Valley, China: Where Visitors Become Family
places to visit in China
. I am staying at a place called Butterfly Valley, and, once I get over my shock of having spiders instead of chocolates and towel animals adorn my pillow, I begin to fall in love with the place.
Surrounded by mountainsButterfly Valley feels less like a hotel and more like a homestay. Situated in a quiet and isolated part of the jungle, guests stay in cabins that are built on stilts, which are adjacent to the main room, which is more like an open patio where meals and activities take place. There is a pool that is full of bugs and algae and debris from construction littered around the yard, but combined with the mountainous and woodland surroundings it only helps to make my experience feel more authentic. After calming down, I gather my travel companions and head over to the patio room for a banquet dinner, one of many banquet meals that we will be served at Butterfly Valley. The meal tonight includes corn, rice, tofu, and seafood, which poses a bit of a challenge for me as in China they do not pick the bones out of the fish. Once the meal commences the Chinese family running Butterfly Valley teach us how to play Mahjong, a Chinese game played with picture and number cards or tiles. Thank goodness I am traveling with Huey, who speaks English and Chinese, as she can translate for me. I am given 13 cards and instructed to make four pairs of three and one pair of two, or create consecutive sets of three. Luckily, I can read Chinese numbers of this game would be impossible. "Chow!" I shout, starting to get the hang of the game. Everyone looks up in disbelief as I have gotten a sequence of three tiles. Then, four of a kind. "Kong!" I scream loudly, making sure everyone is aware that I am winning. I am either a quick learner, was Chinese in a past life, or am just really competitive, because I somehow win the game. Being a visitor and not wanting to seem like an "ugly American", I simply smile at my success, but inside I am doing cartwheels. The next morning, after consuming a banquet breakfast made for hard-working farmers, the Chinese family of Butterfly Valley take my companions and I on a tour of the countryside to the Zhuang Minority Village. We pass rice fields, pumpkin patches, rows of potatoes and corn. A buffalo strolls by, and to everyone else in the group this is normal. "What is this?" I ask, pointing to a long, tear-shaped leaf. "It's a gum leaf," replies Lou, a close friend of the family who is trying to practice her English. "It's used for when nose clogged." As we continue to walk it becomes impossible to deny how hot and sunny it is. Being from New York, I could not understand the concept of carrying an umbrella around when it was not raining. Now, as I look at my new Chinese friends all walking in their man-made shade, I understood. I use two entire packets of moist face-towels in an attempt to cool down and sop of the buckets of sweat that are pouring out from my body. I feel like a human rain-maker, except this rain is sticky and hot instead of cold and refreshing. "You want umbrella?" asks Lou, holding it out to me. My mouth drops open. "I can't take your umbrella. Then what will you use?" "It okay," she smiles. "I used to heat." As much as I want to, I cannot bring myself to take Lou's umbrella. She presses the issue, and in the end we agree to share it. I am taken aback by her kindness and generosity, mainly because I cannot picture any of my friends back home doing something so selfless. When we reach the Zhuang Minority Village, I am startled by the extreme poverty I see. However, the mud-brick houses look sturdy and you instantly get the feeling that these people are extremely hard working. The homes are also extremely close to one another, giving me the sense that this is a close community. "Why are there so many men here?" I ask Sunny, a daughter in the Butterfly Valley family, as I have yet to see a female. She replies, "Women marry and go with new husband. That why boys preferred. They take care of parents when get old." On the walk back, I practice English with Lou and Sunny, discussing life in Hua Shan compared with life in New York. I tell them how enamored I am by their values and how they cherish others, and how I love the way their simple lifestyle pairs with their natural surroundings in a way that their attachments are to people instead of things. Lou tells me how much she wishes she had my voice and could speak English like an American girl, while Sunny explains her desire for long eyelashes and a Western nose. An ironic smile appears on my face. "I guess wanting what you don't have exists in every culture." That night we decide to have a kareoke party to celebrate before my Western companions and I are to leave. Sunny and Lou are big Britney Spears fans, and the way their high pitches voices croon out every song makes me dance in my chair. I tell everyone that I am too nervous too sing as the Butterfly Valley mother urges me to get up with her girls. It is then that I feel a tug on my arm. It is Lou, pulling me up to the microphone with her. I give in and request a Backstreet Boys song for a change of pace. The Butterfly Valley owners clap along to song as Lou, Sunny, and I dance with our microphones. When it is over we all hug. I am glad I did not take my mother's advice and try to leave Butterfly Valley before giving it a real chance. When I arrived here I was just a stranger, but leaving here I feel just like family.

"Mom, I can't take it anymore! I need to get out of here!" I cry into the phone. I have just found three humungous spiders in my room, one of which was apparently an Olympic sprinter in a past life and thought it funny to chase me around the room until I squashed it with my sandal. "So get on a bus and leave," comes her solution. I get more hysterical as I shout, "I'm in the middle of nowhere! Literally, I'm in the jungle somewhere! There are no buses!" In actuality, I am not in the middle of nowhere, but in Hua Shan, part of Ning Ming County. If you ask me, it's one of the best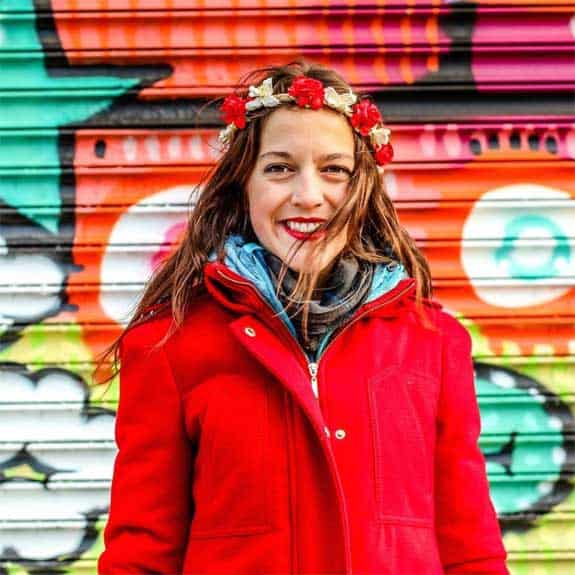 Hi, I'm Jessie on a journey!
I'm a conscious solo traveler on a mission to take you beyond the guidebook to inspire you to live your best life through travel. Come join me!
Want to live your best life through travel?
Subscribe for FREE access to my library of fun blogging worksheets and learn how to get paid to travel more!