How To Grow Your Email List (For Free) As A Blogger
By Jessie Festa. Note: This post contains affiliate links. I only ever recommend products I love and think you'll love, too!
Email marketing for bloggers is very, very important.
And hey, maybe you know it's vital to grow an email list; but you're not sure why.
Here's the deal:
As a travel — or really any niche — blogger, it's vital to grow a community.
Building an email list means growing a fanbase of your most dedicated readers; the ones who can't wait to eat up your content and buy your products. These are the people you can nurture and empower in a way that allows you to truly help them.
Want to know how? Keep reading to swipe my step-by-step email marketing for bloggers strategy.
The best part:
You can implement this strategy without spending a dime!
Quick tip: There are a number of tools that can help with your email marketing efforts.

In terms of an email marketing software, two of my favorites are Mailerlite (free plan available) and ConvertKit (30-day free trial included).

Additionally, Jasper AI can help you say goodbye to writer's block and craft better emails and newsletters by harnessing the power of artificial intelligence.
Free List-Building Challenge
Before we dive into the email marketing strategy, I invite you to grab a seat in my free list-building challenge!
In this free challenge, you'll learn how to increase your subscribers, nurture your community, and monetize an email list in just 5 days, with daily lessons and powerful action steps sent to your inbox daily.
Throughout the challenge there will be a number of bonuses that will help you implement your list-building strategy easier and faster. Make sure to grab those before the challenge ends!
Ready to grow your email list and increase your income? Grab your seat here!
A Note On Email Marketing For Bloggers vs Social Media
Good news:
Growing an email list is often easier than growing a social media channel. For many, it's also more worthwhile.
Let me explain why with some examples.
There was a solid year when my Instagram was steadily growing.
Then, in mid-2017 when the algorithm changed and everyone seemed to resort to follow-unfollow and time-consuming Telegram pods, it plummeted, mainly because I wasn't willing to play this game. And while it is growing again, my engagement is still not back to where I was at in 2016 and early 2017.
Another instance:
Facebook recently decided it would begin showing pages further down in the feed so that users would see posts by family and friends — and paid ads — first.
This means that for many bloggers, this channel is steadily pay-for-play if you really want to get noticed. (Check out my Facebook Ads blog post if you still want to play the game.)
We can also look at the now-defunct Vine (RIP). Imagine if you'd spent time building up a following on the channel, only to have it shut down, your followers gone in an instant?
Sure, you could tell them to go follow you elsewhere for great content, but there's still no telling they'll even see that message or take that action.
Travel Blogger Email List Strategy Audio Tutorial
If you love learning on the go:
Check out my the above episode of The Profitable Travel Blogger Podcast.
You'll learn a proven step-by-step strategy for growing an email list — for free.
This strategy is also shared in this post, and the audio is simply for those who'd prefer to learn through this medium.
Benefits Of Growing An Email List
Now let's look at how to get blog followers and why growing your list of email subscribers is so awesome:
You own your email list. If Mailerlite went out of business tomorrow, I could export my list and import it to another email service provider like Mailchimp or CovertKit. I'd still have access to the inbox to every subscriber who signed up for my list.
By the way, you can grab a 30-day free trial of ConvertKit here.
It's authentic. While on Instagram I sometimes feel like I need to wear an impractical floppy hat and red bikini while hiking the Inca Trail to get noticed, on email my audience responds best when I send juicy emails that help them in some way. I feel really good after sending an email — even if it's promotional — because I know I'm promoting something that, again, will help them.
You don't have to worry about algorithms with email marketing. Sure, there is data out there about when it's the best time to send emails, and sometimes your emails may go to a subscriber's spam folder, but you can help fix this by following email best practices as well as asking new subscribers to whitelist your email address and reply to your welcome email.
A few options for doing this:
Ask a simple yes or no question
Tell them to reply something like "hey friend!" to ensure future emails hit their inbox
These are your most dedicated community members. They gave you their virtual phone numbers, which takes more than simply hitting "like" or "follow". These will be the people who interact with your campaigns and eat up your content, and who will be most likely to purchase your products and click your affiliate links (as long as you follow the effective and ethical approach I lay out below).
In my opinion, if you want to monetize your blog from day one, email marketing should definitely be a focus!
Free Newsletter Service & Email Marketing Tools
Before we dive into my simple yet powerful list building strategies, let's discuss what you need before getting started.
Everything I list here is free, and will truly help you excel at email marketing for bloggers.
Or another email marketing software.
Mailerlite is a great email marketing tool as it's free up to 12,000 emails (and is then only $25/month).
Some of my favorite free Mailerlite features include:
Automation.

I have several automated email sequence templates I use, which I place new subscribers into, depending on how they've opted into my list.

Landing Page Builders.

You can create your own landing pages — as in, pages with only one goal, such as getting someone to subscribe to your email list.

24/7 Chat Support

. This is invaluable, especially when you have a timely campaign you need to get out. While Mailchimp has stellar support, it's via email, and you often have to wait until the next day for a response.
Note:
If you have some room to invest, ConvertKit is another option with even more features and a more intuitive design. Many of my blogging students end up switching over to ConvertKit because they like the ease of use.
Click here for a free trial of ConvertKit — no credit card required!
Love saving time? Jasper uses the power of artificial intelligence to quickly and easily outline and draft content (including for email), come up with content topics, create marketing copy, and more.
Click here for a 10,000-word free trial.
No design skills? No problem! Canva's pre-filled graphic designs make it easy for anyone to create beautiful graphics. We'll use this tool in the list building strategies below so that you can create irresistible Content Upgrades.
One of my favorite free stock photo sites for finding beautiful backdrops — like workspaces — to put your Content Upgrade images. Don't worry if you felt like I was just speaking an alien language. This will all become clear shortly.
Profit Clarity
An intangible tool; though an important one.
As a travel blogging coach, I'm all about spending time on strategies that actually bring in profits.
Trust me:
There are tons of bloggers out there with thousands of social media followers and high blog traffic that aren't making any money.
If you're working to grow your newsletter subscribers, there should be a reason behind it.
It's great if you want to have a travel blog so that your family and friends can keep up with your journeys; however, if you really want to pursue travel blogging as a career, you'll also need to understand how you're going to make money.
For instance, one way I generate income for my travel blog is through my Travel Blog Prosperity membership community. The program helps travel bloggers turn their websites into profitable businesses that grow every single month.
And psst, you can join the waitlist for the community right here to be notified when doors re-open!
You can also consider lucrative affiliate programs if you're not ready to create your own product or service.
In short, you'll want some kind of income generator for the following list building strategies to be worthwhile.
Luckily, list building combined with creating your own products can help you take your blog full-time within a year, so it really can be worth your time.
How To Build An Email List For Free
Now that we're set up, it's time to get into my simple but juicy tactics for excelling at email marketing for bloggers.
We'll be piecing these tactics together to form one step-by-step community building strategy; one that is so powerful it will bring new, targeted subscribers on to your email list every single day.
Every. Single. Day.
Ready?
Let's dive in.
Step 1: Know Your Blog's Mission
Before you can start attracting people onto your email list, you need to know who you're attracting and why.
This can be boiled down to your blog's mission. Use this template to craft one:
"I help ___(group of people) do ___ (what you help them do)".
This template is wildly powerful for helping you gain clarity in your blogging business. Once you have this fleshed out, you can use it to guide every single piece of content — whether on your blog, social media, YouTube or your email newsletter — to keep everything cohesive.
A cohesive content plan means visitors will know exactly what they'll be getting and why they should stick around.
To help you remember this mission statement template, I've created a graphic you can pin for later:
Of course, this is the simplified version of crafting your blog's business plan, though it's a good start to understanding why you truly put out the content you do.
For instance, if you say "I (help) empower females to take their first solo trips," you'll now have a good idea of what topics you should be covering across your channels.
If you'd like to dive deeper into fleshing out your brand, click here for access to my travel blogging resource library, where you'll find a handy Branding Your Blog For Success Workbook.
Step 2: Know How You'll Earn An Income
While not every single person on your email list is going to purchase a product from you, you should be aiming for some to. Actually, according to ConvertKit, the average is 9.4%; which, by the way, is higher than the average conversion rates for YouTube (2.2%), Twitter (5.4%) and Facebook (6.3%).
Note:
This conversion rate does vary by industry and product. For instance, Teachable tells their online course instructors that the average conversion rate for converting email subscribers to paid students is 2%.
Okay, now let's backtrack for a moment with our email marketing for bloggers strategy.
In Step #1, you pinned down how you can help people and who you can help.
Now, you want to become clear on how you can further help these people through a paid service, whether it be your own or the product/service of an affiliate partner.
My opinion:
Courses make great products for bloggers of all niches, especially because you're already helping your audience in some way.
Think about it.
If your mission is to help rookie photographers take better travel photos without needing fancy equipment, and you're consistently sharing juicy posts and social media shares that help fulfill this, wouldn't it make sense to offer a robust paid course that puts these pieces together?
You'll be pitching a community who already sees you as an authority on the subject of travel photography, and who is already coming to your blog to learn from you.
I highly recommend Teachable for setting up your course. The platform offers so many features — like:
Intuitive drag-and-drop course builder
Variety of course content options — including video hosting
Easily customizable sales page builder
The ability to set up your own affiliate program
Abandoned cart reminders, order bumps, and checkout upsells to help increase sales
Tax management
And more!
Not only that, but you can also sell digital downloads, memberships, and coaching through Teachable too!
Personally, it's what I use to create all of my travel blogging courses.
Okay, so you've got your mission that you're fulfilling by publishing high-quality free content via blog posts, social media shares and regular emails (because you want to stay front of mind for your audience).
You've also got your product that you plan to pitch your email list.
Now, we need to close the loop by offering a Content Upgrade.
A Content what?!
A Content Upgrade — also sometimes known as a Lead Magnet or opt-in freebie — is a free piece of valuable content you provide your readers and social media followers to entice them to opt into your email list.
It's essentially an "upgrade" or enhancement to your website, blog post, YouTube video, podcast, or social share as it's further helping people and making it easier for them to take action.
Here's the deal:
Nowadays, it's not enough to say "Click here to subscribe for the latest updates." Instead, you need to give people a reason to subscribe.
You also want to entice the people who would be interested in your product.
So, the Content Upgrade also acts as a primer.
Through your Content Upgrade, you're not only getting people on your email list; you're helping them right away while growing your authority even further on the topic.
The Content Upgrade you choose should be something high quality that helps your audience solve a problem quickly and efficiently while attracting people who'd be interested in your paid product.
Need some inspiration? I've created the following infographic to help spark some powerful Content Upgrade ideas.
Make sure to save this Content Upgrade idea graphic on Pinterest for later, too!
A few ideas right now:
Making money with webinars is a great strategy if you want to grow your email list and monetize your blog through helping others, as is creating free challenges!
Moreover, creating a free resource library allows you to add multiple printables to one attractive digital asset. From there, you can choose to promote the entire library, or choose the resource that makes the most sense depending on the content the person is reading.
Step #4: Create A High-Converting Landing Page
Many email marketing platforms include templates for creating landing pages, sign up forms, and pop ups.
In short, when people click your call to action to grab your email marketing freebie, they should be directed to a landing page or sign up form letting them:
what they'll be receiving
how it will benefit them
how they'll be receiving it (ie in a welcome email)
Step 5: Create Irresistible Opt-In Graphics
Once you have your content plan laid out and you've created your landing page, it's time to create some gorgeous graphics to attract your readers to click.
This should include a vertical Pinterest-optimized graphic as well as in-line graphics throughout the post.
For instance, I invite people into my free profitable blogging ecourse by showcasing this graphic throughout relevant posts (which, by the way, you can really click for ecourse access!):
Additionally, here is an example of a Pinterest pin graphic I've showcased within a post before.
See how I don't just say the title of the post, but also mention there's a freebie offered within it?
This makes my Pinterest pin more enticing, encouraging more people to click through to the actual post, read and opt into my email list!
By the way, both of the above community-building graphics were created in Canva for free.
Step 6: Have A Way To Deliver Your Content Upgrade
Okay, so you've created your snazzy, on-brand freebie.
Before you can promote, you need to plan how you'll deliver it.
A few ideas:
Store the freebie in Google Drive, and share the link in a welcome email to your new subscriber.
Provide them access to a password-protected resource library, where the freebie advertised is included. You can provide them the password and link to the library in their welcome email.
Instead of sending your new subscriber to a Thank You page, re-direct them to the freebie.
Include the freebie on the new subscriber Thank You page.
Note: I don't necessarily recommend the last two options, as it's wise to give people a reason to open your welcome email. This helps ensure your future emails go to their inbox and that they get used to hearing from you.
So, in my opinion, it's best to deliver the freebie in the welcome email.
Step #7: Set Up An Automation Sequence
We already touched on the welcome email; however, it's smart to have at least a few other emails pre-scheduled to send beyond that.
These could simply be emails sharing your best tips and strategies, or they could be emails that funnel people toward a call to action, such as a pitch asking your subscriber to purchase a related product.
The idea is you're nurturing your subscriber and leading them toward a way to get further help with solving a problem or having a transformation.
Keep in mind, you don't have to include a pitch. You could simply use these emails to build a relationship with your new subscriber.
New to this idea? Here is a welcome sequence template you can use.
Step 8: Promote Your Content Upgrade
Now there are tons of ways to promote your Content Upgrade for free.
In my opinion, the best way to promote something is by doing what feels right to you and matches your skills. To help you discover this, I made a free blogger personality quiz to help you uncover your travel blogging superpower.
Additionally, here are a few ideas for promoting your Content Upgrade:
In your social media bio
In collaborative Facebook groups (when there are self-promotional threads)
On your homepage menu (above the fold; as in, before your reader scrolls)
In a pin as part of a Pinterest for bloggers strategy
On your Facebook page's cover photo & cover photo description
We won't be diving too deep into all the various list building strategies revolving around promoting your Content Upgrade — that's something covered in-depth in my Travel Blog Prosperity membership community — though we will focus on one strategy here:
Promoting your Content Upgrade within, well, your content.
Let's look at some examples.
If your Content Upgrade is a printable cheat sheet for mastering manual camera settings, you could write a blog post on How To Master Your Camera's Manual Mode, offering the cheat sheet as a printable the reader can carry around until they get comfortable.
Or if you have a more business-centric blog, maybe your freebie is a workbook that helps people craft a brilliant About Page for their blog. Publishing a post titled "How To Craft An Irresistible About Page" would be sure to attract someone interested in doing just that.
Maybe you cover ski travel, and your Content Upgrade is a printable ski travel packing list. You could promote this freebie in all of ski travel guides.
Just check out how I promote a Blog Branding Workbook in a post I wrote about creating your blog's brand identity.
Think about the new blog posts you have coming up. What Content Upgrade could you promote in them?
Also look at your latest blog post and your most popular posts. Do they include call to action buttons or sign up forms asking people to grab your freebie?
Step 9: Add An Automated Opt-In Box To Your Blog Posts
This functionality might be built right into your blog's theme. If not, there are some free plug-ins that will do the trick.
Keep visuals in mind, too. Remember, the clearer you can make what people are actually getting, the better.
Here is an example from my own blog showing what you might put at the bottom of your posts.
Step 10: Promote Your Content
Once your post publishes don't just let it sit there. Promote it! This is such a vital step in any blogging workflow.
And I don't just mean sharing it on social media once and calling it a day.
Create an Instagram Story around the post and have people "swipe up" for the full content
Create 20 unique Tweets (with images) and schedule them throughout the month
Take part in collaborative Facebook groups; I'm a *huge* fan of Women Travel Creators #BlogPostSaturday thread for promoting posts
Create your own collaborative group where you share each other's content
Craft a high-quality infographic to entice people to pin your post on Pinterest; or, spend time asking others to post your infographic on their blogs and offer to craft a unique introduction to go along with it
Add the Content Upgrade to your top 10 posts that are already bringing in traffic

By the way, this is why it's important to master Search Engine Optimization (SEO), as it allows you to grow your blog traffic and get eyes on your important content

Share your Content Upgrade in your podcast episodes as part of a podcast workflow template
Include sources within your post and let them know they were mentioned, enticing them to share on their channels
Guest post on a blog that has the same target audience as you, and promote your Content Upgrade within the guest post to leverage their audience
There are so many ways to promote your content. If you really want to see results, you'll want to spend just as much — if not more — time spreading the word about your new post as you did writing it.
Keep in mind that it is possible to make money with your email list, ethically, by promoting relevant products and services to them.
I go over this in my free workshop on how to become a travel blogger.
GDPR Form Template For Email Marketing
Due to GDPR (General Data Protection Regulation), it's imperative you make it crystal clear how you're using people's data.
There are a number of things you should be doing as a blogger to be GDPR compliant; one of which is tweaking your subscriber opt-in form(s).
Instead, of including a check box — which I've seen a lot of bloggers do — I've simply changed the language on my opt-in forms.
Here is a template you can swipe and tweak to use yourself:
See how I state right in the opt-in form that they'll be subscribing to my email list?
I highly recommend doing this.
Moreover, I use a double opt-in. This means that instead of automatically subscribing someone to my email list after they enter their details, I make them re-confirm first.
By doing this, I ensure that everyone on my email list actually wants to be there and has given me full permission to email them.
How To Do Email Marketing For Bloggers: Final Notes
I wanted to leave you with one last vital piece of community building advice.
Even though we're using the term "email marketing," and deep down your goal is to market and grow your blogging business, I don't want you to think of list building as purely transactional.
Instead of using email to broadcast, use it to converse and grow a relationship. In fact, there are certain types of emails that work great for nurturing your subscribers. Actually, even when sending sales emails you should still be aiming to nurture. Personally, I love to weave in email storytelling.
Does forming a true relationship with your community take time?
Yes.
But trust me when I say it's so worth it.
In terms of downright "this feels darn good," you get to know the problems and pain points of your readers to better serve them.
On the blogging business side of things, when you can better help your audience, you make more sales.
More sales equals a more sustainable business, and a more sustainable business equals more time and resources to help your audience.
Thus, the cycle continues. If you run your blogging business using this list building strategy, you'll truly be able to make a positive impact through your website.
And isn't that just the best?
To prove what I'm saying is true, and that you can create an ethical list building strategy — for free — that also helps you grow your blogging business, here is a testimonial someone left me recently on Facebook.
He commented on an image I'd shared promoting my free course on travel blogging for money.
It's messages like these that truly move me, and help remind me of my purpose.
My email marketing efforts help me further fulfill this purpose by nurturing my community.
Bonus Email Marketing For Bloggers Resources
How To Create & Monetize A Blog Series
Monetize Your Email List With 4 Smart Strategies
How To Create A Free Challenge That Grows Your Email List & Income
What To Send To Your Email List To Engage Your Community
7 Types Of Emails That Can Boost Your Travel Blogging Income
How To Create A Free Resource Library That Grows Your Email List
How To Reach Your Goals Faster With Outreach Days
List-Building Infographic
If you found this post helpful I've got an email marketing for bloggers infographic below.
Make sure to pin it to refer back to later!
What are your favorite strategies when it comes to email marketing for bloggers?
Enjoyed this post? Pin it for later!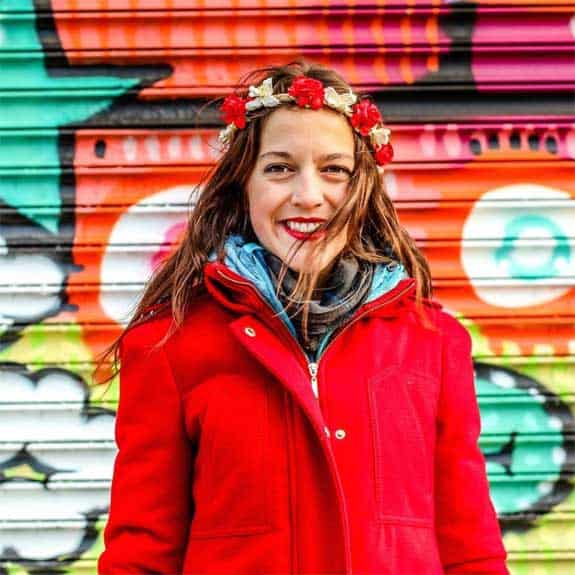 Hi, I'm Jessie on a journey!
I'm a conscious solo traveler on a mission to take you beyond the guidebook to inspire you to live your best life through travel. Come join me!
Want to live your best life through travel?
Subscribe for FREE access to my library of fun blogging worksheets and learn how to get paid to travel more!