Going Back In Time By Bike In Zagreb, Croatia
Typically, there usually isn't a driving force behind my trip booking, aside for my insatiable thirst to discover new places. Croatia, however, was different.
Recently breaking up with my boyfriend combined with a number of personal issues back home had me craving some alone time in a faraway place.
I'd always wanted to go to Croatia, but had been hesitant to splurge on the $1,000+ plane ticket and long red-eye flight.
My emotions got the best of my logic, however, and without even thinking my Newark to Zagreb via Brussels was booked.
And I'm glad.
As I hadn't done any research I found myself visiting during off-season — early March — but the quiet suited my purpose of seeking enlightenment. And while I looked toward the future, Zagreb, Croatia's capital, took me back in time.
Croatia's Rich History
Before diving into this Croatia travel guide, it's important to give a general timeline of Croatia's history, beginning with the country as a state in 7th century AD, and then a kingdom in 10th century AD.
In 1102, the Kingdom of Croatia entered into a union with Hungary, thus becoming part of the Austro-Hungarian Monarchy — especially important as Croatia did not want to become part of the Ottoman Empire.
In 1918, Croatia, Slovenia and Serbia formed the Kingdom of Yugoslavia until 1991, when they declared independence. After a war where Yugoslavia and Serbia attacked Croatia, the country finally gained its freedom in 1995, officially becoming the Republic of Croatia and joining the European Union in 2013.
Much of this history can be explored in Old Zagreb, with practically the entire area within reach on foot.
This was the location of my accommodation, Swanky Mint Hostel, a dry cleaning, and textile-dye factory opened in 1885 that's been refurbished into a courtyard of apartments, dorms, and private rooms — and an eco-friendly one to boot.
Some responsible features include solar panel roofing, a recycling program, furniture and decor crafted from recycled materials, and a budget-friendly bike rental program (about $13 USD for 24 hours).
As soon as I step into the reception I feel instantly welcomed, although the free welcome shot of local honey liqueur and the invite to a local museum party doesn't hurt.
I'm also pleasantly surprised to find Wi-Fi, towels and linens are included — not to mention there's a flat screen TV in my apartment room which, interestingly, used to be a clothes drying room.
Traveling solo also means I appreciate a good social scene, and despite visiting Zagreb off-season the onsite bar hosted nightly events.
Exploring Zagreb By Bike
In my opinion, Zagreb should be on everyone's Europe travel itinerary!
It's home to many museums, and while I do go to a few — The Museum of Broken Relationships, is highly recommended — my main method for exploring the city's history is through a historic cycling tour with Blue Bike Zagreb.
Spoiler:
This easily became one of the best bike tours I've ever done!
As most of you know, cycling is my favorite way to get around the city, as it allows you to cover a lot of ground while also feeling the beat of the destination you're in — hence the bike tattoo on the wrist.
My guide Alida is born and raised in Zagreb, which means she knows and understands it on a deeper level.
As soon as I begin peddling I can feel the capital city's heritage enveloping me, the local traffic patterns, politeness towards cyclists, and the flat paved ground keeping me at ease.
We begin with a look at a lesser-known side of Zagreb by biking down the cafe-littered Bogovićeva Street — this isn't a secret — and stopping at "The Grounded Sun."
The enormous bronze globe sculpture by Ivan Kožarić is one piece of an al fresco installation called "Nine Views," where objects from the solar system were placed around the city with their relative sizes and locations from the sun consistent to real life.
Even knowing the addresses od each object, you still may have a difficult time finding the planets — just check out my Mercury shot!
Zagreb & Tesla
It's no surprise science plays an important role in Zagreb culture, as Nikola Tesla — credited as inventing the modern alternating current electricity supply system — was born in 1856 in the then-Austo-Hungarian Empire in Croatia, although Alida admits he wasn't well-received when he was living here.
It's worth noting Croatia and Serbia, despite sharing the same language and origins, have historically not had the greatest relationship.
"It started because Croatia wanted independence from Yugoslavia," explains Alida. "It wasn't approved by the Yugoslavian Army, whose decision-makers were Serbian and claimed big parts of Croatia, like Plitvice lakes, the entire Eastern part of Croatia, and the entire coast with islands. The Yugoslavian Army — which actually became the Serbian Army since most of the other nationalities deserted — occupied these parts, so we Croatians had to organize, finance and get weapons for our army to get these freed."
As Tesla's mother was Croatia and his father Serbian — not to mention the fact he was ahead of his time, misunderstood, and was thought to possibly flirt with the paranormal — Croats didn't really accept him until they noticed American and Serbian pride in his genius.
Today, Zagreb has a science festival that celebrates Tesla, and you can find a giant statue of him looking pensive on that was created in 2006.
Green Zagreb With A Touch Of Yellow
Zagreb also has a natural side worth exploring, which I experience biking through Lower Town with Alida.
The original city developed around the 11th century on the medieval walled hills, Gradec and Kaptol, gradually spreading downward from there.
This is how the area gets its name, and where you really understand why Zagreb is often called "Little Vienna."
Protected buildings, mainly done in an Art Noveau style, but with Classicism and Art Deco sprinkled in, line the sidewalks and form small squares.
I notice the abundance of yellow (my favorite color!) apparently painted to please Princess Maria Theresia from the House of Habsburg — Croatia was part of the Habsburg Monarchy for a long time — who thought the hue resembled gold.
Marshal Tito Square is one place I'm particularly surrounded by the color and grand buildings, home to the Croatian National Theatre, Well of Life sculpture (a fountain showcasing intertwined bronze nude figures), the Museum of Applied Arts, and Zagreb University's main administrative building.
The square is named after Josip Broz Tito, a Croatian that led national partisans in WWII against Germans, Italians, and others.
After WWII he was a main figure of the Yugoslavian Communist Party — a more mild non-Stalin-like communism — and President for Life of Yugoslavia — and a co-founder of Unallied Countries, helping to keep Yugoslavia impartial during the Cold War.
The square is actually the last of seven green squares that comprise Lenuci's Green Horseshoe, with natural spaces, parks, and gardens — as well as public art, cultural institutions, and educational buildings — enhancing the aesthetics of Zagreb.
"You know how cities around the world had Occupy movements?" asks Alida. "That didn't do so well in Zagreb. Here we look at the good. The sun is shining, I have money for a coffee, life isn't that bad."
And even if they don't have money for coffee, they can walk or cycle through nearby Zrinjevac, as we do, a green park and square centered by a pavilion hosting free outdoor performance and surrounded by beautiful fountains and green space.
Zagreb's Somber Side
But, the tour isn't all sunshine and roses, and we stop at what I consider the most solemn place of the day.
While there's no official name for it, it's where the Jewish Synagogue once stood, at 7 Praška Street, before it was destroyed by the government in an effort to show loyalty to the Germans during WWII.
"It's not a part of my history I'm proud of," says Alida. "When WWII started we were the Kingdom of Yugoslavia. Our King Alexander was in Belgrade, and when the Germans started their mission he abdicated and escaped to London, leaving "his" people on their own. Croatia declared independence under protection of Germans, accepting Germans — and Nazis — as our authorities."
Once this happened, Jews, Gypsies, homosexuals, Serbians and basically anyone who wasn't a true Catholic Croat was unwelcome, often being sent to concentration camps.
Because Croatia aligned with the Nazis, you can still old city center buildings in their original condition, unlike many other cities that didn't fare well against Germany WWII aerial bombing tactics.
Where the synagogue once stood is a plaque with a drawing of the sacred Jewish building that was blown up.
Zagreb's Historic Upper Town By Bike
Next, it's time for an uphill climb, as we make our way into the historic Upper Town, the winding streets littered with churches, towers, museums, and Stone Gate.
This is where the two hills Gradec and Kaptol originated.
Interestingly, these two communities were constantly fighting, mainly due to the different ideologies, economy vs religion, respectively. It wasn't until 1850 the two united into the Royal City of Zagreb.
We begin our ride in Kaptol, beginning at the famous Zagreb Cathedral, aka the Cathedral of Assumption of the Blessed Virgin Mary, built in the 11th century and the tallest building in Croatia at 105 feet (344 meters).
What you'll see today — a daunting Neo-Gothic structure with two dizzying spires — looks very different from the original with its Romanesque design, towers and fortifications, destroyed numerous times during various sieges by the Tatars and fires.
Standing in front of the landmark, you'll also see the 16th-century wall, constructed to protect the area in case the Turks waged an attack.
Continuing on, we cycle through the Dolac Market, filled with fresh produce, home-made honeys, nuts, handicrafts and flowers on the lower level.
Next, we bike along Bloody Bridge (Krvavi Most) — which is actually a street, but was once a wooden bridge and the site of numerous conflicts between Kaptol vs Gradec. It's hard to believe, as today it's a narrow street connecting ambient outdoor streets lined with bars, cafes, and restaurants.
(Quick tip: when visiting Zagreb, make sure to try traditional Croatian peka for at least one meal. It's delicious!)
One thing I've found baffling since arriving into Zagreb is the difference between a cafe or bar and a restaurant.
In Zagreb, it's not uncommon for a bar or cafe to only serve drinks, due to a law that prohibits the sale of food in places where smoking is allowed.
Once Alida explains this to me, it becomes clear why so many of the venues I've walked into thus far had nothing edible to serve.
When we get to the official entrance to Gradec, Alida instructs me to park my bike so she can tell me a story.
"Thirteenth-century Gradec, today Upper Town, was fortified by a stone wall with five gates, or entries, to the city. There was a huge fire at the beginning of the 18th century, burning the entire area to the ground. The only thing that survived was a picture of the Virgin Mary holding little Jesus. It was considered a miracle, and the picture was framed in gold and placed within the gate, making it a shrine to the Virgin Mary."
That is why this gate, Stone Gate, still exists — the other four were destroyed in the early 20th century as they served no purpose — and the Virgin Mary is the Patron Saint of Zagreb.
The entrance to the city is almost like a small church, old fortified walls standing as a monument and stretching until there is an almost small room with no doors.
Inside, a short row of pews sits with people praying, along with a table of prayer candles and a shrine with the Virgin Mary statue.
A spiritual feeling permeates the air, and whether you're religious or not it's hard not to feel some kind of belief in this miracle.
A Special Noon Tradition
Alida encourages me to hurry with photos, as there is a special place we need to be by noon on the dot.
This place is Lotrščak Tower, a fortified tower constructed in the 13th century to guard the town — which also, by the way, provides an amazing aerial view of Zagreb.
Historically when an attack was coming, the tower bells would ring, signaling to residents the town gates would be closing.
Each day at noon since 1877, it's a tradition for the tower's Grič cannon to be blasted, paying homage to an interesting legend.
From what Alida tells me, Turk attack was thwarted when this very cannon fired a shot that landed directly on the lunch of the Pasha, who decided against waging war on such talented shooters.
While Alida admits this is likely a myth, it's still fun to think about.
Zagreb Pride
Along with the grey tower, Gradec is home to potentially Zagreb's most colorful attraction: St. Mark's Church.
Constructed in the 13th century, its brightly tiled room is a symbol of Croatian pride, as even when part of the Austro-Hungarian Monarchy they made sure to showcase their culture.
Take a look and you'll see the medieval coat of arms of Croatia, Dalmatia, and Slovenia, as well as the emblem of Zagreb — with the Austro-Hungarian colors just making an appearance for a small section near the bottom edge of the roof.
Enhancing the church are the detailed Gothic doors, copper belltower, interior artworks by Croatian-born Ivan Meštrović and Jozo Kljaković, with government buildings standing on the perimeter of the square.
Side note:
You'd think the country that bred Tesla would have automatic street lights. Interestingly, you can head to the square around 5-6 pm to see a local on a motorbike manually lighting 214 gas street lamps.
In all honesty, it adds a charming touch to the already enchanting cobbled streets.
To get back to Zagreb's main square, we leave Upper Town by cycling down what appears like a forest finger, one of many green parks connected to the trail reaching down Medvednica Mountain, in the Tuškanac neighborhood.
For a few minutes, I genuinely forget I'm in an urban environment, enveloped in woodland (and focused on the intense speed of my bike racing downward).
A Main Square With An Interesting Past
I make it safely to the bottom, though, and Alida and I cycle to the last spot of the tour: Ban Jelačić Square, the main square of Zagreb.
Sitting in the principal pedestrian zone of Zagreb, the first thing you'll notice is the sculpture of Josip Jelačić on a horse, the first Croatian viceroy, stopping serfdom in the country and organizing the first election for Croatian Parliament.
Says Alida, "He became a very strong symbol of Croatian national awareness.
As such he was not very welcome during Yugoslavia – when we all had to be Yugoslavians, not Croatians.
The Jelačić statue was erected in 1866, and was also very offensive to Hungarians since he was the one sent to Hungary by the Austrian king to stop them from being independent. Austria won."
After WWII, Hungary and Yugoslavia were neighboring countries, so each time Hungarian diplomacy were visiting Zagreb the statue had to be hidden, so all kinds of elaborate and often humorous coverings were built.
The statue was eventually hidden until 1991, when Croatia declared independence.
Going Local With A Local
While the sites and explanations are interesting, what really makes the tour is hearing Zagreb's history from the perspective of a local.
At one point, Alida tells me about a time during the Homeland Wars — which many know as the Balkan Wars, but most Croatians don't like to be associated with the Balkans — when she was forced to run underground and hide due to an attack for six hours, no idea where her family was or if they were safe.
She was 21 at the time. I remember my days of being 21, how much I worried about money and student loans, and picking up waitressing shifts.
Hearing her story really puts these fears into perspective.
Going local with a local. Is there any better way to explore a new city?
For me, yes: going local with a local by bike, experiencing history, and exchanging culture in an active way.
Have you ever done a bike tour in Zagreb, Croatia?
Essential Information:

Swanky Mint Hostel, Ilica 50, 10000; +385 1 4004 248

Blue Bike Zagreb, Trg bana Josipa Jelačića 15, 10000; +385 98 188 3344

Language(s): Croatian, although many locals speak English

Currency: Kuna (As of March 2015, 1 Kuna ~ $0.14 USD)

Tipping: Tipping is not mandatory in Croatia; however, if you thought the service was good you might want to round up to the nearest 10th.

Getting Around: Most of Zagreb is easily walkable or bikeable. Swanky Mint Hostel rents bikes for about $13 USD for 24 hours. The tram costs 10 Kuna (about $1.38) and is another option for getting around the city.

Zagreb International Airport (aka Pleso Airport): From the airport you can take a taxi, which costs about 200 Kuna ($27.69) to get into the city. The more budget-friendly option is taking the bus, which runs about every 30 minutes and costs 30 Kuna ($4.15) to the main train station. From there, you can pick up the tram you need for 10 Kuna ($1.38). For example, to get to Swanky Mint Hostel I took Tram #6 toward Crnomerec. The stop is Frankopanska, located right outside the hostel's courtyard.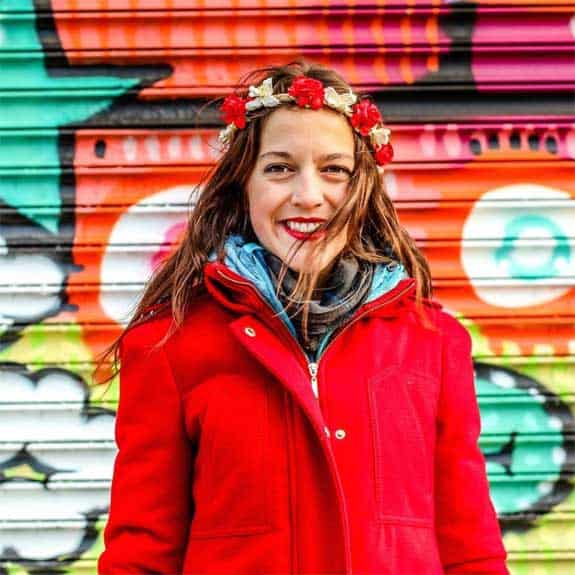 Hi, I'm Jessie on a journey!
I'm a conscious solo traveler on a mission to take you beyond the guidebook to inspire you to live your best life through travel. Come join me!
Want to live your best life through travel?
Subscribe for FREE access to my library of fun blogging worksheets and learn how to get paid to travel more!