Weaving, Shiisa And Ishiganto: Experiencing Culture On Japan's Taketomi Island
Ishiganto
," explains Kyoko, one of the hotel staff. "There are many ghosts on Taketomi Island, and this plate tells ghosts they cannot go this way." I sure hope ghosts can follow directions. I'm currently
visiting Japan
and staying at
HOSHINOYA Okinawa
, a traditional yet luxurious resort, getting a tour of the property. There are contemporary amenities like a 24-hour heated swimming pool, canopied day beds, an elevated drink lounge, an indulgent eco-spa, and world-class restaurant. While comfortably modern, the property was designed around the traditions of the island, constructed in a typical coral village fashion. "We create our own world based on traditional stories," she says. "We create an authentic culture in a modern way that coexists with nature in a beautiful place." The resort is surrounded by lush flora, white sand beach, and the ceylon ocean waters, adding to the zen of the property. Lookout points litter the grounds, allowing guests to see the traditional resort and beyond. "What's that?" I ask, pointing to an animated looking lion that appears to be on top of every village Ryokan on the property. "It's a
Shiisa
," Kiroki explains. "It's a lion that protects the home from bad weather and bad luck. Some of them posses one of three good luck charms, as well. I'll let you see if you can spot them." She brings me to my room, where I'm instructed to enter the yard through the left, as the right entrance is only for gods. Before entering the self-contained Ryokan-style villa, I remove my sneakers and replace them with
zori
sandals. The space immerses me in traditional Japanese culture. Tatami flooring, futon bedding, a
gajoni
living room with floor-to-ceiling windows and a table featuring a typical Okinawa treat, a pancake rolled up like a long pinwheel, as well as a hibiscus drink surround me. A flowing leisure wear robe called a
Yukata
is in the bedroom, which I'm told can be worn around the property and to dinner. The toilet is typical Japanese, with 12 bidet and flush button options as well as a heated seat and automatic-opening lid. A deep freestanding tub sits in the middle of the bathroom, and as soon as I see the herbal bath products I know I'll be spending the night submerged in herb-infused water staring out the translucent doors at the stars.
In The Village
The cultural immersion is further experienced off the property in the traditional village. On Taketomi, there are no traffic lights or police, and the gas station is only open from 1:00 PM to 1:30 PM each day as the owner is also the ferryman. It's a simple island of about 323 people, each living their lives based on the traditions of the past. In fact, while the Japanese are often thought of as being stressed out, the inhabitants of Taketomi Island are exactly the opposite. Because it's a heritage island, the architecture of the buildings must all match. Only one story with red tiled roofs are allowed, as well as coral walls acting as fences for protection and privacy. The narrow roads are made of coral and sand. Adding to the ambiance is the outline of vibrant wildflowers and giant Deigo trees. I learn this all during a buffalo cart ride, with a female water buffalo named Yuca pulling the reigns. While I had mixed feelings about the experience beforehand, the driver actually treated Yuca very nicely, hosing her down when she got hot and petting her. Along with the beautiful scenery and information, we also heard a traditional song played on the Sanshin. An hour spent at the
Mingeikan
continues my tour of the island's culture through weaving, an important part of the Taketomi culture. On the island thread and dye is made organically, and weaver Shimonika shows me how she uses banana leaf fibers to create kimonos, coasters, towels and most importantly, a special men's belt featuring a pattern that means "stay with me forever." It's given by a woman to the man she loves. "The banana leaf is like linen but lighter and shinier," explains Kiriko. "Everything here is made by hand and is high quality." In fact, the spools of thread themselves take one full day to put together. The machines are in a traditional style, made of wood with foot pedals. I sit down on a work bench and am handed the spool of thread. While Shimonika had started the coaster for me, my job is to finish it. I weave the dark blue thread, looping it through the already-sewn material to create a horizontal line, pulling a wooden bar down to flatten it, pressing one of the foot pedals down and then bringing down the wooden bar in a fervent manner twice more. One I get the rhythm down, it's actually quite fun. "I'm going to buy one of these machines and do this at home," I say to Kyoko. She smiles. "Are you going to handmake your own thread and dye the patterns, too?" Okay, maybe I'm not that traditional. Shimonika tells us about the Tanadoui Harvest Festival and how weaving and the banana leaf kimono are important for the dancers. The festival takes place for 10 days during the fall, and is a celebration of the traditions of the people as well as the abundance brought by the Earth. Everyone on the island gets involved, and it's a joyous time of singing, dancing and laughter. "The people here are proud of their heritage," Kirioko tells me. "They want to preserve it as much as possible." And that's exactly what I love about Taketomi so much.
Epicurious Pursuits
This is the amuse-bouche," explains the smiling server. "It's a piperade of Ishigaki black chicken egg and salt cured pork with Island vegetables." Served in a parfait glass, the ingredients blend together in an exotic and innovative way, a flavorful carb, protein and fat meal in a few spoonfuls of cream and egg. At HOSHINOYA Okinawa's casual fine dining restaurant, their focus is French cuisine using local ingredients, which they call
Ryukyu Nouvelle
. They have an onsite herb and produce garden, with other ingredients being sourced from the island and Okinawa. During dinner, I am brought a refreshing towel, a degustation menu printed on typical washi paper and a glass of Bellenda Prosecco Spumante Brut Champagne, followed by the innovative starter. The progressive meal continues with a fresh fish and eggplant tartare topped with a drop of fresh ginger root; a local Ishigaki Miya pork and foie-gras croquette; and a cold soup of papaya and Island carrot. The ingredients are truly Okinawan, as pork is a main staple as are fresh fruits and vegetables like carrot, papaya, ginger, pineapple, tarro and Okinawa sweet potato. I notice each time a dish is taken away, the server asks what I liked and what I didn't like about the course. "Here at HOSHINOYA Okinawa we create the dishes based on guest's preference," Kiriko explains. "If a guest has an allergy or doesn't like a certain ingredient or preparation, the staff remember this for the next meal." Thankfully, I don't have any reservations about food, and am able to taste every bit of the sustainable meal. Even the meats are local. A poached Gurukun Okinawan sea bass with a Taketomi tiger prawn gives a glimpse into the local seafood fare, while an oven-roasted Ishigaki beef lightly dressed in fumet broth with bearnaise sauce allows me to sample the island's equivalent of the U.S. Wagyu or Kobe beef. Served rare, it's easy to cut and literally melts in my mouth, while the bernaise sauce transports me to western Europe for just a few moments. Moreover, a Yaeyama Goat Navarin served over couscous shows us another Taketomi staple delivered atop a French fare favorite. To cleanse the palate, the rim of an ornate fish bowl delivers a serving bowl of refreshing lemon sorbet in a cold liquid of pineapple chunks, juice and fresh picked fennel. The main dessert attraction, however, is the aesthetically-pleasing dish of Chocolate Chinbin finger cakes and Island banana ice cream, a balance of refreshing and light cream, creamy fruit and decadent cocoa. An herbal tea warms my insides, and reminds me there is a packet of bath herbs waiting for me in my room. I drink it quickly and hurry back down the winding coral-lined paths meant to confuse the ghosts, underneath the glimmering constellations and through the sliding wooden doors into my temporary sanctuary. I steep my bath, scents of lemon grass, fennel, dill and pineapple mint reminding me of where I am: The traditional island of Taketomi.
Getting There
If you're traveling from the United States, getting to Japan has never been easier. I had the opportunity to fly American Airlines directly to Tokyo from JFK in New York. Since it's a long flight, first class is recommended as you can stretch out and rest on the over-reclining chair beds while enjoying an array of in-flight entertainment selections. The plane ride itself provides an experience in Japanese culture, with typical Japanese cuisine, bento boxes and beers, wines and spirits from Japan.

"That's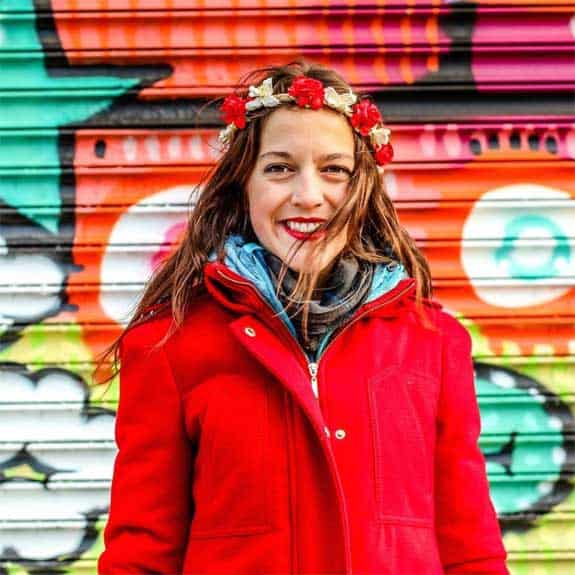 Hi, I'm Jessie on a journey!
I'm a conscious solo traveler on a mission to take you beyond the guidebook to inspire you to live your best life through travel. Come join me!
Want to live your best life through travel?
Subscribe for FREE access to my library of fun blogging worksheets and learn how to get paid to travel more!