11 Fun Things To Do In Niagara County (Besides See The Falls)
By Michele Herrmann, Jessie on a Journey Contributor
Niagara Falls is on most travelers' bucket lists; though Niagara County in New York goes way beyond the American side of these majestic waterfalls. And while the timing for seeing the falls and related outdoor attractions is seasonal, the following venues can be visited year-round (check first for possible alternating hours of operation).
Here are some of the best things to do in Niagara County to help you plan an off-the-beaten path trip.

425 Third St., Niagara Falls
This public mural project began in October 2016 through a partnership with a Niagara Falls High School art teacher and city officials.
Sixteen local artists — from student level to well established — were selected to paint this pedestrian walkway.
The murals encompass subjects such as Niagara's tightrope walker Robert Blondin, as well as topics personal to each artist in a variety of art mediums. Yarn art, anyone?

444 3rd St., Niagara Falls
If you love New York bagels, Power City Eatery should be at the top of your list of things to do in Niagara County.
Breakfast sandwich fans can find selections such as the appropriately named "The Manhattan," a bacon, egg and cheese medley on a sesame bagel. Another Big Apple offering: the house-made pastrami.
Breakfast and lunch choices extend to non-bagel sandwiches, pastries, homemade breads, and specialty teas and coffees.
501 3rd St., Niagara Falls
A great date night option, this upscale restaurant is all about tapas and entrees with a solid wine list. They offer a daily happy hour with regular live music performances on Friday and Saturday evenings. Specials are plenty too, with themed nights, including one for the ladies on Tuesdays.
As for the menu, dishes range from a sesame-crusted tuna to tempura battered shrimp. Or go for a plate of vegetarian Greek tapas with hummus, baba ghanoush, tzatziki, dolmades and feta or artichoke balls.
5777 Lewiston Road, Lewiston
This visitor's center educates on every aspect of Niagara Falls, from its geological formation to its role in producing hydroelectric power.
While the center attracts younger visitors, all attendees will have fun learning about the region through hands-on exhibits and displays, such as a video of actors portraying Thomas Edison and Nikola Tesla debating whether to allow alternating current electricity to harness power from the falls.
Make sure to get a power badge upon entry to wear and use throughout the center.
800 Center St., Lewiston
Apparently, this Italian restaurant is tied to the creation of the cocktail. The story goes that over two centuries ago, when the location was known as Hustler's Tavern, a woman named Catherine Hustler invented a drink that was stirred with a rooster's tail.
Nowadays, this establishment is noted for its coal-fired pizzas with specialties ranging from carbonara to a buffalo chicken, plus their signature Prapata fried meatballs.

4434 Van Dusen Rd., Lockport
As the inaugural winery to open in Niagara County and along the Niagara Wine Trail, this roadside destination is operated by three generations of viticulturists and a winemaker.
Here, just over 30 varieties are produced — ranging from very dry to very sweet — which you can try in the onsite tasting room.
The winery is also known for its hot pepper-infused wine and a light and fruity line of Rosebud wines.
638 Lake St., Wilson
Opened in November 2012, this brewery bottles and cans limited edition and ongoing creations such as their "Stiff Mitten Winter Ale," "Michigan Copper Wet Hop IPA," "Salted Caramel Coffee Porter" and "Woodcock IPA," with on-tap choices too.
The menu features a variety of pub grub, with dishes like a "Beef on Weck" pizza. This unique pie showcases roast beef, Mozzarella cheese, "weck" (the Buffalonian way of saying caraway seed and Kosher salt) and horseradish cream sauce.
Be sure to look in the back to watch the glass-enclosed barrels producing what you're about to drink.
5565 West Lake Road, Burt
Along Lake Ontario's shoreline, this boutique winery on the Niagara Wine Trail takes the pairing of wine and chocolate to a decadent level.
Customers pick from a well-curated list of suggestions, mixing artisan barks by Sweet N' Swanky Confections and truffles by Norman Love Confections with house labels. Try the dry blend "Tree-logy Red," soft and floral "Tree-logy White" or semi-sweet "Bare Cat Blush."
Various mead wines, olive oils and balsamic vinegars are also available.
8503 Lower Lake Road, Barker
With a backyard facing Lake Ontario, this hard cider producer — also along the Niagara Wine Trail — gets apples directly from its own orchard. The cidery pours out dry to semi-sweet ciders that are either wood-aged in various oak barrels, made following traditional techniques or made by experimenting with new flavors.
Limited edition ciders include a full bodied, honey-laced "Colonial Cider" made by blending nine apple varieties and double fermenting the beverage in French oak barrels. There's also a "Buffalo Bluegrass Kentucky Barrel Aged Hard Cider" wild fermented in open air tank and aged in Kentucky bourbon barrels.
Tastings are available in their barn.
4 Scott Ave., Youngstown
As the oldest continuously occupied military site in North America, this fort was built by French troops to protect their interests and, at one point, controlled access to the Great Lakes. Over time, the British gained control of the fort and then fought to keep it during the American Revolutionary War and the War of 1812.
Later on, the US military used the fort as a training facility for both World Wars, with military personnel there until the sixties. Now, seeing what life was like for troops staying here with exhibits throughout preserved buildings and daily demos put on by interpreters is a must on any list of things to do in Niagara County.
11. Freedom Crossing Monument
On the Bank of the Niagara River, Lewiston
The novel Freedom Crossing by Margaret Goff Clark, about the Underground Railroad, is set in the real-life village of Lewiston, New York.
A bronze monument commemorates the true story of Lewiston's place as one of the final stops along a network of trails for slaves heading to Canada in early-to-mid 1800s. From the monument you can see Canada across the way of the dividing Niagara River, where escapees crossed under treacherous conditions.
Near the monument, The SILO Restaurant (115 N Water St.) serves New American dishes, including their signature Silo Haystack. This includes a full pound of rib eye layered with melted mozzarella, onions, peppers, mushrooms and a mound of crispy shredded hash browns.
What are your favorite things to do in Niagara County?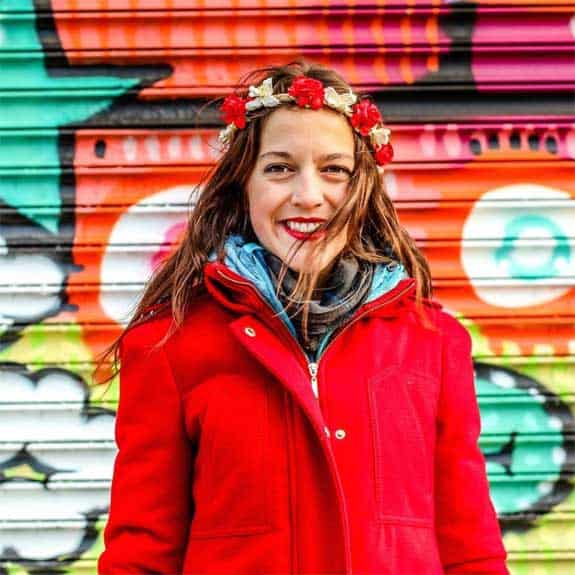 Hi, I'm Jessie on a journey!
I'm a conscious solo traveler on a mission to take you beyond the guidebook to inspire you to live your best life through travel. Come join me!
Want to live your best life through travel?
Subscribe for FREE access to my library of fun blogging worksheets and learn how to get paid to travel more!