The Alternative Traveler's Guide To Barcelona
More often than not, Barcelona daydreams are about chilling out on sunny beaches and rooftop terraces, sampling fresh seafood and tapas in the port, touring Gaudi's modernista buildings, and exploring museums full of paintings by great artists like Picasso and Miró.
And while following in the footsteps of the multitude of travelers that have come before isn't a bad idea, there are a host of memorable and lesser-known activities to try on for size in Barcelona if you know where to find them.
To help you, here is a Spain travel guide to unusual Barcelona.
Immerse yourself In The Erotic At Museu de l'Eròtica
Barcelona's Erotic Museum is conveniently located along the main stretch of La Rambla, where you'll also find more traditional Barcelona attractions like living statues, La Boqueria Market, and an ample array of hotels and tourist traps. The museum's open year-round and is the first museum in Spain dedicated wholly to erotic art. While the collection is fairly small with only 10 rooms, it's packed with intriguing displays on erotic art in ancient civilizations, the Kama Sutra, pin ups, Fetishism, and Erotic Records (think Guinness, not vinyl), to name a few. And if just gawking wasn't entertaining enough, audio-guides are available in seven languages to fill you in on all the sultry details. Website: erotica-museum.com
Relax In Lush Greenery At Barcelona's Garden Labyrinth
A short metro ride away on L3 (Mundet), Barcelona's Parc de Laberint d'Horta is well-worth venturing away from the city center for a spell. Lush gardens and a cypress labyrinth featured in the movie "Perfume: The Story of a Murderer" are a welcome relief from the often overwhelming crowds around more popular attractions. Don't forget to search out Torre Soberana — a 14th century country house and a Chinese doorway that used to lead to an oriental garden — before you head out. This less-frequented park is an ideal place to sit and relax with a book or a sketchpad, or pack a picnic for an afternoon outdoors with friends.
Get Your Shop On Away From The Main Drag
Skip the souvenir shops, cheesy t-shirts and mass-produced mosaic paperweights. Instead, buy something unique in Barcelona's oldest shops. Smokeless candles in beautiful colors and shapes from La Cerería Subirà, herbal teas and homeopathic remedies from Herboristeria del Rei, or vintage jewelry, textiles and wedding dresses from L'Arca. Or shop for second-hand and antique goodies at Els Encants, Barcelona's huge open-air flea market. Find books, records, vintage jewelry and quirky old furniture there at Carrer Dos de Maig, Mondays, Wednesdays, Fridays and Saturdays from 9am to 5pm. Another cool place to score unusual vintage clothes and accessories are the Holala stores, with four locations around the city. If you must visit a shopping mall, check out Las Arenas, a converted bullfighting ring with views of Barcelona's Joan Miró Park, Plaza Espanya and Montjuïc Palace.
Learn To Cook (And Eat) Like A Local Barcelona Cooking
From fresh seafood fished out of the Mediterranean to heartier Catalan classics like botifarra sausage with white beans, there are tasty treats to tickle almost any palate or pocketbook in Barcelona. That said, visitors should avoid eating along La Rambla, with a couple notable exceptions. While eating inside La Boqueria market may be raucous and loud, it's worth the fuss for the super-fresh ingredients.
A better option, however, is signing up for a class with Barcelona Cooking. Learn to cook Spanish and Catalan classics, as well as some interesting variations on traditional fare, all made from fresh seasonal produce in the Barcelona Cooking School's spotless kitchens. As part of the daily lunch course, you'll even get to learn about how to select fresh ingredients on a shopping trip to La Boqueria with your class. Teachers are English-speaking professional chefs, and wine and food are part of the package, making for an experience that's a cross between a traditional cooking class and a gourmet meal in the company of friends. There's even a handout so you can recreate the meal at home. Website: barcelonacooking.net.
Explore Barcelona's Jewish Heritage In The Gothic Quarter
Sign up for a guided tour of the Call, Barcelona's historic Jewish quarter with Call Barcelona. On your tour, or on your own, you can visit Shlomo Ben Adret Synagogue, formerly the Major Synagogue, one of the oldest Sephardic sanctuaries in all of Europe, located on Sant Domenec street, named after the bloody 1391 uprising against the city's Jews. The foundations of the building are thought to date back to Roman times, and further constructions date back to medieval times. The door to go in, on Marlet Street, is quite small and most people have to duck their heads to get through. Inside, the two-room Synagogue is unadorned and almost cave-like with walls of bare stone and two windows on the southeast wall so that worshippers can look toward Jerusalem. Afterward, browse kosher eats and drinks as well as books about Jewish history, art, music, cooking and more at the Call Barcelona book store and wine cellar. Website: callbarcelona.es/?lang=en
Have A Drink With Fairies El Bosc de les Fades
There's plenty to do in Barcelona. Which means most tourists skip its fairly run-of-the-mill wax museum in favor of astounding art or architecture. Little do they know that after hours the café-bar attached to the Museum, El Bosc de les Fades (The Fairy Forest), becomes a cool place to settle in for a bottle of cava or a fruity cocktail among trees with faces, enchanted enclaves and diorama-like scenes out of a fairy tale. Website: museocerabcn.com/en/bosc.html
Enjoy The Art And Industry Of Dying At Barcelona Cemeteries
Barcelona Cemeteries offers guided tours of two of the city's historic cemeteries, Poblenou and Montjuïc. Both tours feature striking funerary art and what are obviously astronomically expensive, if very elegant mausoleums, but if you can only visit one, opt for Montjuïc where artists Miró, Rusinyol and Casas are buried. Free guided visits are available the first and 3rd Sundays of the month at Poblenou and the 2nd and 4th Sundays at Montjuïc in Catalan and Spanish. The cemeteries are open for self-guided tours daily from 8am to 6 pm and visitors can follow a route with QR code for smart phones available in Catalan, Spanish, English and French. Website: cbsa.cat/home.asp
And for more local fun, check out this 3-day Barcelona itinerary. 
Author Bio
Chris Ciolli is a Barcelona-based writer, translator and artist. She spends a lot of time playing with words, art supplies and kitchen tools between trips to la-la land and other, less fictional destinations. For more Barcelona tips, look her up at BarcelonaforIdiots.com. Read about her travels at MidwesternerAbroad.com, check out her art at Trifles & Quirks. You can also follow her on Facebook and Twitter.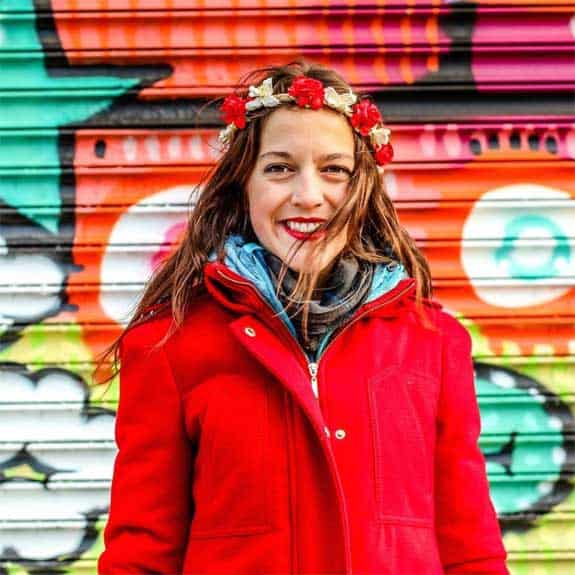 Hi, I'm Jessie on a journey!
I'm a conscious solo traveler on a mission to take you beyond the guidebook to inspire you to live your best life through travel. Come join me!
Want to live your best life through travel?
Subscribe for FREE access to my library of fun blogging worksheets and learn how to get paid to travel more!