Stockholm Solo Travel: The Ultimate Guide (With Map!)
By Astrid Thornton. This guide to traveling alone in Stockholm contains affiliate links to trusted partners!
Interested in having a Stockholm solo travel adventure for yourself, but want to make sure you have everything covered?
Then you're in the right place!
As a Scandinavia travel expert and a frequent visitor to Sweden, I can say with confidence that Stockholm is a great place to travel on your own.
Walkable neighborhoods, delicious cuisine, friendly locals, a ranking as one of the safest capital cities in the world; these are just a few of the many things that make Stockholm the perfect destination for solo travel.
But before you pack your bags and hop on a plane, there are a few things you should know to ensure a safe, enjoyable, and unforgettable trip in the amazing Swedish capital.
Keep reading to learn where to stay, what to do, how to stay safe, and more!
😍 Stockholm Solo Travel Recommendations:
Short on time? Here are my top picks for traveling solo in Stockholm:

🏨 Accommomdation: My favorite places to stay include Generator Stockholm and City Backpackers. You can also view this accommodation map for a full list of local hotels and vacation rentals with pricing in the popular Gamla Stan area – though you can easily change this to your preferred location.

📍 Experiences: Don't miss the Swedish Design Tour, Drottningholm & Gripsholm Castle with Private guide, and the Stockholm at a Glance Bike Tour. You can view a full list of Stockholm tours here.

☔ Safety: While Stockholm is safe for solo travel, it's still smart to pack travel safety essentials. One top pick is the She's Birdie Personal Safety Alarm, which is TSA-approved and can help scare away potential attackers. Other recommendations include Clever Travel Companion Pickpocket-Proof Garments and Speakeasy Travel Supply Hidden Pocket Scarves.
Travel Solo In Stockholm With Confidence [Free Course]
But first, before we jump into our solo travel Stockholm guide, I invite you to grab a seat in Jessie's free Savvy Solo Traveler E-Course.
The 6-day course is designed to help you feel confident about booking your first solo trip and exploring the world alone.
Lessons include:
Common solo travel fears and how to overcome them
How to choose your perfect solo trip
How to tell loved ones you're hitting the road solo
Mentally preparing for your solo journey without losing your mind
Essential steps for staying safe on a solo trip
How to take amazing solo selfies
Once you've grabbed your seat, read on to dive into our in-depth solo female travel guide.
Stockholm Solo Travel: Is It Worth It?
Solo travel in Stockholm is definitely worth it! This picturesque city boasts a rich history, stunning architecture, and modern attractions that help ensure any solo traveler has an incredible time.
One of the best things about traveling solo in Stockholm is that the city is considered one of the safest in the world, with low crime rates and a high standard of living. This means that solo travelers can explore without fear and enjoy all the city has to offer.
Stockholm also offers a variety of accommodation options for solo travelers, from budget-friendly hostels to luxurious hotels and cozy Airbnb rentals. Areas like Södermalm and Vasastan are popular among tourists and have options for all solo travel budgets.
Transportation in Stockholm is also easy and convenient, with a well-connected public transportation system that includes buses, trains, and trams; but to really live like a local, I'd recommend taking advantage of the great bike system. It's a super fun way to see the city — and the exercise is pretty good too!
Where Is Stockholm?
Stockholm is the capital city of Sweden and is located in the southeastern part of the country, on the shore of the Baltic Sea.
In fact, the city is situated on 14 islands connected by more than 50 bridges, which gives it a unique charm and beauty that is hard to find elsewhere.
It's a vibrant and bustling city with a surprising amount of attractions, from historic landmarks and museums to trendy restaurants and cultural events. While it's not always at the top of everyone's "must-do in Europe" lists, I'm going to show you why it should be.
Best Time To Visit Stockholm
The best time to visit Stockholm depends on your personal preferences and interests. The city tends to experience relatively cold winters, while summers are mild with long days and short nights.
Because of this, the peak tourist season in Stockholm is from June to August, when the weather is warm. In fact, life in Sweden really hits its peak around then, with almost constant outdoor events and festivals taking place.
While I'd generally suggest coming in summer if you can — especially as a solo traveler, as it gives you the best chance to meet other people with everything going on in the city at that time — other periods of the year can be good too.
For example, if you're looking to avoid the crowds and enjoy a more peaceful experience, consider visiting Stockholm in the spring or fall. In the spring, the city comes alive with colorful flowers and outdoor markets, while the fall offers a chance to see the beautiful autumn foliage and enjoy cozy cafes and restaurants.
At the same time, visiting Stockholm during the winter months can be a pretty magical experience. The city's many parks and lakes offer opportunities for ice skating, while the Christmas markets and holiday lights add a magically festive atmosphere to the city.
Getting To Stockholm
Stockholm is well-connected to other parts of Sweden and Europe by air, train, and bus.
Arriving to Stockholm by air
The city's main airport is Stockholm Arlanda Airport, which is located approximately 25 miles (40km) north of the city center.
The airport serves as a hub for several international airlines and offers a variety of transportation options to the city, including taxis, buses, and trains.
Arriving to Stockholm by train
For travelers arriving by train, Stockholm has several train stations — including Central Station, which connects to other major cities in Sweden and neighboring countries.
For instance, it's about five hours by train between Copenhagen and Stockholm, which I'd really recommend doing if you can. It's a very comfortable and easy way to travel — not to mention climate-friendly!
Getting to your Stockholm hotel
The city also has a well-connected public transportation system that includes buses, trains (aka a subway or metro), and trams, making it easy to get around once you arrive.
Getting Around Stockholm As A Solo Traveler
As a solo traveler in Stockholm, getting around the city is a breeze thanks to the well-connected transportation infrastructure.
One of the easiest and most convenient ways to explore Stockholm is on foot. Many of the city's neighborhoods — including Gamla Stan, Södermalm, and Norrmalm — are easily walkable and offer plenty of opportunities to discover hidden gems and local hotspots.
It's also a great way to take in the stunning architecture and scenic waterways of the city.
If you're looking to cover more ground or explore neighborhoods that are further away, Stockholm's public transportation system is a great option. With an extensive network of buses, trains, and trams that cover the entire city, getting around is easy and affordable.
Plus Stockholm's metro system is famous for its artwork! Check out Kungsträdgården Station as a great example of this.
But my personal favorite way to get around is renting a bike — which is perfect for solo travelers who prefer a more eco-friendly and fun way to explore the city.
Stockholm is a very bike-friendly city, with many dedicated bike lanes and paths that make it safe and easy to get around on two wheels.
You can rent a bike from one of the many bike rental shops located throughout the city, most of which are pretty affordable.
Stockholm Travel Map
To help give you a lay of the land, here is a map. It has most of the main points and solo activities mentioned in this Stockholm solo travel guide pre-plotted:
You can also click here for the interactive version.
Is Stockholm Safe For Solo Female Travelers?
Stockholm is one of the world's safest cities for solo female travelers, but as with any major city, it's important to take precautions to protect yourself while exploring. That's why it's good to still keep some key tips in mind no matter where you are, like:
Trust your instincts and be aware of your surroundings. Stick to well-lit and busy areas, especially at night, and avoid walking alone in unfamiliar neighborhoods.
Protect your valuables while traveling alone in Stockholm. Pickpocketing and theft can happen in any city, but by keeping your valuables out of sight and securing them in a safe place, you can reduce the risk of becoming a victim. Additionally, you can avoid pickpockets by wearing pickpocket-proof garments and hidden-pocket scarves.
Be cautious when using ATMs and avoid carrying large amounts of cash. In fact, I'd recommend not withdrawing any cash at all unless you absolutely need it, as you can easily get around Sweden with just a bank card.
Stay safe on public transportation. When it comes to getting around, Stockholm has a reliable and safe public transportation system. Stick to well-lit and busy areas when using public transportation, especially at night, and avoid using unlicensed taxis or accepting rides from strangers.
Ask for help if needed. If you feel uncomfortable or unsafe at any point, don't hesitate to seek help or ask for assistance. Swedes speak excellent English so someone will be able to help you out.
Where To Stay In Stockholm When Traveling Solo
Stockholm is a city with many options for accommodation; but as a solo traveler, it's important to choose a location that is safe and convenient with opportunities to meet other travelers and engage with locals.
I recommend staying in neighborhoods such as Gamla Stan, Södermalm, and Norrmalm, which are central and easily walkable, with plenty of restaurants, cafes, and bars.
These neighborhoods are also well-connected to public transportation, making it easy to explore other parts of the city.
If you're looking for a more social and communal experience, consider staying in a hostel or shared accommodation. Stockholm has a ton of hostels that cater to solo travelers, offering shared dorms and private rooms, as well as communal areas where you can meet other travelers and exchange travel tips and stories.
Generator Stockholm is great for this, but City Backpackers is also widely renowned as being one of the best hostels in the city.
For solo travelers who prefer more privacy and comfort, there are an infinite number of hotels and apartments available in Stockholm. You can also consider renting an apartment or private room through Airbnb or other vacation rental websites, which can be a great way to save money and experience Stockholm like a local.
Click here for a list of top-rated Stockholm hotels!
Prefer self-contained stays?
Click here to check out unique local rentals!
You can also use the map below to search for local stays. It's set to Gamla Stan, though you can easily change the location to your destination:
Top Things To Do Alone In Stockholm
You really won't run out of things to do alone in Stockholm, with the city having a ton of highlights that are just as great to visit by yourself as they are to see in a group.
One thing I'd suggest is trying one of the city's free walking tours, like Free Walking Tour Stockholm. If you haven't done one before, it's free to join but you're expected to tip at the end. They're always a super interesting way to get an introduction to a city, plus you have the chance to meet up with other people who you might want to keep exploring with!
In any case, make sure you add some of the following places and experiences to your Stockholm itinerary:
1) Gamla Stan, also known as Stockholm's Old Town, is a picturesque neighborhood with cobblestone streets, colorful buildings, and charming cafes. It's a great place to wander around on foot, snap some Instagram-worthy photos, and soak in the historic atmosphere.
You can book a guided tour to really get a sense of the fascinating history of the place.
2) The Royal Palace (Kungliga Slottet) is the official residence of the Swedish royal family, and it's a must-visit for any history buff or architecture lover. You can take a guided tour or simply admire the palace's impressive exterior.
3) The Vasa Museum is a unique museum that showcases the Vasa ship, which sank in Stockholm's harbor in 1628 and was salvaged in the 1960s. The museum offers a fascinating glimpse into Swedish naval history and the science of shipbuilding.
4) Skansen is the world's oldest open-air museum and zoo that showcases traditional Swedish life and culture. You can see historic buildings, interact with animals such as elk and reindeer, and enjoy beautiful views of the city.
5) ABBA The Museum is dedicated to the iconic Swedish pop group and features exhibitions on their music, fashion, and history.
6) Fotografiska is a contemporary photography museum that features exhibitions from world-renowned photographers. It's a great place to see some incredible artwork and get inspired.
7) Djurgården is a large park and island that offers plenty of outdoor activities, such as hiking, biking, and picnicking.
It's also home to several museums and attractions, such as the ABBA Museum and the Gröna Lund Amusement Park, and there is an excellent sightseeing tour if you'd like to learn more about this Stockholm archipelago and discover the best photo spots.
8) Icebar Stockholm is a bar made entirely of ice where you can sip cocktails in a unique and chilly atmosphere. Don't worry, they provide you with warm jackets and gloves!
9) Moderna Museet is a museum of modern and contemporary art that features works by artists such as Pablo Picasso and Salvador Dali. It's a must-visit for any art lover.
10) The Nobel Prize Museum is located in the heart of Stockholm's Old Town and showcases the history and achievements of Nobel Prize laureates from around the world. It's a fascinating place to learn about the groundbreaking discoveries and innovations that have shaped our world.
11) Stockholm City Hall is where the Nobel Prize banquet is held each year. You can take a guided tour of the building and admire its stunning architecture and beautiful views of the water.
12) Södermalm is a trendy neighborhood that is home to many vintage shops, cafes, and restaurants. It's a great place to shop, people-watch, and soak in the hipster vibe.
13) Public artwork can be found all around Stockholm. Visit Järnpojke (Iron Boy) to see the smallest yet possibly most beloved sculpture in Sweden, see the murals at the Snösätra Graffiti Wall Of Fame, and explore the outdoor gallery at Subtopia.
Additionally, the Stockholm subway system features the world's longest art gallery, so have your camera ready when taking public transportation too.
To really immerse yourself in the city's creative side, opt for a Private & Personalized Stockholm Art Tour with a Local Expert.
14) Hone your photography skills while seeing local attractions on a Best of Stockholm Photography and Sightseeing Tour.
15) Explore local cafe culture by relaxing in the city's many ambient cafes. A few favorites include Cafe Saturnus (try their humongous cinnamon buns), Fåfängan (for a gorgeous view), and Färgfabrikens Kafé (which also hosts art events).
16) Aerial views of Stockholm can be enjoyed at a number of places like:
Katarina Hissen (Katarina Lift), an elevator that transports you from the area of Slussen to the heights of Södermalm
SkyView at Globen, a translucent spherical outdoor elevator that takes you to the top of the world's largest spherical building, the Avicii Arena
Sjöstaden Skybar, a rooftop bar offering 360-degree views over Stockholm from 28 stories
Best Tours For Solo Travelers In Stockholm
Along with the above-mentioned attractions and experiences, there are loads of great tours. The beauty of a guided tour for those traveling solo in Stockholm is they offer a fun way to learn about the destination while connecting with other travelers and locals.
A few top-rated tours to add to your Stockholm itinerary:
Click here for a full list of top-rated Stockholm tours.
Fun Things To Do At Night On A Solo Trip To Stockholm
Stockholm is a city that comes alive at night, with plenty of activities and experiences to enjoy as a solo traveler. Check out some of these fun things to do alone in Stockholm at night:
Attend a concert or show. Stockholm has a vibrant arts scene, with many venues offering concerts, theater shows, and other performances.
In particular, given the relatively small size of the country, Sweden really bats above its average when it comes to popular music; after all, have you heard of Robyn, Avicii, Swedish House Mafia, Ace of Base, Roxette, or that little underground group, ABBA? So who knows which global superstar you could stumble across next!
Take a night tour of Gamla Stan. Explore the cobblestone streets and alleys of Stockholm's Old Town on a guided night tour — like a Stockholm Ghost Walk & Historical Tour. The charming architecture, narrow alleyways, and flickering lights make for an atmospheric experience.
Go for a night bike ride. Rent a bike and explore Stockholm's bike-friendly neighborhoods under the stars. Many bike rental shops offer guided tours or self-guided routes that will take you to some of the city's most beautiful spots, such as Djurgården or the waterfront promenade.
Try the nightlife. Stockholm has a vibrant nightlife scene, with plenty of bars, clubs, and lounges to suit every taste and budget — which you can definitely still enjoy while doing some solo travel in Sweden! Some popular areas for nightlife include Södermalm, Stureplan, and Östermalm.
Tips For Solo Dining In Stockholm
Dining alone as a solo traveler can be a bit intimidating; but in Stockholm, you won't be starved for solo dining options. Here are a few tips for hungry solo travelers:
Dine at local markets. One of the best ways to enjoy solo dining in Stockholm is to visit food markets and food halls, which offer a variety of options for every taste and budget. Some popular food markets include Östermalms Saluhall and K25, which offer everything from traditional Swedish cuisine to international street food.
Opt for bar and communal seating. For solo travelers who prefer a more upscale dining experience, Stockholm has many fine dining restaurants that offer delicious and innovative cuisine. Many of these restaurants offer bar seating or communal tables, making it easy to meet other diners and strike up a conversation. Check out Frantzén and Adam & Albin for great examples of this.
Chat with the locals. If you're worried about talking to the locals, keep in mind that Swedish people are typically very friendly. While they can take a bit of warming up at first, once you hit your stride, there'll be no issue having a chat over a meal or drink — especially with how well they all speak English!
Opt for an interactive food experience. Alternatively, if you're looking for a more casual and social dining experience, consider joining a food tour or cooking class. Being able to make your own Swedish meatballs or cinnamon rolls at home is a one-of-a-kind souvenir — plus they're a great chance to meet other travelers, and enjoy some delicious food in a fun and social setting.
A few fun options include:
Travel Insurance For Solo Travel In Stockholm
When visiting Stockholm — or anywhere else in the world — it's wise to get travel insurance.
One of the best travel medical insurance for travelers is SafetyWing as they've got a large network and offer both short-term and long-term coverage — including coverage if you're traveling for months as well as limited coverage in your home country.
Additionally, SafetyWing is budget-friendly and offers $250,000 worth of coverage with just one low overall deductible of $250.
Click here to price out travel insurance for your trip in just a few clicks.
Frequently Asked Questions About Solo Travel To Stockholm
Still got questions about Stockholm solo travel? I've got answers:
Q) Is Stockholm good for solo travel?
Absolutely! Not only are there loads of fun things to do alone in Stockholm, but the city is easy to get around and is consistently ranked as one of the safest capital cities in the world.
Q) How many days do you need for a solo trip to Stockholm?
I recommend spending at least three days in Stockholm to fully experience the city's culture, history, and attractions. This will give you enough time to explore the city's neighborhoods, visit museums and galleries, try local cuisine, and take part in activities such as a bike tour or boat ride.
However, if you have more time, extending your stay to explore the city at a more leisurely pace and discover hidden gems that are off the beaten path is definitely a good idea. This also gives you the chance to take a day trip or two outside of Stockholm, which can really offer a different view of the country, especially if you can get away to some nature.
Q) What is the best month to visit Stockholm?
In my opinion, the best month to visit is in August, as it's the most likely month to get good weather. That said, visiting during any of the summer months from June to August, when the weather is mild and the days are long, is a good idea.
This also means that it's peak tourist season, although it's not quite as crazy as many other European cities at this time, so don't consider that too much of a downside.
Q) Is Stockholm a walkable city?
Stockholm is a very walkable city, making it easy for solo travelers to explore on foot. The city is made up of 14 islands connected by bridges, and many of the main attractions are located within walking distance of each other.
Try taking a leisurely stroll through the city's neighborhoods, such as Gamla Stan, Södermalm, and Norrmalm, which offer charming architecture, cobblestone streets, and plenty of cafes and bars to stop for a break.
Q) Do they speak English in Stockholm?
English is very widely spoken in Stockholm, making it easy for English-speaking travelers to communicate and get around the city. In fact, English is taught in schools from a young age, and the majority of Swedes speak it fluently.
Of course, if you're considering undertaking some solo travel to Sweden, you could always learn a few basic phrases in Swedish, such as "hej" (hello) and "tack" (thank you); however, don't be surprised if many Swedes switch to (flawless!) English when they hear your accent.
Final Thoughts On Solo Travel To Stockholm
Stockholm really is the perfect destination for solo travelers looking for a mix of everything that a great European city has to offer. With its walkable neighborhoods, bike-friendly streets, and friendly locals who speak fluent English, Stockholm is an ideal place to explore solo.
Whether you're a foodie, a history buff, or a nature lover, Stockholm has something to offer. From dining on delicious Swedish meatballs to belting out a few ABBA tunes, the city is full of unique experiences that will make your solo trip to Sweden unforgettable.
What tips would you add to this Stockholm solo travel guide?
Enjoyed this guide to solo female travel in Stockholm? Pin it for later!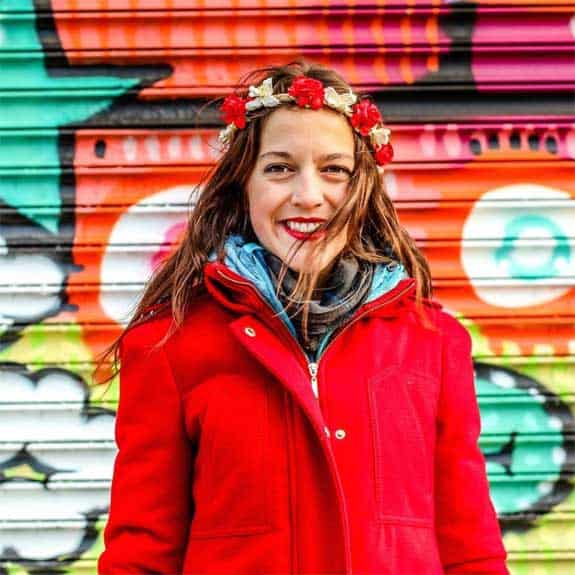 Hi, I'm Jessie on a journey!
I'm a conscious solo traveler on a mission to take you beyond the guidebook to inspire you to live your best life through travel. Come join me!
Want to live your best life through travel?
Subscribe for FREE access to my library of fun blogging worksheets and learn how to get paid to travel more!