Quirky Vancouver: A Visit To Granville Island
The city of Vancouver has much to offer the curious visitor. Trendy restaurants in Yaletown, rich history in Gastown, natural beauty in Stanley Park. If you're looking for something truly quirky, however, one recommended stop is Granville Island.
Getting There
While Granville Island is called an island, it's actually a peninsula as it's attached to the downtown. You can walk over the Granville St. bridge from Yaletown to access. Your other option is the Aqua Ferry which can also be accessed from Yaletown at the marina. Tickets can be purchased on board. Prices are $4.50 one way or $7.50 round trip.
Quirky Options
Take In Public Art
Walking around Granville Island, you'll see numerous works of public art. Sidewalks littered with colorful chalk drawings, enormous metal flowers, and abstract animals make for interesting photographs.
Have Your Fortune Told
According to their sign, the Psychic Studio is "home to Vancouver's Best Psychics." What's really interesting is the number of services they offer — tarot cards, palm readings, aura analysis, looking at past lives, dream interpretations, and more. The cost is $45 to $130, with a minimum of 20 minutes.
Channel Your Inner Harry Potter
Granville Island Broom Company
features an array of unusual, Harry Potter-style brooms with odd shapes and twisted handles. Much of the wood is made from naturally dead Manzanita wood from the Dragoon Mountains in southern Arizona. It's great because of it's rich color, weird streaks and quirky distortions.
Listen To Live Music At The Dock
If you like live music, definitely make it a part of your
Canada travel
experience! Where you get off the Aqua Bus by the Public Market, there are often live performers. There's no telling what kind of entertainment will be going on that day, but be prepared for some original creativity through singing, music, dancing and more.
Eat Exotic Foods At The Public Market
Among the crafts, jewelry and lunch items are some more unusual food fare worth trying. Exotic fruits from other countries, quirky jams and fine chocolates in flavors like wasabi, ginger and hot pepper jelly can be found.
The Bacon Window At Edible Canada
Not only is
Edible Canada
dedicated to sustainability – they offer a free-to-use electric car charging station as well as locally-sourced ingredients for their menu – they also feature a bacon window. Indulge in bacon hot dogs, fish and bacon tacos, bacon chocolate gelato and bacon cinnamon rolls.
Get Sweet, 1885 Style
Rogers Chocolates
is the oldest chocolate shop in
Canada
. The British Columbia chain has been in operation since 1885, and still sells their Victoria Creams in the same wrapping as they did over 100 years ago (shown above). I'd also suggest sampling their maple chocolates, which feature the rich sweetness of Canadian maple syrup.
Take In One-Of-A-Kind Pieces From Numerous Artisans
Granville Island is full of creative artisans, all of whom help create the culture of the island. Don't expect only your standard landscape or portrait painting. There are about 50 galleries, some of which include metal-weaving works at the Boardwalk Gallery And Metal Weaving Studio, eyewear made by hand out of wood, horn, gold and silver at
Granville Eyeland Opticians & Framemakers
and sandblasted glassworks at Granville Island Glass John Nutter Studio. For more information, click here.
Sip Artisanal Sake
At the
Artisan Sake Maker
, you can taste handcrafted sakes. Their Osake is the first "fresh premium" Namazake of its kind produced in Canada. Made in small batches, it's fermented from top quality Japanese sakami, then pressed and bottled by hand. For $5, you can learn about and sample three varieties. If you'd rather eat your sake, you can order infused dishes like Japanese dumplings with artisan SakeKasu sauce or slow cooked pork sliders with a SakeKasu base.
Tour Granville Island Brewing And Make Your Own 6-Pack
Visit
Granville Island Brewing
 for a chance to learn about local beer, as well as create your own 6-pack. They brew their beer using high-quality, natural ingredients, not allowing any preservatives or chemicals into the product. Think natural honey, maple syrup, raspberries and other natural ingredients. Some of their best brews are the Cypress Honey Lager, a soft malt beer with flavors of honey, False Creek Raspberry Ale, refreshingly tart with pale malt and Kitsilano Maple Cream Ale, a caramel malt with a light hop bitterness and hints of maple. Tours run daily at 12:00 PM, 2:00 PM and 4:00 PM, and cost $9.80 for students and seniors and $10.92 for adults. This includes three beer tastings, as well as in-depth knowledge of the beer production process. For a limited time, visitors can also create their own 6-pack for $13.25.
Make Stuff
Make
is a quirky store on Granville Island that allows shoppers to create their own buttons, shirts, embroidery, laser engraving and more. You can color on the paper bag-covered art table or shop for repurposed items  and funky decor. Offbeat products like gloves made of underpants and super-hero dolls that also double as bottle opens can also be found.
Get Drunk For Cheap At The Cats Social House
While this may not be particularly quirky, it isn't always easy to find cheap drinks in the city of Vancouver. At
Cats Social House
, you can order $4 drinks all day and all night. They even have outdoor seating near the waterfront so you can enjoy your cheap cocktail while staring out at the colorful boats.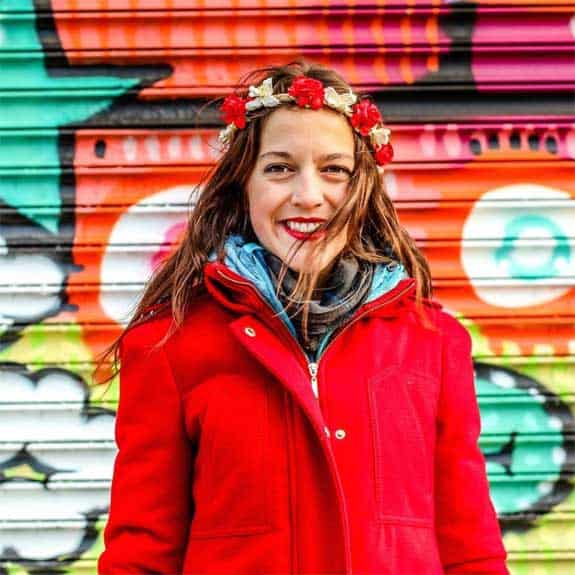 Hi, I'm Jessie on a journey!
I'm a conscious solo traveler on a mission to take you beyond the guidebook to inspire you to live your best life through travel. Come join me!
Want to live your best life through travel?
Subscribe for FREE access to my library of fun blogging worksheets and learn how to get paid to travel more!