Okey And Turkish Tea In A "Men-Only" Hangout In Istanbul
By Jessie Festa. This Istanbul travel guide contains affiliate links to trusted partners!
"Tonight I'm going to take you away from the touristy restaurants and show you what and where the locals eat."I'm currently on an Istanbul by Night: Turkish Food Tour with my local guide, Yuke Celik.
She's a pretty 26-year-old with a passion for local culture, especially when it comes to traditional Turkish food and drink.
After showing me around the main hub of the city, Taksim Square, with its Atatürk Cultural Center, Independence Monument and mix of churches, mosques and temples we stop on Istiklal Street — the most popular place to go for food, shopping and nightlife — to pick up our first morsel for the evening, simit.
A popular local street food typically eaten for breakfast or a quick snack on the go, simit is a crispy circular bread encrusted with sesame seeds.
Yum! In my opinion, this tasty eat should be mentioned in every Turkey travel guide.
Instead of quickly scarfing it down, however, we head down Bekar Street to visit Oflular Kiraathanesi, one of Istanbul's many "men only" hangouts.
While it's not forbidden for women to enter — obviously, since Yuke and I are women — they are not really welcome; however, as I am on a local cultural tour the manager gets a kick out of it.
The venue is small, with men drinking tea, watching the horse races on television and playing games like backgammon and cards.
Yuke and I sit down to a game of "Okey" which is kind of like Rummy as you pick upside down tiles and try to form different color number matches and same color number sequences.
As we're playing and enjoying our simit, the manager brings over small tulip-shaped glasses of Turkish tea.
This traditional tea is a black tea drank without milk that is produced on the eastern Black Sea coast. It's extremely strong, and some people like to add extra hot water or sugar to dilute it.
Note that the coffee in Turkey is also some of the best coffee in the world.
In Turkey, it is customary when your glass is empty to place your spoon inside if you would like more, or upside over the top if you're finished.
Despite the fact it's my first time playing Okey, I win two rounds in a row. I'm told in Turkey the game is very popular to play at home as well as in tea shops and coffee houses.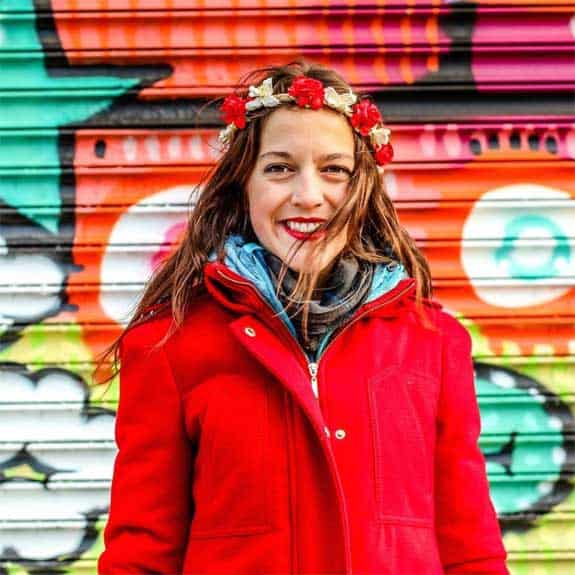 Hi, I'm Jessie on a journey!
I'm a conscious solo traveler on a mission to take you beyond the guidebook to inspire you to live your best life through travel. Come join me!
Want to live your best life through travel?
Subscribe for FREE access to my library of fun blogging worksheets and learn how to get paid to travel more!