9 New York Adventures For Active & Daring Travelers
New York
's waterways torpedoing through the Hudson River on a jet-ski? For those seeking more of an adventure in the Big Apple than just a sightseeing trip, check out some of these active ideas.
1. Alley Pond Park Adventure Course
Remember the good old days of project adventure class? This course, located in Queens, will allow you to relive those days of low and high ropes tasks, zip-lining, wall climbing, trust falls, nets, balancing platforms, and swings for a true
active travel
experience! Who wants to take a bus tour of midtown when you can zip-line through trees and walk the tight-rope over some of the city's most beautiful settings. For more information, you can visit their page on the
NYC Department of Parks and Recreation website
.

2. Learn the Trapeze
Standing at the top of Rockefeller Center won't seem so intimidating when you're flipping through the air on a trapeze. The Trapeze School of New York in Manhattan gives you the chance to be a circus performer for the day as you swing from bar to bar doing tricks in mid-air. And don't worry if you're not a trained Trapeze artist, the Trapeze School of New York offers classes for beginners as well as experts. How do you like that, Barnum and Bailey? For more information, you can visit
their website.
3. Try Horseback Riding
Forget taxi cabs and subways, Riverdale Equestrian Center will bring you to the city's "countryside" where you can horseback ride away from the hustle and bustle of the city. The Empire State Building will never seem farther away as you ride your horse through natural New York surroundings. I wonder if the Naked Cowboy ever took lessons here?

4. Be A Part of a Reality Scavenger Hunt Production
The Trump Tower, Fifth Avenue shopping, trendy rooftop bars. These can be nice if you want to play it safe, but wouldn't it be a lot more exciting to experience the other side of New York? Accomplice, which is part game, part theatre and part tour, sends players out on a mission through the streets of New York, exploring seedy alleys, dimly lit bars and out of the way shops, armed with a few bits of information as well as help from mysterious cast members set-up in various locations. The real fun, however, is you never know who is in on the secret and who is not. Just try not to ask a real New York criminal for help, although that in itself could be an adventure. For more information, visit
their website
.
5. Sign-Up for One of the Many Adventures Offered by the Adventure Society
Who says Americans are fat and lazy? With the Adventure Society, participants can experience the active side of the city, like windsurfing, yoga, dog sledding and gymnastics. And for those who find the outdoors a bit exhausting, the Adventure Society has combination tours, giving you the chance to do some beer tasting or visit a spa after the thrill is over. With 67 different activities all located within two hours of New York City, you might even think about skipping your day trip to the Statue of Liberty. For more information, visit
their website
.

6. Bike the Big Apple
Sitting in traffic in the back of a taxi cab or desperately trying not to stare at the woman slapping herself while preaching about Jesus on the subway can get old after awhile. Why not spend the day exploring the city by bike with Bike the Big Apple? Bike through diverse neighborhoods, traverse over bridges and take in unique scenery of city skylines and sparkling water. While you may still see crazy subway lady on some street corner, at least you will be able to pedal away on your bike.
7. Learn to Shoot a Gun
New York mobster movies are a fan favorite and those who have never held a gun before, can even insight some curiosity. In New York State, the law does not say that you need a permit to shoot a .22 caliber rifle. At Westside Pistol & Rifle Range, as long as you are 21 years of age, you are eligible to participate. Learn what it's like to handle, aim, and shoot a real gun in a safe space.
8. Enjoy Some Free Kayaking
When people imagine a setting in New York City, they usually conjure up images of crowds on city sidewalks and jaded individuals pressing against one another in the subway. While this may be accurate, it wouldn't be fair to leave out the images of smiling, happy people being active on the water. Did you know that kayaking is a Big Apple favorite? At the Downtown Boathouse, those wanting to experience a more vigorous side of the city can rent kayaks and explore the waters. And the best part? You don't have to pay big city prices to enjoy this adventure as it's completely free. Just make sure you know to swim in case the boat tips!
9. See New York by Jet Ski
Lapping waves dance in the river against a city skyline background as birds fly overheard. A gentle breeze blows as some fishermen pass by on their Grady White. It is a nice, peaceful day on the water in New York. That is, until the roar of a Jet Ski engine disrupts the serenity. Waves begin crashing together as the motorcycle of the sea drives full speed over waves and becomes air born. Shrill screams can be heard as riders bounce up and down on the bumps, flying high off the seat. While you will be hard pressed to find any laughing and squealing on a hop on, hop off tour bus, Jetty Jumpers jet ski tours and rentals will allow you to experience the city in a better, and wetter, way. Just try not to fall off, as swimming in New York City water can turn into an adventure in itself. For more information, visit
their website
.
What New York adventures would you add to this list?
You've been to Central Park. You've done the Empire State Building thing and the Statue of Liberty thing. You've even taken the subway at night. Now what? How about spending a little time seeing the city from a higher vantage point as you swing and flip from a trapeze? Or get to know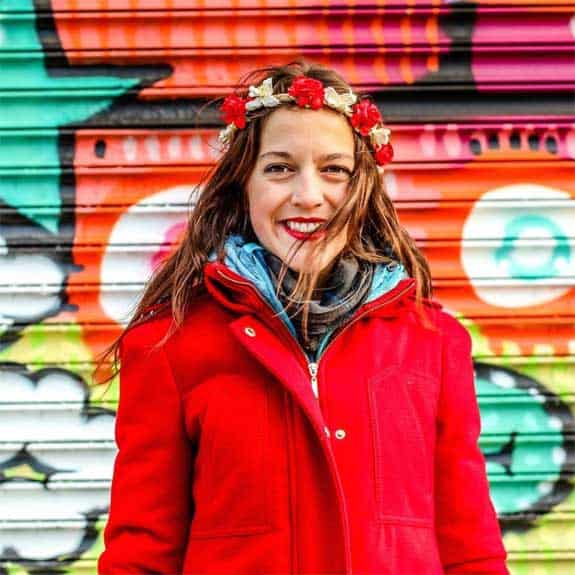 Hi, I'm Jessie on a journey!
I'm a conscious solo traveler on a mission to take you beyond the guidebook to inspire you to live your best life through travel. Come join me!
Want to live your best life through travel?
Subscribe for FREE access to my library of fun blogging worksheets and learn how to get paid to travel more!