La Fortuna Tours: Rafting + Visiting An Organic Farm In Costa Rica
This post on La Fortuna tours and how to go rafting and visit an organic farm in Costa Rica is part of a multi-story series based on my latest trip with Intrepid Travel. Here is the trip link. 
"Make sure to listen closely on this next one. If you fall out, you WILL get hurt."
My Intrepid Travel Way to San Jose group is currently traversing the Class 4 Rio Toro rapids with our guide, Mario, of
Costa Rica Descents
directing us on how to keep our bodies in the boat. After being picked up at our accommodation,
La Fortuna Hotel
, we fill out the necessary waivers at their office, listen to a safety briefing, and then stop at a grocery store for water — which is where we see a sloth! Deam. Come. True. I'd read guides on
where to see sloths in Costa Rica
, but none mentioned grocery stores, so it really is a treat to see this adorable creature in the wild. After taking 101 adorable animal photos, the adrenaline rush begins almost immediately. This is where this
Costa Rica travel guide
gets very interesting.
La Fortuna Tours: Rafting In Costa Rica
The river wastes no time showing us what she is made of, Mario shouting commands like "forward faster!" and "get in!" to keep us from bouncing out of the raft,  fierce gushes of water drowning out our shrill screams as we bound over rocks and cascades.
Mario explains that 95% of rafting accidents are caused by paddle injuries, namely people not holding the handle with their palms and accidentally smashing them into peoples faces. I concentrate hard on trying not to knock my fellow rafters' teeth out while also throwing myself from the boat rim (where we sit most of the time) onto the boat floor when particularly intense rapids pop up. Which is about every 5.3 minutes. Which is also terrifying. Which is also what makes the trip so much fun.
At this point of the Way to San Jose tour our group is thick as thieves, so when Michelle and I start whispering about how sexy the camera man in the kayak is — between dominating rapids, of course — or teasing Rachel and Simona for trying to hide on the boat floor, or trying to keep Javier and Tim from purposely drowning the rest of the group, it's all in good fun. Shockingly, nobody falls out of the raft. Actually, let me re-phrase: Nobody falls out of the raft due to the rapids. Javier and Tim, on the other hand, are another animal, and during the few relaxing parts of the boat ride us ladies are helplessly thrown from our seats. Luckily, we're used to this type of playful abuse from the boys at this point — remember
Granada, Nicaragua?
 — and as much as we beg them to "
NOOOO, AHHHH, Noooooo!
" as we try to be dead weight on the raft floor we secretly love it.
Visiting An Organic Farm In Costa Rica
Our adventurous trip down the river lasts about two hours and ends with a delicious buffet of fresh cut pineapple and watermelon before we head to the company owner's organic farm for lunch. We're instructed not to smoke or use any sprays, like perfume or insect repellent, as it can contaminate the farm. Which, by the way, is really really really beautiful. The farm features plants for both culinary and medicinal use, from bitter ortiga which is great for stomach issues to vitamin-rich lemongrass to endless rows of coffee cherries, which are made into coffee using a sock-like contraption called a
chorreador. 
The ground coffee goes into the sock filter over your cup, before pour boiling water slowly poured into it. A steaming cup is presented to me, and I sip it first without sugar and milk, then with a thick froth that gives it a marshmallow-like twist. The buffet we savor features homegrown ingredients, green banana salad, yucca, gallo pinto, salsa, herbed chicken — all washed down with fresh lemonade. Once we have our virgin sips and take a guided walk around the property, we're brought to an open-air stable where we shoot high proof grain sugarcane alcohol chased by sugarcane juice — which we make ourselves using a crank to squeeze the liquid from the crop. Plump bites of juicy sugarcane are also passed out, and we're told this was the original toothpaste and gum before either existed.
Visiting Baldi Hot Springs In La Fortuna
After an adventurous day, the group unwinds at the Baldi Hot Springs, which for $40 provides access to a huge buffet, adrenaline rush-inducing slides and an enormous array of pools — hot and cold — and steam rooms lush with flora. We sneak in rum and Coke and get tipsy under the stars, lounging on underwater chairs and bar stools. It's a seriously luxurious experience
Tip:
If you don't want to pay but still want a spa-like experience head to the
hot springs near Tabacon Resort
, free to enter though not as mellow or luxurious. Just hop in a 10-minute cab and tell them where you want to go. Bring your own booze and snacks, though just wear a bathing suit and bring water shoes and a flashlight as you'll need to traverse lots of rocky, strong current terrain to reach the hot pools. Once you do… pure bliss.
What To Wear White Water Rafting
Just a quick note on what to wear during a white water rafting trip in Costa Rica. My recommendation is to keep it simple: Wear a bathing suit and bring a change of clothes. Also, bring an action camera like a GoPro to get great footage. You pull your strap over your helmet and loop it in the straps to make sure it doesn't fall off.
For more posts from my Way to San Jose trip, click here. Bonus: Get 25% off last minute deals with Intrepid Travel by clicking here.
Essential Information:

Border Crossing Notes: During my Intrepid Travel Way To San Jose journey, we crossed from Guatemala to Honduras, Honduras to Nicaragua, and Nicaragua to Costa Rica. In terms of safety, the crossing into Costa Rica was the worst, with pickpocketers and scammers literally waiting for tour buses at the border. You may want to get a combination lock to seal up your backpacks, or at least wear packs with valuables in front of you. Also, don't purchase customs forms off the street. You'll receive one from the immigration officer for free when you leave Nicaragua. Lastly, be sure to check the immigration officer really stamps your passport. I had an issue where they forgot to, and I had to go back and have the Nicaragua customs official redo it. Rafting: $85 + tips for the day, including towels, fruit, lunch, coffee and shots. Pack a swim suit, shorts, water bottle, sun block and GoPro HERO4. Currency: You can use US dollars in Costa Rica everywhere — many places even list prices in US dollars over the local Colon. As of October 1, 2015, the exchange rate is $1 USD = about $535 Colones. Outlets: My USA plugs worked fine without an adapter, including my laptop. Language: Spanish, but many people speak English in Costa Rica, especially it's the most developed in terms of tourism in Central America. Javier believes it's because instead of putting money into an army they don't need they put it into education and infrastructure. Safety: While I didn't feel particularly unsafe in Costa Rica, the border is really crazy, and you still need to watch your back. I'd recommend a lock for your day bag with your valuables inside (I lock the zippers together), a safety whistle and Clever Travel Companion pickpocket-proof garments. Read: Lonely Planet Costa Rica (Travel Guide) by Lonely Planet; Top 10 Costa Rica Itineraries by Jennifer Turnbull; Living in and Visiting Costa Rica: 100 Tips, Tricks, Traps, and Facts by Greg Seymour
*My trip to Central America was hosted by Intrepid Travel. I was not compensated nor required to write this post. As always, all opinions are 100% my own.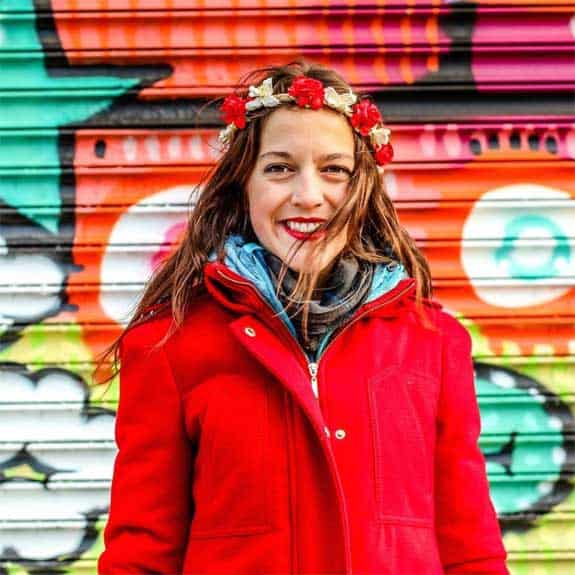 Hi, I'm Jessie on a journey!
I'm a conscious solo traveler on a mission to take you beyond the guidebook to inspire you to live your best life through travel. Come join me!
Want to live your best life through travel?
Subscribe for FREE access to my library of fun blogging worksheets and learn how to get paid to travel more!