Historic Hikes, Maplewood-Smoked Cheddar And 10,000 Teddy Bears: 3 Perfect Days In Southern Vermont
Vermont
, a lesser-known but worthwhile area to stay in is West Townshend. This charming town is full of bed and breakfasts, outdoor recreation, farm stands, antique shops and a feeling or honest, rural living. Additionally, it's a great homebase for interesting local road trips. After staying in this area myself, I highly recommend it to any traveler looking for a retreat away from the big city to relax and unplug.
Accommodation
Stay at the Windham Hill Inn. This bed and breakfast-style lodge is surrounded by lush forest, flora-covered mountains and the undisturbed West River Valley, offering not only beautiful scenery but also worthwhile hiking trails. Moreover, well-manicured gardens, tennis courts, outdoor yoga classes, a heated pool, numerous lounge areas, onsite hiking trails, an extensive wine program and gourmet meals make this a place you could easily spend your entire three days at.
Day 1: Nature And Bohemia
8:00 AM
: Enjoy a gourmet breakfast, which is included in the room rate at Windham Hill Inn. Pro tip: Order the Windham Omelet, stuffed with melted Vermont feta, plump mushrooms and fresh spinach and served with golden potatoes, thick slices of whole-grain bread, various homemade chutneys and your choice of sausage or bacon. A starter like fruit salad or a fresh-baked muffin, coffee, tea, juice, granola and yogurt also comes with all meals.
9:00 AM
: Pack a small bag (you can ask the inn for a picnic lunch, as well) and head to Jamaica State Park to do a waterfall hike. Admission into the park is $3, which is well worth it as the park is home to some of the
best day hikes in the world
and really fun
outdoor adventure travel
experiences. It's also abundant with history. In fact, for thousands of years Native Americans frequented the area due to the abundance of food along the riverbanks. Moreover, evidence suggests Jamaica State Park was a hub for hunting, fishing, plant gathering and tool-making for most of Vermont's pre-history. You'll start the hike by doing the 3-mile "Railroad Bed Trail." This is an easy trek that goes along the West River, and you'll have opportunities to check out small beaches and picnic stops. About 0.5 miles up the trail, you'll get to see "The Dumplings," a group of significantly large boulders. This trail leads into the "Hamilton Falls Trail," while is one mile long and leads uphill to a 125-foot waterfall.
1:00 PM
: Head into Brattleboro to explore the quirky shops, eclectic cafes and modern art galleries. Main Street is lined with mostly Bohemian stores and eateries, with many possibilities to purchase yarn, beads and antiques. The town is very focused on going local and producing sustainable, organic products, giving it a close-knit community vibe. Some of my favorite Main Street finds include: *
Beadniks
: If you love beads and off-beat items, you'll love this funky shop. Beads of all shapes, sizes, colors and styles can be found, and there's even a bathtub filled with a rainbow assortment of them. Go into the back and you'll find items like pickle and cupcake-flavored toothpastes, a giant robot, a skee-ball machine, funny cards, penny candy and more. *
Gallery in the Woods
: This space is a visionary art and craft gallery with bizarre pieces and high-quality handcrafted jewelry. While the art and jewelry are expensive, it's worth it to go in just to take a look. And if you have the money, this is the perfect place to splurge on something truly one-of-a-kind. *Twice Upon A Time: This 10,000-square foot family-owned and operated shop sells everything. You'll find antiques, vintage clothing, jewelry, furniture, collectibles and more. *Verde: In this shop you'll find eclectic pieces for your garden and home, like Dutch wheelbarrows, recycled plastic mats from
Thailand
, cotton Rui rugs, silk zafu meditation pillows and more. *
Windham Wines
: This boutique wine shop is neatly organized so you can browse an array of wines from all over the world. Sections are in alphabetical order, and numerous countries including
Australia
,
South Africa
,
Chile
,
Argentina
and more are represented. The shop also makes it easy for wine-lovers to make budget-friendly choices, with racks of wines under $10. The staff are extremely helpful, and love assisting customers in picking out the right wine for their palette and wallet. *
Latchis Hotel & Theater
: If you have time, check out a movie at the area's 1930's movie palace, the Latchis Hotel & Theater. One of only two Art Deco buildings in Vermont, the building is designed in a Greek-mythology motif and shows both art and commercial films.
6:30 PM
: Have dinner at
The Marina
, a casual dining experience on the West River. Enjoy delicious seafood and burgers while taking in the sunset. Their menu consists of mostly local and sustainable ingredients, so you know you'll be eating healthy and doing something good for the community. I highly recommend their quiche, made with broccoli, tomato and Vermont cheddar and served with a side salad.
Day 2: Nostalgia And Scenic Adventure
8:00 AM
: Enjoy another morning of deliciously prepared and presented meals. Today, I would recommend sampling the Windham Buttermilk Pancakes, especially since you'll get to taste Vermont maple syrup, a staple for the state.
9:00 AM
: Do one of the onsite hikes, like the Blue Trail, Red Trail, Green Trail or White Trail. My favorite is a mix of the Blue and Green trails. This is a moderate hike that will take you along a river, to a waterfall and through unique forest landscape. Or, if you're feeling a little sleepy, relax and take a dip in the inn's heated pool.
12:00 PM
: Grab lunch at the Townshend Dam Diner (5927 Vermont 30). This place is extremely casual, but quintessential of the small town of West Townshend. The menu features home-cooked meals with fresh ingredients. Try the Banana Bread French Toast, a tastier spin on the already delicious breakfast staple, or the Stuffed Turkey Dinner with fresh beets and sweet potato fries.
1:00 PM
: For something quirky and nostalgic, check out the town's iconic Mary Meyer Museum of Stuffed Toys. The museum is on the site of a toy company dating back to the 1930s. You'll see how toys are made, and purchase high-quality items at factory prices.
2:00 PM:
Time to get active again with some mountain biking. Route 30 along the West River has a wide bike lane and great scenery of water, valleys, and open spaces. In Brattleboro, take Main St. north then bear left on Route 30. If you're looking for something quieter, Burrows Specialized Sports can help you plan a perfect sightseeing-by-bike itinerary.
4:00 PM
: Check out the longest wooden span bridge in Vermont, Scott Bridge. Built in 1870 by Harrison Chamberlain, it consists of two king post trusses and a 166′ Town lattice truss. The latter is the longest wooden span in Vermont. You'll find the bridge in Townshend.
6:30 PM
: Have dinner at Windham Hill Inn. Their rotating menu features vegetables hand-picked from their onsite garden and wine pairing. You may also choose to opt for an extensive tasting menu. It is guaranteed these dishes are unlike any you've ever experienced, as the sauces and compliments give even the most common dishes a unique twist. You can continue sampling wines out near the garden under the stars, or take a glass back to your room and enjoy it in one of the over-sized jacuzzi tubs.
Day 3: Quintessential Vermont
7:30 AM

: Enjoy a session of early morning yoga at the inn. You'll get to enjoy the sweet smells of flowers and mountain views while you stretch into Child's Pose and Downward Dog in the great outdoors.

9 AM:

Enjoy your last breakfast at Windham Hill Inn. Keep in mind this is your final chance to sample some of the property's homemade granola with Greek yogurt, which they leave out with bowls and fruit.

10 AM

: Head to Grafton, a Currier and Ives feeling village nestled in the mountains. The close-knit community of 600 people still holds traditional town meetings, and many of the buildings are listed on the National Register of Historic Places. The first stop should be

Grafton Village Cheese

, a world-renowned cheese shop serving over 80 varieties of handmade cheese, fine wines, Vermont microbrews, specialty foods, breads, jams, gifts and various Vermont products. The best part? You can sample all the cheeses for free, as well as many of the jams and dips. Moreover, their cheeses are made with fresh, raw milk from family farms located in the Vermont countryside, making the product healthy and local. While in Grafton, you should also check out the array of galleries and studios. There's the Grafton Valley Arts Guild, a world-class gallery featuring the work of more than a dozen local artists, as well as the Vermont Museum of Mining & Minerals and the Grafton Forge Blacksmith. To view fine art, visit the Hunter Gallery of Fine Art, Jud Hartmann Gallery and Gallery North Star. To learn a bit more about the heritage of the area, the Windham Foundation Sheep Exhibit can give you insight into Vermont's historic sheep industry, while the Grafton History Museum will allow you to explore the town's fascinating 250 year heritage.

1:00 PM

: Now make your way to Chester, a charming town featuring boutique shops, Victorian architecture and a rich legacy. Take a stroll down main street, allowing yourself to be immersed in the old-world atmosphere. You can park by the green on this road, right in front of a strip of boutique shops. For something really pleasant stop into the

Hugging Bear Inn and Toy Shoppe

, where you can see 10,000 teddy bears of all shapes, sizes and colors. There is also a brand new art gallery worth popping into called Vermont Institute of Contemporary Arts (VTica), where you can explore indigenous and local creativity. Hungry yet?

Stone Hearth Inn & Tavern

offers simple foods made with local ingredients as well as an impressive wine selection in a cozy Vermont farmhouse. If you want to bring out your inner socialite, high tea is offered at

Inn Victoria

. You can choose from over 30 different teas while indulging in savory snacks, scones, sweets, chocolate and fruit.

3:00 PM

: Your final stop for the day will be a trip down memory lane. Drive to Weston to visit the kitschy

Vermont Country Store

. Open since 1946, you'll find brands like Tangee® Lipstick, Buster Brown Socks, Gee, Your Hair Smells Teriffic! shampoo and Tinkertoys®. This store is all about fun, sampling local cheeses, tasting old-time candies and playing with toys and collectibles. If there is something from your childhood you're looking for, like your favorite perfume, game or makeup, you can tell the staff and they'll help you find it. Other worthwhile spots in Weston to visit before your drive home include Weston Village Christmas Shop, Whales in Vermont Gallery and the

Village Green Gallery

.

While most people head straight to the city of Burlington when visiting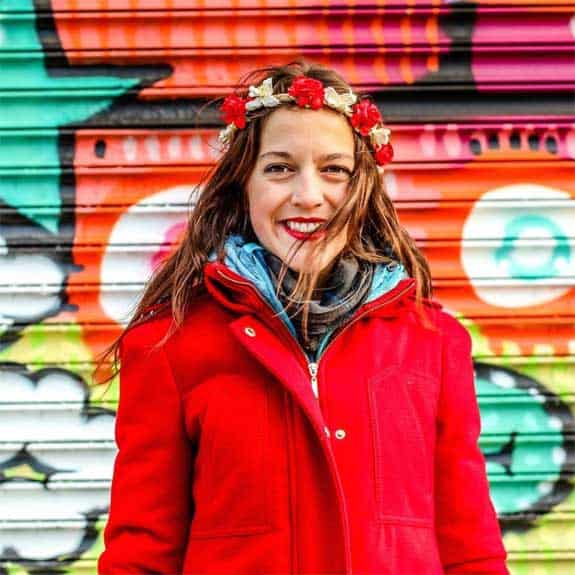 Hi, I'm Jessie on a journey!
I'm a conscious solo traveler on a mission to take you beyond the guidebook to inspire you to live your best life through travel. Come join me!
Want to live your best life through travel?
Subscribe for FREE access to my library of fun blogging worksheets and learn how to get paid to travel more!